Splinterlands Card Giveaway #6 (and Giveaway #5 Results!)
Welcome everyone to another Splinterlands card Giveaway!
I'll start with the details of the new giveaway and then post the results from the last giveaway.
Giveaway #6

The winner will get to choose which card they want. All are useful in their own way and will hopefully help improve your deck!
How to Enter
Comment below with the card you would like to receive if you win
Put your Splintercards username in the comment
Only one entry per account please
An upvote is not necessary, but would be greatly appreciated!
A follow is not necessary either, but this won't be my last giveaway so a follow will help ensure you don't miss any chances! 😄
That's all there is to it! The winner will be chosen randomly and will be announced in my next post. I'm going to try and run these giveaways every couple of days so enter enter early and enter often!
Giveaway #5 Results
Congratulations to @squishna !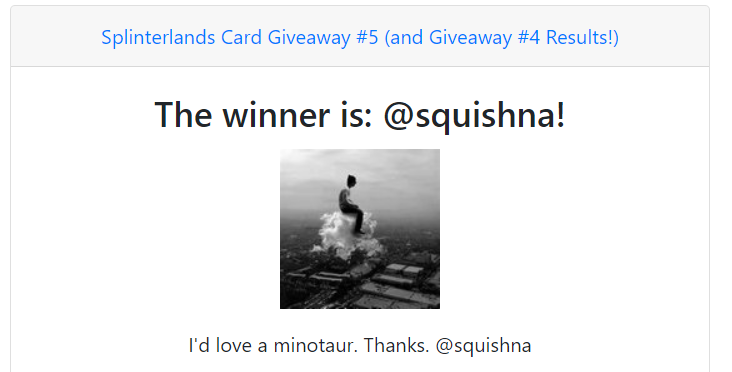 Other participants: @theacks, @legnare, @ignissa, @technocrypton, @mythril, @jdike, @zenitsu12, @liquid-miracle, @oneyonef, @irisworld, @cuddles143, @txracer, @oddone, @theduce, @greenoracle, @caimanx, @silentwill, @savvyplayer, @subidu, @estefania3, @summoner-cha, @terrortor, @oadissin, @joshnaire, @ctulhudesu, @mr-kerad, @tjdemigod, @lokirokiroll, @loosestgoose, @failingforward, @half-fast, @kerrislravenhill, @burningtreant, @zashi91, @eman13088, @restongungui, @relf87, @diavolo, @arkasz
Your Charlock Minotaur has already been sent.
Thank you to everyone who participated and good luck in the next giveaway!
Support
If you are thinking about joining Splinterlands, please consider joining through my affiliate link here: Splinterlands. To show my appreciation, I will send you 100 DEC and a couple of reward cards to help you get started after you purchase the Summoners Spellbook.
---
---