BATTLE MAGE SECRETS Weekly Challenge! Splinterlands - Armored Up [ES/EN]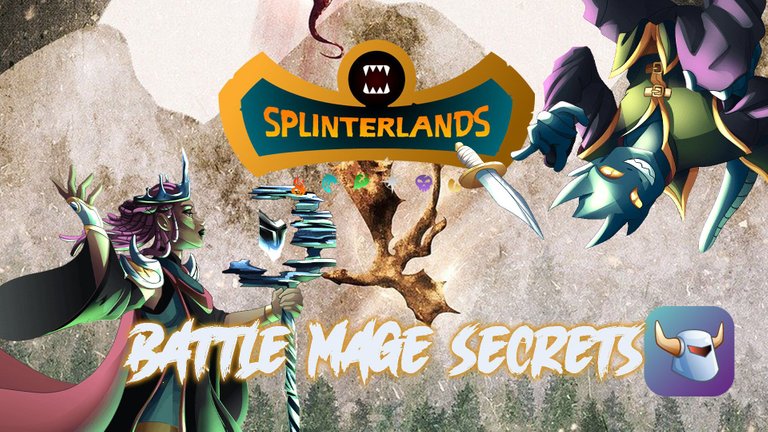 ---
Saludos Hiversnft,un nuevo reto sobre Splinterlands esta activo, hoy me ha tocado jugar con la regla de batalla ARMORED UP la cual le adiciona 2 puntos de escudo a todas las cartas.
Tenía la esperanza de conseguir esta regla de batalla en una de mis Brawls pero no fue así, sin embargo he estado jugando esta semana con más frecuencia y después de casi 100 batallas me salió la regla requerida, lamentablemente perdí esa batalla y seguí intentando. No es que no pudiera compartir una batalla donde resulté ser perdedor, es normal, a veces se gana y a veces se pierde, pero no me gustaron las cartas que elegí y la batalla estuvo muy aburrida. Así que pensé - no importa, no participo esta semana para el reto Battle mage secrets- pero seguí jugando para ganar cofres y en una nueva batalla me volvió a salir la regla ARMORED UP, esta vez elegí cuidadosamente mis cartas y es la batalla que les comparto a continuación.
Greetings Hiversnft, a new challenge on Splinterlands is active, today I got to play with the ARMORED UP battle rule which adds 2 shield points to all cards.

I was hoping to get this battle rule in one of my Brawls but I didn't, however I have been playing more frequently this week and after almost 100 battles I got the required rule, unfortunately I lost that battle and kept trying. It's not that I couldn't share a battle where I turned out to be a loser, that's normal, sometimes you win and sometimes you lose, but I didn't like the cards I chose and the battle was very boring. So I thought - never mind, I'm not participating this week for the [Battle mage secrets] challenge (https://peakd.com/hive-13323/@splinterlands/battlemagesecrets-3-21-2023) - but I kept playing to win chests and in a new battle I got the ARMORED UP rule again, this time I chose my cards carefully and it's the battle I share with you below.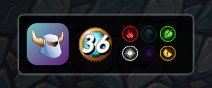 Esta batalla contaba además con un gasto de mana de 36 puntos y solo podíamos utilizar elementos de fuego, tierra, vida y dragón.
Esta semana alquilé algunas cartas Dragón que llamaron mi atención y han resultado ser muy buenas, eso sí, gastan mucho mana entonces se aconseja usarlas en batallas de más de 35 punto de mana.
This battle also had a mana cost of 36 points and we could only use fire, earth, life and dragon elements.

This week I rented some Dragon cards that caught my attention and they turned out to be very good, but they spend a lot of mana so it is advisable to use them in battles over 35 mana points.
---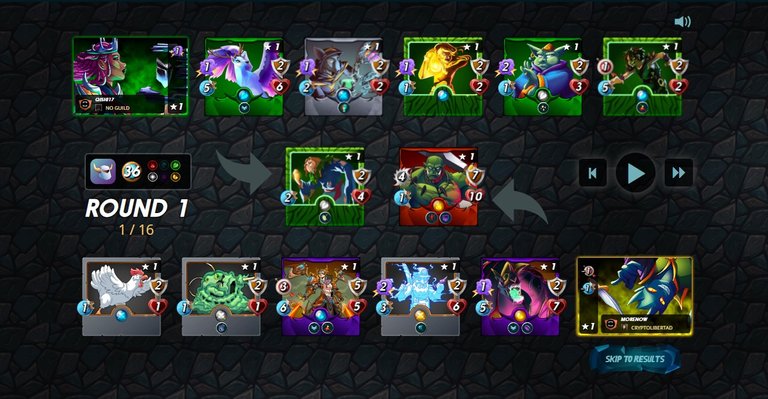 Mi oponente en esta oportunidad @qishi17 eligió el elemento de tierra con el invocador OBSIDIAN que otorga +1 de magia a todos sus aliados, su estrategia estaba enfocada en la magia y contaba con el sanador GOBLIN PSYCHIC para mantener al tanque UNICORN MUSTANG vivo el mayor tiempo posible.
My opponent this time @qishi17 chose the earth element with the summoner OBSIDIAN which grants +1 magic to all his allies, his strategy was focused on magic and he counted on the healer GOBLIN PSYCHIC to keep the tank UNICORN MUSTANG alive as long as possible.

CARTAS ELEGIDAS Y POSICIONES / CARDS AND POSITIONS
Según el historial de batalla de mi oponente mostrado antes de la pelea, noté que estuvo usando equipos de ataque melee y a veces magia, aposté que estaría usando un equipo centrado en ataque cuerpo a cuerpo, pero no fue así, sin embargo mis cartas estuvieron variadas entre diferentes tipos de ataque, eso sí, para mí era crucial tener una carta con la habilidad Snipe para eliminar cualquier sanador, porque siempre elegía la asistencia de uno.
According to my opponent's battle history shown before the fight, I noticed that he was using melee attack teams and sometimes magic, I bet he would be using a melee attack focused team, but he wasn't, however my cards were varied between different types of attacks, yes, for me it was crucial to have a card with the Snipe ability to eliminate any healer, because I always chose the assistance of one.
---
Mi invocador Dragón QUIX THE DEVIOUS legendario de lámina dorada, nivel 2, primero con el nombre hijo de Julian padre. No es mía, es alquilada, pero con esas dos habilidades su coste de mana es bajo. Resta un punto de ataque a distancia y un punto de velocidad a todas las cartas enemigas, además me permite usar cartas Dragón y uuufff, tengo unas rentadas que me gustan mucho.
My gold foil legendary QUIX THE DEVIOUS dragon summoner, level 2, first named son of Julian Sr. It's not mine, it's rented, but with those two abilities its mana cost is low. It subtracts one point of ranged attack and one point of speed from all enemy cards, plus it allows me to use Dragon cards and uuufff, I have some rented ones that I really like.
---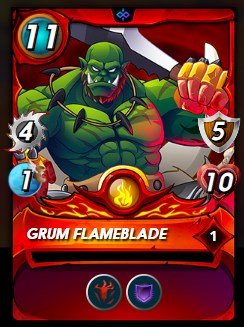 Mi tanque estrella elegido GRUM FLAMEBLADE el cual si no lo eliminan rápido se hace imparable. Del elemento fuego, cuenta con unos buenos 5 puntos de escudo más los 2 puntos de la regla de batalla serían 7 puntos de escudo, 10 puntos de vida, sin duda podrá soportar muchos golpes. Además que cuenta con la habilidad Bloodlust, si logra dar el golpe de gracia en una carta enemiga entonces todas sus estadísticas aumentan.
My star tank is GRUM FLAMEBLADE, which if not eliminated quickly becomes unstoppable. From the fire element, he has a good 5 points of shield plus the 2 points of the battle rule would be 7 points of shield, 10 points of life, no doubt he will be able to withstand many blows. He also has the Bloodlust ability, if he manages to land the coup de grace on an enemy card then all his stats increase.
---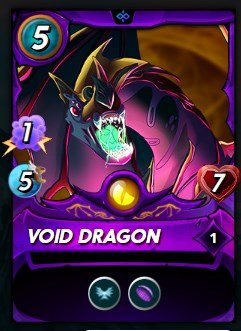 VOID DRAGON fue el soporte al tanque, si mi tanque caía entonces esta carta tomaría su lugar, tiene la habilidad VOID lo cual le hace resistir un poco mejor el ataque mágico, también tiene la habilidad de ser volador y esto hace que esquive muy bien los ataques cuerpo a cuerpo y a distancia. Su velocidad de 5 puntos aumenta la probabilidad de esquivar los ataques. Su ataque es mágico por lo que el daño irá directo a la salud del enemigo. Esta es una de las cartas del elemento Dragón que he alquilado para esta semana y me ha gustado, sin duda la seguiré rentando hasta poder comprarla.
VOID DRAGON was the tank support, if my tank went down then this card would take his place, he has the VOID ability which makes him resist magic attack a bit better, he also has the ability to be a flyer and this makes him dodge melee and ranged attacks very well. His speed of 5 points increases his chance of dodging attacks. His attack is magical so the damage will go straight to the enemy's health. This is one of the Dragon element cards I rented this week and I liked it, I will definitely keep renting it until I can buy it.
---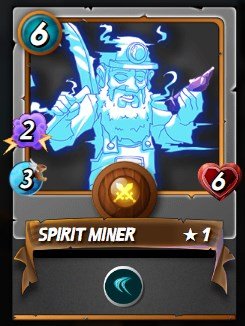 En tercera posición coloqué la carta neutral SPIRIT MINER, es una carta de con dos puntos de ataque mágico y 3 puntos de velocidad, nada mal por ese lado, además tiene buena salud ya que cuenta con 6 puntos y posee la habilidad DODGE que le hace incrementar la evasión de ataques melee o range. Es legendaria y con ella pretendo hacer daño directo a la salud del tanque enemigo. Si el tanque enemigo contara con la habilidad VOID igual le estaría generando un punto de daño a su salud ignorando su escudo.
In third position I placed the neutral card SPIRIT MINER, it is a card with two points of magic attack and 3 points of speed, not bad on that side, it also has good health as it has 6 points and has the ability DODGE that makes it increase the evasion of melee attacks or range. It is legendary and with it I intend to do direct damage to the enemy tank's health. If the enemy tank had the VOID ability I would still be doing a point of damage to his health ignoring his shield.
---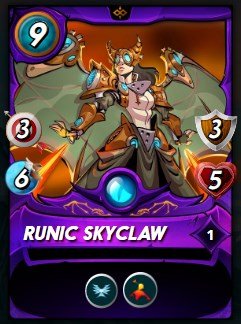 RUNIC SKYCLAW es otra carta Dragón que alquilé para mis batallas, primera vez que la uso y me llamó la atención la velocidad de 6 puntos, su ataque a distancia de 3 puntos, sus habilidades de volar y Snipe, buen escudo y salud. El coste de mana es alto, 9 puntos madre mía, pero lo valen. Comenté al principio de este post que sí o sí necesitaba un Snipe para acabar con algún sanador de haberlo y pues esta carta fue la elegida para esa misión.
RUNIC SKYCLAW is another Dragon card I rented for my battles, first time I use it and I noticed the 6 point speed, 3 point ranged attack, flying and Snipe abilities, good shield and health. The mana cost is high, 9 points, but it's worth it. I mentioned at the beginning of this post that I needed a Snipe to finish off a healer and this card was the one I chose for that mission.
---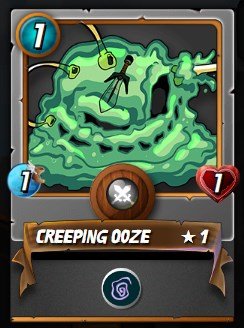 CREEPING OOZE es una carta neutral que acostumbro usar para quitarle velocidad a las cartas de mi oponente, es mía, la compré recientemente así que ya no es necesario alquilarla más, me siento feliz de tenerla en mi mazo como propietario. esta carta aumentará de una forma significativa la capacidad de evasión de mis cartas con habilidades como DODGE, voladoras o que tengan mucha velocidad.
CREEPING OOZE is a neutral card that I use to slow down my opponent's cards, it's mine, I bought it recently so I don't need to rent it anymore, I am happy to have it in my deck as an owner. This card will significantly increase the evasion ability of my cards with abilities like DODGE, flying or with a lot of speed.
---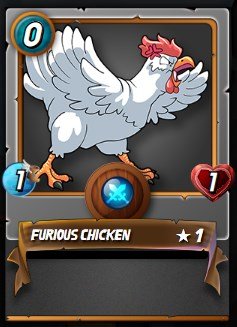 Mi batalla no puede estar completa si no uso la carta FURIOUS CHICKEN que no ataca siendo nivel 1 pero distrae al enemigo y eso me da cierta ventaja. Esta es una carta neutral que no poseo aún, así que la alquilo cada semana para poder utilizarla en el 90% de mis batallas. El secreto esta en su coste de mana cero, ups, ya no es un secreto.
My battle can't be complete if I don't use the card FURIOUS CHICKEN which doesn't attack being level 1 but distracts the enemy and that gives me some advantage. This is a neutral card that I don't own yet, so I rent it every week to be able to use it in 90% of my battles. The secret is in its zero mana cost, oops, it's not a secret anymore.

Batalla / Battle
La batalla inició con ataques de mis cartas mágicas hacia la carta enemiga en primera posición llamada FAILED SUMMONER el cual no tiene ataques propios pero refleja los ataques mágicos recibidos, así que mis cartas mágicas recibieron el mismo daño que causaron. Los ataques hacia mi tanque fueron efectivos y su escudo fue destruido.
En el segundo asalto la vida la carta oponente FAILED SUMMONER es restaurada por el sanador GOBLIN PSYCHIC. Mis cartas mágicas derriban al fin a FAILED SUMMONER a costa de parte de su salud por el reflejo mágico y su lugar es reemplazado por REGAL PERYTON, una carta voladora con buen ataque mágico. Los ataques hacia mi VOID DRAGON no son acertados, mientras que mi tanque sufre una golpiza quedando con apenas un punto de salud. La carta enemiga REGAL PERYTON es sanada y solo por eso se salvó de ser eliminada por GRUM FLAMEBLADE quien la dejó con un punto de salud. Al final de este asalto ambos tanques quedaron con un punto de salud.
The battle started with attacks from my magic cards towards the enemy card in first position called FAILED SUMMONER which has no attacks of its own but reflects the magic attacks received, so my magic cards received the same damage they caused. The attacks towards my tank were effective and his shield was destroyed.

In the second round the life of the opponent's FAILED SUMMONER card is restored by the GOBLIN PSYCHIC healer. My magic cards finally take down FAILED SUMMONER at the cost of some of his health by magic reflex and his place is replaced by REGAL PERYTON, a flying card with good magic attack. The attacks on my VOID DRAGON are unsuccessful, while my tank takes a beating and is left with just one point of health. The enemy card REGAL PERYTON is healed and is only saved from being eliminated by GRUM FLAMEBLADE who leaves her with one health. At the end of this round both tanks were left with one health.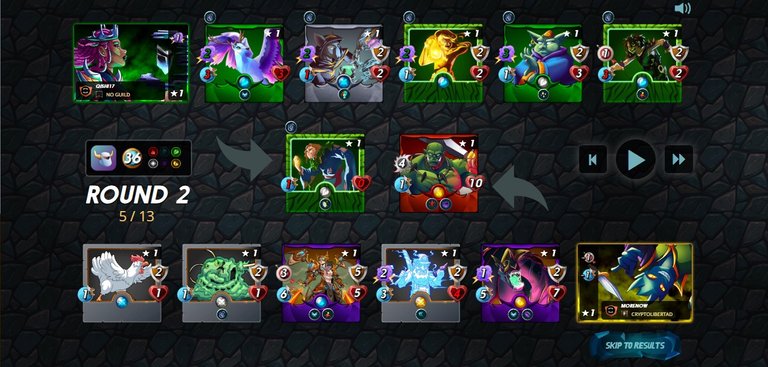 El tercer asalto empieza con mi carta VOID DRAGON eliminando la carta enemiga REGAL PERYTON y seguido cae también su reemplazo. La primera posición enemiga es tomada por una carta débil KHMER PRINCESS de ataque mágico, que pega un golpe a mi débil tanque y muere, su lugar es reemplazado por VOID DRAGON que cuenta con la habilidad VOID y resiste mejor el ataque mágico.
En el cuarto asalto muere la carta enemiga KHMER PRINCESS y toma su lugar el sanador GOBLIN PSYCHIC que ya no contaba con escudo por el daño que le estuvo haciendo mi carta con la habilidad SNIPE.
En el quinto asalto muere también el sanador enemigo en primera posición GOBLIN PSYCHIC y su lugar es tomado por una carta de ataque a distancia que queda imposibilitada de realizar cualquier ataque. Ya en el sexto asalto se acaba la pelea ganando con 5 cartas vivas.
The third round begins with my VOID DRAGON card eliminating the enemy card REGAL PERYTON and then his replacement falls as well. The first enemy position is taken by a weak KHMER PRINCESS magic attack card, which hits my weak tank and dies, its place is replaced by VOID DRAGON which has the VOID ability and resists the magic attack better.

In the fourth round the enemy card KHMER PRINCESS dies and takes his place the healer GOBLIN PSYCHIC who no longer had a shield because of the damage my card was doing with the SNIPE ability.

In the fifth round the enemy healer in first position GOBLIN PSYCHIC also dies and his place is taken by a ranged attack card that is unable to perform any attack. In the sixth round the fight is over, winning with 5 live cards.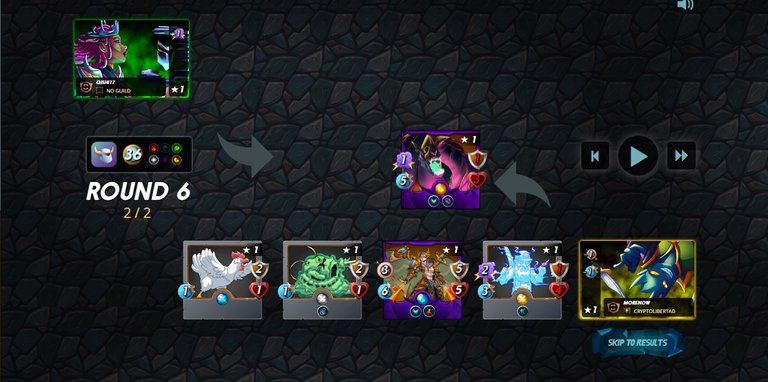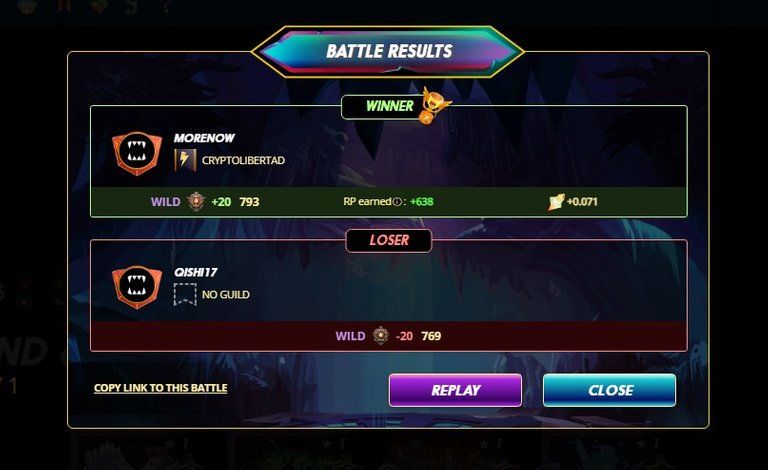 ¿Quieres ver la batalla? ingresa aquí / Want to see the battle? click here
https://splinterlands.com?p=battle&id=sl_cbee017c83d1dab5d0b672f4b33e1e17&ref=morenow

La regla de batalla ARMORED UP es excelente cuando va ligada a la regla Lost Magic que no se pueden usar cartas de ataque mágico y Melee Mayhem que todos las cartas melee pueden atacar desde cualquier posición, en una batalla con esas tres reglas y que además se puedan utilizar 99 puntos de mana, la pelea se hace súper interesante. La debilidad de la regla protagonista de esta semana es que la magia ignora los escudos y va directo a la salud.
The ARMORED UP battle rule is excellent when linked to the Lost Magic rule that you can't use magic attack cards and Melee Mayhem that all melee cards can attack from any position, in a battle with those three rules and that you can also use 99 mana points, the fight becomes super interesting. The weakness of this week's featured rule is that magic ignores shields and goes straight to health.
---
---
Si me lees y aun no juegas Splinterlands me gustaría que te unas con mi enlace de referido. También te invito muy amablemente a unirte al servidor en Discord Hive NFTGame Latino el cual esta centrado en los proyectos NFT de nuestra amada blockchain de HIVE. Si buscas algún clan en lenguaje español escríbeme, estamos reclutando jugadores para el clan CRYPTOLIBERTAD sin importar el nivel y que realmente quieran jugar Splinterlands.
Espero verlos muy pronto en un próximo reto sobre este gran juego Splinterlands.
If you read me and don't play Splinterlands yet I would like you to join my referral link. I also kindly invite you to join the server on Discord Hive NFTGame Latino which is focused on the NFT projects of our beloved HIVE blockchain. If you are looking for a Spanish language clan write to me, we are recruiting players for the CRYPTOLIBERTAD clan regardless of level and who really want to play Splinterlands.

I hope to see you very soon in an upcoming challenge on this great Splinterlands game.


Las imágen de fondo de portada pertenece al autor betidraws y su fuente Pixabay aquí, editada con elemento del juego tomados de la página oficial splinterlands.com. Los divisores tomados del Discord oficial de Splinterlands.
---
---