Consejos útiles para nuevos jugadores en Splinterlands [ES/EN]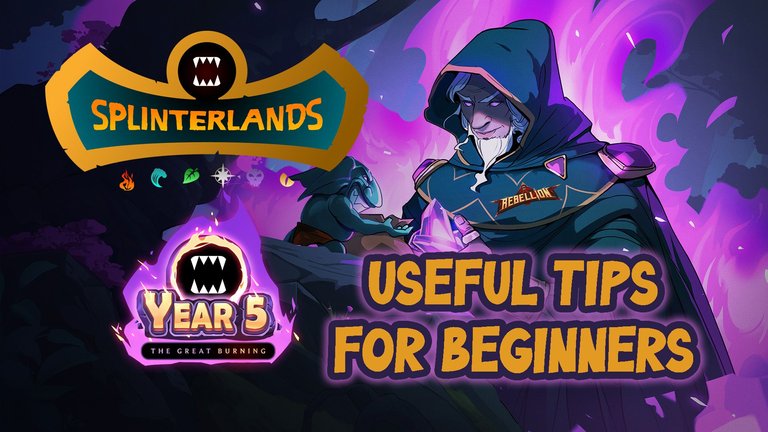 Saludos NFTGamers, hoy les quiero enseñar algunos consejos sobre Splinterlands para los nuevos jugadores o aquellos que tienen interés en entrar a este juego que sigue activo y en constantes actualizaciones. Por cierto, atentos a la nueva edición de cartas Rebellion.
Splinterlands es un juego de cartas NFT donde establecemos batallas por turnos, cada carta tiene sus propias estadísticas y están agrupadas por elementos. Existen factores como las habilidades de cada carta o las reglas en cada batalla que le agregan dificultad al juego que bien nos puede servir de ventajas (divertido), o por el contrario desventajas (nada divertido). La curva de aprendizaje en este juego puede ser bastante elevada así que déjame darte algunos consejos prácticos para allanar un poco esa curva.
ENGLISH VERSION (click here!)

Greetings NFTGamers, today I want to show you some tips about Splinterlands for new players or those who are interested in getting into this game that is still active and in constant updates. By the way, watch out for the new card edition Rebellion.
Splinterlands is a NFT card game where we set up turn-based battles, each card has its own stats and they are grouped by elements. There are factors such as the abilities of each card or the rules in each battle that add difficulty to the game that can serve as advantages (fun), or on the contrary disadvantages (not fun at all). The learning curve in this game can be quite high so let me give you some practical tips to smooth out that curve a bit.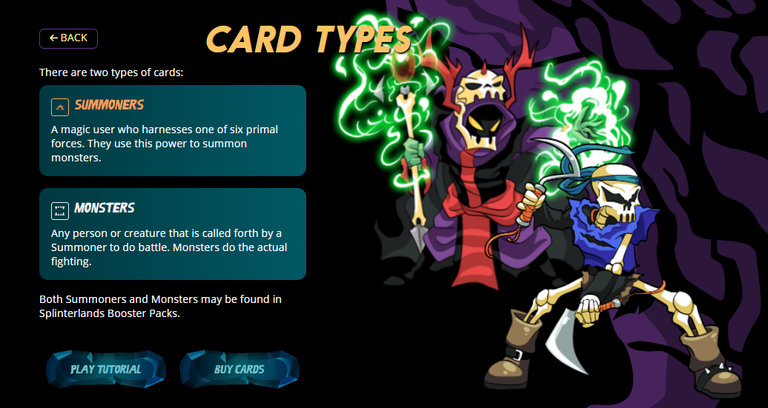 Lo primero que debes saber y que debes tener muy claro es que tienes que perder muchas veces en tus primeras batallas para aprender, en serio, no te frustres si sientes que no ganas una batalla, céntrate en entender cómo funcionan las habilidades de las cartas, fíjate en las cartas que usa tu adversario y cómo las usa, concéntrate en el gasto de mana y cuáles cartas se comportan mejor como equipo, ya que existe una sinergia entre algunas cartas que potencian el equipo. En todo este proceso debes perder una y otra vez.
ENGLISH VERSION (click here!)

The first thing you should know and you should be very clear is that you have to lose many times in your first battles to learn, seriously, do not get frustrated if you feel you do not win a battle, focus on understanding how the abilities of the cards work, look at the cards your opponent uses and how he uses them, focus on mana expenditure and which cards behave better as a team, as there is a synergy between some cards that enhance the team. In this whole process you must lose over and over again.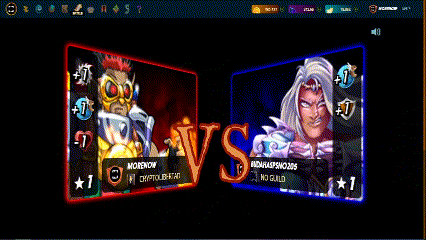 Una de las miles de batallas donde pierdo / One of the thousands of battles where I lose


No es necesario que compres el libro de hechizo apenas ingresas por primera vez, puedes probar el juego a modo de práctica, pero si quieres aprender en serio y poder obtener beneficios, es necesario que compres el libro de hechizo, el cual tiene un valor de 10$ pero te permite pelear en las ligas y esto abre la posibilidad de enfrentarte a humanos reales y no a bots. Es con humanos que aprenderás las verdaderas técnicas de batallas.
Una vez tengas el libro de hechizo y empieces a pelear, puedes copiar el estilo de batalla de tu oponente si ves que tuvo mucha eficiencia, no tengas vergüenza de tomar una captura de pantalla de sus cartas para luego estudiar mejor sus movimientos. El juego guarda automáticamente cada batalla y te da un link para que lo puedas ver en cualquier momento, eso te servirá para analizar los posibles fallos y mejorar.
ENGLISH VERSION (click here!)

It is not necessary to buy the spell book as soon as you enter for the first time, you can try the game as a practice, but if you want to learn seriously and be able to get benefits, it is necessary to buy the spell book, which has a value of 10$ but allows you to fight in the leagues and this opens the possibility of facing real humans and not bots. It is with humans that you will learn the real battle techniques.
Once you have the spell book and start fighting, you can copy the battle style of your opponent if you see that he was very efficient, do not be ashamed to take a screenshot of his cards to better study his moves later. The game automatically saves each battle and gives you a link so you can view it at any time, this will help you to analyze possible failures and improve.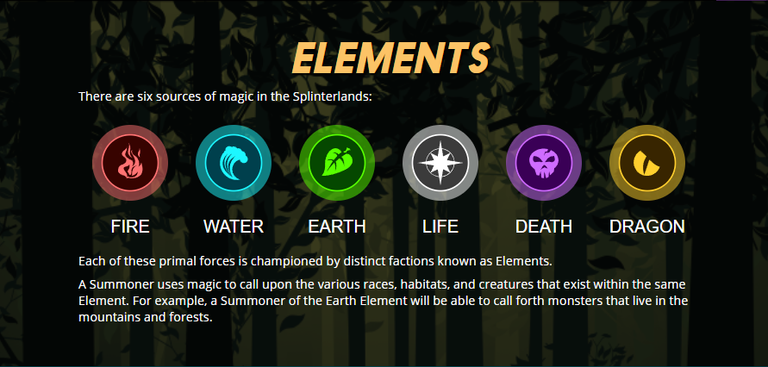 Si tienes un presupuesto que te permita comprar paquetes de cartas, hazlo, o bien compra cartas que consideres te puedan servir en tus batalla, eso sí, esto lo debes hacer cuando ya tengas un conocimiento de las ventajas y desventajas de la mayoría de habilidades del juego, no compres cartas al azar porque terminaras sin usarlas y sería un gasto inútil. En mi caso compro cartas que usualmente rento en mis batallas.
ENGLISH VERSION (click here!)

If you have a budget that allows you to buy packs of cards, do it, or buy cards that you think you can use in your battles, but you must do this when you already have a knowledge of the advantages and disadvantages of most of the skills of the game, do not buy random cards because you will end up not using them and it would be a useless expense. In my case I buy cards that I usually rent in my battles.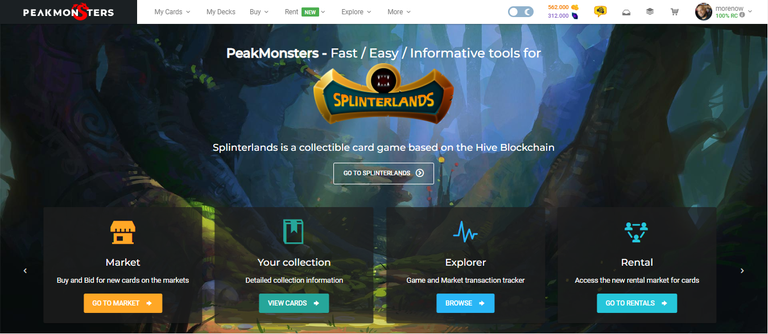 Hablando de rentas, esto pude servirte si tienes poco presupuesto, el juego cuenta con un sistema que te permite ir al mercado y rentar cartas por un tiempo en específico, es bastante cómodo porque por muy bajo costo puedes armar un mazo de cartas decente para tus batallas por un buen tiempo. Entonces digamos que has estado viendo que tus oponentes han estado usando una carta que repara el escudo constantemente de sus cartas pero tu no la tienes, pues fíjate en el nombre y el elemento, la buscas en el mercado y la alquilas, ya la podrás usar también y no será fácil ganarte.
Importante, si tienes la posibilidad de unirte a un gremio, hazlo, pero si no es posible por la razón que sea, tal vez no hay cupos o tal vez no aceptan novatos, no importa, debes estar rodeado de colegas que les guste el juego y que te motiven a seguir adelante y aprender. Splinterlands tiene un Discord bastante activo y en varios idiomas donde puedes compartir sobre este maravillo juego.
Una de las mejores cosas que tiene Splinterlands es el incentivo de crear comunidad, es por eso que personalmente lo juego, me encanta hablar sobre este tema con mis colegas, tener competencias o minitorneos amigables, a veces con algunos premios, es bastante agradable. Hablando de torneos, el juego tiene la facilidad de crear torneos por algunos DEC (token del juego) y participar en algunos que estén activos, este aspecto también es muy divertido porque siempre hay torneos activos. Si quieres unirte a torneos siendo un novato, te aconsejo que ingreses a los de entrada gratis.
ENGLISH VERSION (click here!)

Speaking of rentals, this can be useful if you are on a budget, the game has a system that allows you to go to the market and rent cards for a specific time, it is quite convenient because for a very low cost you can build a decent deck of cards for your battles for a long time. So let's say you have been seeing that your opponents have been using a card that constantly repairs the shield of their cards but you don't have it, then look at the name and the element, look for it in the market and rent it, you can use it too and it won't be easy to beat you.
Important, if you have the possibility to join a guild, do it, but if it is not possible for whatever reason, maybe there are no quotas or maybe they do not accept newbies, it does not matter, you must be surrounded by colleagues who like the game and motivate you to go ahead and learn. Splinterlands has a very active Discord in several languages where you can share about this wonderful game.
One of the best things about Splinterlands is the incentive to create community, that's why I personally play it, I love to talk about it with my colleagues, having friendly competitions or mini-tournaments, sometimes with some prizes, is quite nice. Talking about tournaments, the game has the facility to create tournaments for some DEC (game token) and participate in some that are active, this aspect is also very fun because there are always active tournaments. If you want to join tournaments being a newbie, I advise you to enter the free entry ones.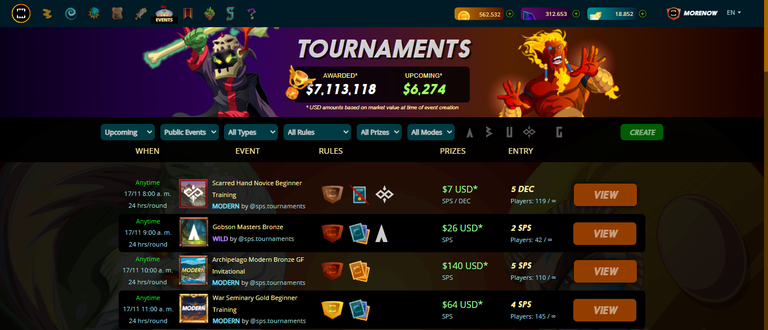 Casi me olvido mencionar, en Splinterlands las cartas suben de nivel cuando se fusionan, te recomiendo que solo fusiones las cartas cuando tengas el total de cartas necesarias para hacerlo, evita tener cartas a medio nivel ya que esas cartas que fusionaste no las puedes recuperar y no sabes el precio que pueden llegar a tener de forma individual. El mercado de cartas fluctúa constantemente y es mejor estar precavidos.
ENGLISH VERSION (click here!)

I almost forgot to mention, in Splinterlands cards level up when they are merged, I recommend that you only merge cards when you have the total number of cards needed to do so, avoid having cards at half level because those cards that you merged cannot be recovered and you don't know the price they can have individually. The card market fluctuates constantly and it is better to be cautious.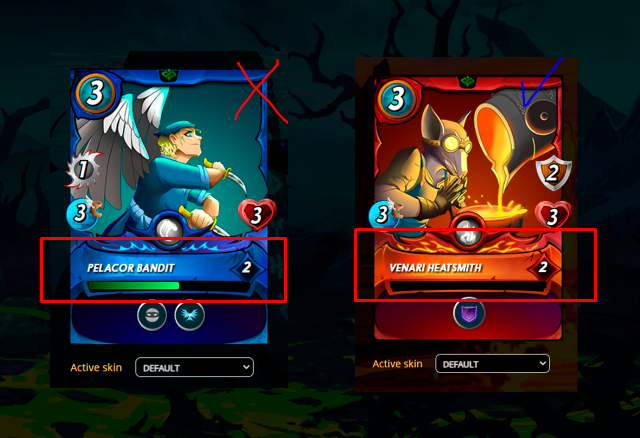 Para finalizar, recomiendo muchísimo que uses la herramientas https://peakmonsters.com/rentals para rentar cartas, hay muchas otras funciones que tiene esta web y te invito a explorarla.
Hay muchas guías en línea de cómo jugar, hay varios videos, explora y aprende, de igual modo estoy a la orden por si tienes alguna duda.
ENGLISH VERSION (click here!)

Finally, I highly recommend that you use the tools https://peakmonsters.com/rentals to rent cards, there are many other functions that this site has and I invite you to explore it.
There are many online guides on how to play, there are several videos, explore and learn, I am also at your service if you have any questions.

Si me lees y aun no juegas Splinterlands me gustaría que te unas con mi enlace de referido. También te invito muy amablemente a unirte al servidor en Discord Hive NFTGame Latino el cual esta centrado en los proyectos NFTGame de nuestra amada Blockchain de HIVE.
Espero verlos muy pronto en un próximo reto sobre este gran juego Splinterlands.
ENGLISH VERSION

If you read this and you don't play Splinterlands yet, I would like you to join me with my referral link. I also very kindly invite you to join the server on Discord Hive NFTGame Latino which is focused on the NFTGame projects of our beloved HIVE blockchain.
I hope to see you soon in a next challenge about this great game Splinterlands.


La imagen de portada fue tomada de la página oficial splinterlands.com, así como también las imágenes mostradas en este post. Los divisores tomados del Discord oficial de Splinterlands.
---
---