SPLINTERLANDS - ODD ONES OUT BATTLE MAGE SECRETS [ES/EN]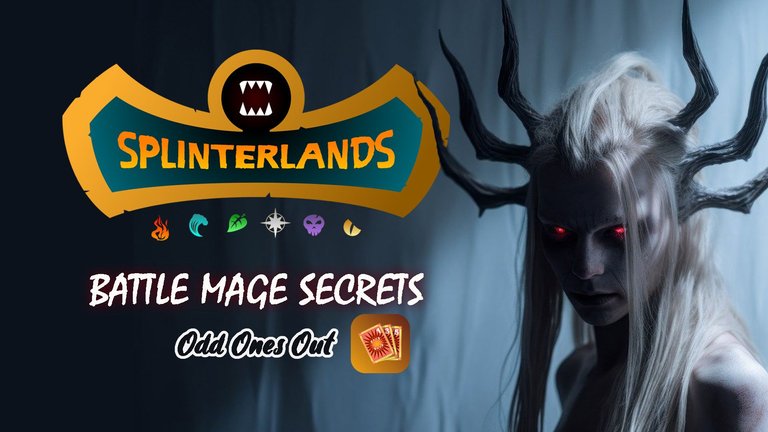 ---
BATTLE MAGE SECRETS Weekly Challenge! es el reto semanal que tenemos sobre este maravilloso juego Splinterlands, esta vez el desafío sería ganar una batalla con la regla de batalla "Odd Ones Out", esta regla solo nos permite utilizar cartas impares pero no afecta a nuestro invocador.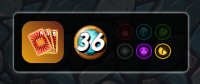 ENGLISH VERSION

BATTLE MAGE SECRETS Weekly Challenge! is the weekly challenge we have about this wonderful Splinterlands game, this time the challenge would be to win a battle with the "Odd Ones Out" battle rule, this rule only allows us to use odd cards but does not affect our summoner.

⚜️CARTAS ELEGIDAS Y POSICIONES / CARDS AND POSITIONS⚜️
Esta batalla contaría con un gasto de mana de 36 puntos y la posibilidad de usar cartas de muerte y dragón, lo cual no me da muchas opciones, pero luego pensé que mi adversario tendría el mismo problema XD. Por suerte tengo algunas cartas dragón rentadas que son muy buenas aunque el gasto de mana es bastante alto.
ENGLISH VERSION

This battle would count with a mana expenditure of 36 points and the possibility of using death and dragon cards, which doesn't give me many options, but then I thought that my opponent would have the same problem XD. Luckily I have some rented dragon cards that are very good although the mana expenditure is quite high.
---
---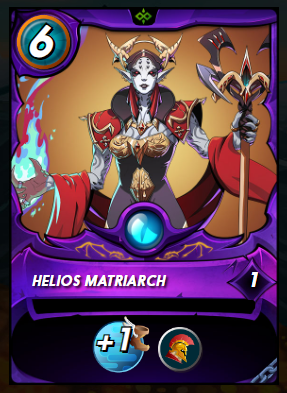 Elegí el invocador HELIOS MATRIARCH del elemento dragón el cual me permite otorgar +1 de velocidad y además colocar una carta Gladius. Suelo rentar cartas dragón poderosas pero con un gasto de mana elevado, esta vez asumí el riesgo de elegir estas cartas a pesar de no contar con tanto mana.
I chose the HELIOS MATRIARCH summoner of the dragon element which allows me to grant +1 speed and also place a Gladius card. I usually rent powerful dragon cards but with a high mana cost, this time I took the risk of choosing these cards despite not having so much mana.
---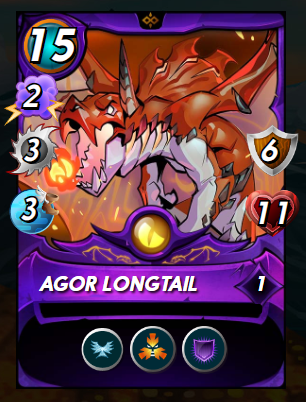 AGOR LONGTAIL fue la carta que coloqué en primera posición, es una carta del elemento dragón con las habilidades Flying para evadir los ataques enemigos, Taunt para centrar los ataques del enemigo en él, Void Armor para que los ataques mágicos dañen el escudo antes que la salud, es una carta tanque que me encanta por su capacidad de mantener la agresividad y esquivar los golpes. Su gasto de mana es de 15 puntos lo cual es bastante alto, pero cuenta con un escudo de 6 puntos y una salud de 11 puntos ideales para su función de tanque, además que posee doble tipo de ataque, mágico y cuerpo a cuerpo. Es una carta excelente.
AGOR LONGTAIL was the card I placed in first position, it is a dragon element card with the abilities Flying to evade enemy attacks, Taunt to focus enemy attacks on him, Void Armor so that magical attacks damage the shield before health, it is a tank card that I love for its ability to maintain aggression and dodge the blows. Its mana cost is 15 points which is quite high, but it has a 6 point shield and 11 point health ideal for its tanking function, plus it has dual attack types, magic and melee. It is an excellent card.
---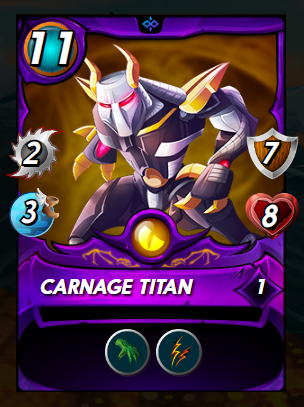 CARNAGE TITAN fue la carta elegida para apoyar al tanque, también es una carta del elemento dragón, con un gasto de mana de 11 puntos cuenta con buen escudo y salud, es de ataque cuerpo a cuerpo, pero lo mejor que tiene es su habilidad Double Strike que le permite atacar dos veces en cada turno. Mientras el tanque mantiene la agresividad en ella entonces CARNAGE TITAN estaría atacando dos veces a la carta enemiga en primera posición.
CARNAGE TITAN was the card chosen to support the tank, it is also a dragon element card, with a mana cost of 11 points it has good shield and health, it is a melee attack card, but the best thing it has is its Double Strike ability that allows it to attack twice in each turn. As long as the tank keeps the aggressiveness in it then CARNAGE TITAN would be attacking twice the enemy card in first position.
---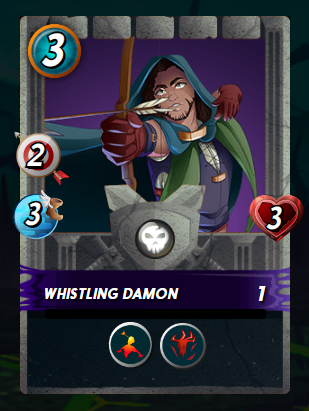 En tercera posición coloqué la carta WHISTLING DAMON, es del tipo Gladius lo cual le permite aumentar sus estadísticas con cada golpe de gracia, además cuenta con la habilidad Snipe que le permite centrar sus ataques a cartas de ataque mágico o que no tengan ataque. Su ataque a distancia de 2 puntos de daño y su velocidad de 3 puntos pueden ser un problema para el enemigo.
In third position I placed the card WHISTLING DAMON, it is of the Gladius type which allows it to increase its stats with each coup de grace, it also has the Snipe ability that allows it to focus its attacks on cards with magic attack or that have no attack. His ranged attack of 2 points of damage and his speed of 3 points can be a problem for the enemy.
---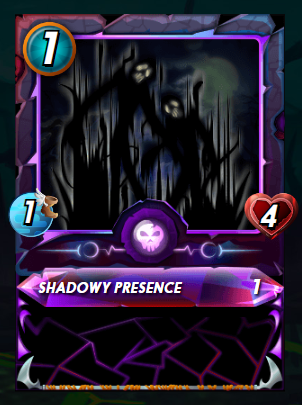 En última posición coloqué la carta SHADOWY PRESENCE que tiene una salud de 4 puntos siendo nivel 1, es una buena carta para defender a mis guerreros de los posibles ataques ninjas pero en este caso la utilicé porque solo me quedaba un punto de mana. Lo mejor de SHADOWY PRESENCE es su poco gasto de mana acompañado de su buena salud.
In last position I placed the card SHADOWY PRESENCE which has a health of 4 points being level 1, it is a good card to defend my warriors from possible ninja attacks but in this case I used it because I only had one point of mana left. The best thing about SHADOWY PRESENCE is its low mana cost and its good health.

⚔️Batalla / Battle⚔️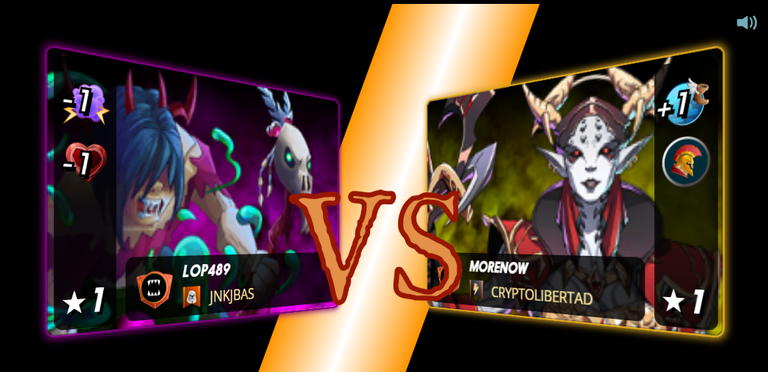 Mi adversario eligió el elemento de muerte con el invocador THADDIUS BROOD que resta un punto de magia y un punto de salud a todas mis cartas, junto a él un tanque que soporta muy bien el ataque mágico por su habilidad void, también eligió un par de cartas ninjas de ataque cuerpo a cuerpo, un par de cartas de ataque mágico y una carta que repara escudos sin hacer ningún daño.
ENGLISH VERSION

My opponent chose the element of death with the summoner THADDIUS BROOD that subtracts a point of magic and a point of health to all my cards, next to him a tank that supports very well the magic attack by his void ability, he also chose a pair of melee attack ninja cards, a pair of magic attack cards and a card that repairs shields without doing any damage.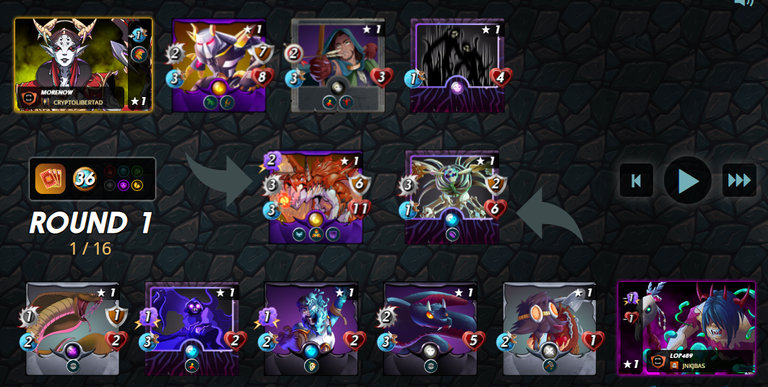 Mi tanque sufrió una baja en el ataque mágico a 1 por el invocador enemigo, entonces no podría hacerle daño al tanque enemigo con magia pero podría hacerle daño cuerpo a cuerpo.
En el primer asalto mi carta Gladius eliminó la carta reparadora de escudos con un flechazo mortal, esto le permitió subir su ataque a 3 puntos y su velocidad a 5 puntos. CARNAGE TITAN pudo golpear dos veces al tanque enemigo dejándolo bastante débil. A pesar de que los ataques de mi enemigo se concentraron en mi tanque, éste no recibió daños considerables.
En el segundo asalto nuevamente mi carta Gladius derribó otra cata enemiga, esta vez una carta de ataque mágico, nuevamente aumentó sus estadísticas quedando con 4 puntos de ataque a distancia y 6 puntos de velocidad, en este punto esta carta se ha puesto peligrosa para mi adversario. Mi tanque derribo al tanque enemigo y tomó su lugar una de las cartas ninjas con 5 puntos de salud, esta carta recibió una paliza de CARNAGE TITAN dejándole apenas 1 punto de salud.
En el tercer asalto WHISTLING DAMON lo volvió a hacer, derribando la única carta de ataque mágico que le quedaba a mi adversario, sus estadísticas aumentaron a 5 puntos de ataque a distancia y 7 puntos de velocidad. Luego mi tanque eliminó la carta ninja que había quedado débil y su lugar fue reemplazado por la única carta enemiga en pie, la cual no fue un problema derribar.
De este modo pude conseguir la victoria utilizando la regla de batalla Odd Ones Out. Fue arriesgado utilizar cartas de alto coste de mana pero fue efectivo.
ENGLISH VERSION

My tank suffered a magic attack drop to 1 by the enemy summoner, so I couldn't hurt the enemy tank with magic but I could do melee damage.
In the first round my Gladius card removed the shield repair card with a deadly arrow, this allowed him to raise his attack to 3 points and his speed to 5 points. CARNAGE TITAN was able to hit the enemy tank twice leaving it quite weak. Despite the fact that my enemy's attacks were concentrated on my tank, he did not take considerable damage.
In the second round again my Gladius card knocked down another enemy tank, this time a magic attack card, again it increased its stats leaving it with 4 points of ranged attack and 6 points of speed, at this point this card has become dangerous for my opponent. My tank knocked down the enemy tank and took his place one of the ninja cards with 5 health points, this card received a beating from CARNAGE TITAN leaving him with only 1 health point.
In the third round WHISTLING DAMON did it again, knocking down my opponent's only remaining magic attack card, his stats increased to 5 points of ranged attack and 7 points of speed. Then my tank removed the ninja card that had been left weak and its place was replaced by the only enemy card standing, which was no problem to take down.
In this way I was able to achieve victory using the Odd Ones Out battle rule. It was risky to use high mana cost cards but it was effective.
---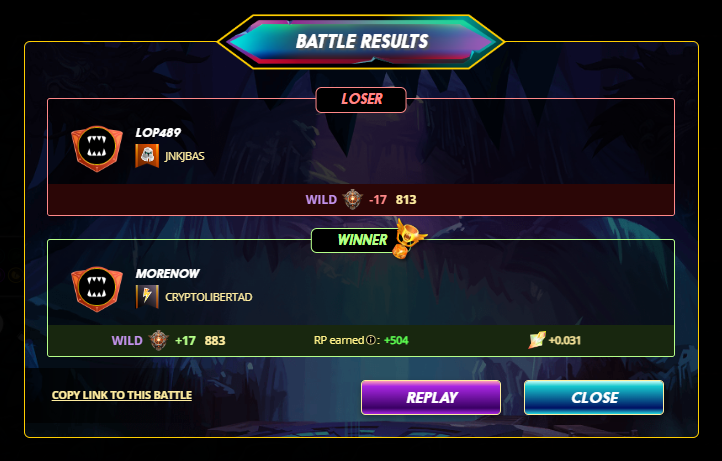 ¿Quieres ver la batalla? ingresa aquí / Want to see the battle? click here
https://splinterlands.com?p=battle&id=sl_c56e9c28d786829b7dea82f33ddae5bf&ref=morenow

Si me lees y aun no juegas Splinterlands me gustaría que te unas con mi enlace de referido. También te invito muy amablemente a unirte al servidor en Discord Hive NFTGame Latino el cual esta centrado en los proyectos NFTGame de nuestra amada Blockchain de HIVE.
Espero verlos muy pronto en un próximo reto sobre este gran juego Splinterlands.
ENGLISH VERSION

If you read this and you don't play Splinterlands yet, I would like you to join me with my referral link. I also very kindly invite you to join the server on Discord Hive NFTGame Latino which is focused on the NFTGame projects of our beloved HIVE blockchain.
I hope to see you soon in a next challenge about this great game Splinterlands.


La imagen de portada es de libre uso, del autor
aberrantrealities y su fuente Pixabay aquí, editada con elementos del juego tomados de la página oficial splinterlands.com. Los divisores tomados del Discord oficial de Splinterlands.
---
---