Pelacor Deceiver - New card perspective 1/21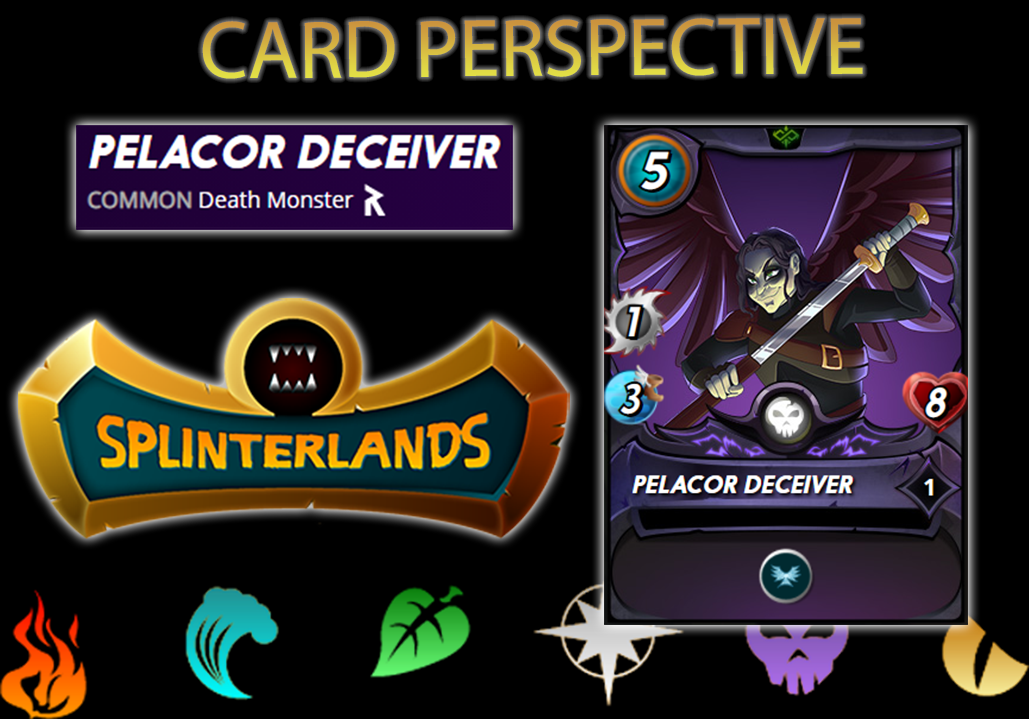 With the recent release of the new 21 reward cards. I know some might be curious including me if they will be useful on the coming battles to play this new season on where and which league they might show their full potential.
I would like to share my own perspective or opinion regarding the new 21 reward cards and on this blog it will be the Pelacor Deceiver.
INFO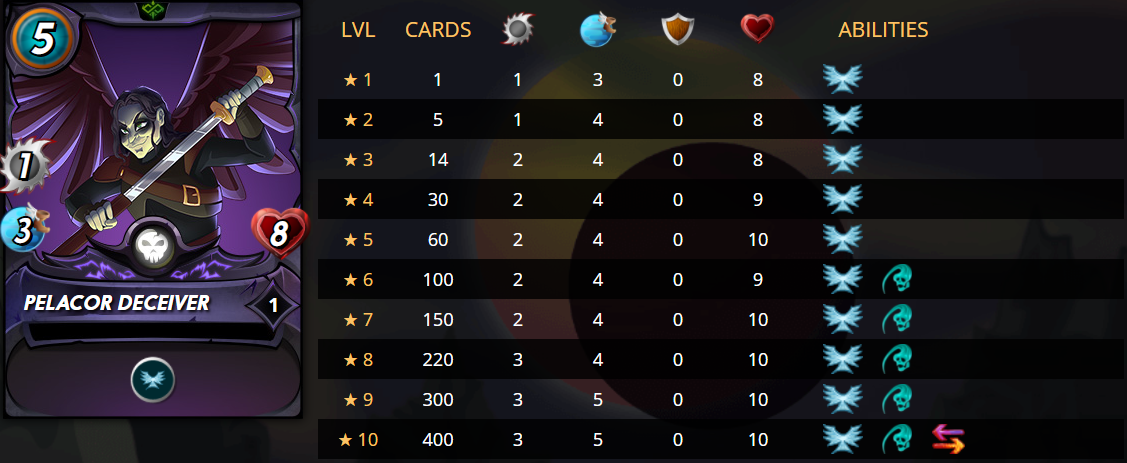 Pelacor Deceiver is a death and common monster card with a melee attack that uses 5 mana.
PERSPECTIVE
This card will be useful once it reach level 3 as it attack damage increased to 2 even though without an armor its HP is 8 which is I think is good enough to be put in the first position.
Compared to other death card: Animated Corpse (4 MANA, 1ATK MELEE, 1 SPD, 6HP +NONE) it is obviously better but if we compare this to Hunted Spirit (5 MANA, 2ATK MELEE, 2SPD, 7HP +HEAL) I would still choose Hunted Spirit because of its heal ability I know that Pelacor Deceiver has proper speed and flying ability to evade but choosing that would just make the game a chance of evasion or hoping that the enemy card has just 1 speed.
Using a level 6 Pelacor Deceiver will acquire the card a new ability called Backfire which allows the card to damage to monster that attack him and miss with 2 damages and on level 10 it unlocks the ability Retaliate that gives chance to attack attacker back when Pelacor deceiver was hit with Melee attack.
RULES
Earthquake - Best time to use of Pelacor Deceiver for having its flying ability.
Equal Oppurtunity - A good time to use Pelacor Deceiver in any position.
Melee Mayhem - A good time to use Pelacor Deceiver in any position.
Super Sneak - A good time to use Pelacor Deceiver in any position.
Rise of the Commons - This should be a good time to use Pelacor Deceiver if you don't have any other common or rare card for first position as Epic and Legendary card are banned on this rule.
Back to Basics - If you think you need more speed on your first position this would be a good choice.
Little League - Pelacor Deceiver cannot be used in this rule.
Comment if you got an idea or suggestion to improve and things that I have missed.

If you're looking for a guide to help you start playing ranked battle.
Beginner's Splinterlands combo guide using free cards
Summoner & Monster level - a guide to help with renting level cards


---
---