Venari Heatsmith - New card perspective 2/21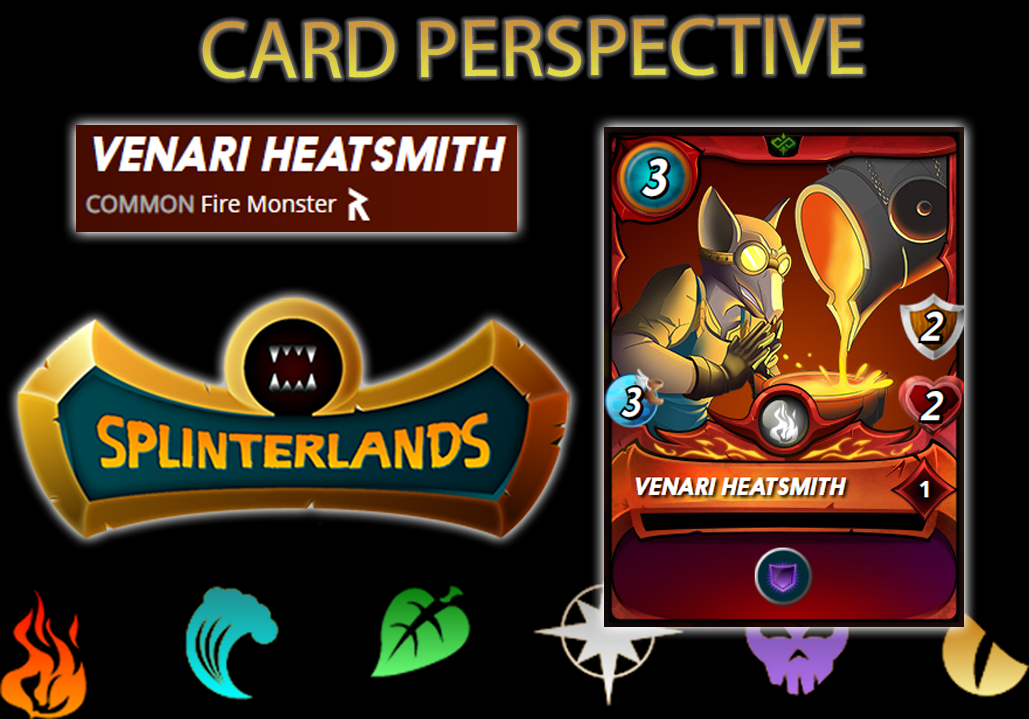 With the recent release of the new 21 reward cards. I know some might be curious including me if they will be useful on the coming battles to play this new season on where and which league they might show their full potential.
I would like to share my perspective or opinion regarding the new 21 reward cards and on this blog it will be the Venari Heatsmith.
INFO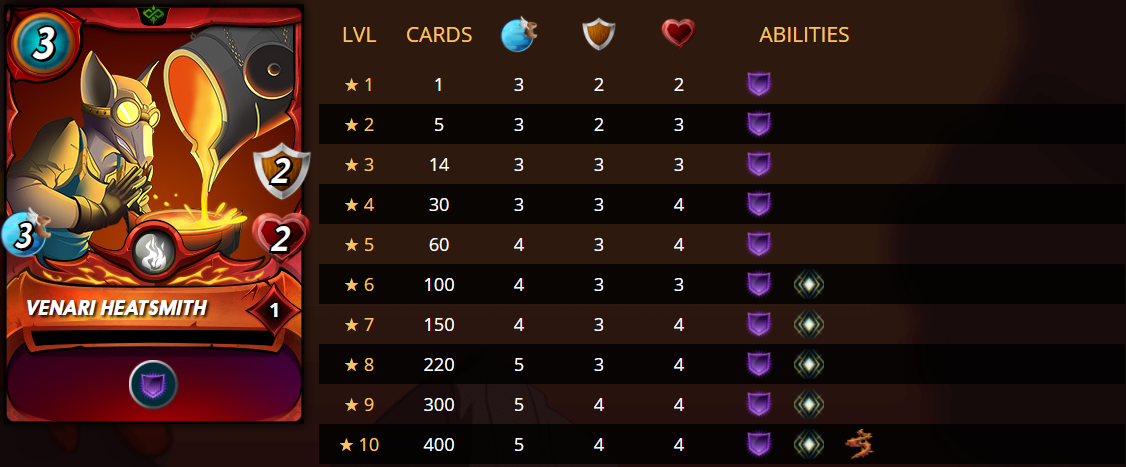 Venari Heatsmith is a fire and common monster card with no attack that uses 3 mana.
PERSPECTIVE
This kind of card that has no attack, uses low mana and has an ability Void Armor with a good amount of HP and Armor is good for tanking specially against a mylor summoner making its thorn ability useless in first position. Venari Heatsmith is a unique type of no attack card for having an armor that is best against all types of attack since it also has an ability called Void Armor that makes magic attack to hit armor first before directly damaging HP this would be really good tank for Fire compare to similar card like the new one Pelacor Conjurer(Life - 2 Mana), Peaceful Giant(Neutral - 5 Mana) and Kelp Initiate(Fire - 2 Mana) that has high hp but no armor.
Despite all that talks about its stats it is also unique for having the new ability called Amplify that will be unlock once it reach level 6 and a thorn ability at level 10. Amplify increases Magic Reflect, Return Fire, and Thorns damage to all enemy monsters by 1.
Using Venari Heatsmith at level 6 would be really good to show its potential especially if combine with Fire cards that has Magic Reflect, Return Fire and Thorns such as Living Lava at level 8, Serpentine Soldier at level 7, Naga Fire Wizard at level 5 and Caladuum at level 4, Elemental Phoenix at level 3, Magnor at level 4.
Based on the levels and rarity of the cards that can be combine best with Venari Heatsmith at level 6 it is most probable to only happen at Gold and Above leagues only especially at low mana pool battle.
RULES
Equaliser - Should be the good time to replace a similar card like Peaceful Giant(Neutral) into Venari Heatsmith even if you still have mana for it.
Little League - Venari heatsmith should be good for this if you're lacking cards or you see that the enemy has mylor summoner.
Rise of the Commons - This should be a good time to use Venari Heatsmith if you don't have any other common or rare card for first position as Epic and Legendary card are banned on this rule.
Back to Basics - This rule makes Venari Heatsmith more vulnerable to magic attacks.
Comment if you got an idea or suggestion to improve and things that I have missed.

If you're looking for a guide to help you start playing ranked battle.
Beginner's Splinterlands combo guide using free cards
Summoner & Monster level - a guide to help with renting level cards


---
---