Supporting the Singapore Splinterlands Community (Apr)
I have been trying to support the local Singapore Splinterlands players, hopefully this can create a small local team for the long time. I am very proud as a lot of them are still actively playing Splinterlands after joining the Metafrens discord group for quite some time. There is always a saying that
"it is easy to start but difficult to mantain."
This quote is applicable for marriage, business and many more. So I am really very proud of the group here and they are still going strong and believe in Splinterlands for the long run.
One of the common practice that I try to provide is the End of Season private tournament within ourselves. In the previous EOS, I organised a total of 2 private tournaments, mainly is to train among ourselves and to provide some incentives for the active local players.
As such, even if you place in last few, as long as you participate and win 1 matches, you can get away with 100 DEC. You can use the DEC to rent CPs to achieve higher leagues for the EOS chests.
The 1st private tournament is hosted on 24 Apr. This time round, I decided to make it specially for the regular participants in the discord, so I did not even post any password in the discord. I pm everyone of them and indeed, we dont have strangers who out of the blue join the tournament. We do have one person who leaked the password to his guild leader to reward for his effort. Sadly, it took away one slot of the tournament.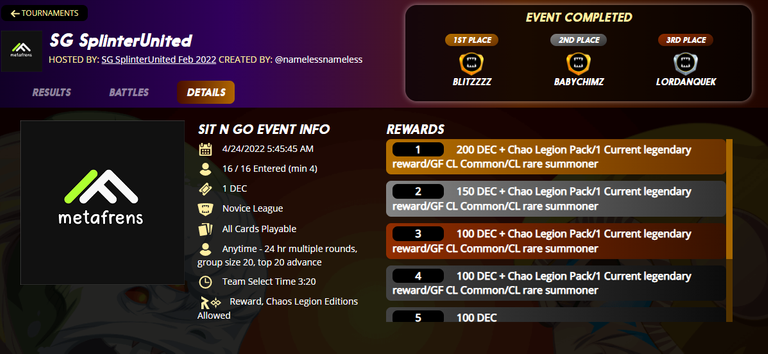 This time round, the private tournament setting is very different from the previous one. Instead of grouping in a team of 8, I let everyone to be in the same round, so we got to play with everyone. Because there is only 1 group, there isnt a final round. The good thing is that we all get to play with one another once. And of course, that means there will be 15 matches to submit which can be quite an insane amount. Overall, the feedback from the participant is quite positive cause now they get to match with everyone.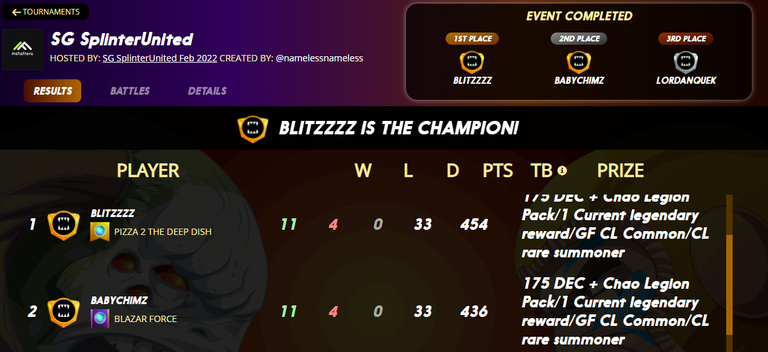 And as everyone start to mature, you can see that the tournament is now more challenging as there isnt someone dominating the touranment. A lot of matches are actually closely matches and we definitely have learned a lot from it.
Thanks for participating.
@blitzzzz @babychimz @lordanquek @genming @vaynard86 @original1 @koodies @dagger88 @donma @relf87 @iamdrrrob025 @pandachef @deathstarer7 @bingzz
And once again congratz to the top 4 winners as they got to win some nice prizes.
How it works?
@blitzzzz coming in 1st, so he got to choose 1 of the following
Chao Legion Pack
Current(droppable) legendary rewards (Harklaw/Biljka/Oshannus)
Chao Legion Gold Foil Common
Chao Legion rare summoner (means cant choose quix)
After Blitzzz selected a CL rare summoner, Babychimz coming in 2nd got to choose the remaining 3 choices (1 to 3), and 3rd will choose the remaining 2. Although I am 4th, I play the last prize choice to Genming which came in 5th.
As for the 2nd private tournament, it is held on the 28 Apr which is even closer to the EOS. This is to give even more DEC to the local community so they can push themselves to higher league and more training among ourselves since this format has very good feedback. Luckily, this time the private tournament only consist of the regular chatters in the discord. Because of that extra 1 slot, @stamato is able to join us. However, unexpectedly, he actually rank 14 out of 15. He was usually one of the top contender for the top position, so we are all surprised to see such unexpected results from him.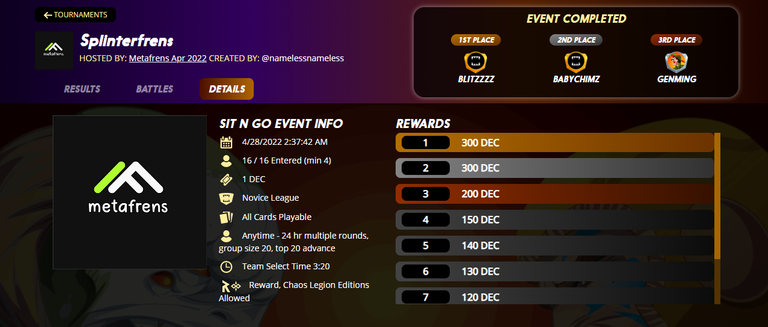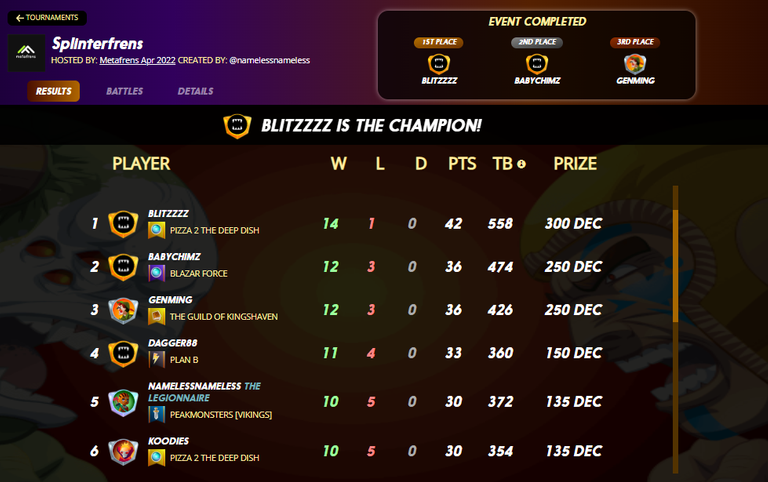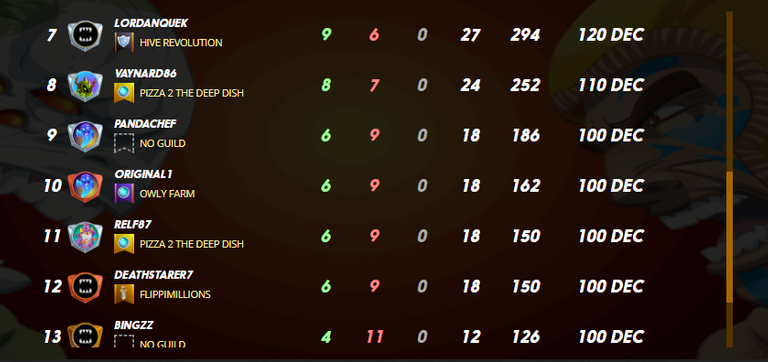 Once again, @blitzzzz managed to come in first again. And this time round, he did amazingly as he is able to win almost all the matches with only 1 loss.
I am really thankful for the local community as they have journey with me for such a long time, making the Splinterlands journey so much more fun.
If you yet to join Splinterlands and interested to try it out, feel free to use my referral:
https://splinterlands.com?ref=namelessnameless
---
---