Splinterlands Art Contest Week 203 | Deeplurker Inspiration [ENG-ESP]
"Climbing to the surface of the sea, Layla observed the beautiful night in detail. She had always wondered if there might be life beyond the sea, out of the water. Most likely yes, since her relatives always advised her of the danger to them from humans and other land creatures, but Layla had never seen such beings in her life.
Deeplurkers have developed very well over the years, allowing them to stay out of the water for some time,
so Layla would stare up at the starry sky for short periods of time and when she felt she couldn't breathe, she would dive back into the water to replenish her oxygen.
Incredibly, Layla had spent the whole night looking at the night sky, but it was time to go down to the deepest part of the sea and return home. There was only a little darkness left in the sky, as the sunlight was approaching with the dawn, something extremely dangerous for the Deeplurker, as the sunlight leaves them in the sky and after a short while, they simply stop reacting and soon stop breathing, something strange and sad to witness.
Layla prepared to go down to the depths, but she left with the image of that night, full of stars and the beautiful light of the moon, remembering herself if someday she could finish with all that being that crossed her in front, because yes, the story sounded very melancholic and beautiful, but the reality of it was another."
"Subiendo a la superficie del mar, Layla observo con detalle la hermosa noche. Siempre se ha preguntado si podría haber vida mas allá del mar, fuera del agua. Lo mas probable es que si, ya que sus parientes siempre la aconsejaban del peligro que era para ellos los humanos y demás criaturas terrestres, pero Layla nunca había visto estos seres en su vida.
Los Deeplurker se han desarrollado muy bien al pasar los años, permitiendoles estar fuera del agua cierto tiempo,
así que Layla se quedaba viendo al cielo estrellado pequeños lapsos de tiempo y cuando sentía que no podía respirar, se sumergía de nuevo al agua para reponer su oxigeno.
Increíblemente, Layla había pasado toda la noche viendo el cielo nocturno, pero ya era hora de bajar a lo mas profundo del mar y volver a su casa. Solo quedaba un poco de oscuridad en el cielo, ya que se avecinaba la luz del sol con el amanecer, algo extremadamente peligroso para los Deeplurker , ya que la luz del sol los deja cielo y al poco rato, simplemente dejan de reaccionar y pronto dejan de respirar, algo extraño y triste de presenciar.
Layla se dispuso a bajar a las profundidades, pero se fue con la imagen de esa noche, llena de estrellas y la hermosa luz de la luna, recordándose si algún día podría acabar con todo aquel ser que se la atravesara de frente, porque si, la historia se escuchaba muy melancólica y bonita, pero la realidad de la misma era otra."
---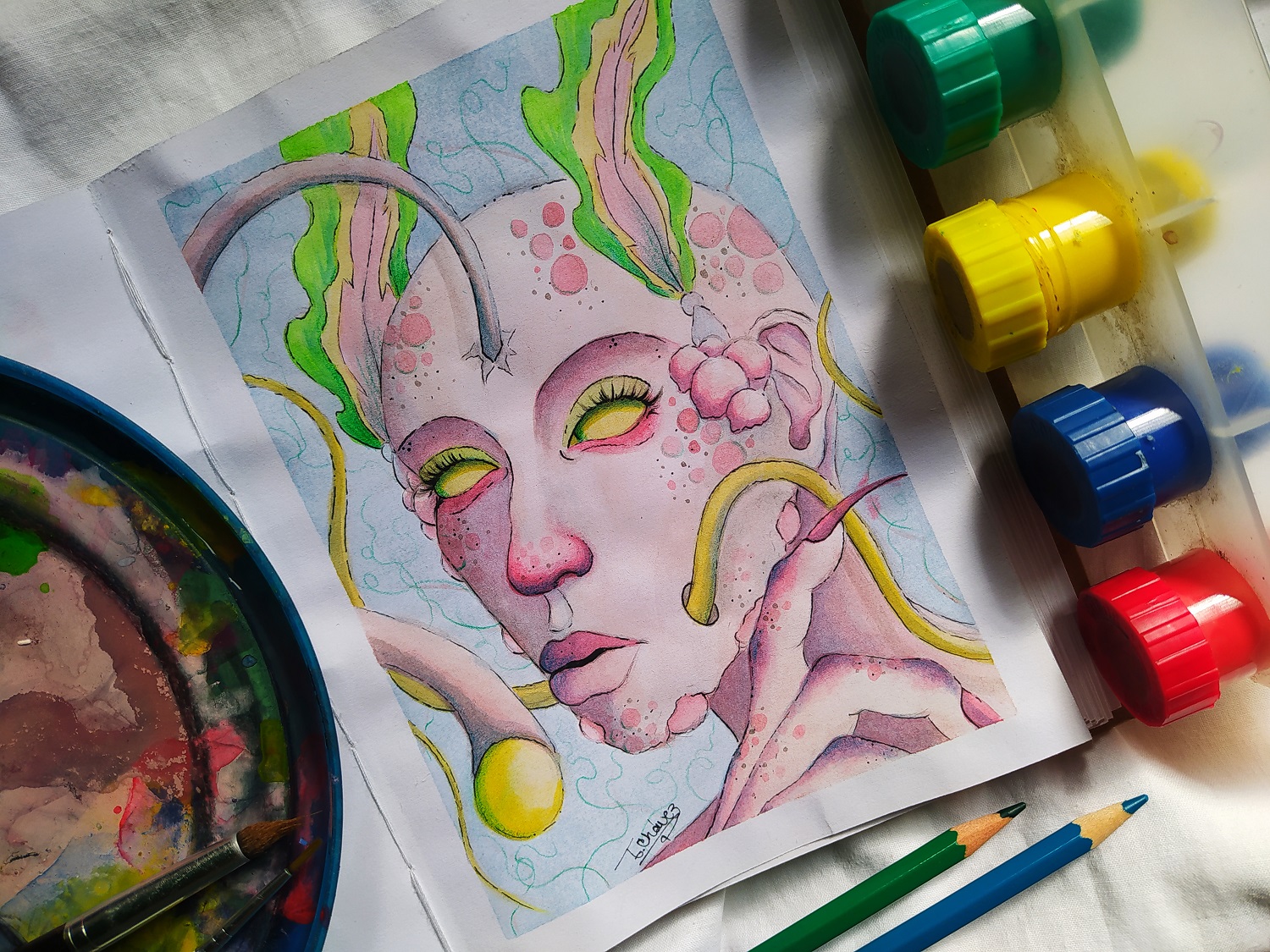 Original JesberChavez
---



🌵PROCESS // PROCESO🌵


At the beginning when I saw this character, I was really thinking about how it would be or rather, how I would integrate my drawing style in it, since it had very good elements and I didn't have a clear idea of how I could do my version, but in the end I think I could reflect the essence of the original character in my version, resulting in a very good drawing.
Al principio cuando vi este personaje, realmente estuve pensando en como seria o mejor dicho, como integraría mi estilo de dibujo en el mismo, ya que tenia elementos muy buenos y no tenia una idea clara de como podía hacer mi versión, pero al final creo que si pude reflejar la esencia del personaje original en mi versión, quedando un muy buen dibujo.
I started doing the sketch little by little, so I can work and integrate the elements of the original character to my version. I have started to work the sketches with a little more detail, because this way I can see much better all the details in the drawing, because before I didn't do it this way and only made a simple sketch without much detail and now I see how good it is to work with a good sketch.
Comencé haciendo el boceto poco a poco, así voy trabajando e integrando los elementos del personaje original a mi versión. He comenzado a trabajar los bocetos con un poco más de detalle, ya que así puedo ver mucho mejor todo los detalles en el dibujo, ya que antes no lo hacia de este manera y solo hacia un boceto simple y sin mucho detalle y ahora veo lo bien que es trabajar con un buen boceto.
Once I had the sketch ready, I went to work the color throughout the drawing. For this color palette, I went with colors a little brighter, so to speak, because in the original drawing the color palette used was very cold and I really like it, but I wanted to try a different one and make the character look a little more alive. Finally, I just had to make a couple of final details to finish the drawing and that's it, that would be all.
Una vez que tuve el boceto listo, me fui a trabajar el color en todo el dibujo. Para esta paleta de color, me fui con colores un poco más brillantes, por decirlo de alguna manera, ya que en el dibujo original la paleta de color usada se me hacia muy fría y la verdad me gusta, pero quise probar con una diferente y hacer lucir el personaje un poco más vivo. A lo ultimo, solo tuve que hacer un par de detalles finales para darle fin al dibujo y listo, eso seria todo.
I hope you like it!
¡Espero que te guste!

⬜️◾️Final Work◽️⬛️
⬜️◾️Trabajo Final◽️⬛️
---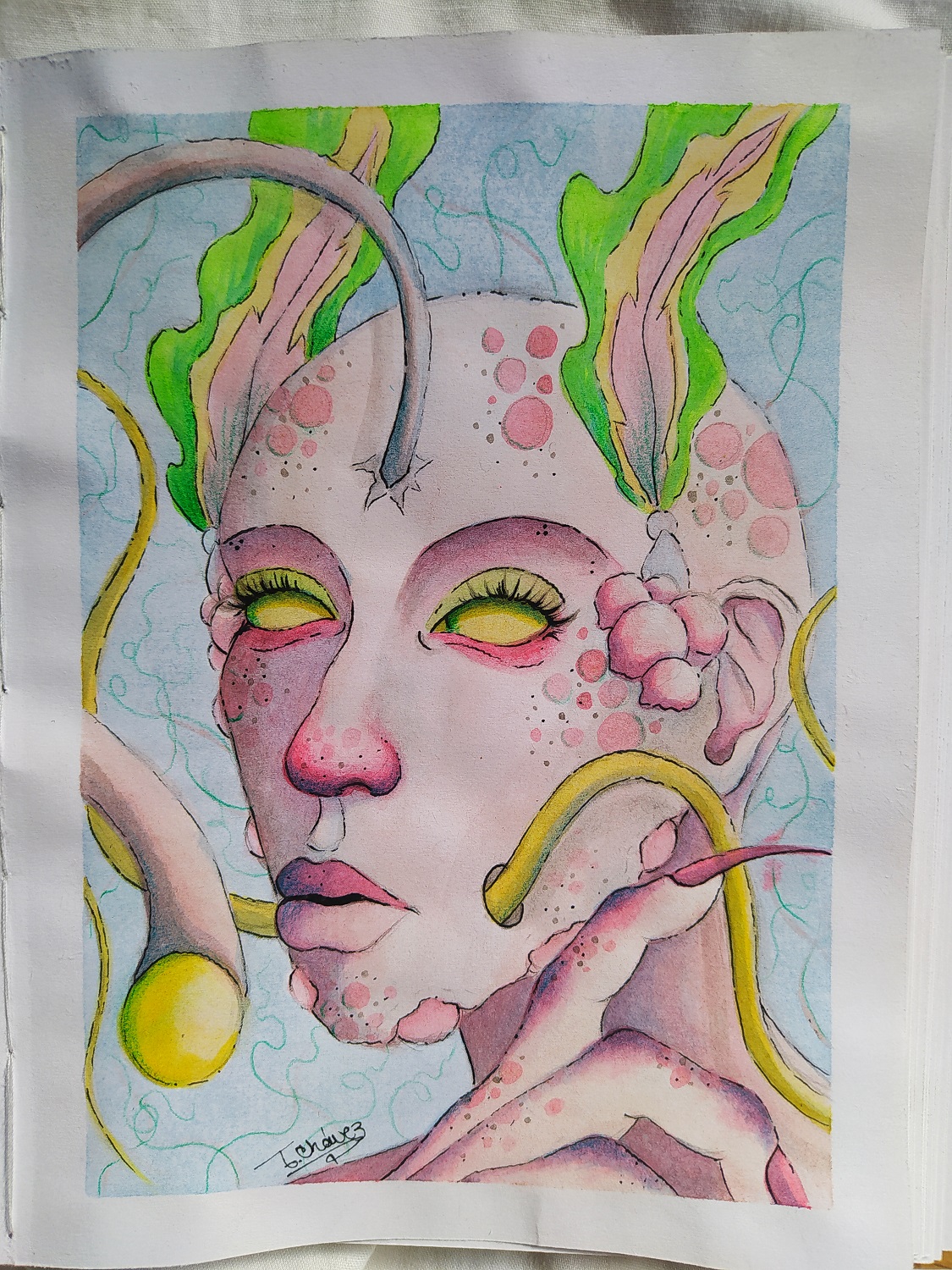 Original Jesber Chavez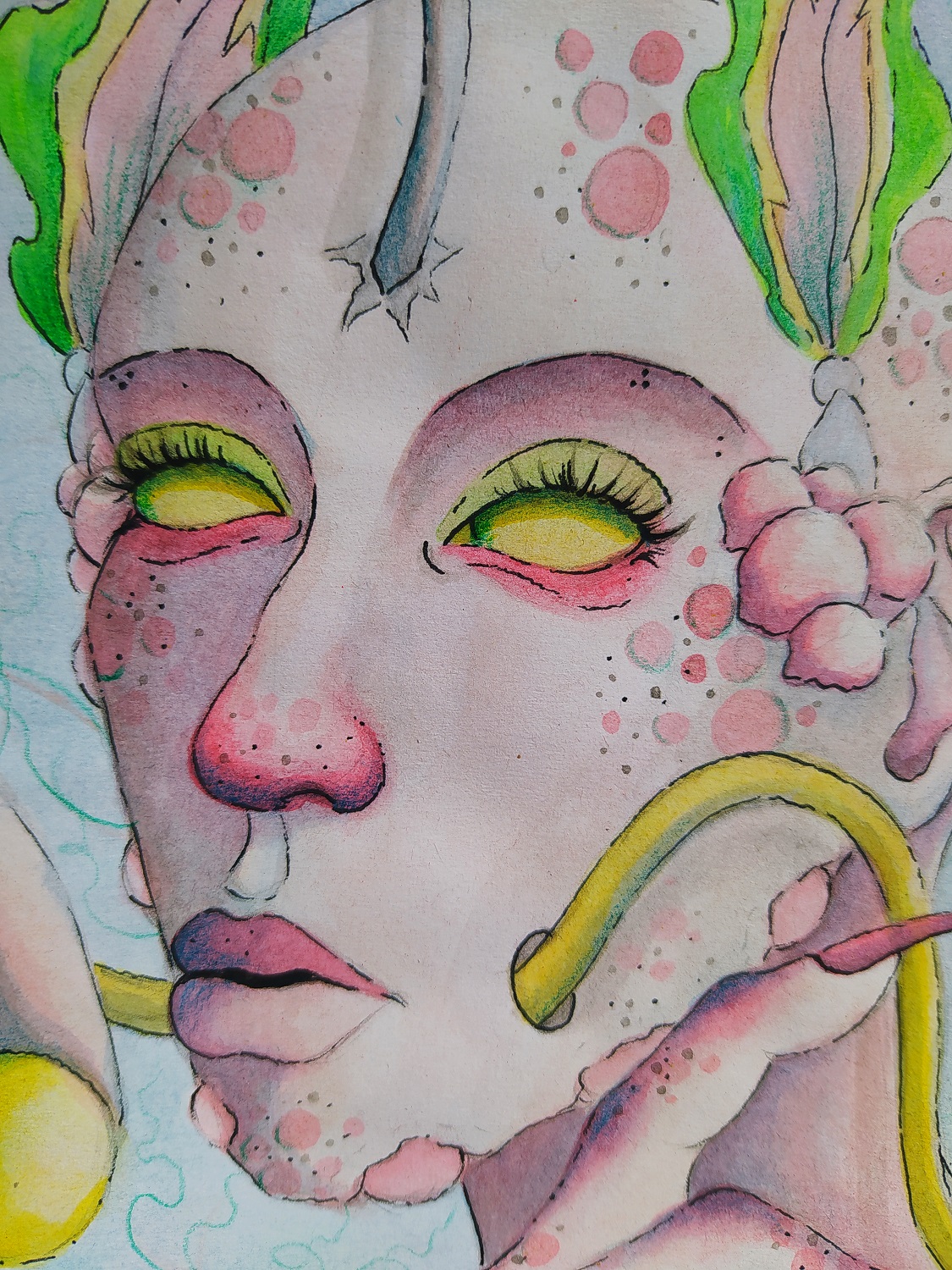 ---

Reference
Referencia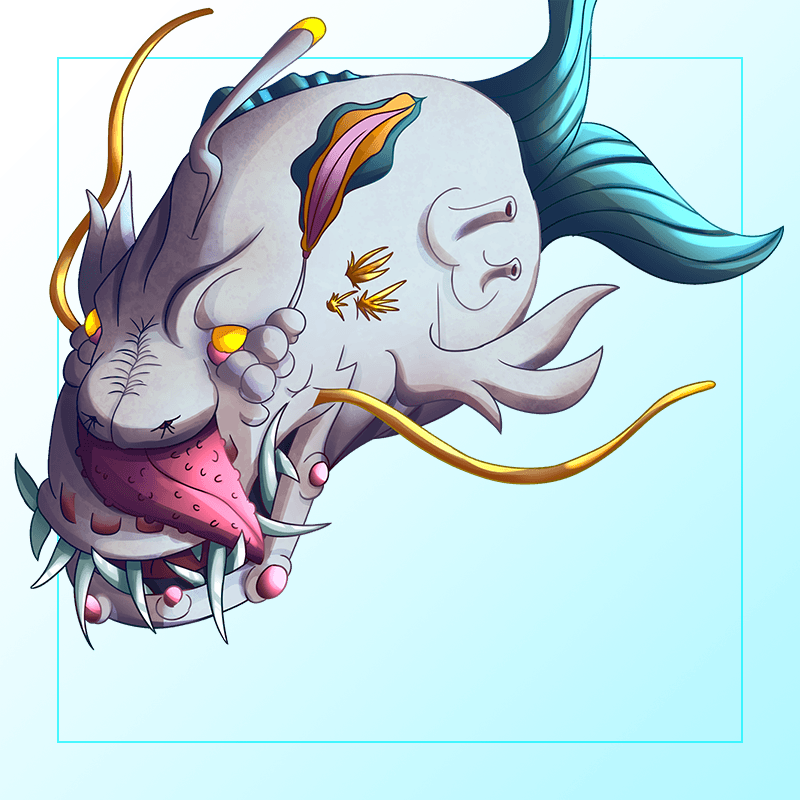 Link

---
Summary of the whole Process
Resumen de todo el Proceso
---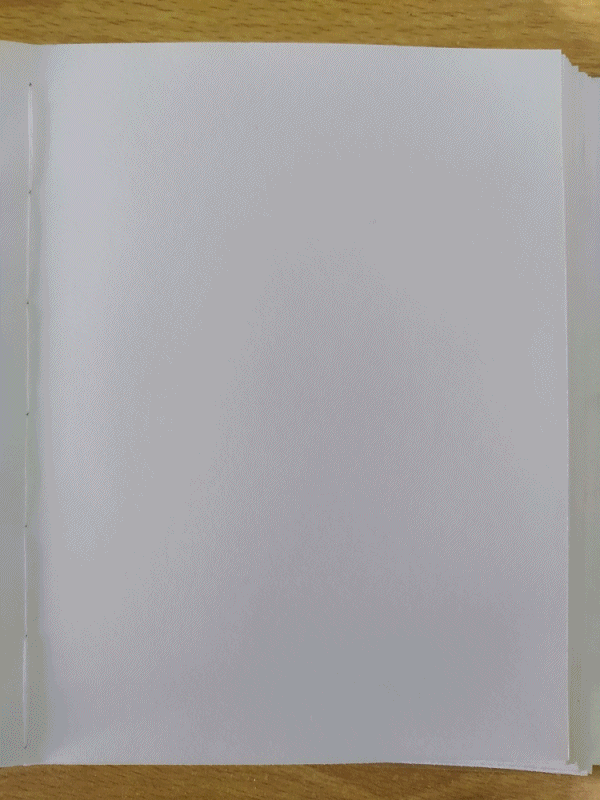 ✨Thank you for entering the publication.✨

✨Gracias por entrar a la publicación.✨
---
NFTShowroom
Rarible
GhostMarket
Instagram
---
---
Translated thanks to Deepl
Traducido gracias a Deepl
https://www.deepl.com/translator
---
---
---