Are giveaways profitable? Card Giveaway + Plus thoughts on the upcoming bear market
Experiment Results
So for my last blog, I ran a giveaway for one Pelacor Mercenary which was valued at the time at 23 cents. Selfishly, I did this because I wanted to see if it was profitable to run giveaways through blogging. So now about a week later, now that I'm able to redeem the rewards from that blog post, the results are in. I was able to earn 2.241 HBD, making the giveaway well worth it for me. I'm quite new to the whole blogging thing, so I may be mistaken here, but it seems that majority of my rewards came from the Splinterlands main account for joining their social media weekly blog challenge. So some advice for everyone out there that wants to start blogging, be sure to take advantage of this and join their weekly social media challenges.
Bear Market Thoughts
Recently I've been wondering how the upcoming bear market will affect the price of cards right now. I'm sure that just like the entire crypto market, Splinterlands won't be immune to the heavy dips in value. Of course it's really difficult to time the market, so it's also very possible that the bear market is really far away and that the prices of cards go even higher than where they are right now.
I've been debating on whether or not it would be worth it to sell some of my cards now for a high price, then try to buy in later on hopefully when prices have dropped already. I'd love to hear some of your thoughts regarding this, and what plans you might have in the next few months for buying/selling cards.
Giveaway Results
For the giveaway, I used this website (https://filoz.info/picker/) to randomly pick the winner, because I saw that other giveaway posts used that as well.
And the winner is

Congrats to @half-fast !
I've sent the card as shown below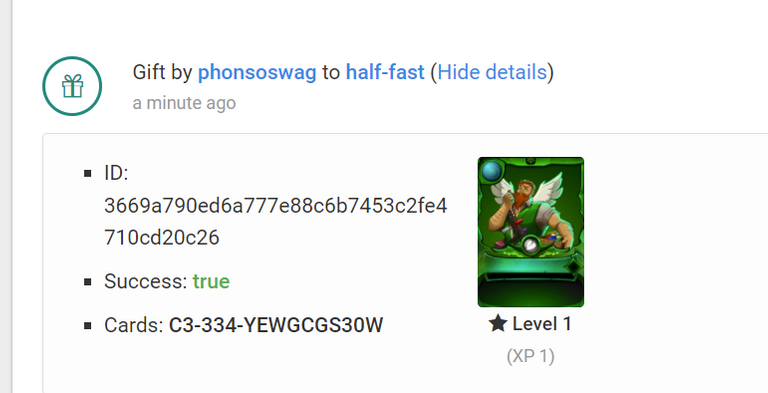 Now since, it's profitable, I've decided to do one more card giveaway. This week I'll be giving away one Pelacor Deceiver which is worth 17 cents at the time of writing.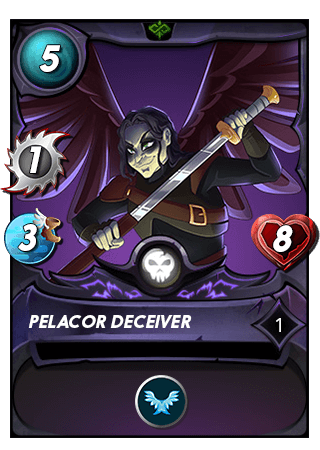 To join:
Giveaway Rules
Comment your Splinterlands username so I know who to transfer the card to.
Upvote the post
That's it! I'd appreciate a follow but that's not required. Additionally, I would love it if you could share your thoughts about the upcoming bear market and how that might affect your buying/selling strategy inside the game.
For the newbies out there that want to get into the game, feel free to use my referral code: https://splinterlands.com?ref=phonsoswag
I get some benefits if you sign up using that, but I'll be sure to make it worth your while by either sending you some DEC or delegating some cards to help you get started. Just reach out to me and let me know.
---
---