BATTLE MAGE SECRETS 🧙‍♀️ [ENG/PT-BR] Splinterlands - Explosive Weaponry Rules
E ai galera nessa postagem vou mostra avcs o desafio semanal splinterlands com a regra blast
Hey guys in this post I'm going to show you the splinterlands weekly challenge with the blast rule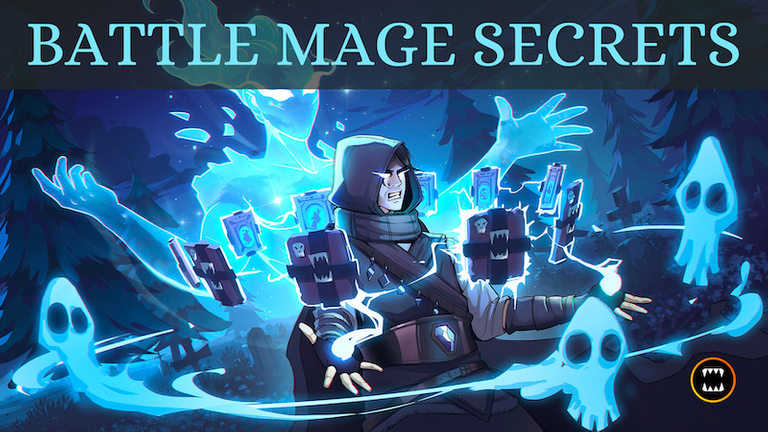 Replay - "BLAST RULES" - Battle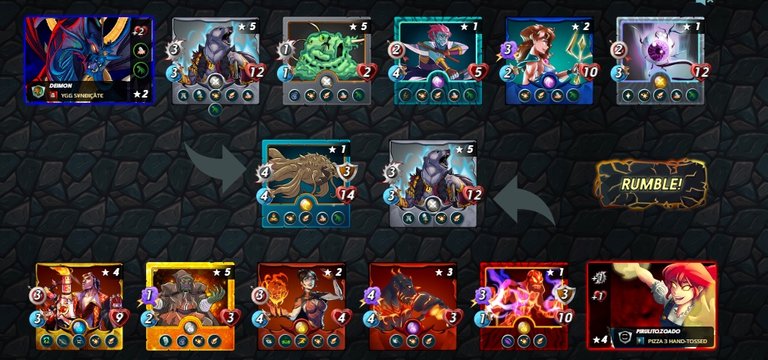 Na batalha semanal splinterlands todas as cartas tem a habilidade "blast" que é quando vc acerta seu inimigo as cartas vizinhas sofrem uma parte do dano, e nessa grande batalha com boas cartas vamos ver quem se deu melhor e quem usou as melhores estrategias, alem da habilidade blast temos tambem o "Scattershot" que é quando o ataque sepre será alguem aleatorio e com a habilidade blast isos significa que sempre acertará 3 cartas ao mesmo tempo isso significa que se alguma carta usdas pelo adversario for com pouco pontos de vida ja vai ser derrotado e logicamente tambem quem ataque primeiro tambem vai fazer diferença porque assim poderá atacar na frente e quem sabe derrotar alguns na frente impedindo que chegue a sua vez e ataque de volta
In the weekly splinterlands battle, all the cards have the "blast" ability, which is when you hit your enemy, the neighboring cards suffer part of the damage, and in this great battle with good cards, we'll see who did better and who used the best strategies, besides from the blast skill we also have the "Scattershot" which is when the attack will always be someone random and with the blast isos skill it means that it will always hit 3 cards at the same time this means that if any card used by the opponent is with low life points it will be gone being defeated and logically also who attacks first will also make a difference because that way you can attack in front and who knows how to defeat some in front preventing it from coming your turn and attacking back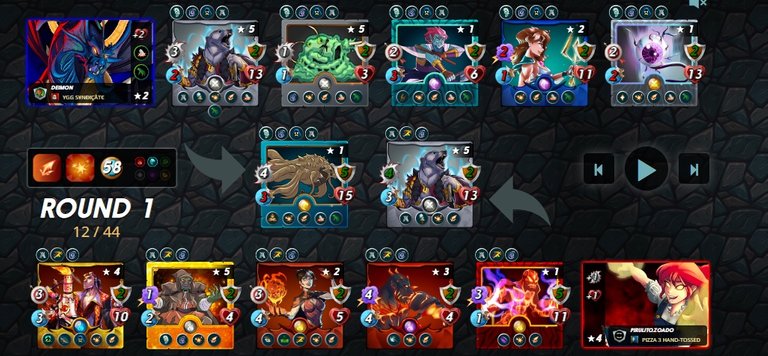 Apos as habilidades dos sumoners serem habilitadas, veja que meu adversario usou um sumoner mais focado em ataque fisico porem ultilizou em sua maioria cartas de ataque a distancia enquanto eu foquei mais em ataque magico isso porque uma das habilidades da regra é "Scattershot" isso significa que o alvo sempre será alguem aleatorio e nunca o mesmo e meu adversario usou uma carta com habilidade no qual todos devem acerta essa carta porem nao faz diferença ja que na regra esta sempre será um alvo aleatorio na minha opniao meu adversario usou foi muito ruim na estrategia
After the sumoners' skills are enabled, see that my opponent used a summoner more focused on physical attack but used mostly ranged attack cards while I focused more on magic attack that's because one of the skills of the rule is "Scattershot" that it means that the target will always be someone random and never the same and my opponent used a card with skill in which everyone must hit this card but it makes no difference since in the rule this will always be a random target in my opinion my opponent used it was very bad in the strategy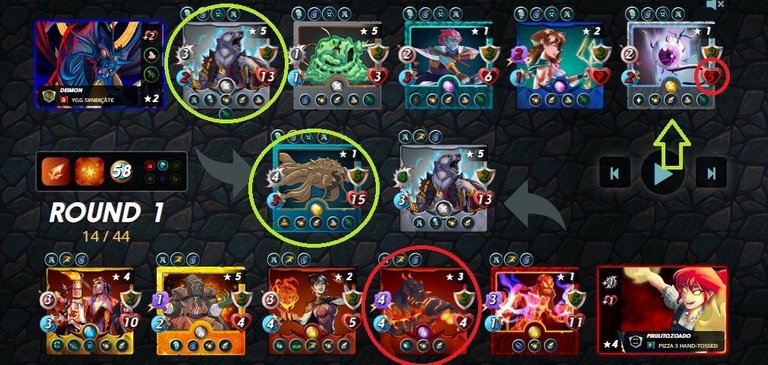 Veja que meu adversario ultilizou 3 cartas que custam mais de 10 de mana e quando eu o ataquei vejo que meu ataque custa 4 pontos de vida porem como acertou uma carta com mais de 10 de mana retirou 8 pontos (13-8=5)
See that my opponent used 3 cards that cost more than 10 mana and when I attacked him I see that my attack costs 4 life points, but since he hit a card with more than 10 mana, he removed 8 points (13-8=5)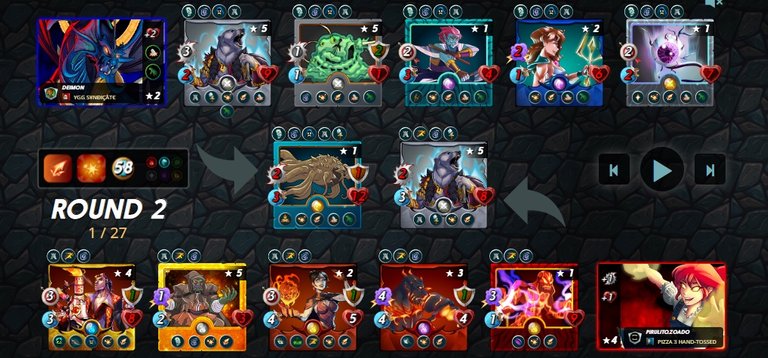 No fim do primeiro turno eu tirei do meu inimigo 19 pontos de vida enquanto ele conseguiu apenas 8
At the end of the first turn I took from my enemy 19 life points while he got only 8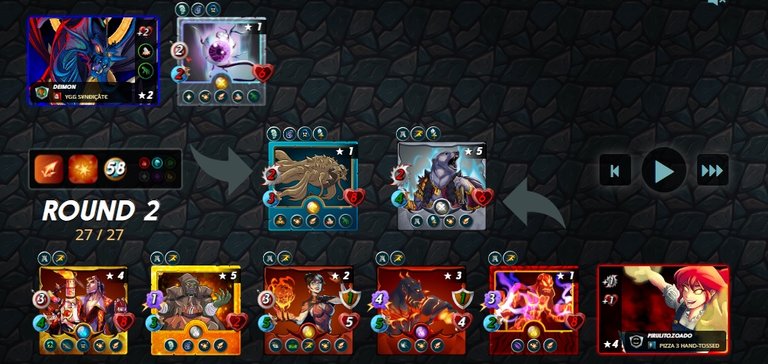 No fim do segundo turno sobrou apenas 2 cartas do meu adversario como pode ver ganharei essa partida na maior facilidade sem perder nenhuma carta
At the end of the second round, there were only 2 cards left from my opponent, as you can see, I will win this game very easily without losing any cards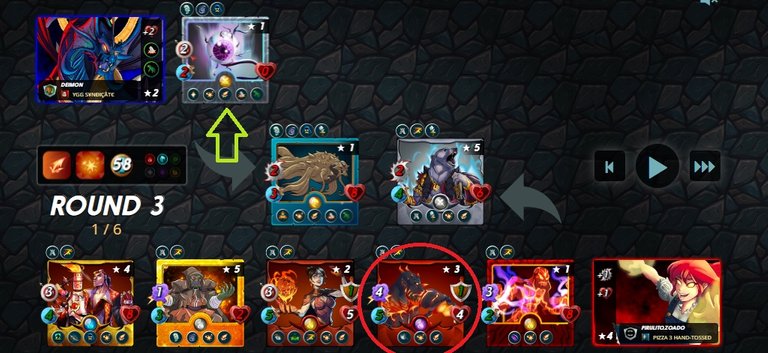 No turno seguinte a carta Djinn acertou uma carta com mais de 10 de mana e novamente retirou 8 o dobrou do ataque
On the next turn, the Djinn card hit a card with more than 10 mana and again removed 8 double the attack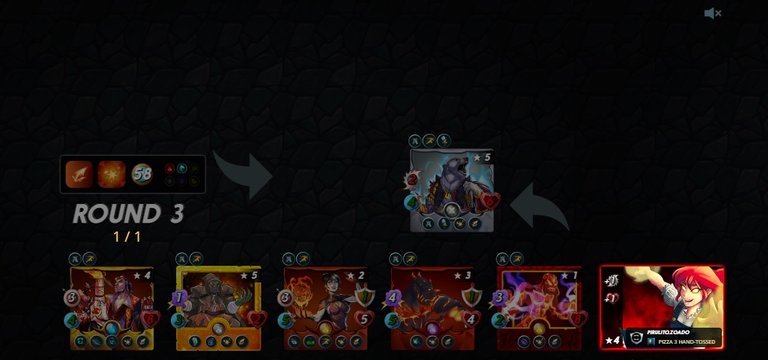 Com apenas 2 turnos e um pouco do terceiro venci meu adversario sem nenhuma dificuldade
With only 2 shifts and a little bit of the third, I beat my opponent without any difficulty

❗️ LAST TIP ❗️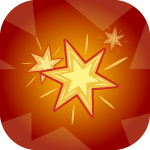 Queria destacar a carta "Djinn Inferni" que como esta carta sempre tirará o dobro com carta que custam 10 de mana acho indispensavel usa-la quando na partida da regra for permitido 99 de mana afinal a provabilidade do adversario usar mais de uma carta que custam 10 de mana é de 100%, eu vejo que dificilmente os jogadores da comunidade splinterlands usa isso a seu favor preferem usar cartas boas do que cartas com uma unica habilidade que tirem o dobro do dano, e essa foi a minha dica dessa semana vejo voceis semanal que vem pessoal, se cuidem 😎
I would like to highlight the card "Djinn Inferni" which, as this card will always take twice as much with cards that cost 10 mana, I think it's essential to use it when the game rules allow 99 mana after all, the probability of the opponent using more than one card that costs 10 mana is 100%, I see that players in the splinterlands community hardly use this in their favor, they prefer to use good cards than cards with a single ability that take twice the damage, and that was my tip this week, see you next week guys, take care 😎


❗️ Habilidades da partida ❗️

❗️ Match Skills ❗️
when it hits the target part of the attack divides between the nearby cards
each turn atack a random card
Lembrando que existem drops de DEC e SPS ainda em aberto para a comunidade Splinterlands sinta se livre para participar vou deixar os links abaixo me sigam para nao perder nenhum postagem ou raffle!
Remembering that there are DEC and SPS drops still open for the Splinterlands community feel free to participate I'll leave the links below follow me so you don't miss any post or drops!!
Drops 1 click 👇

Drops 2 click 👇

Join splinterlands click HERE

see you soon!

*exchange tokens*

!WINE !KING 
!PIZZA !HUG
!ALIVE !LUV
!LOLZ !PGM !MEME
!BEER !PIMP

whetever you use...

---
---