Who's Who In The Zoo - EP.5 - With Flauwy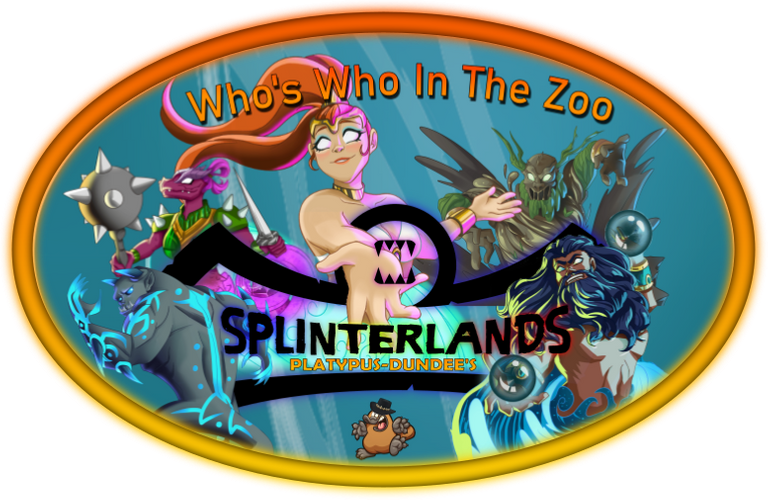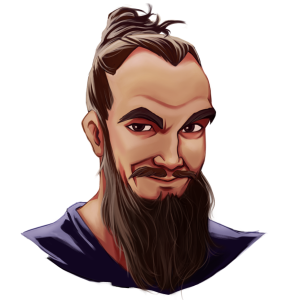 Welcome summoners!
You have found the portal to the background of some of the more prominent members of this community. In this edition I was able to shoot the breeze with
@flauwy
, a genuine OG in the Splinterverse, creator of the
@monster-curator
curation project and one of the founders of the
#1UP
(ONEUP) initiative.
So with out further ado I present Who's who in the zoo - with Flauwy.
Hope you enjoy 😎

Platypus: Welcome Flauwy, tell us about yourself, what's your technological /career background?
Flauwy: I made an apprenticeship as an editor for Germany's largest gaming editorial company back in 2007. There I joined a new project for Massive Multiplayer Online Role-Play Games like World of Warcraft, where I learned to write articles for both print and online, as well as managing the community. We had ten-thousands of daily visitors due to our unique WoW-database, as well as our news and tutorial platform, for which I helped to record weekly podcast and video shows. I also interviewed German celebrities for our magazine and went to game conferences to meet game developers and report about upcoming games. It was an amazing experience!
Platypus: That sounds epic, I bet you had a blast!
Flauwy: After I left, I started my own website about memory techniques and memory sports in 2009, a hobby of mine for years, for which I learned to use 'Wordpress' and write HTML and CSS, as well as web design with Photoshop. While still continuing to do that privately, I became a project manager for a gaming news website in 2010, coordinating commissioned game reviews, organizing contests and networking with the game producers for free test games and give-aways. From 2013 to 2016 I hosted multiple international memory competitions, like the US Memory Open, and developed my own competition idea, the Memo Games, an entirely digital competition that was more exciting than the traditional pen & paper events.

Platypus: Ok cool, how long have you been involved with the hive network, were you involved with Steem?
Flauwy: In 2017 I started my journey on STEEM and quickly realized that all I has learned in the past has prepared me perfectly to become a good content creator for this exciting new blockchain experiment. I was dedicated to learn it all and explain it to others. After six months I was one of the best paid authors on Steemit, with over 60 animated tutorial videos for STEEM and hundreds of articles.
Platypus: Sounds like this was made for you.

Flauwy: When in 2018 Steem Monsters opened its doors (which was later renamed to Splinterlands), I went all in and started to buy cards directly from the market with my STEEM and stuck with it until today because I saw a gigantic potential in it right away. Out of this grew @monster-curator, a curation service for Splintertalk (SPT), which I used to upvote Splinterlands content for the past two years now, first on STEEM and later on HIVE. Then Splinterlands blew up this year and the rest is history.
Platypus: Another right place, right time, with the right skills story. Hive is such a fantastic place for opportunities, it really is amazing!

Platypus: There are lots of great Dapps on HIVE. What are your main DApps / frontends you use?
Flauwy: Peakd is my number one frontend for the past two years or so. Not using it means missing out on many blockchain features and easier access to communities and content. I am also a huge fan of LeoFinance, which is my favorite tribe on HIVE. Their innovation has captured me from day one and never disappointed. Obviously Splintertalk and 1UP, as I am a major stakeholder and curator in both. On mobile I use the Hive Keychain browser to access all HIVE frontends, except for LeoFinance, who just released a brand new and super fast app of their own. And for Splinterlands I use Peakmonsters, Monstermarket and Splintercards every day. But the tools I use probably the most are LeoDex, TribalDex and BeeSwap, to manage all my Hive-Engine tokens.

Platypus: 1UP is a great new initiative. Did you set this up and is it a solo effort or do you have partners?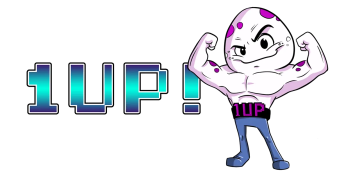 Flauwy: In February I was contacted by @steemcafe, who I met back in 2018 at SteemFest3 in Krakow, Poland. He was about to create a new company to build NFT Studios and ChiFiBots, an NFT market place and a blockchain trading card game on the new Aspire blockchain, which was built to make NFT minting incredibly cheap. Aspires founders wanted him to create the first apps on their new infrastructure and partnered up with NFT Studios. He invited me to join his team of @daveonarrival and @kevinli (who I also both met at SteemFest3).
Platypus: Love how you've grabbed the opportunity with both hands!
Flauwy: Since we are all old Hivians, we were looking into ways to connect our new project with HIVE. Together with @jongolson, who advised us, we came up with the idea for a blockchain gaming outpost on Hive-Engine. When I was looking for a name I remembered 1UP, an old project of mine back in the STEEM days, which never really saw the light of the day, for which we still had the logo and mascot ready. It was a perfect match.
So, us four NFT Studios members founded 1UP, together with Jon and 14 others who helped getting the required BEE to pay for all the outpost features we have today. It wasn't cheap but I am glad we did it.

Platypus: Splinterlands features seem to be growing every month. What is your favourite feature of Splinterlands?
Flauwy: The economy of the cards with their limited supply paired with the combining and burning features, creating a hyper-deflation for cards. Using cards as workers on land plots in the future will further increase this deflation. And the fact that you have so much control over your cards. You can not only play and trade them but also make bids, delegate and rent them, lock them for a time in your account, offer them in a bundle on the market - and potentially even use them in other future games. I believe this will come true in just a matter of time.
Platypus: Yeah the future is certainly exciting, not only for Splinterlands but everything attached to NFT gaming.

Platypus: This next one has intrigued me for a while. In Discord your status is 'Boss Monster' What's that about?
Flauwy: I purchased the "Boss Monster" perk in the first Splinterlands Kickstarter campaign in 2018 for a whooping $2900 USD. I have never spent so much on anything in my entire life before that and only had the money due to a recent inheritance. I put all that I didn't need right away into the Kickstarter - enough for the Boss Monster perk.
The original perk description was: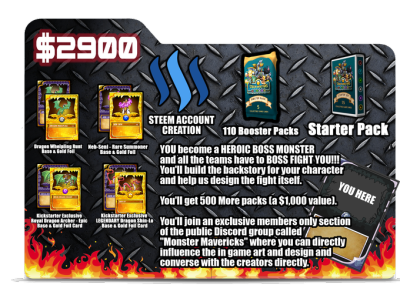 YOU become a HEROIC BOSS MONSTER and all the teams have to BOSS FIGHT YOU!!! You'll build the backstory for your character and help us design the fight itself. I think the other owners of the Boss Monster perk are
@exile
,
@twinner
,
@neoxian
and
@cryptoeater
. Until today this feature has not been developed yet, which is why it became a running gag in the community.
Eventually we got ourselves the "Boss Monster" role on Discord, reminding everyone that this feature and our role in it is not forgotten. Which is great because the Kickstarter campaign did end 1144 days ago and memory is a fading thing without occasional reminders.
Platypus: Haha, yeah I'd love to see what mechanic they could make out of that. It could add some new dimensions to the game, that's for sure.
Everyone reading this, drop a friendly reminder in discord about the Boss Monster Fights!

Platypus: In regard to 1UP are there any tools / features you have in the works that you can share?
Flauwy: The next feature we are working on is a sophisticated distribution bot, that will allow us to create a curation service for 1UP. You can delegate your staked ONEUP to that account and receive daily curation reward shares. This will help a lot of people who have no time or patience to do this themselves.
Platypus: Sounds awesome, sign me up!
Flauwy: We will create a team of professional curators and not only provide this service for 1UP but for all major HIVE tribes, likely under the 1UP umbrella but curating with their own tokens. Further, we are looking into ways to use some of the revenue from the operator fees to benefit 1UP. Another thing we are working on is the move to a self-hosted 1UP-zone frontend, so we can actually start making changes to it and eventually develop an entirely unique frontend of our own. Our server will run on Akash, a more decentralized solution to Amazon Web Services, based on blockchain technology.
Platypus: That's cool! I will have to look into that myself.
Flauwy: Finally, we will launch the 1UP NFT market in December, that comes out of the box with our Outpost and offer a special collection of commissioned 1UP artworks. Obviously this is just the start of our NFT journey and the real work starts when we look into crossing to other NFT markets.

Platypus: What are some of the challenges you have faced so far, now and in the future.
Flauwy: 1UP had no private sale, no ICO nor IDO and no airdrop. We started from zero, with only enough funds to create what we have today. My intentions for it is to hand over control of 1UP to its DAO, maybe two years down the road. This is not just my decision to make but I would like to open the discussion about that. My original 1UP project back on STEEM (which was a totally different concept) was intended to be owned by the community and I would love to revive that idea for the 1UP we have today.
Flauwy: I want to delegate as much responsibility to community members as possible. In a way, 1UP could function as a meta guild for the various guilds and games. But this can only work if others want to step up. So I am constantly looking for new people to join us, earn some ONEUP and do good things for us.
Flauwy: This includes scouting games, writing reviews, networking with the games and their communities, networking with guilds and ultimately creating partnerships. Feel free to reach out to me on the 1UP Discord if you are interested. I believe 1UP has a lot of potential if we all work on it together.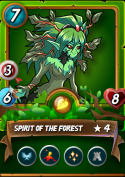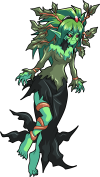 Platypus: What is your favourite splinter and card?
Flauwy: Earth and Spirit of the Forest.

Platypus: There seems to be a plethora of NFT projects up and coming. Are there any other NFT games you like or are involved in?
Flauwy: Well, we are building ChiFiBots, a robot trading card game with elements from Pokemon, Splinterlands and Axie Infinity. I hope our Alpha cards will launch in a few weeks, if things go smoothly with the development. I do play Rising Star and HashKings and own a large dCity. I am obviously interested in other blockchain games outside of HIVE as well, which is why I actually need the 1UP community to provide info to all of us. Lot's of info about this confusing and quickly growing market. That's what 1UP is there for.

Platypus: Being an OG, do you have anything to do with the Splinterlands team? If so how'd that start?
Flauwy: No, I don't. We do know each other for years from the blockchain and Splinterlands Discord and I have met the founders at SteemFest3 and then Aggy again at Anarchapulco. But we don't work together.

Platypus: Where would you like to see the HIVE network go?
Flauwy: To infinity and beyond. Seriously, this blockchain is great for content creators, great for games and great for apps due to the fast and nearly fee-less system. Plus it has one of the strongest communities I have ever seen in my life. So just be patient, stick around and enjoy the ride.

Platypus: If you could choose one person / thing that has inspired / motivated you the most to achieve your goals, who or what would it be?
Flauwy: Scrooge McDuck. His origin story "The Life and Times of Scrooge McDuck" by Don Rosa has put me on a magical adventure to leave my country and find my luck elsewhere. And I did!
Most people only know the old and greedy geezer Uncle Scrooge, who pays his nephew Donald only $0.30 an hour on all their adventures. But it is fascinating how he became that way, how he struggled financially and socially and how hard he had to search for riches all around the world until he finally found his goose-egg nugget during the Klondike Gold Rush.
I do not care for getting a cube full of (crypto)coins but I do care for magical adventures and for obtaining financial freedom.
Scrooge's motto is:
Being tougher than the toughies and smarter than the smarties. And to make it square.
Platypus: Yeah, I like that, that's cool.

Platypus: What's your favourite flavour, scent and colour?
Flauwy: There are so many great flavors, scents and colors out there, I don't have any favorites. I enjoy the diversity.
Platypus: Bit of a cop out 😄 but lets move on.

Platypus: Are you a cat or a dog person?
Flauwy: I always thought I would be a dog person because I liked dogs so much and even wanted to have my own dog one day.
A few years ago I got a cat instead and quickly realized I am totally a cat person. Our personalities match much better.
Platypus: Finally got one, you guys are few and far between!

Platypus: Do you have a hobby outside of gaming?
Flauwy: These days mostly blockchains in general and everything HIVE in specific. But I am also looking into occult topics and learn about Astrotheology.

Platypus: What's the best / your favourite story you have heard come out of splinterlands community?
Flauwy: The fact the we all grinded for three years, building out our claims, like the gold diggers back at the Klondike Gold Rush (which also lasted for three years).
But instead of only a few lucky ones getting rich, everyone who waited patiently struck gold eventually. I think Scrooge would have been proud of us.

Once again I'd like to thank @flauwy for his time and this most entertaining interview. And if you haven't checked out the 1UP gaming community yet then what are you waiting for!
Till next time
---
---