Guild Brawls With Pizza 2 - Brawls Are Getting Competitive!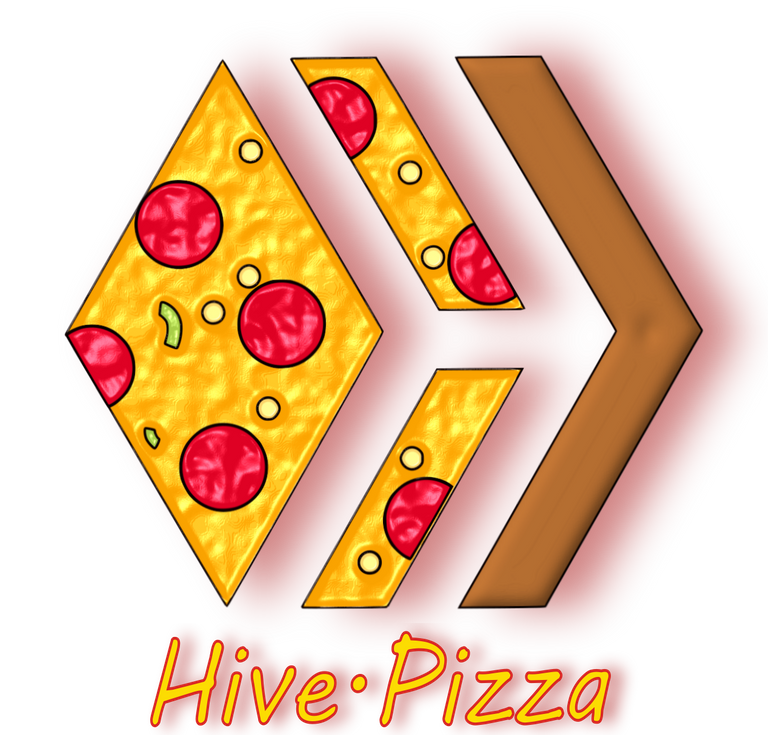 Time flies! Just completed the 41st brawl with my awesome guild, which is none other than Pizza 2 The Deep Dish!
Really appreciated the interaction in the Discord chats within the Pizza guilds. During the preparation phase, there's a lot of information sharing and discussion on who to fill each fray. During the brawls, there were reminders to members to complete their brawl battles. And after the brawls, there were celebratory messages and some members (including me) would write about our experience in the brawls. Aside from brawls, I thought the donations were also very well organised and tabulated, with lucky draws to incentivise donors as well.
For this brawl, I decided to stick to what I fought in the last fray, which was Fray 6, which was 3/2/2/1. I felt I was starting to find my grove and this fray is neither too difficult nor too easy for me.
Had 6 battles this time and it was not an easy round. Moreover, I have rented out most of my cards because I was playing lesser these days. Fortunately, the result was okay! Brawls are getting more competitive these days!
So for the final result, we were back to the podium and finished 3rd out of 10 guilds but only got 700 Merits and around 10 SPS! An awesome result!

Individually, I had a whooping 6 fights this time and I managed to win 3 of them. Finished 5th within the guild!

---
Let's jump into the battles!
Battle 1 - LOSE
Gladius Card Used: Alfredo
A battle of the Delwyn Dragonscales. I was disadvantaged due to a turn difference, my opponent's Djinn Oshannus went first when both of us were left with 1 HP. From then on, there was no turning back.
MVP: None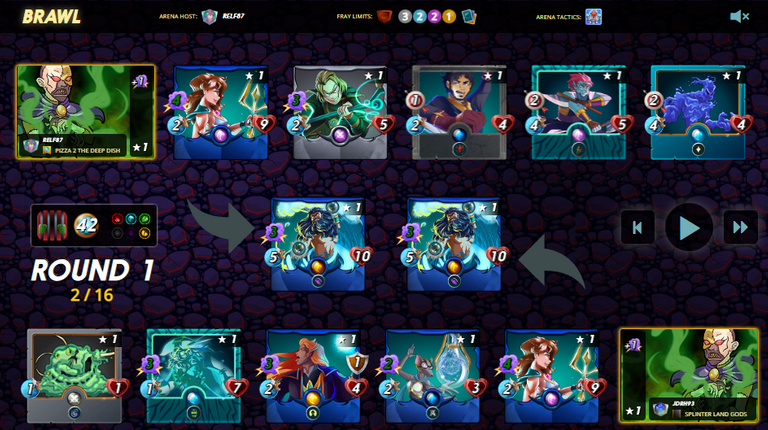 ---
Battle 2 - WIN
Gladius Card Used: None
Another chance for Delwyn Dragonscale to redeem himself. Djinn Oshannus shone with his Void ability and high speed, causing a lot of problems for my opponent. It was comfortable win in the end. Back to business! Let's go!
MVP: Djinn Oshannus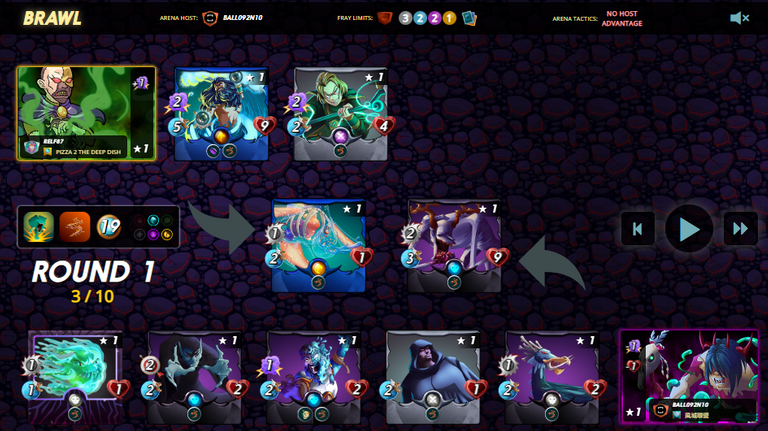 ---
Battle 3 - WIN
Gladius Card Used: Gorth
A battle of the Tarsas! My opponent went for Chimney Wallstop while I selected Gorth. Gorth was 1 Speed higher and he hit first and that proved to be the difference. In the end, I didn't need Forgotten One or Almo Cambio to do anything as Gorth singlehandedly won this battle. Surprisingly easy win!
MVP: Gorth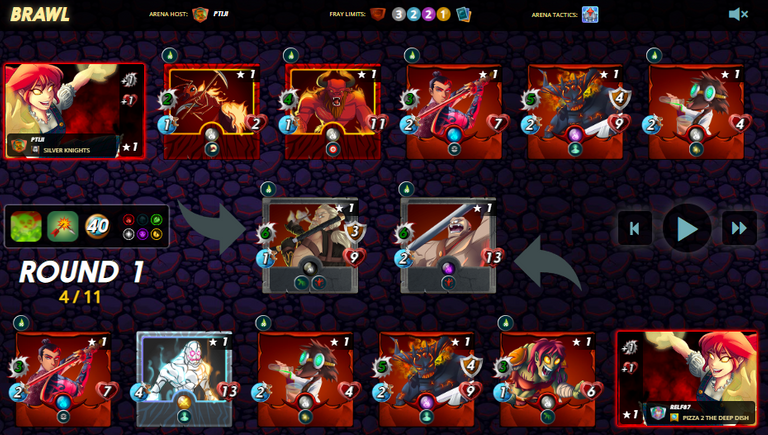 ---
Battle 4 - LOSE
Gladius Card Used: Gorth
This brawl became as exciting as World Cup, with a ton of twists and turns. Another Poison battle and I called upon Gorth, Forgotten One and Almo Cambio. Unfortunately, despite Ifrit Rising's best efforts, I came out slightly when both teams had 1 card left. Did my best.
MVP: None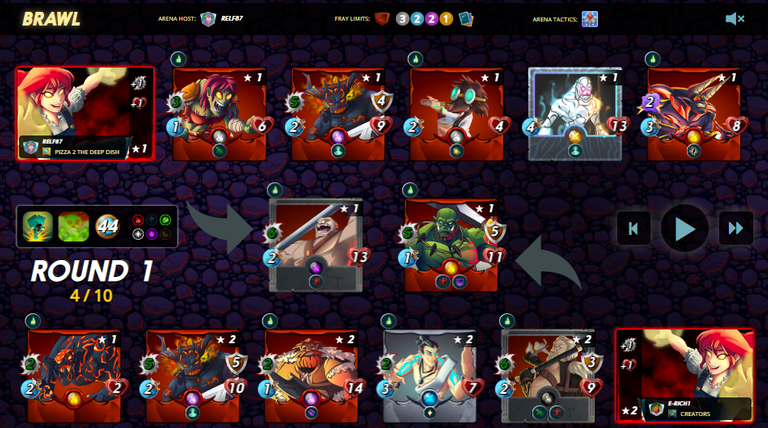 ---
Battle 5 - LOSE
Gladius Card Used: Palidon Rakk
This was an elementary mistake, I miscalculated the damage and I should have stuck to Djinn Chwala instead of a Gladius card. Might have managed to squeeze out a draw instead. Definitely my fault for the loss here.
MVP: None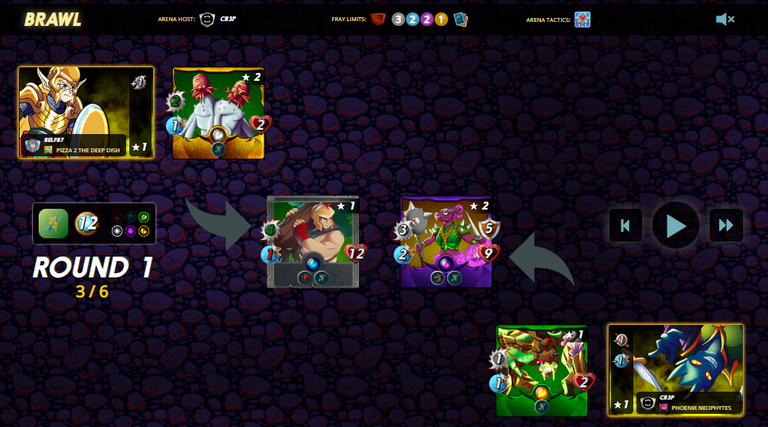 ---
Battle 6 - WIN
Gladius Card Used: Trapp Falloway
You could always count on Trapp Falloway to deliver in a Melee Mayhem battle. 4 Melee damage for a 4 mana card is insane. Within a few hits, I had the win in the bag!
MVP: Trapp Falloway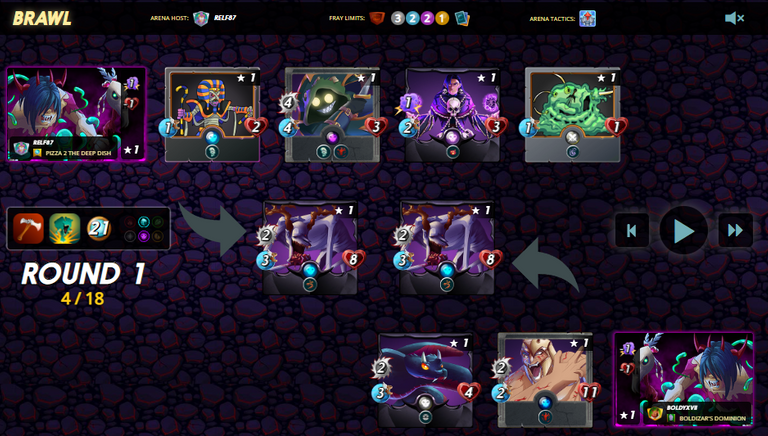 So that sums up my 6 battles for this brawl! Barely secured a passing 50% win rate this time. Hopefully next brawl will be better!
---
Review Of Gladius Cards
The Merits are coming in fast and I have enough Merits for my 20th Gladius case! 3 Rares, good enough for me. Still missing Quora though. Oh well.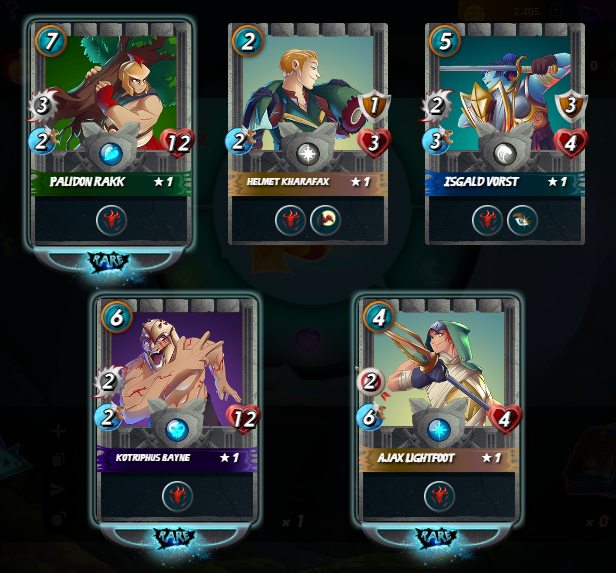 Previous Gladius Card Reviews:
---
Brawl Reports Of Pizza 2 Guild And More!
If you are interested to follow the guild brawls of the Pizza guilds, feel free to check out some of the brawl reports below!
---
That's all I have! Let me know if you have any thoughts too!
As always, thanks for reading and have a pleasant day ahead!
---
If you are interested to sign up to play Splinterlands, my referral link is here.
---
---