Guild Brawls With Pizza 2 - Do You Know You Can Use 2 Gladius Cards In 1 Battle?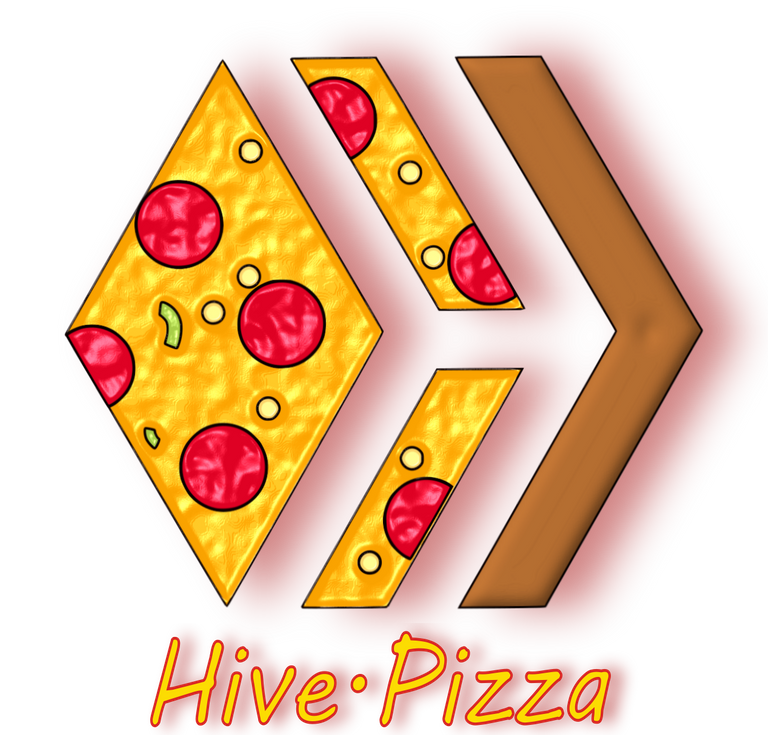 Time flies! Just completed the 62nd brawl with my awesome guild, which is none other than Pizza 2 The Deep Dish!
Really appreciated the interaction in the Discord chats within the Pizza guilds. During the preparation phase, there's a lot of information sharing and discussion on who to fill each fray. During the brawls, there were reminders to members to complete their brawl battles. And after the brawls, there were celebratory messages and some members (including me) would write about our experience in the brawls. Aside from brawls, I thought the donations were also very well organised and tabulated, with lucky draws to incentivise donors as well.
For this brawl, I decided to stick to what I fought in the last fray, which was Fray 6, which was 3/2/2/1. I felt I was starting to find my grove and this fray is neither too difficult nor too easy for me.
Had 5 battles this time and it was not an easy round, especially when they have recently introduced 3 rulesets for each battle. Moreover, I have rented out most of my cards because I was playing lesser these days.
So for the final result, we were 3rd out of 10 guilds and got 754 Merits and around 11 SPS! We finally returned to the podium and were one win short of the 2nd place. Great bounce back from the 5th place in the last brawl.

Individually, I had 5 fights this time and I won 3 of them!! It was a struggle because my opponents seemed to have more powerful decks this time round.

---
Let's jump into the battles!
Battle 1 - WIN
Gladius Card Used: Edith Emberstar
First battle was a 3 ruleset battle and there were Thorns and Poison. I predicted my opponent's summoner correctly and once again, the Bortus/Djinn Oshannus combination worked well. That said, the battle wasn't a walkover because my opponent made use of two Martyr cards and the damage output was scary at one stage. In the end, everyone succumbed to Poison, except Almo Cambio.
MVP: Almo Cambio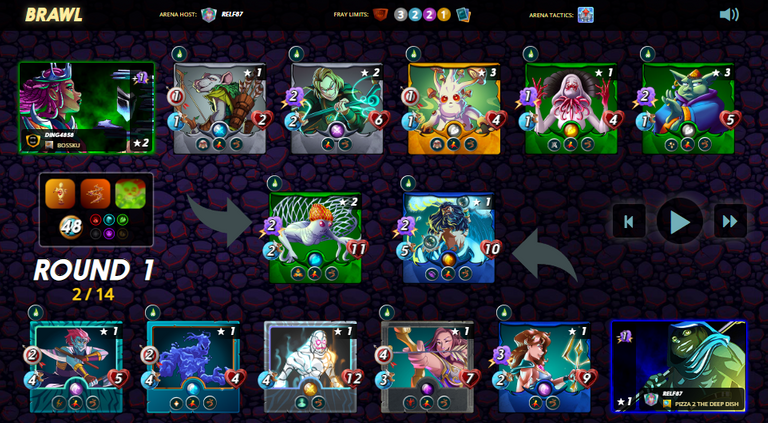 ---
Battle 2 - LOSE
Gladius Card Used: Whistling Damon
This was one of the battles where you knew you were in trouble after the lineups were revealed. I gambled on my opponent putting in a Magic lineup but I was wrong. In the end, my entire team was wrecked by the opposing Pelacor Arbalest. No excuses in this one, I ought to do better.
MVP: None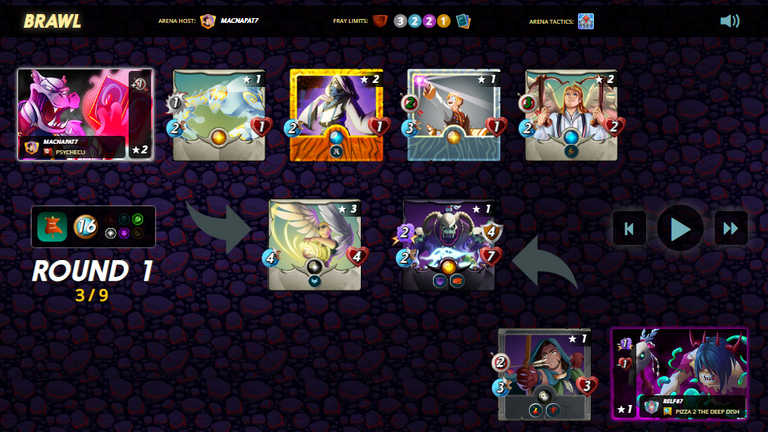 ---
Battle 3 - WIN
Opponent fled. Desperately needed this.
---
Battle 4 - LOSE
Gladius Card Used: Captain Katie
This was just another battle that you knew it will take a miracle to win. That dreaded Quora Towershead card was in my opponent's lineup. I had Brighton Bloom for the Earthquake ruleset, and had Venator Kinjo for the Blast ruleset, but it was still not enough to fend her off. Oh well.
MVP: None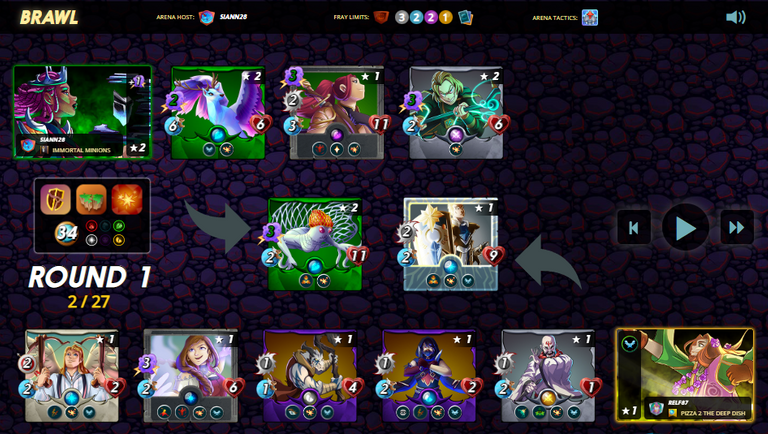 ---
Battle 5 - WIN
Gladius Card Used: Gorth and Chimney Wallstop
With the new Soulbound summoner, I could use 2 Gladius cards for brawls! Isn't that amazing? I actually lost before to this combination before, so now it was my opportunity to pair Gorth and Chimney Wallstop together. Both Melee cards are very strong in Reverse Speed but you must hope that they don't become too boosted or they will start to miss their hits.
Anyway, with 3 cards hitting at 5 Melee cards (2 Gladius cards + Sand Worm), there was no way any team could withstand that. And then I realised my opponent used not one, but two cards with Taunt ability in a Fury ability. Lol. Easy win in the end.
MVP: Ifrit Rising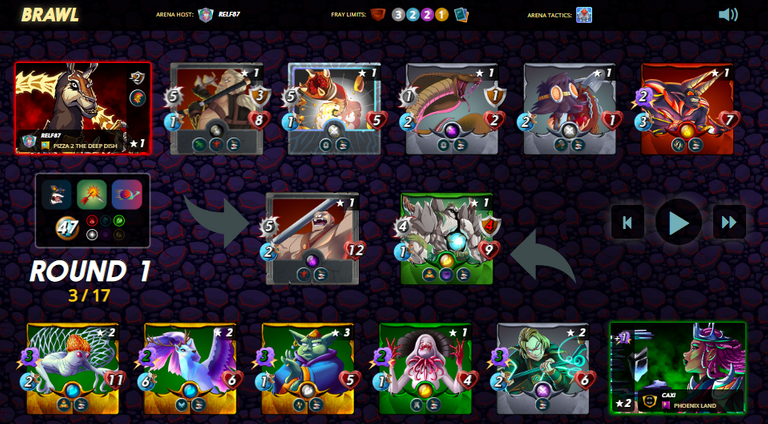 So that sums up my 5 battles for this brawl! 60% win rate but I know I am capable of doing much better.
---
Review Of Gladius Cards
The Merits are coming in fast and I have enough Merits for my 29th Gladius case! Nothing much to be excited about in this pack haha!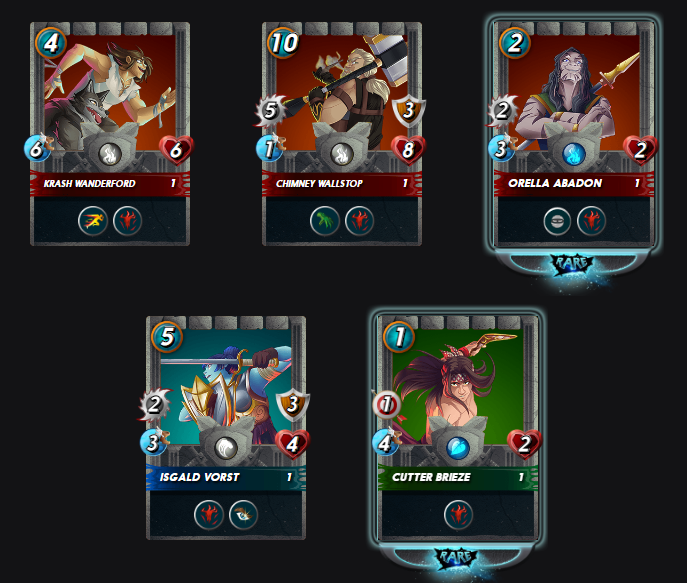 Previous Gladius Card Reviews:
---
Brawl Reports Of Pizza 2 Guild And More!
If you are interested to follow the guild brawls of the Pizza guilds, feel free to check out some of the brawl reports below!
---
That's all I have! Let me know if you have any thoughts too!
As always, thanks for reading and have a pleasant day ahead!
---
If you are interested to sign up to play Splinterlands, my referral link is here.
---
---