Guild Brawls With Pizza 2 - Is Lily Shieldpaw Powerful?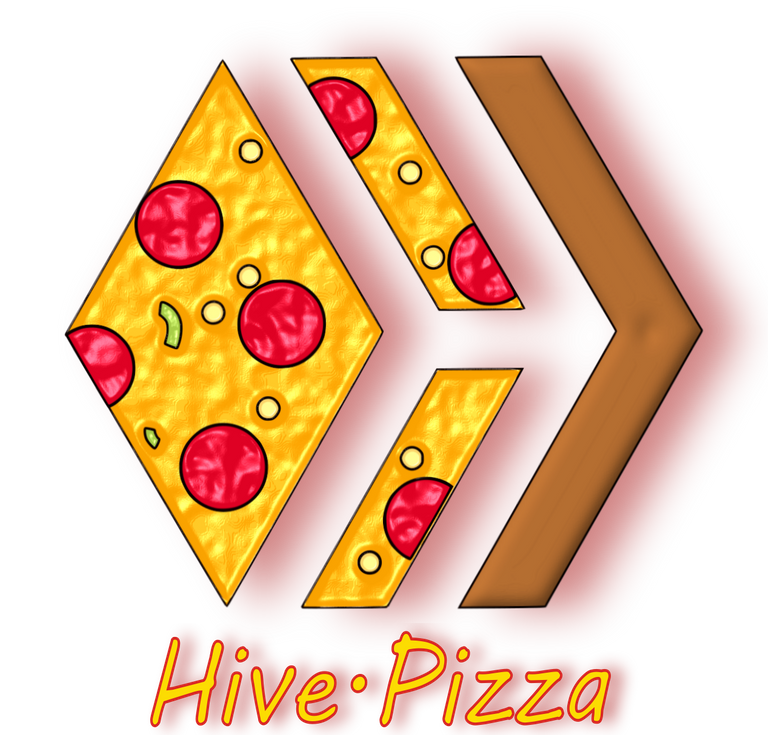 Time flies! Just completed the 58th brawl with my awesome guild, which is none other than Pizza 2 The Deep Dish!
Really appreciated the interaction in the Discord chats within the Pizza guilds. During the preparation phase, there's a lot of information sharing and discussion on who to fill each fray. During the brawls, there were reminders to members to complete their brawl battles. And after the brawls, there were celebratory messages and some members (including me) would write about our experience in the brawls. Aside from brawls, I thought the donations were also very well organised and tabulated, with lucky draws to incentivise donors as well.
For this brawl, I decided to stick to what I fought in the last fray, which was Fray 6, which was 3/2/2/1. I felt I was starting to find my grove and this fray is neither too difficult nor too easy for me.
Had 6 battles this time and it was not an easy round, especially when they have recently introduced 3 rulesets for each battle. Moreover, I have rented out most of my cards because I was playing lesser these days.
So for the final result, we got 2nd out of 10 guilds and got 754 Merits and around 12 SPS!

Individually, I had 6 fights this time and won 3 this time! Am back to my winning ways and finished 5th within the guild! Satisfied with my personal performance.

---
Let's jump into the battles!
Battle 1 - LOSE
Gladius Card Used: Sola Ranjell
My Level 1 team was clearly outmuscled by this max level Bronze team and I wasn't able to cope with all the Double Strike attacks. The Scattershot made it very difficult for my team to focus the damage and I was outplayed by my opponent who focused on Sneak and Opportunity attacks.
MVP: None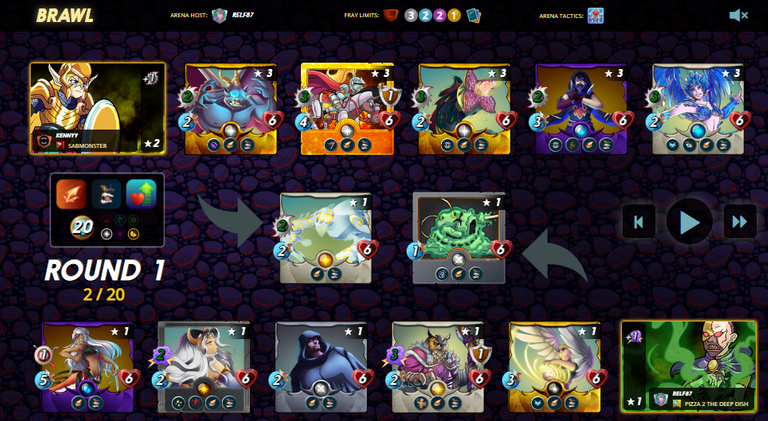 ---
Battle 2 - WIN
Gladius Card Used: Isgald Vorst
A Blast and Melee Mayhem meant Venator Kinjo is a must have in the team. I hardly use Venator Kinjo all this while because I usually rent it out - but lately rentals haven't been good so I decided to withdraw the listing and use him for myself. Needless to say, his display was solid here to deserve a MVP.
MVP: Venator Kinjo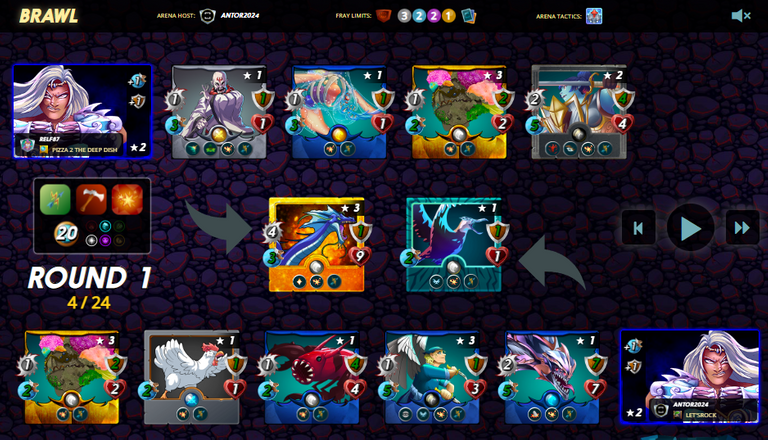 ---
Battle 3 - WIN
Gladius Card Used: Relenor Cleaver
I was extremely surprised to see Lily Shieldpaw in a brawl fight because it was newly released. Fortunately, Lily Shieldpaw didn't turn out to be threatening (just like the image of card) and my team won this battle comfortably by damage output. Credit to Sea Monster for holding the fort at the front. Can always count on my Water teams to deliver!
MVP: Sea Monster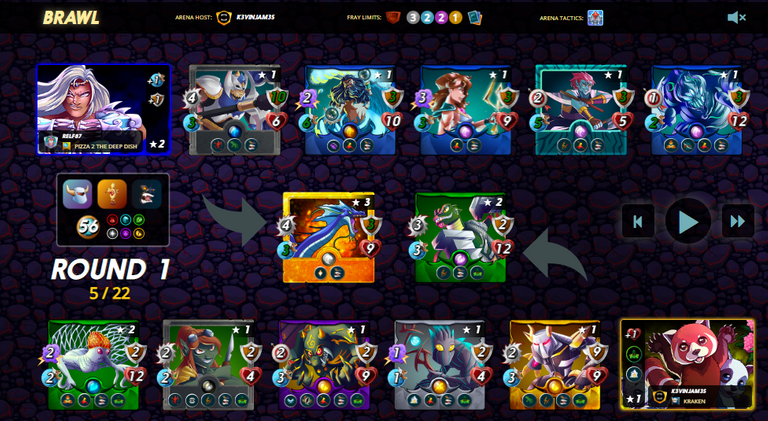 ---
Battle 4 - LOSE
Gladius Card Used: Trapp Falloway
My team was badly shut off by the opposing lineup. My Melee cards were hurt by Thorns while my Magic damage had no effect against their tank with Void. In the end, there was nothing I could do and a decent Astral Entity/Martyr lineup combination went to waste.
MVP: None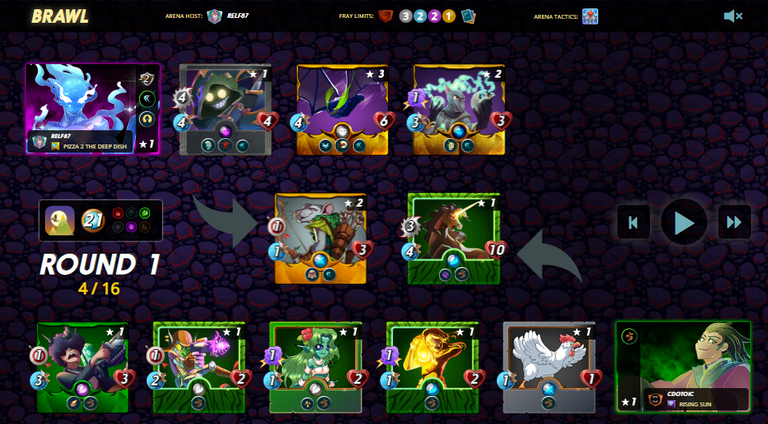 ---
Battle 5 - LOSE
Gladius Card Used: Ajax Lightfoot
I had to face 2 Gladius cards in this battle and it was really impossible to win against those 2 Fire Melee Gladius cards. My lineup was actually pretty decent but a victory wasn't possible in this one.
MVP: None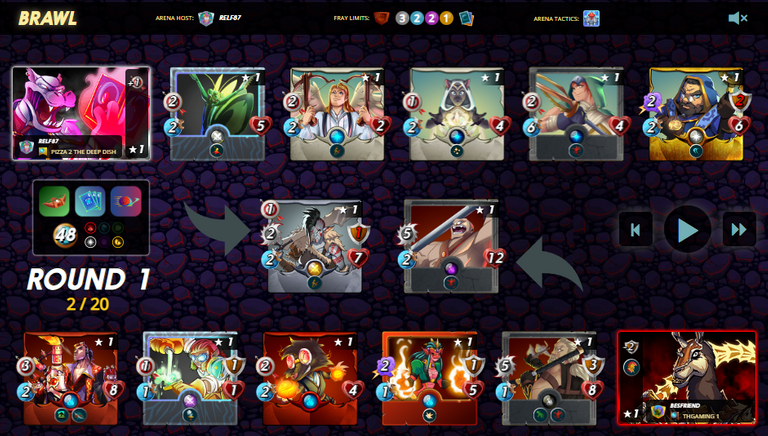 ---
Battle 6 - WIN
Gladius Card Used: None
Little League and Poison in the ruleset made it so so tough to pick a team. In the end, I had to go with whichever cards that had the highest HP to outsurvive my opponent. Merdhampir's Life Leech ability came in handy and I made it through safely with a win!
MVP: Merdhampir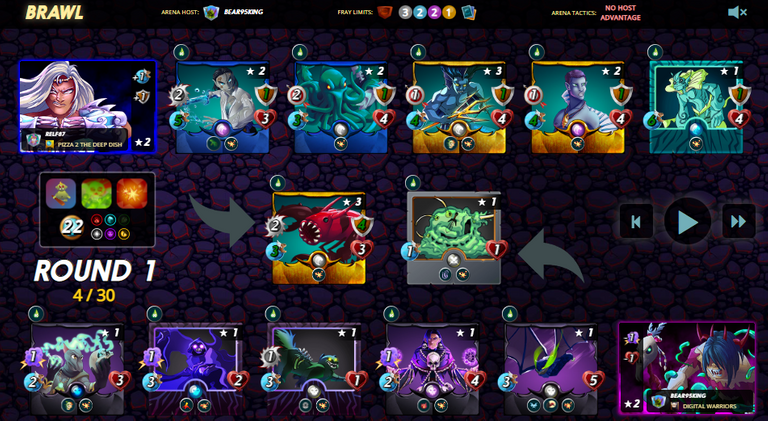 So that sums up my 6 battles for this brawl! Only a 50% win rate this time round. Interestingly, I won all my Water lineups and lose all my non-Water lineups.
---
Review Of Gladius Cards
No new Gladius cards to review this time round.
Previous Gladius Card Reviews:
---
Brawl Reports Of Pizza 2 Guild And More!
If you are interested to follow the guild brawls of the Pizza guilds, feel free to check out some of the brawl reports below!
---
That's all I have! Let me know if you have any thoughts too!
As always, thanks for reading and have a pleasant day ahead!
---
If you are interested to sign up to play Splinterlands, my referral link is here.
---
---