Guild Brawls With Pizza 2 - Knocked Off The Podium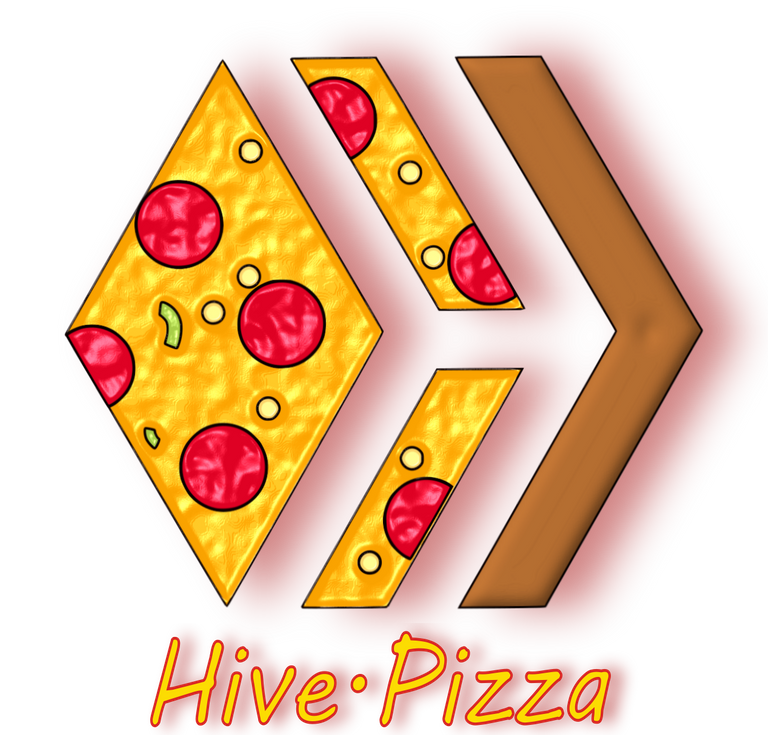 Time flies! Just completed the 53rd brawl with my awesome guild, which is none other than Pizza 2 The Deep Dish!
Really appreciated the interaction in the Discord chats within the Pizza guilds. During the preparation phase, there's a lot of information sharing and discussion on who to fill each fray. During the brawls, there were reminders to members to complete their brawl battles. And after the brawls, there were celebratory messages and some members (including me) would write about our experience in the brawls. Aside from brawls, I thought the donations were also very well organised and tabulated, with lucky draws to incentivise donors as well.
For this brawl, I decided to stick to what I fought in the last fray, which was Fray 6, which was 3/2/2/1. I felt I was starting to find my grove and this fray is neither too difficult nor too easy for me.
Had 6 battles this time and it was not an easy round, especially when they have recently introduced 3 rulesets for each battle. Moreover, I have rented out most of my cards because I was playing lesser these days.
So for the final result, we got 4th out of 10 guilds and got 431 Merits and around 10 SPS! It was quite disappointing because most of our losses came from players who missed out on their battle submissions. We didn't have an activity/inactivity problem but this time round, it hurt us badly. Seems it was partly due to the maintenance period.
Individually, I had 6 fights this time and won 4 this time! Finished 4th within the guild!

---
Let's jump into the battles!
Battle 1 - WIN
Gladius Card Used: Relenor Cleaver
Both teams actually put up very similar cards for this battle, in fact 4 out of 6 are similar! The main difference was actually my Gladius card, who had a ton of armor to withstand multiple Earthquakes and saved the entire backline. Awesome win!
MVP: Relenor Cleaver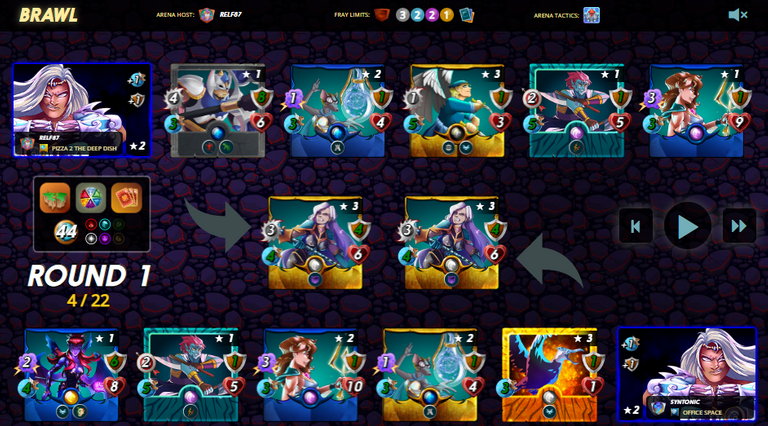 ---
Battle 2 - LOSE
Gladius Card Used: Relenor Cleaver
Ouch, my Water lineup came up severely short in this one. Both our Djinn Oshannus were strategically placed to absorb the Magic attacks but my team was hurt by the opposing Baakjira's Slow and Void. Always disappointing to lose Water battles.
MVP: None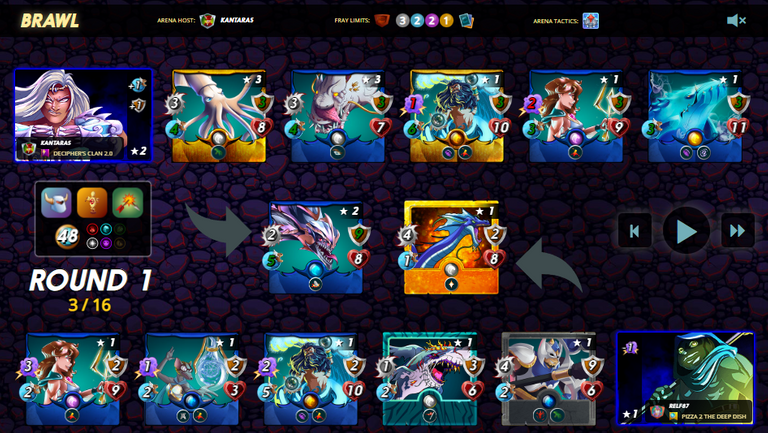 ---
Battle 3 - LOSE
Gladius Card Used: Witch Of Warwick
This was a disaster. My team was effectively killed by Blast and my opponent used the Snipe and Opportunity cards strategically. Lots of learning points there.
MVP: None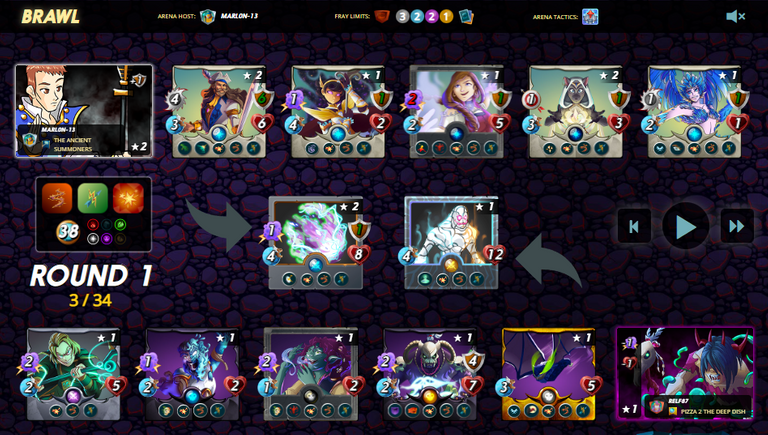 ---
Battle 4 - WIN
Gladius Card Used: Whistling Damon
There was an intensive battle - and I realised Ranged only battles are very challenging because you need a tank and most of them have relatively low HP and can't attack from the tank position. The opposing Gargoya Devil was very strong in this battle but Lira The Dark's high speed of 6 meant she could absorb misses. And just one miss was enough to secure the win for me.
MVP: Lira The Dark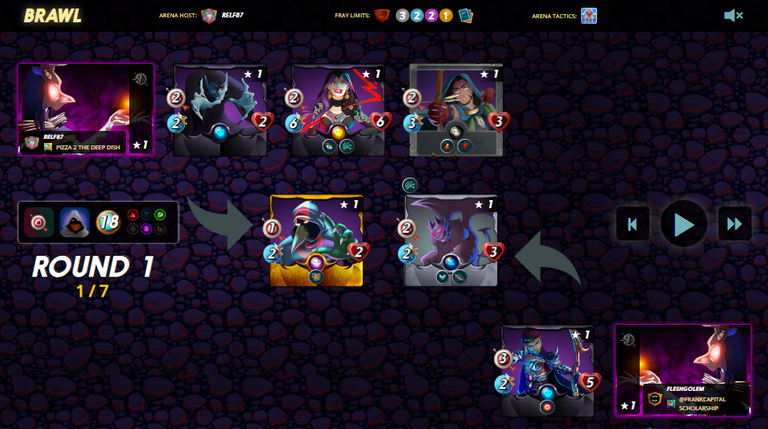 ---
Battle 5 - WIN
Opponent fled!
---
Battle 6 - WIN
Gladius Card Used: None
How many times do I need to repeat this? Brighton Bloom is a must have for Earthquake battles and once again, he produced an easy win over a Legendary summoner. Woohoo!
MVP: Brighton Bloom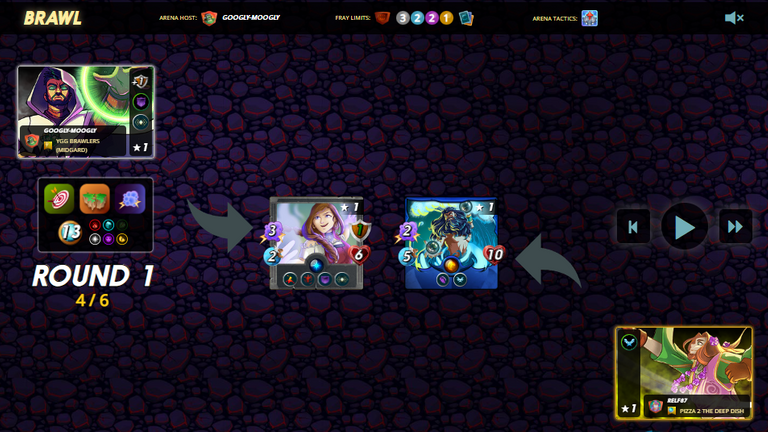 So that sums up my 6 battles for this brawl! A very intensive brawl this time and a 67% win rate, without any free wins!
---
Review Of Gladius Cards
No new Gladius cards to review this time round.
Previous Gladius Card Reviews:
---
Brawl Reports Of Pizza 2 Guild And More!
If you are interested to follow the guild brawls of the Pizza guilds, feel free to check out some of the brawl reports below!
---
That's all I have! Let me know if you have any thoughts too!
As always, thanks for reading and have a pleasant day ahead!
---
If you are interested to sign up to play Splinterlands, my referral link is here.
---
---