Guild Brawls With Pizza 2 - Should Back To Basics Ruleset Be Banned From Brawls?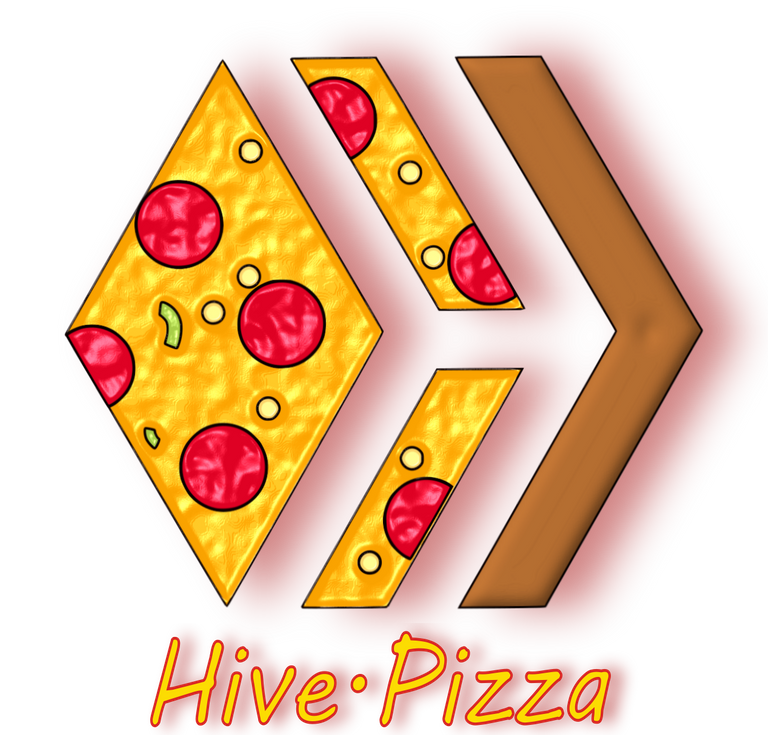 Time flies! Just completed the 61st brawl with my awesome guild, which is none other than Pizza 2 The Deep Dish!
Really appreciated the interaction in the Discord chats within the Pizza guilds. During the preparation phase, there's a lot of information sharing and discussion on who to fill each fray. During the brawls, there were reminders to members to complete their brawl battles. And after the brawls, there were celebratory messages and some members (including me) would write about our experience in the brawls. Aside from brawls, I thought the donations were also very well organised and tabulated, with lucky draws to incentivise donors as well.
For this brawl, I decided to stick to what I fought in the last fray, which was Fray 6, which was 3/2/2/1. I felt I was starting to find my grove and this fray is neither too difficult nor too easy for me.
Had 7 battles this time and it was not an easy round, especially when they have recently introduced 3 rulesets for each battle. Moreover, I have rented out most of my cards because I was playing lesser these days.
So for the final result, we were 5th out of 10 guilds and got 485 Merits and around 9 SPS! It's probably one of the lowest rank that we have ever gotten so it's quite disappointing. That said, we scored 35 wins out of 59, which actually wasn't a bad result from a win rate standpoint.

Individually, I had 7 fights this time and I won 5 of them!!! It was a struggle because quite a number of my battles were Back To Basics and this meant that Gladius cards were useless. Finished 2nd within the guild, not sure how much more I could have done.

---
Let's jump into the battles!
Battle 1 - LOSE
Gladius Card Used: None
I was still struggling to cope with 3 rulesets within a battle. It was tough to extract a good lineup from "negative" types of rulesets and I just threw out the best possible lineup that I could find. Back To Basics almost meant there wasn't any point using Gladius cards. My opponent had Yodin Zaku and Coeurl Lurker and that was enough to destroy my team.
MVP: None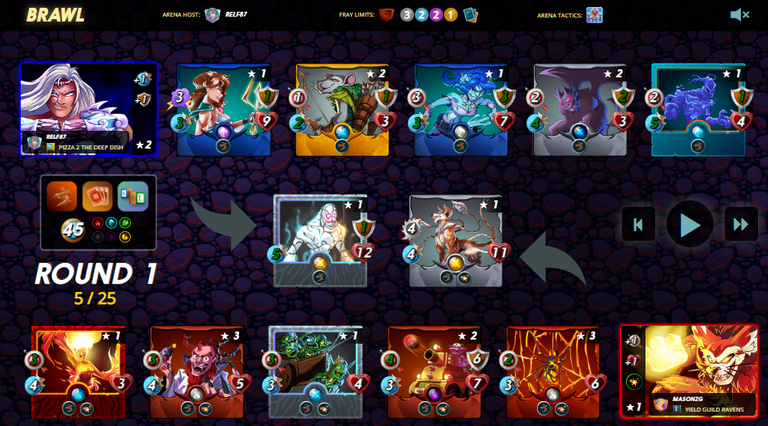 ---
Battle 2 - LOSE
Gladius Card Used: None
I couldn't use Sea Monster in this low mana battle because only odd mana cards were allowed. Turned to my backup Astral Entity, for the same old strategy that I employed countless times, using Venari Marksrat and Astral Entity's Resurrect to boost Pelacor Deceiver twice. Unfortunately, Pelacor Deceiver went down first and the plan failed.
MVP: None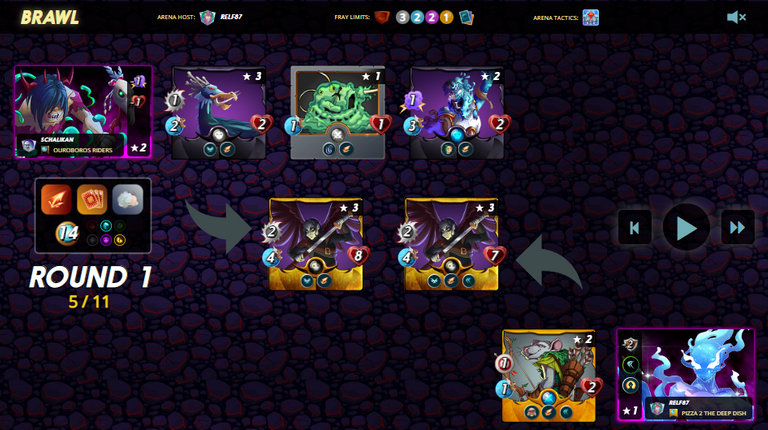 ---
Battle 3 - WIN
Gladius Card Used: None
3 battles have gone and I had not used a Gladius card. Finally, my confident Water lineup and Sea Monster opened the scoreboard for my brawl scores. Sea Monster was unbeatable in such low mana fights.
MVP: Sea Monster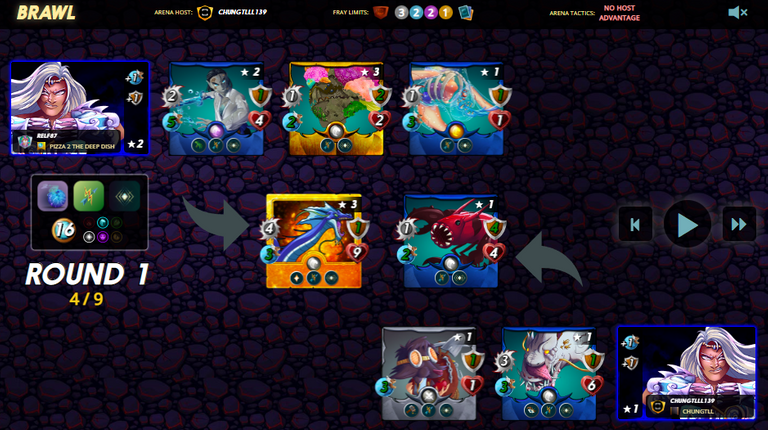 ---
Battle 4 - WIN
Gladius Card Used: Trapp Falloway
Like I mentioned, another Back To Basics battle. Hmm should they be banned from brawls? Lol! Nonetheless, having the Opportunity in the ruleset meant I could take advantage Astral Entity's Resurrect and Venari Marksrat's Martyr combination once again...until I realised it's Back To Basics!!! Oh no! Fortunately, Astral Entity's Dodge absorbed a ton of misses and we made it!
MVP: Astral Entity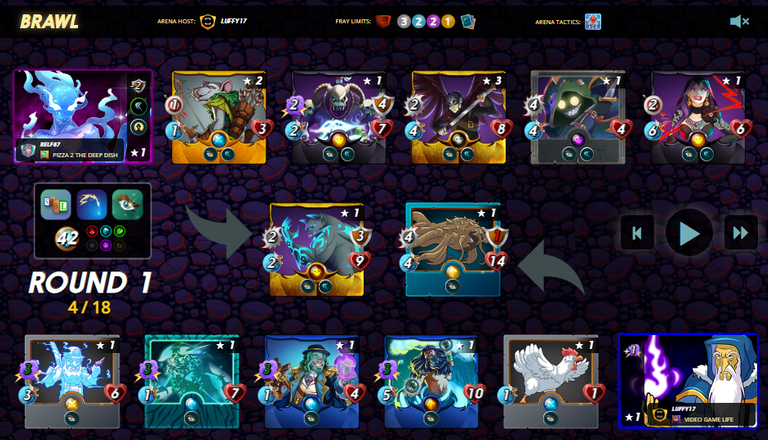 ---
Battle 5 - WIN
Gladius Card Used: None
No Gladius cards again because I didn't have any Fire Magic Gladius cards. Once again, the restrictive ruleset meant I could only stretch my card collection as much as I could, and there was no way I could utilise all 60 mana. Fortunately, my lineup looked a tiny weeny stronger than my opponent, thanks to Ifrit Rising. So there you go, that's the MVP!
MVP: Ifrit Rising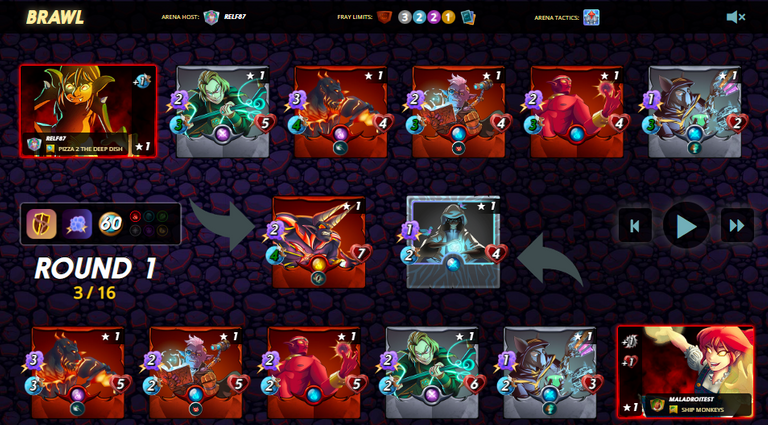 ---
Battle 6 - WIN
Gladius Card Used: Isgald Vorst
Scattershot battles are always a lottery and it depends whether your hits are spread out and all concentrated on one card, and that can make or break the battle result. My opponent put up very strong cards but it was Sea Monster that once again won this battle single handedly.
MVP: Sea Monster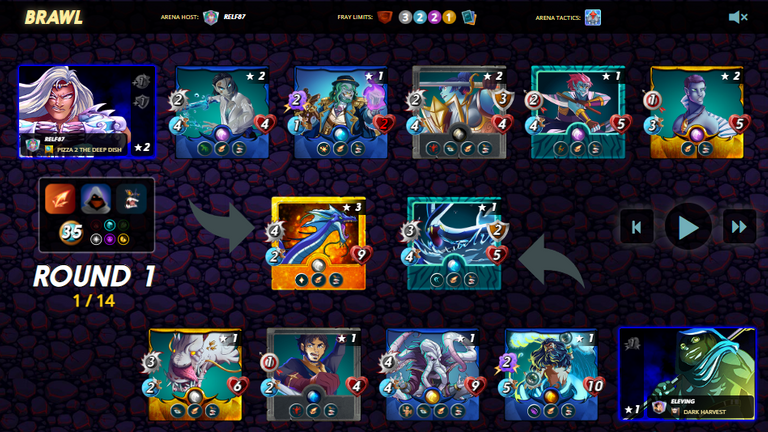 ---
Battle 7 - WIN
Gladius Card Used: None
Another restrictive ruleset and there's Back To Basics/Poison. This meant I just had to outlast my opponent and fortunately I did just that. Poison was our common enemy and my damage output was clearly higher. Of course, Bortus was clearly the MVP for shutting the opposing Obsidian.
MVP: Bortus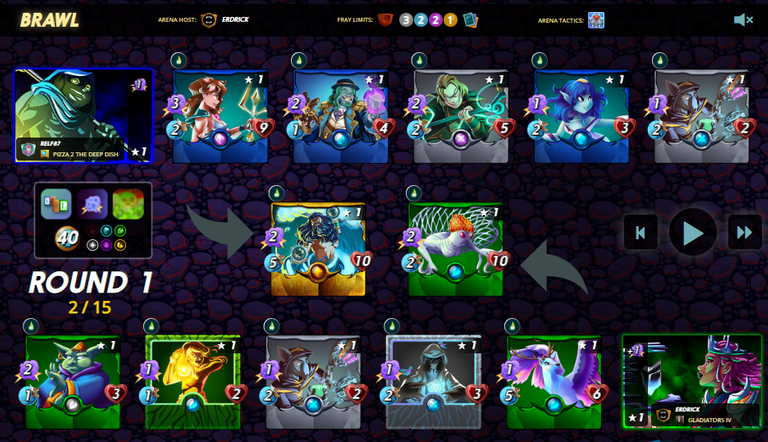 So that sums up my 7 battles for this brawl! 71% win rate and I'm relieved to be honest to eke out wins despite making mistakes and not having enough depth in my card collection to fill up the entire mana.
---
Review Of Gladius Cards
No new Gladius cards to review this time round.
Previous Gladius Card Reviews:
---
Brawl Reports Of Pizza 2 Guild And More!
If you are interested to follow the guild brawls of the Pizza guilds, feel free to check out some of the brawl reports below!
---
That's all I have! Let me know if you have any thoughts too!
As always, thanks for reading and have a pleasant day ahead!
---
If you are interested to sign up to play Splinterlands, my referral link is here.
---
---