Guild Brawls With Pizza 2 - Soulbound Cards Dominated The Battles!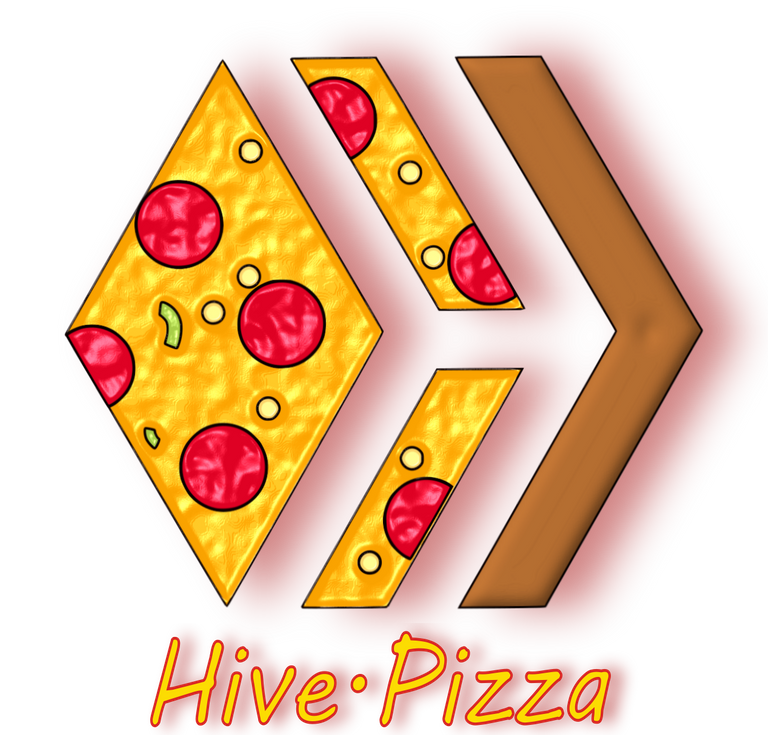 Time flies! Just completed the 59th brawl with my awesome guild, which is none other than Pizza 2 The Deep Dish!
Really appreciated the interaction in the Discord chats within the Pizza guilds. During the preparation phase, there's a lot of information sharing and discussion on who to fill each fray. During the brawls, there were reminders to members to complete their brawl battles. And after the brawls, there were celebratory messages and some members (including me) would write about our experience in the brawls. Aside from brawls, I thought the donations were also very well organised and tabulated, with lucky draws to incentivise donors as well.
For this brawl, I decided to stick to what I fought in the last fray, which was Fray 6, which was 3/2/2/1. I felt I was starting to find my grove and this fray is neither too difficult nor too easy for me.
Had 6 battles this time and it was not an easy round, especially when they have recently introduced 3 rulesets for each battle. Moreover, I have rented out most of my cards because I was playing lesser these days.
So for the final result, we fell out of the podium and got 4th out of 10 guilds and got 646 Merits and around 12 SPS!

Individually, I had 6 fights this time and I won ALL of them!!! Am back to my winning ways and am super delighted with my personal performance. Unfortunately, it was a team effort and the overall guild result wasn't ideal.

---
Let's jump into the battles!
Battle 1 - WIN
Opponent fled!
---
Battle 2 - WIN
Gladius Card Used: None
When I saw Quora Towershead on the opposing lineup, I thought it was a sure lose for my team. But with every round, my team got stronger and survived the relentless attacks and the crazy amount of healing from the opposing team. Djinn Oshannus' Void was extremely handy when paired with Bortus and even Quora Towershead couldn't bring him down. MVP definitely had to be Bortus who single handedly nerfed the entire opposing team. Another rare victory against Quora, bring it on!
MVP: Bortus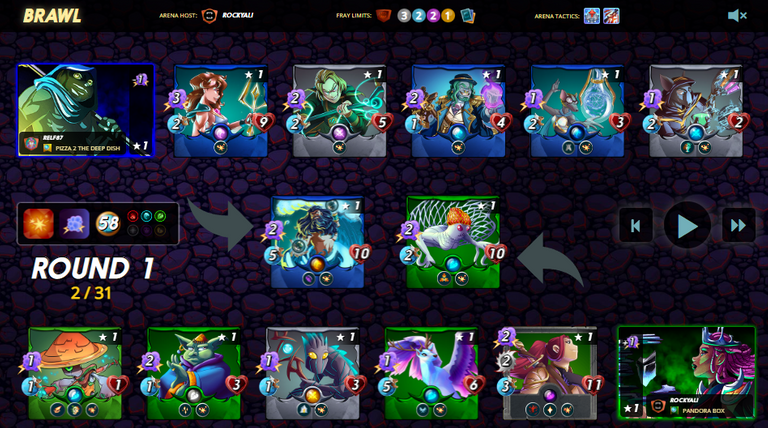 ---
Battle 3 - WIN
Gladius Card Used: None
Interesting match up between two new Death summoners. Not sure why my opponent had to call upon Octavia Shadowmeld when he was only using 1 Gladius card. Astral Entity's abilities shone brightly in this battle but it was Possessed Puppet who did most of the heavy lifting in this Melee Mayhem battle. The opposing Level 1 team was out of depth in this easy win.
MVP: Possessed Puppet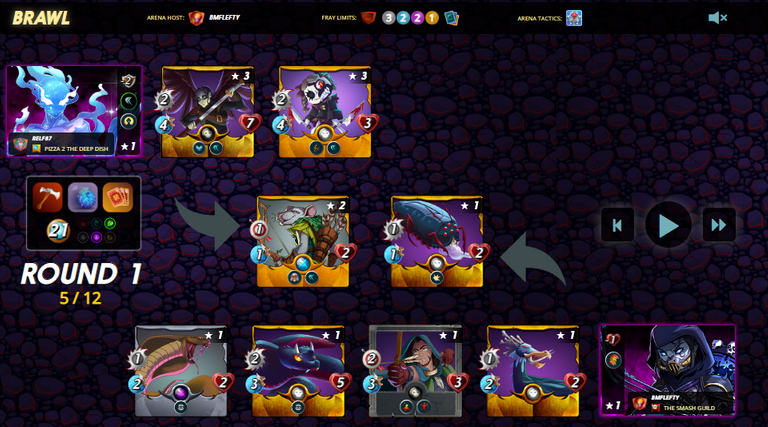 ---
Battle 4 - WIN
Gladius Card Used: Sola Ranjell
If you read one of my recent Share Your Battle posts, you will know Aves Sturgis has this amazing ability called Weapons Training. When paired with Delwyn Dragonscale, the damage output of the team would be immense. The exact strategy was replicated in this battle and once again, it worked to perfection and my opponent had no answer to my relentless damage. Even their Gold Foil Gladius card couldn't help.
MVP: Aves Sturgis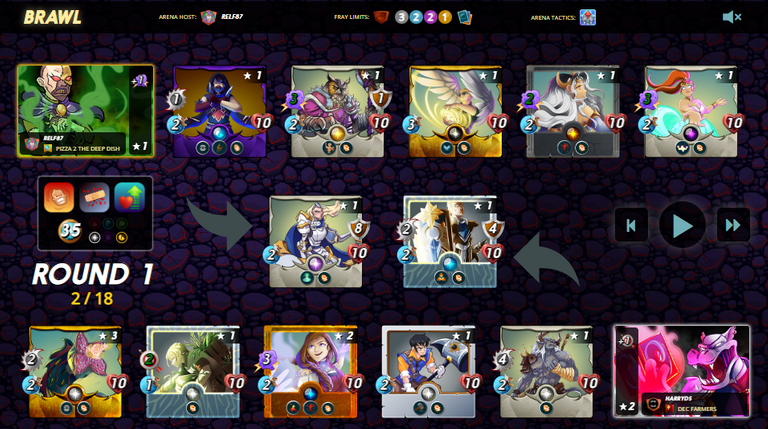 ---
Battle 5 - WIN
Gladius Card Used: None
This was yet another perfection execution of the Martyr ability. If you read my earlier Share Your Battle posts, you would also know I am very fond of using the Martyr abilities to boost the stats of the adjacent units! This time, Venari Marksrat sacrificed to give a massive boost to Axemaster and Drybone Raider and both cards combined to 16 damage per round (3+3 for Axemaster and 2+3+2+3 for Drybone Raider). My opponent also had almost max Bronze level cards but my confidence with my Water lineups remained high! On to the final battle!
MVP: Venari Marksrat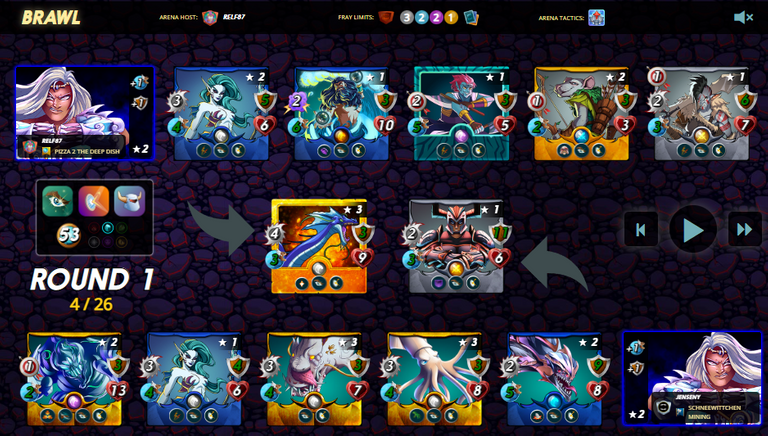 ---
Battle 6 - WIN
Gladius Card Used: Witch Of Warwick
With a rather restrictive triple ruleset, I enlisted Astral Entity's help. Queen Of Crows was the main reason why I chose a Death lineup instead of my usual strong Water lineup. My team suffered badly due to Headwinds from my opponent but the turning point came when Astral Entity resurrected my tank. That bought extra time for the remaining team and Riftwing benefited with an additional HP too. I would have lost this battle if not for Astral Entity, who is immensely underrated in my view.
MVP: Astral Entity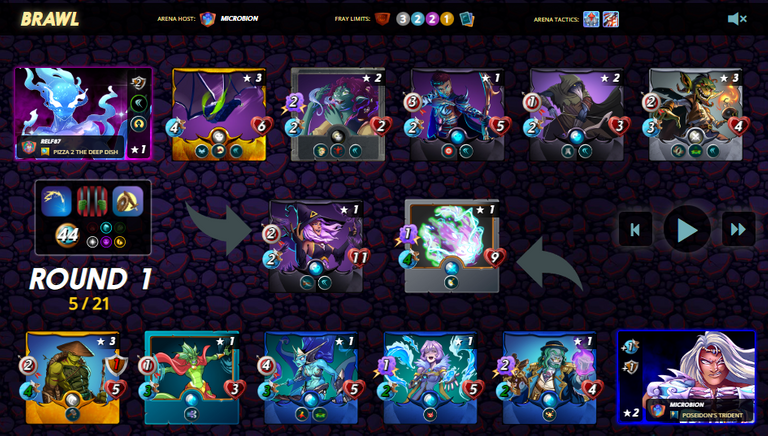 So that sums up my 6 battles for this brawl! A perfect 100% score strung together by the new Soulbound cards and the use of new abilities such as Martyr and Weapons Training. Practice makes perfect!
---
Review Of Gladius Cards
The Merits are coming in fast and I have enough Merits for my 28th Gladius case! My first Captain Katie! Finally a new card in my collection!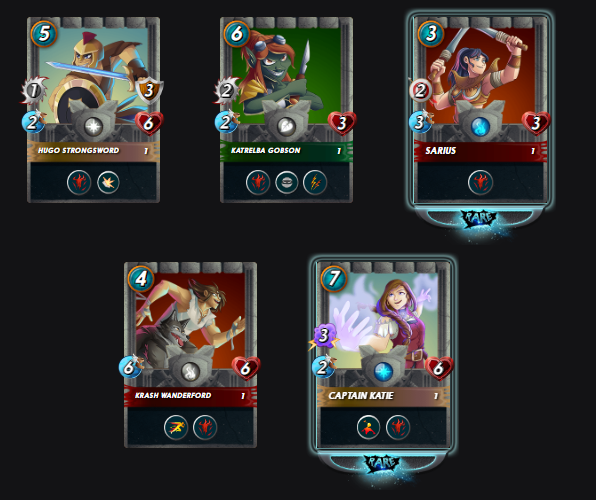 Previous Gladius Card Reviews:
---
Brawl Reports Of Pizza 2 Guild And More!
If you are interested to follow the guild brawls of the Pizza guilds, feel free to check out some of the brawl reports below!
---
That's all I have! Let me know if you have any thoughts too!
As always, thanks for reading and have a pleasant day ahead!
---
If you are interested to sign up to play Splinterlands, my referral link is here.
---
---