Guild Brawls With Pizza 2 - You Win Some, You Lose Some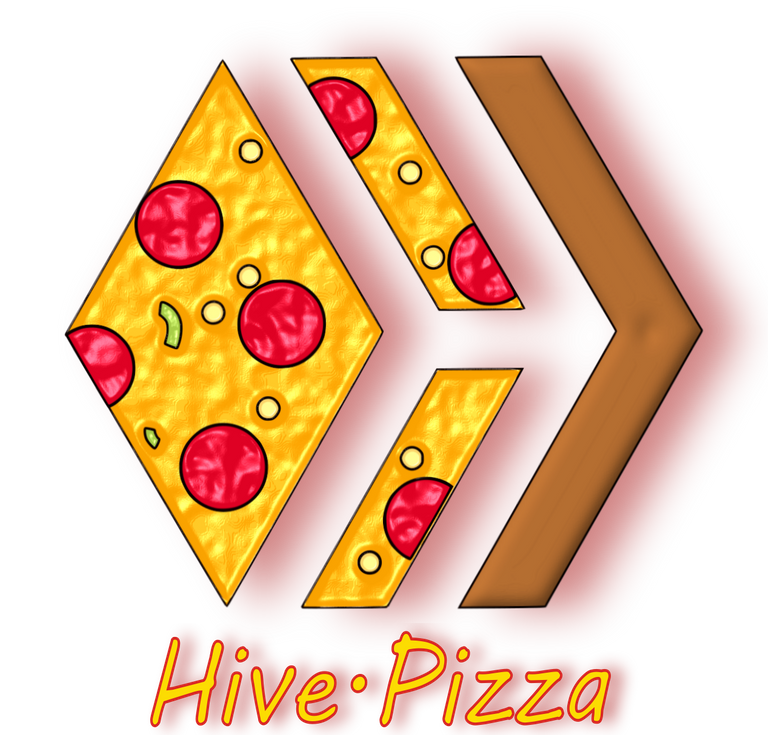 Time flies! Just completed the 38th brawl with my awesome guild, which is none other than Pizza 2 The Deep Dish!
Really appreciated the interaction in the Discord chats within the Pizza guilds. During the preparation phase, there's a lot of information sharing and discussion on who to fill each fray. During the brawls, there were reminders to members to complete their brawl battles. And after the brawls, there were celebratory messages and some members (including me) would write about our experience in the brawls. Aside from brawls, I thought the donations were also very well organised and tabulated, with lucky draws to incentivise donors as well.
For this brawl, I decided to stick to what I fought in the last fray, which was Fray 6, which was 3/2/2/1. I felt I was starting to find my grove and this fray is neither too difficult nor too easy for me.
Had 5 battles this time and it was not an easy round. I had challenges fielding my lineups for some weird reason. Moreover, I have rented out most of my cards because I was playing lesser these days. Fortunately, the result turned out ok and wasn't as bad as I expected.
So for the final result, we were back to the podium and finished 2nd out of 10 guilds but only got 538 Merits! An awesome result!

Individually, I had 5 fights this time and I managed to win 3 of them. Finished 3rd within the guild!

---
Let's jump into the battles!
Battle 1 - WIN
Gladius Card Used: Chimney Wallstop
For a 58 mana battle, my opponent's team was severely lacking in big cards. My cards were 53 mana and my opponent's cards were 40 mana so there was a huge gap in strength to begin with. I guess the battle modifiers of Magic Reflect and Return Fire constrained a lot of the options. That said, I still went ahead with Lava Launcher hoping that it had enough armor to soak up the Return Fire. Fortunately it worked and with only 5 battles in the brawl, every win would be precious!
MVP: Chimney Wallstop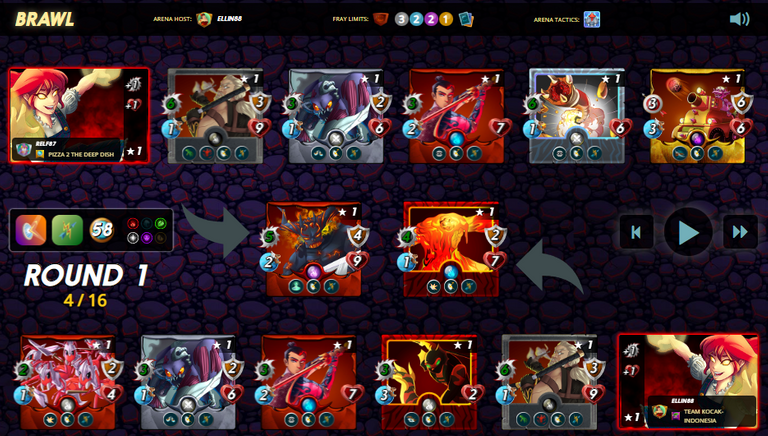 ---
Battle 2 - LOSE
Gladius Card Used: Witch Of Warwick
This battle went all wrong for me as my opponent hunted down my backline with 3 Sneak cards and there was no coming back for me. I don't often lose these Level 1 vs Level 1 battles, so that's something for me to work on.
MVP: None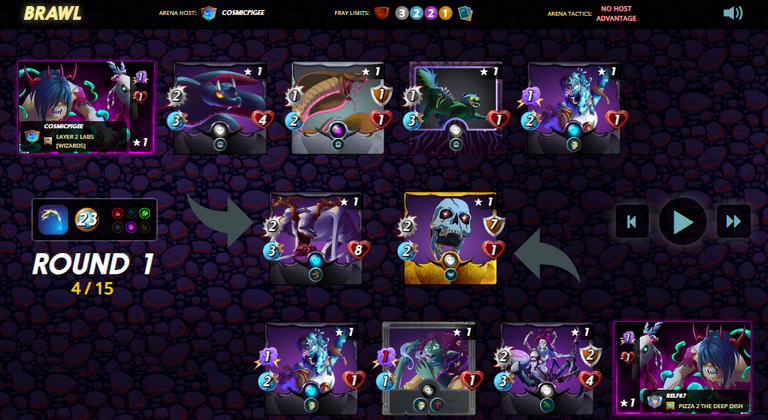 ---
Battle 3 - WIN
Gladius Card Used: None
For a Back To Basics and Earthquake battle, the only feasible choice is Brighton Bloom. Brighton Bloom was the star in my last brawl and this time, he scored another win against an Alric Magic lineup. Very impressive indeed!
MVP: Brighton Bloom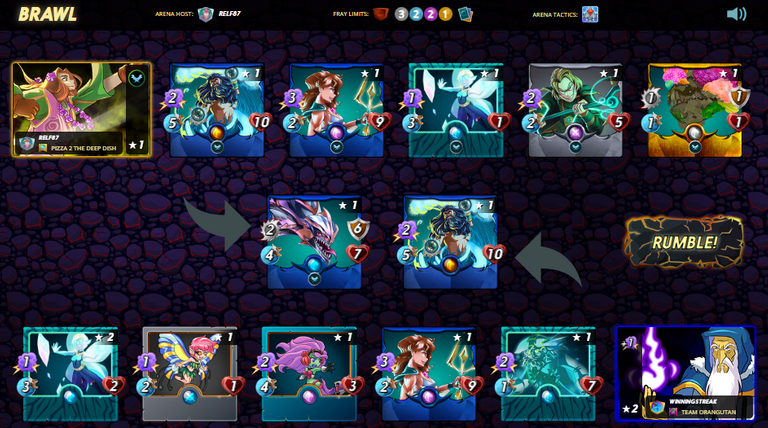 ---
Battle 4 - WIN
Gladius Card Used: Relenor Cleaver
I finally had a chance to put out my comfortable Water lineups featuring the likes of Djinn Oshannus and Axemaster. This was an easy win for me because of the difference in damage output between both sides. Even with Tank Heal and Repair, it didn't cause any problems for my team. MVP was hard to pick but I would go with the Taunt card this round.
MVP: Wave Brood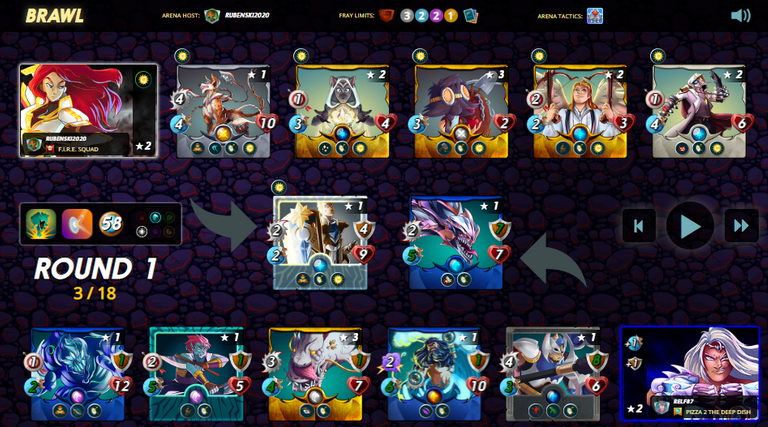 ---
Battle 5 - LOSE
Gladius Card Used: None
I was outmuscled in this fight, facing 3 Legendary cards and another strong Gladius card. My strategy of a full Melee attack didn't work out either. Ouch.
MVP: None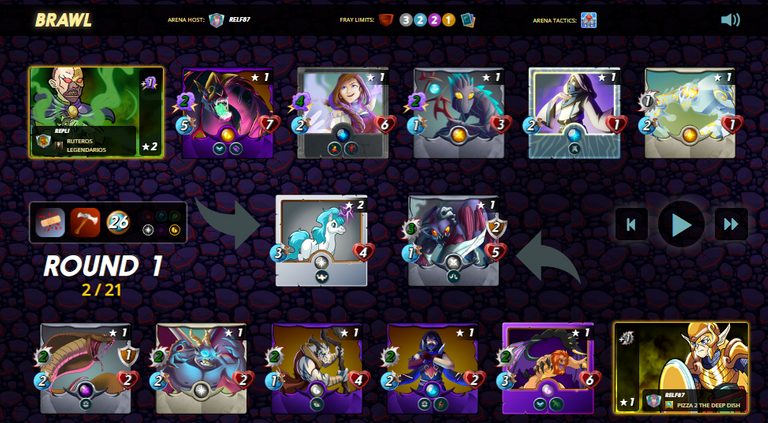 So that sums up my 5 battles for this brawl! A 60% win rate without any free wins so that's good enough for me!
---
Review Of Gladius Cards
No new Gladius cards to review this time round.
Previous Gladius Card Reviews:
---
Brawl Reports Of Pizza 2 Guild And More!
If you are interested to follow the guild brawls of the Pizza guilds, feel free to check out some of the brawl reports below!
---
That's all I have! Let me know if you have any thoughts too!
As always, thanks for reading and have a pleasant day ahead!
---
If you are interested to sign up to play Splinterlands, my referral link is here.
---
---