How to Buy, Stake and Earn SPT tokens with Splintertalk.io and Hive-Engine

If you're relatively new to Splinterlands and Hive more generally you may have noticed that you can earn SPS (Splintershards tokens) tokens by staking SPT (SplinterTalk) tokens.
I've noticed a few posts querying what SPT tokens are and how to get hold of them, and so I thought I'd put together this how-to post covering the following:
What is Splintertalk? HIVE, Splintertalk and the SPT token
How to earn SPT tokens - posting, staking and curating on Splintertalk
How to Buy SPT tokens - Hive-Engine and other places
SPT and the SPS airdrop
NB - don't get SPT and SPS mixed up, they do sound quite similar - the former is the 'reward token' for Splintertalk, the later is the 'governance token' for the whole Splinterlands ecosystem. The later is currently A LOT MORE VALUABLE and IMO should continue to be so in the long-term.
And here's a disclaimer..... I hold SPT tokens BUT this post is NOT financial advice!
And here's another - this post is mine and doesn't necessarily reflect the views of anyone working for or with Splinterlands.
What is Splintertalk?
Splintertalk is a blogging front-end based on Hive, through which you can post content about anything related to Splinterlands, which will makes you eligible to received SPT rewards based on the SPT stake-weighted votes you receive for said content.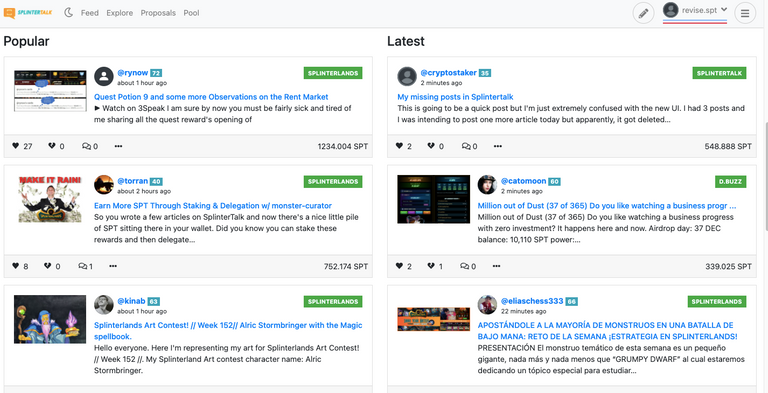 When you signed up for Splinterlands, you had a Hive account created for you, which allows you to interact with anything built on the Hive ecosystem - there are several other games and blogging communities, just one of which is Splintertalk.
Anything you post on Splintertalk will also appear on Hive as the former is built on the later, however anything you post through Hive will ONLY appear on Splintertalk and be eligible for SPT rewards if you use the SPT tag when posting.
The easiest way to log in to Hive/ Splintertalk and start blogging is to install Key Chain into your Browser (I have mine working with Brave) and install your account keys into keychain.
(NB - but always store your Master password offline!)
Once you've done that you can log-in to anything Hive related with your Hive account via Key Chain.
You may already have done this as part of signing up for Splinterlands, of course!
NB - It's worth keeping in mind that Splintertalk and Splinterlands are both part of the wider Hive ecosystem, one of the most socially active blockchains out there.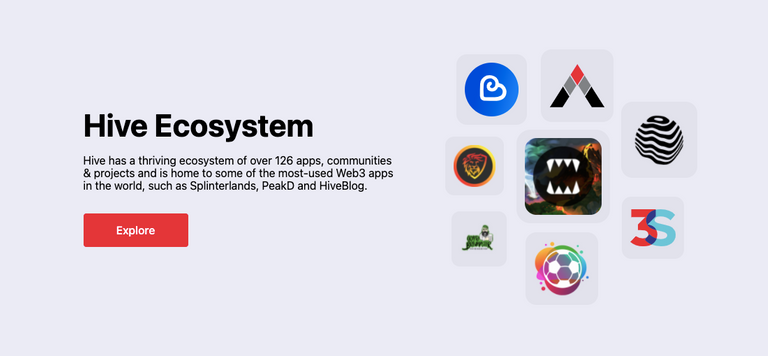 If you're a serious battler and want to play 50 battles a day or more ATW you need around 20 Hive powered up to make sure you have sufficient resource credits to be able to play that much.
I personally have over 80K Hive powered up, Splinterlands is now the biggest success story on Hive, but there's a really interesting back story behind how Hive was created, and I believe in the system, but that's just me, anyway I digress, for now I'll just say I think Hive is worth checking out more generally if yer here already!
How to earn SPT tokens: posting,
You can either post via the Splintertalk front end itself - https://www.splintertalk.io/ OR via any of the Hive front ends such as PeakD and using the 'SPT' tag when you post, which will make the post visible on Splintertalk and make it eligible for SPT rewards.
How much you earn is entirely dependent on who votes for you and with what weight of what SPT power. If you get a lot of votes from people with a lot of SPT staked, you can earn thousands of SPT per post, but you are likely to earn a lot less (and the more people who post and get voted on, the less you earn because the SPT rewards get distributed more widely!).
If you want to receive a reward in the thousands of SPT like most of the trending posts do, then the most likely way of this happening is by getting a vote from the @monster-curator account - which has an ENORMOUS amount of SPT staked, partly because a lot of people delegate their SPT to it.
That account is mainly run by @flauwy who doesn't upvote shit - he's very diligent about only upvoting decent content about Splinterlands.
There are a few other active curators with decent sized stakes too, you can check the rich list here.... most of these chuck out votes that are worth between 50-200 SPT on decent quality stuff too, looking to max their curation returns.
What to write about....
You are free to post whatever you like on Splintertalk, but ideally content would be Splinterlands related (we will DV you if you abuse the tag BTW), and it's up to you whether you do quick posts outlining your daily quest rewards, or quick battle overviews, or just funny and entertaining stuff, however the chances are content like that will only ever earn you a few SPT.
You can see from trending that you can earn some decent rewards for more in-depth content, with several posts every day receiving upwards of 5000 SPT....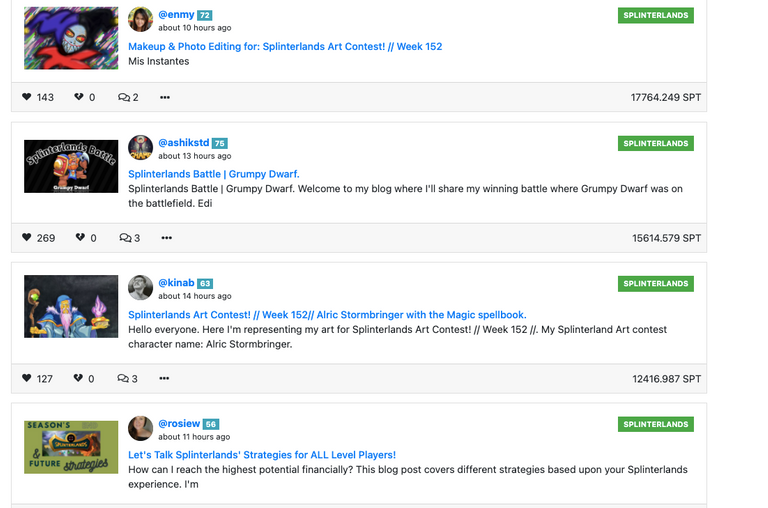 You can see that content which does well tends be about battle strategy and analysis, maybe not that surprising, but you can also do well on art posts, or writing about the financial aspect of the game too.
Probably the easiest ways to earn are to take part in the weekly competitions such as:
The Splinterlands weekly share your battle challenge
The Splinterlands weekly art contest
The Splinterlands weekly social media challenge.
You'll find links to the latest challenges for all of the above on the @Splinterlands account feed - https://peakd.com/@splinterlands (NB for some reason the main @splinterlands account isn't showing up on Splintertalk ATW, even though it uses the SPT tag all the time).
Check the rules on these competition posts as some of them are quite specific!
How to earn SPT from curating
If you power up SPT and vote on Splintertalk Content, you will receive 50% of your vote value back as part of your 'curation returns'.
My current APR on voting is around 25% a year, and in order to max this out you need to use all of your available voting power on a daily basis - which is 10 full votes per day based on the rate at which your VP recharges.
NB if you're going to be voting on both Hive and Splintertalk (or any other tribe for that matter) a good idea is to create an alt account and delegate all your side-chain tokens to that account and vote using that.
However, probably the simplest way to earn SPT from curation is simply to delegate to @monster-curator who will vote for you and pay you out a weekly dividend.
NB I checked this out a couple of months ago and I was getting a better return manually curating myself, but this may have changed, the returns overall on curation have come down a lot since then (more people voting)!.
This post here covers everything about how to stake SPT to your own account and delegate SPT to @monster-curator.
NB - If you're on LEO-DEX you can 'stake to another account' from your own wallet, DON'T DO THAT unless it's one of your alts - you probably want to stake to your own account and then DELEGATE to (in this case) @monster-curator.
How to Buy SPT tokens...
You can swap SPS for SPT on the first ever swap pool to appear on Splintertalk here
You can buy them with Hive on Hive-Engine.
You can also buy SPT with Hive on Leo-Dex, it's an alternative front end to Hive-Engine, but with a much lower fee to deposit yer Hive.
NB - if you need buy Hive it's on most major exchanges - Binance for example!
SPT and SPS rewards...
You receive 0.25 SPS drop points per 1 SPT, so that's 1 share for every 4 SPT.
To give you and idea of what you can earn, I have 900K SPT and get 225 000 points towards my SPS drop, that's 225 000 out of a total 3.3 M points including all my Splinterlands assets, so my SPT makes up < 10% of my points and I get a daily Hive drop of around 500 SPS.
So 900K SPT staked = around 40 SPS a day.
NB you don't need to stake to get SPS rewards, you can just hold the SPT without staking it.
Final Thoughts
I like blogging more than I like gaming, hence why I got into SPT a while back - I bought my bag when it was proper cheap.
I wouldn't advise buying it now compared to to DEC just for SPS - currently 1 DEC will cost you 0.015 Hive, 4 SPT will cost you 4 times that!
Although by the time this post goes out the prices probably would have equalized a bit, markets do that.
But if you like blogging about gaming, and about Splinterlands, posting to Splintertalk once in a while seems like a good idea, and if you power up that SPT and vote, well you're getting curation rewards as well as the drop rewards.
NICE!
Related posts...
Guide to Blogging for New Players by @costanza is excellent - much more in-depth than mine and full of useful advice!
---
---