[Esp/Eng] battle with venari knifer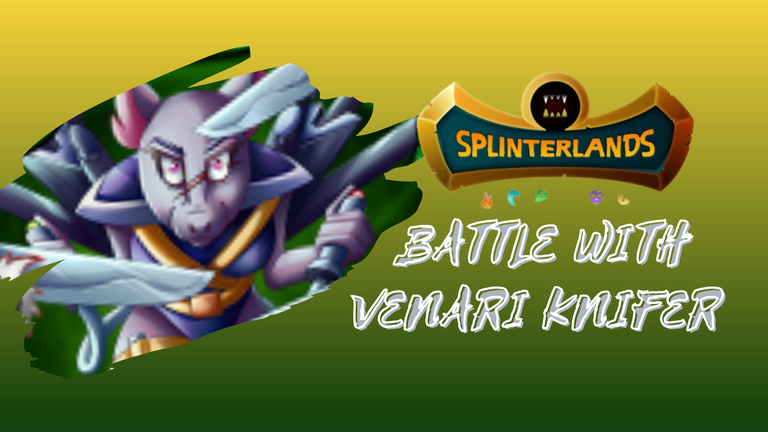 Imagen Diseñada en canva
Nuevamente retomo a batalla semanal de #splinterlalnds aunque la de la semana pasada me la perdí porque me confié y se me fue el tiempo de armar la publicación.
El protagonista de la semana es Venari Knifer y puedo decir que es una de mis cartas favoritas por la habilidad que posee.
Once again I return to the weekly battle of #splinterlalnds, although I missed last week's battle because I got overconfident and I missed the time to put the publication together.
The protagonist of the week is Venari Knifer and I can say that he is one of my favorite cards because of the ability he has.

Imagenes capturadas desde mi colección de nft de juego de Splinterlands

Mi linea de batalla
---
Prince Rennyn: El invocador quien puede agregar efectos positivos a todos los monstruos que seleccione porque tiene para dar +1 de veocidad, +1 de vida y +1 de ataque lejano.
Primera Posición: Venari Knifer con la habilidad de devolver el ataque recibido por monstruos de ataque de cuerpo a cuerpo.
Segunda Posición: Goblin Thief con la habilidad de Escabullirse.
-Tercera Posición: Child of the Forest un monstruo de ataque lejano con la habilidad de Precisión.
Cuarta Posición: Iza the fanged un monstruo de ataque lejano con dos habilidades, una de escabullirse y carroñero.
Quinta Posición: Tower Griffin un monstruo de ataque lejano con la habilidad de volador.
My battle line
---
Prince Rennyn: The summoner who can add positive effects to all the monsters he selects because he has to give +1 speed, +1 life and +1 far attack.
First Position: Venari Knifer with the ability to return the attack received by melee attack monsters.
Second Position: Goblin Thief with the Sneak ability.
Third Position: Child of the Forest a far attack monster with the Precision ability.
Fourth Position: Iza the fanged a far attack monster with two abilities, a sneak and a scavenger.
Fifth Position: Tower Griffin a far attack monster with the flying ability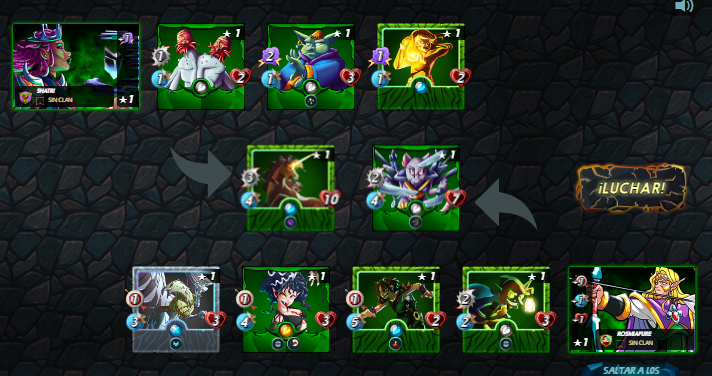 Mi contrincante selecciona como invocador a Obsidian quien da +1 de ataque mágico a todos sus monstruos de magia y continua armando su linea con Unicorn Mustang, Mycelic Morphoid y viene a selección de magia que son Goblin Psychic que da vida a su monstruo de primera posición y viene Khmer Princess
My opponent selects as summoner Obsidian who gives +1 magic attack to all his magic monsters and continues to build his line with Unicorn Mustang, Mycelic Morphoid and comes to magic selection which are Goblin Psychic who gives life to his first position monster and comes Khmer Princess.

ink de la batalla
Debo confesar que la batalla fue bastante rápida pero sirve para mostrar porque venari knifer es uno de mis favoritos y es que su efecto me gusta, esa manera de envolver al enemigo entre sus espinas.
Tuve mucha ventaja ya que al tener +1 de velocidad más la que ya tenia mi selección hace que mis monstruos tengan la posibilidad de atacar primero que el contrincante que tenia sobre alguna de su selección cartas más lentas.
Otra de mis ventajas es el +1 de ataque lejano que hace que Child of the Forest pueda eliminar al monstruo de la ultima posición de mi contrincante y a su vez Iza the fanged arranca -2 de vida sobre el monstruo de primera posición de mi contrincante. Y así solo 2 rondas tuvo la partida.
I must confess that the battle was quite fast but it serves to show why venari knifer is one of my favorites and I like its effect, that way of wrapping the enemy between its thorns.
I had a lot of advantage because having +1 speed plus the one that already had my selection makes my monsters have the possibility to attack first than the opponent who had on some of his selection slower cards.
Another of my advantages is the +1 of far attack that makes Child of the Forest can eliminate the monster of the last position of my opponent and at the same time Iza the fanged takes -2 of life on the monster of the first position of my opponent. And so only 2 rounds had the game.

Considero mi linea de batalla bastante buena ya que mi monstruo de ultima posición tiene habilidad de esquivar ataques y Iza la habilidad de sumar +1 de vida por cada monstruo que muera y creo que volveré a armar esa linea para ver como funciona contra otra linea de ataque por parte del contrincante y si, si vuelvo a usar a VENARI KNIFER siempre que la oportunidad se presente.
Gracias por llegar hasta e final y si tienes alguna recomendación para una jugadora novata pues bienvenida sea.
I consider my battle line pretty good since my last position monster has the ability to dodge attacks and Iza has the ability to add +1 life for each monster that dies and I think I'll put that line together again to see how it works against another line of attack by the opponent and yes, if I use VENARI KNIFER again whenever the opportunity arises.
Thanks for making it to the end and if you have any recommendations for a novice player you are welcome.

---
---