[Esp/Eng] Share Your Battle Flyin Squid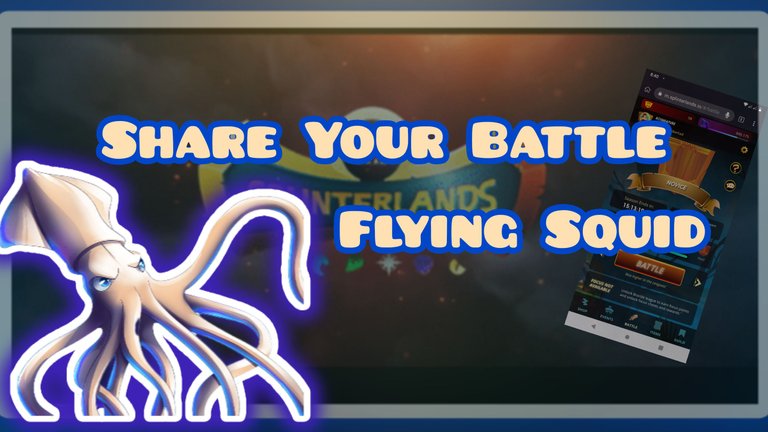 Imagen Diseñada en Inshot
Llegó el momento de mostrar una nueva batalla con un nuevo protagonista y uno de mis elementos favoritos que es el de agua.
Aunque confieso que no soy una de las mejores jugadores y que me ha costado un montón tratar de subir de liga, pero aquí ando con pie firme y dando guerra dentro del juego.
The time has come to show a new battle with a new protagonist and one of my favorite elements which is water.
Although I confess that I am not one of the best players and that it has cost me a lot to try to climb the league, but here I am with a firm foot and giving war within the game.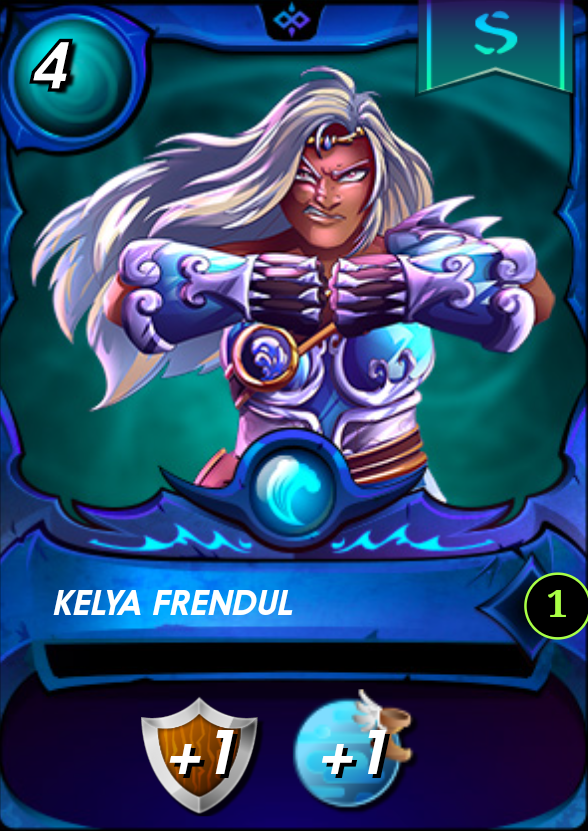 | | |
| --- | --- |
| | |
| --- | --- |
Mi equipo lo constituir de la siguiente manera.
Invocador: Kelya Frendul quien agrega +1 de velocidad y +1 de escudo a los monstruos aleados.
Primera Posición: Demented Shark es una que me gusta mucho y más porque es de mi propiedad, tiene 1 de escudo, 6 de vida, 2 de velocidad y 1 de ataque cuerpo a cuerpo, pero eso no es todo si no que también tiene la habilidad de aumentar a +1 de daño a todos los monstruos aleados de ataque de cuerpo a cuerpo.
Segunda Posición: Flying Squid (El Protagonista) quien tiene la habilidad de alcanzar lo que hace que pueda atacar desde segunda posición y no solo eso, si no que tiene 8 de vida, 3 de velocidad, y 2 de ataque cuerpo a cuerpo.
Tercera Posición: Pelacor Bandita quien tiene dos habilidades una de volador y la de Furtivo, el tiene 2 de vida, 3 de velocidad y 1 de daño cuerpo a cuerpo.
Cuarta Posición: Deeplurker con la habilidad de oportunidad, tiene 6 de vida, 2 de velocidad y 3 de daño cuerpo a cuerpo.
My team is made up as follows.
Summoner: Kelya Frendul who adds +1 speed and +1 shield to the alloyed monsters.
First Position: Demented Shark is one that I like a lot and more because it is of my property, has 1 shield, 6 life, 2 speed and 1 melee attack, but that's not all if not also has the ability to increase to +1 damage to all melee attack alloy monsters.
Second Position: Flying Squid (The Protagonist) who has the ability to reach which makes him able to attack from second position and not only that, but he has 8 health, 3 speed, and 2 melee attack.
Third Position: Pelacor Bandita who has two abilities, one flying and the other Furious, he has 2 health, 3 speed and 1 melee damage.
Fourth Position: Deeplurker with the opportunity skill, he has 6 health, 2 speed and 3 melee damage.

Como ven mi selección es de puro ataque de cuerpo a cuerpo, pero en parte es por el primer monstruo que uso que incrementa +1 de daño, y la idea es sacarle el mayor provecho a esa habilidad sin dejar de un lado que cada uno tiene muy buenas estadísticas acompañada de habilidades que los ayuda atacar desde la segunda línea.
As you can see my selection is pure melee attack, but it is partly because the first monster I use increases +1 damage, and the idea is to get the most out of that ability without leaving aside that each one has very good stats along with abilities that help them attack from the second line.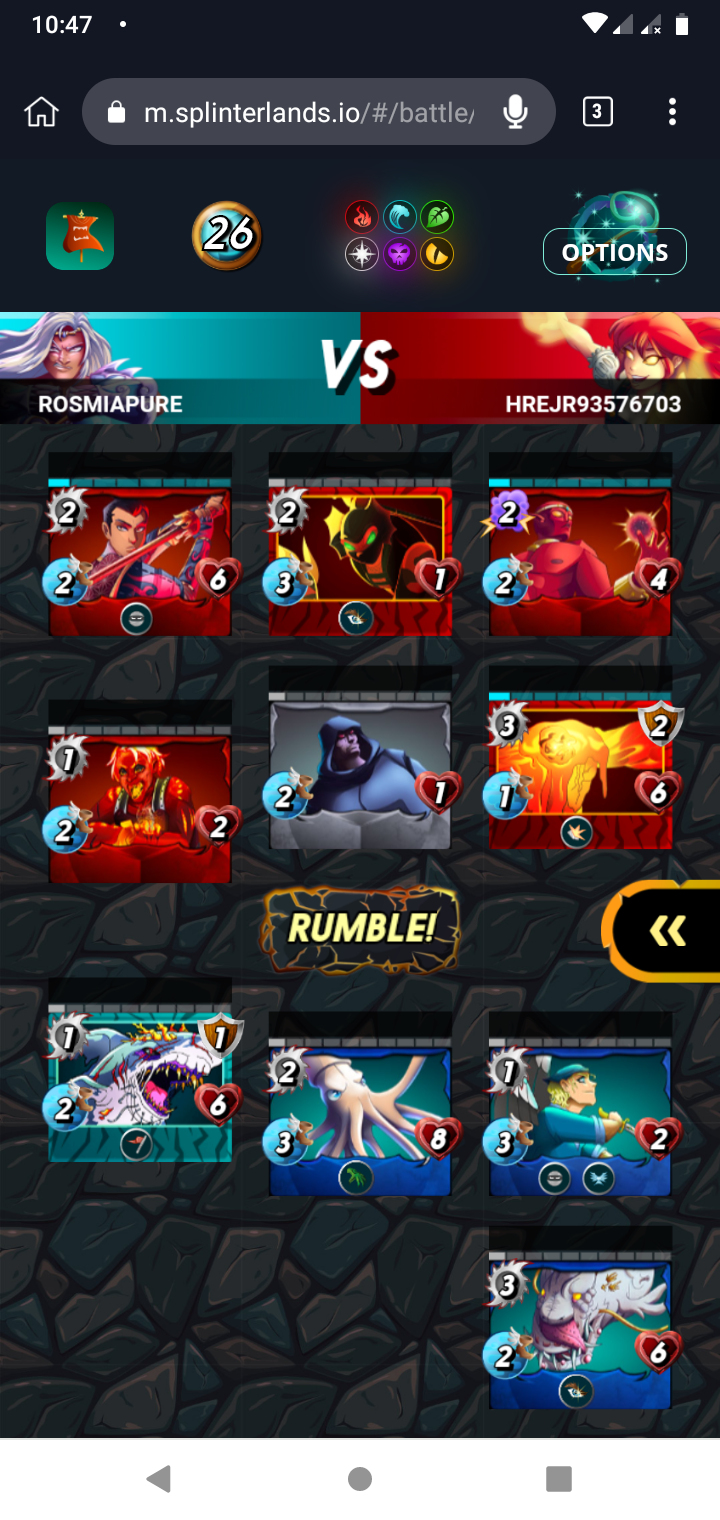 Mi contrincante eligió el elemento fuego usando a Tarsa de invocador que otorga 1 de vida +1 de ataque a sus monstruos aleados, también tiene a Radiated Scorcher con 1 de vida, 2 de velocidad y 1 de ataque cuerpo a cuerpo. Le sigue en segunda posición a Chaos Agent con 1 de vida, 2 de velocidad y como pueden ver no tiene ataque de ningún tipo. Le sigue Living Lava que tiene un buen daño, viene Djinn Apprentice un monstruo mágico con 2 de ataque, 2 de velocidad y 4 de vida, siguiendo Serpentine Spy y por último Tenyii Striker.
Puedo decir que es una línea bastante buena.
My opponent chose the fire element using Tarsa as a summoner that grants 1 life +1 attack to his monsters, he also has Radiated Scorcher with 1 life, 2 speed and 1 melee attack. It is followed in second position by Chaos Agent with 1 health, 2 speed and as you can see it has no attack of any kind. Next comes Living Lava which has good damage, then Djinn Apprentice a magic monster with 2 attack, 2 speed and 4 health, followed by Serpentine Spy and finally Tenyii Striker.
I can say that it is a pretty good line

| | |
| --- | --- |
| | |
| --- | --- |
La batalla duro 5 rondas un poco intensa, aunque dirán que tuve mucha ventaja ya que si ven la batalla dando click aquí pueden ver qué fue una batalla muy rápida y bueno la comparto con ustedes porque me gustó la composición de mi equipo, me gusta como mi tiburón le da más poder a los otros monstruos haciéndolo a todos más poderosos incluido a nuestro protagonista Flyin Squid quien por tener mucha vida y la habilidad que tiene lo hace muy poderoso y eso tomando en cuenta que su daño paso de 2 a 3 pero sin embargo eso fue hasta que el primer monstruo murió y se llevó su habilidad.
Mi estrategia me gusta porque combinó los efectos positivos que suma el invocador a mis monstruos más la que suma mi primer monstruo a los otros. Creo que no cambiaría en nada mi estrategia aunque seguiré probando más formas de sacarle el jugo a nuestro gran Protagonista.
Bueno chicos, esto es todo y muchas gracias por dedicar su tiempo para leer mi publicación.
The battle lasted 5 rounds a bit intense, although they will say that I had a lot of advantage because if you see the battle by [click here](https://m.splinterlands. io/#/battle/game/process/sl_da659f77b37d8c419ddd03fe74d5d81b) you can see that it was a very fast battle and well I share it with you because I like the composition of my team, I like how my shark gives more power to the other monsters making them all more powerful including our main character Flyin Squid who by having a lot of life and the ability he has makes him very powerful and that taking into account that his damage went from 2 to 3 but nevertheless that was until the first monster died and took his ability.
I like my strategy because it combined the positive effects that the summoner adds to my monsters plus the one that my first monster adds to the others. I don't think I would change my strategy at all although I will keep trying more ways to get the most out of our great Protagonist.
Well guys, this is all and thank you very much for taking the time to read my post.
---

---
---