Splinterlands - Starting a new season with some statistics on reward cards and power purchase #5 (Extra giveaways)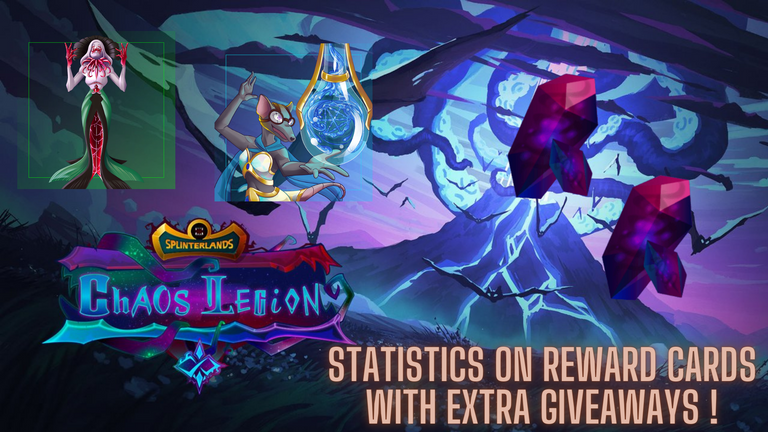 Welcome
Here we go again guys! I am very excited to embrace the new season since it means that we are having bunch of EOS chests to open and test our luck. I guess everyone loves the end of season and feels exhilarated about it, except the pumped rental price. But if you got enough power rank, I think you do not need to worry about it. Let's go ahead to share some excitement and check some of the most recent statistics.

My EOS reward chests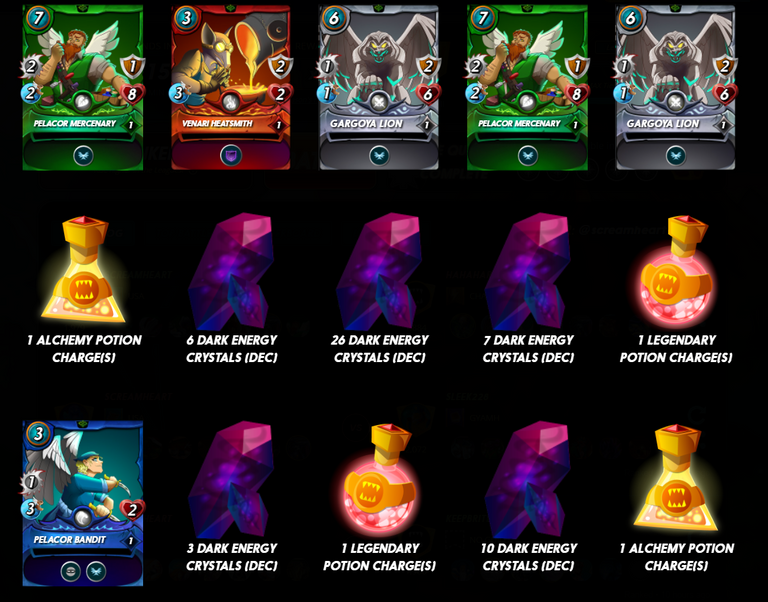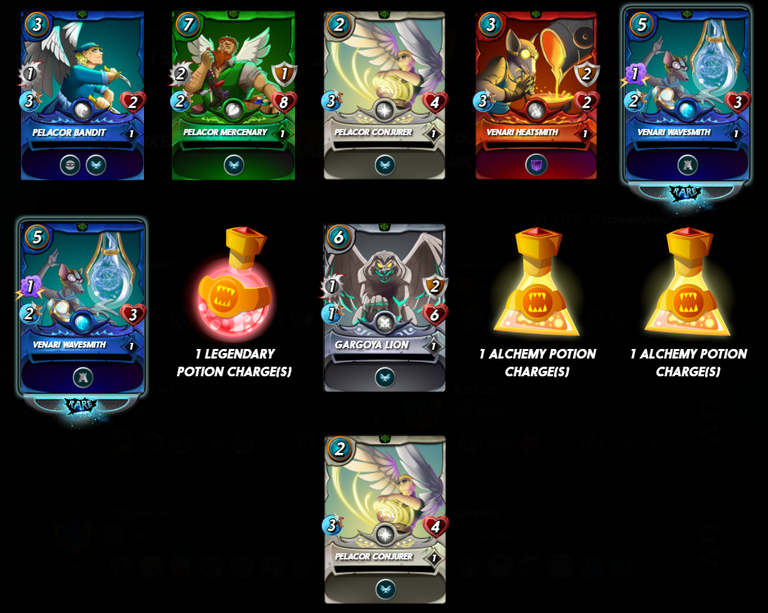 At first, I was praying for soem CL packs drop but ended the RNG god was not on my side. Anyways, I just got bunch of cards as well as for my alts. Potions, DEC and some common cards are always fine. Luckily, I got two copies of VENARI WAVESMITH which was pretty overpower for last meta.
---

---
The VENARI WAVESMITH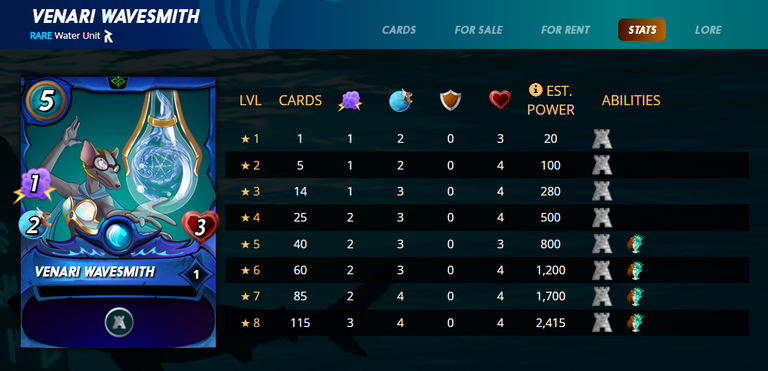 It reminds me of last meta before the CL release when ALRIC STORMBRINGER was still part of start cards. The water magic team was too overpower, in comparison, the water meta changed to melee attack after the alternation of starter card for newbies.
Common combinations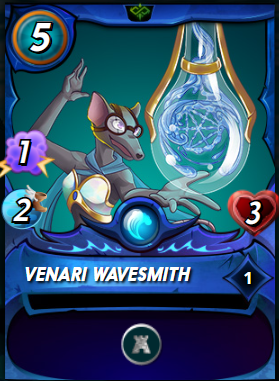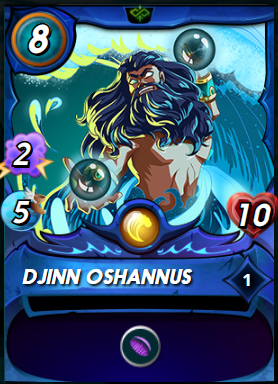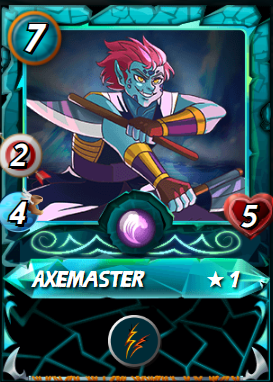 These four cards are in the common deck that frequently meet in rank battles. However, if you have the ALRIC STORMBRINGER summoner or you want to rent it from others. You can try this team to smash your opponents. I believe that you won't regret trying this deck.
---
What you can learn in current meta?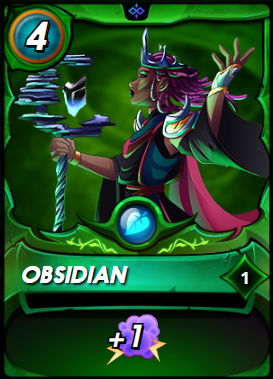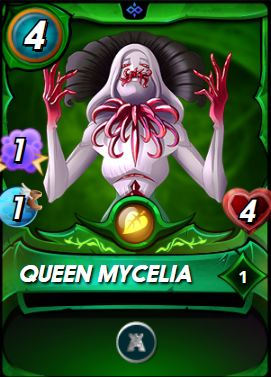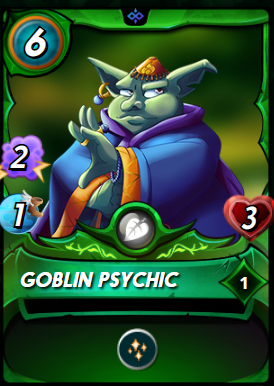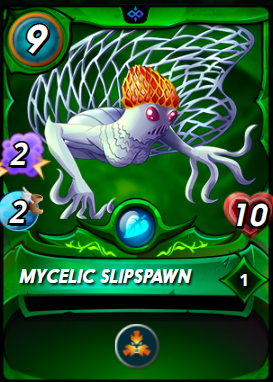 It is not hard to find the common characteristics from the above water magic team and earth magic team. It is always suggest to save a spot for supportive monster that provide shield for the team to increase the survivability in battle. The reason behind is pretty simple, magic monsters are generally considered to be extremely fragile but with high damage in any game. The extra shield provided is definitely a cherry on the top.
---

---
Reward card printing
In order to analyze the qualitative data, I made a snapshot regularly to trace the numbers which shown as follows: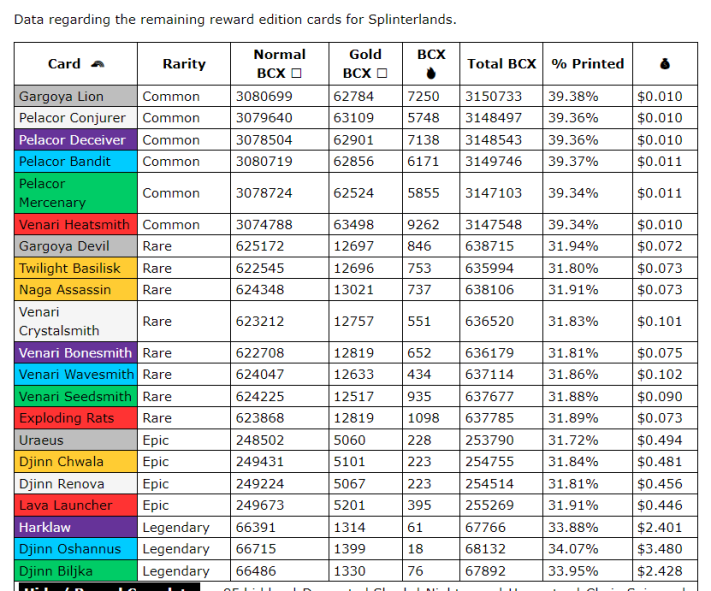 As of April 1,2022
---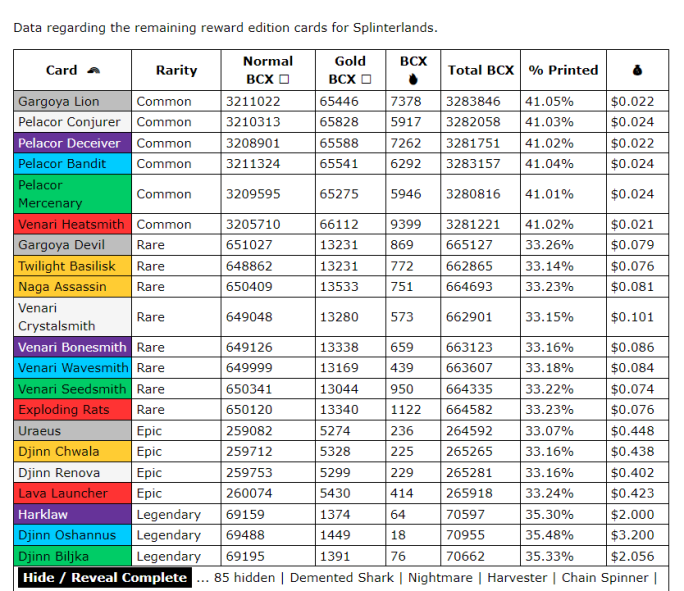 As of April 7,2022
---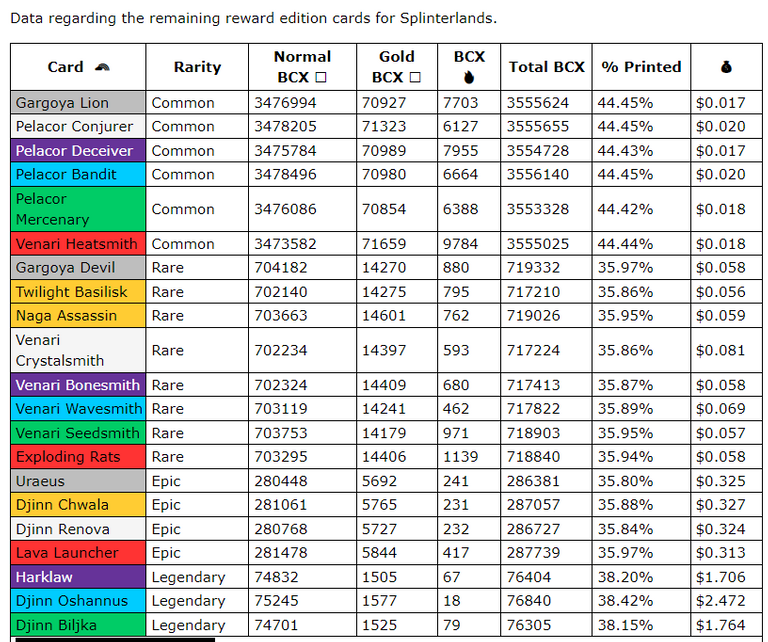 As of April 18,2022
If you have impression on my previous blogs, I believe you must notice that the printing percentage is one of the most important indicator that I constantly monitoring. Since I believe the progress would affect the whole ecosystem in Splinterland and the inflation level.
The best way to track the quantitative data is to mark down the number on a regular basis to track the progress. That's what I did to track the whole process on weekly basis. As we can figure out that the 5% of the common cards were printed in past 15 days, while approximately 4% for rare, epic and legendary cards.
It is noticeable that I believe that it is likely to happen the common card would be printed out first since the whole category is very close to 50% while the others rarity are printing slowly.
And here i got an extra interesting question:
What if all the common cards are printed out already? Does it mean that we are guaranteed to get the rare above card from the chests?
It is super fun for me as I can't help thinking on that. Hahaa. But anyways, we will know the answer for that when we get there. Just be patient and do you best in building the deck and enjoy the game. That's the attitude I current hold.
---

---
What am I currently buying for the power?
First of all, to have a brief background on my calculations and points to note that I focus on, I suggest you go to my previous post to have a brief view and recall the memory to follow the following contents.
Click here: Time to sweep cheap CP cards in the market? Let's check the statistics and thanks @clove71 for curating my last blog of the analysis on relative price to burn value. Really appreciate it from my bottom of my heart!!
Go to the Peakmonster and follow the steps in screenshot. (With my fav number for resources credits)

The focus today is the Diff which means the price above burn ratio.

A brief recap of the burn ratio that I mentioned in last blog.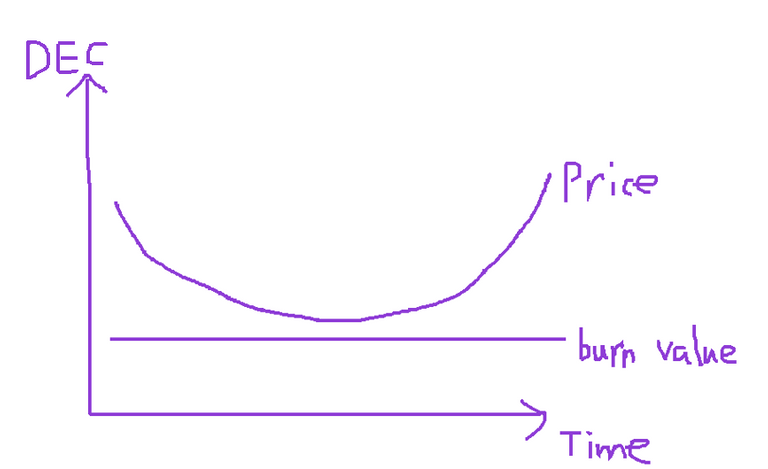 The curve shows exactly the movement of Diff: price above burn ratio theoretical. In other words, the price will continuous going down and get close to the burn value as time goes by. Once the printing process is close to finished, the price will go up again due to the decrease in supply.

As a result, I made the following decision to accumulate my power and generate further cash flow in the future. I just constantly buying those cards with reasonable Price-to-burning ratio around 1.7-2 for regular one, and approximately 1.9-2.2 for gold foil.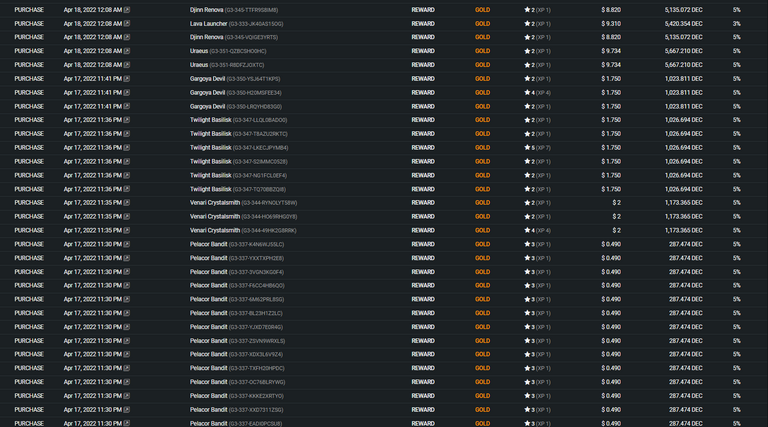 Warning: The most important point here is that I am revealing my trade secret that in crash with my personal financial interest which seems so stupid. Because this will draw the attention for my 'potential competitors' in buying those cheap power cards. BUT, I think it is not a secret and necessary to spread this and draw the attention from the whole Splinterland community to grab those cheap cards before they are gone. And I believe more new players should get this concept before making some decision while buying cards to maximize the economic benefits.
---

---
My recent update

Recently, I was keep sniping the reward cards with good potentials in my range of reasonable price and I just keep buying those to accumulate my total powers. Since I am sure that I will not regret on this in the coming years. Cheap power is always good for you in terms of economic benefit. You will not relying on renting from others or bearing the pumped rental price in last minute. Also, you can delegate to you alts and get more EOS reward. For now, we can still get the SPS airdrop points in the coming about 100 days. Based on the above points, I will definitely grab those cheap power as part of my investment in the game. Cheers and peace!
---

---
Extra giveaways for today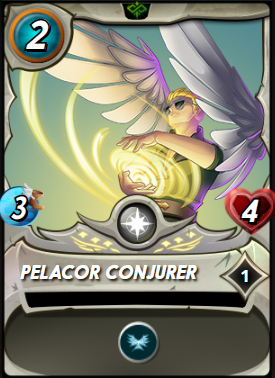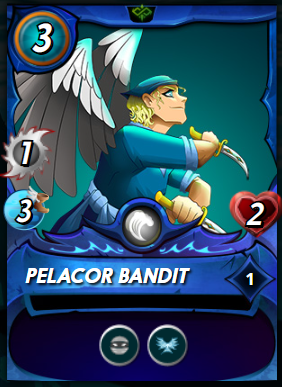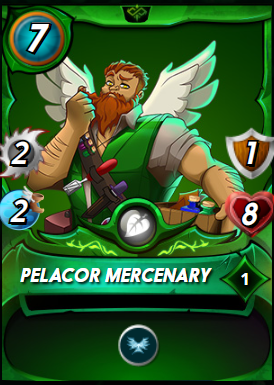 I will giveaway 3 common cards that of high potentials to the lucky winners, especially the Bandit which is my all-time fav water assassin that with high speed and flying ability. With the enrage rule-set, it is too speedy to get touched.
Rules:
Leave a comment below to grab an entry ticket (specify if it is not the same as here).

You will be enrolled into the raffle automatically to win one of the three.

Three winners will be picked when this post pays out in 7 days or whenever I share my next giveaway post.

I will tag all participants in the next raffle post, please feel free to state in comment if you do not want.

Don't forget to have fun!!
---
Tag List
@davideownzall @yasky @noctury @madjimmy @applekah @blitzzzz @henruc @clubhouse-benji @csvoon @luizeba @myeong @amaillo @xg4028 @sihay @skillzdal @jackloon2 @koukou21 @animocin @ashborn07 @noejnolimit @itzyyy @jona10 @klm0420 @reinabndc @jakkal @cibi @scfather @matthew14429 @beelmukjj @relf87 @squishna @genming @lorddiablo @vaynard86 @DUB-C @nekohige @xykorlz @lofone @irisworld @mxm0unite @eijibr @amaari @candnpg @sindular @noonespecialz @dagz @highhaschdi @memehida @ecto1337 @cjames-40 @jfang003 @dirolls @derfabs @opaterno @marleyroots @shinoumonk @flummi97
---

---
Hive Pizza Community
@Hive.Pizza, one of the most active communities in Hive, connects people all over the world with diversity of interests and topics like Games, Movies, Arts and Musics. The community airdrops !Pizza regularly and rewards the ones who are awesome and active. Come and join us to be one of the awesome people in the community and enjoy the approximately 12.9% APR of staking reward and spreading the love to the whole community.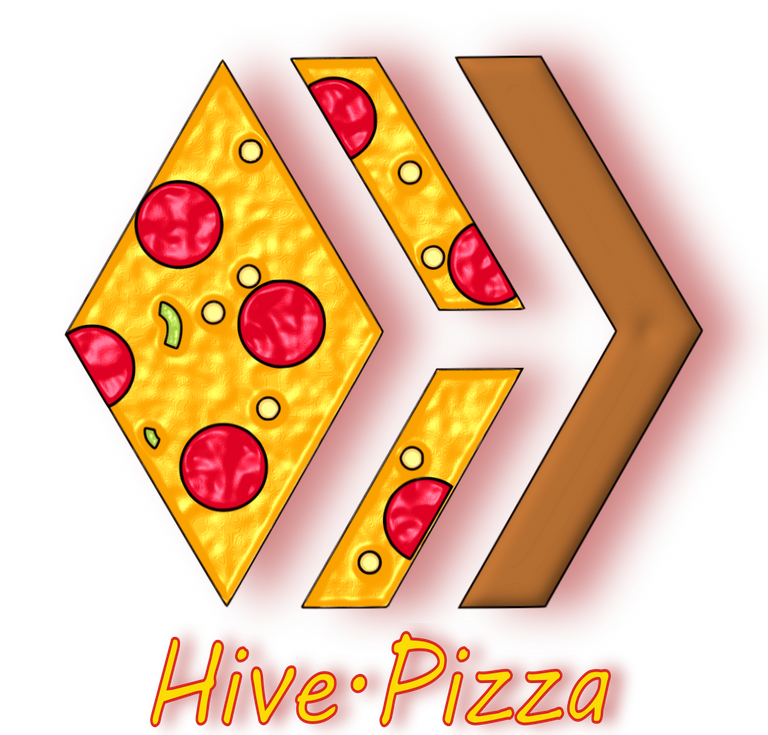 ---

The End
If you want to play Splinterlands, please feel free to click the Referral Link to enter my referral code. And I will transfer 200 DEC to you to help you with renting some starter cards to win the battle for more rewards.
Upvotes, Follows, and Tips are always OPTIONAL but highly appreciated. Your support is definitely the motivation for me to create more interesting and fun content.
Once again, thank you for sparing time to read my Blog and have fun!
---
---