Splinterlands Art Contest // Week 184 // Wood Nymph (ENG-ESP)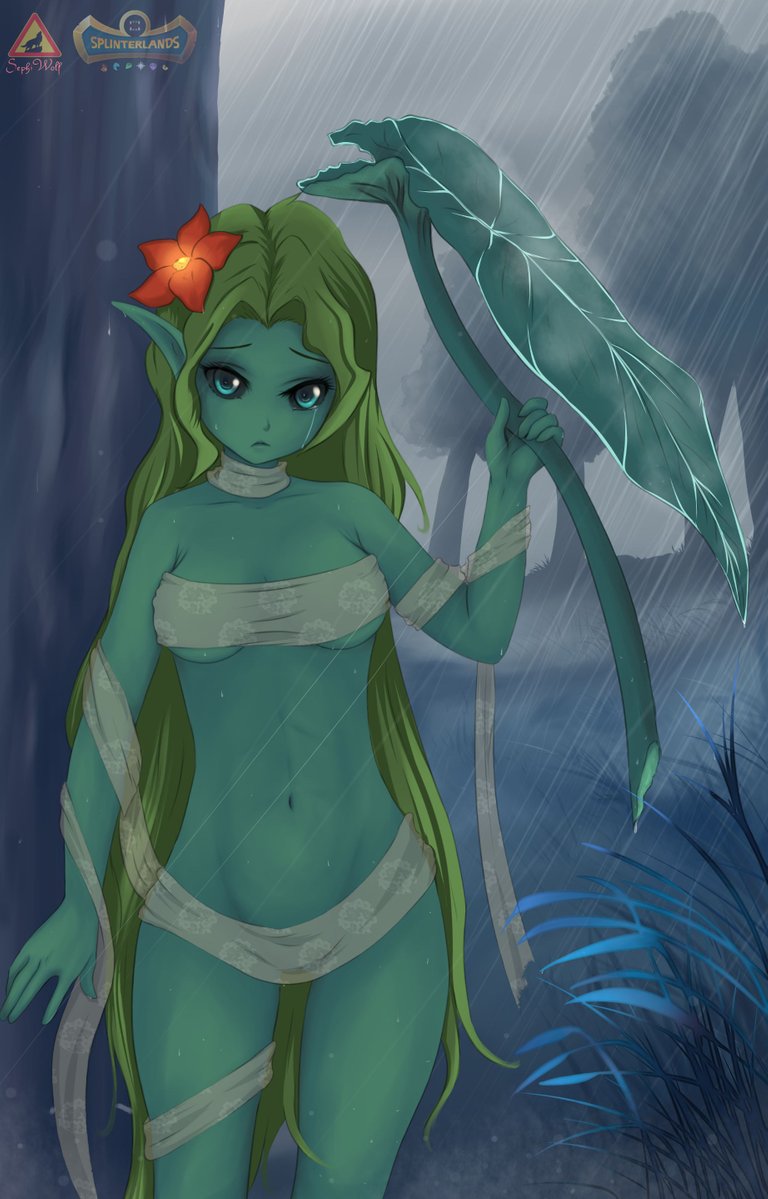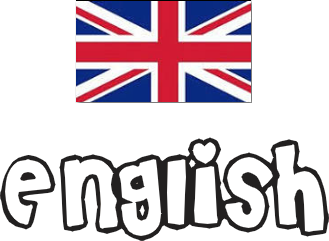 Greetings, my dear and dear readers, this is a special post for several reasons, months ago I drew a character called River Nymph "at the end of this post I will put the link if you want to see" and it really went well, I wanted to make a series of Nymphs and this time it's Wood Nymph's turn, I took some time to meditate, plan and work on it, I wanted to give you something really good! I wanted to honor the "nymphs" series and above all give them a good drawing. I am completely in love with the final result. I tried to apply everything I was learning during this time and also the advice that many of you gave me, I really feel that all the sacrifice and time was worth it, I will try to summarize to not bore you, but it was really a lot of steps to achieve it without more to say let's start!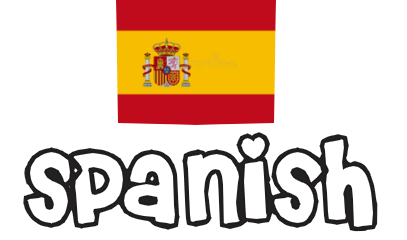 Saludos, mis apreciados y estimados lectores. ¡Este es un post especial por varios motivos, hace meses atrás Dibuje un personaje llamado River Nymph "al final de este post colocaré el link por si quieren ver" y realmente le fue bien, quise hacer una serie de Ninfas y en esta oportunidad le toca a Wood Nymph, me tome un tiempo para meditar planificar y trabajar en ello, quería entregarles algo realmente bueno! Que hiciera honor a la serie "nymphs" y sobre todo darles un buen dibujo. Estoy completamente enamorado del resultado final. Intente aplicar todo lo que fui aprendiendo en este tiempo también los consejos que muchos de ustedes me dieron. ¡Realmente siento que todo el sacrificio y tiempo valió la pena, intentaré resumir para no aburrirlos, pero realmente fueron muchos pasos para lograrlo sin más que decir empecemos!

Reference wood nymph card
First steps // Primeros pasos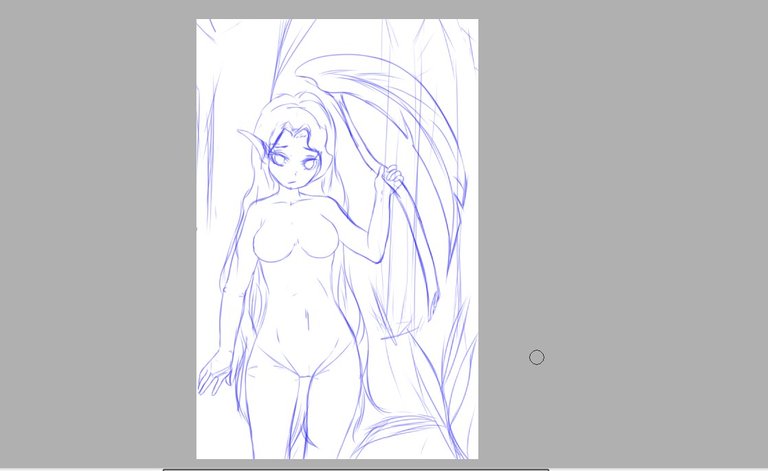 This drawing posed me new challenges in all its stages, as you can see I discarded many things from this initial sketch to the final version.
Este dibujo me planteo nuevos retos en todas sus etapas, como pueden ver descarte muchas cosas desde este boceto inicial hasta la versión final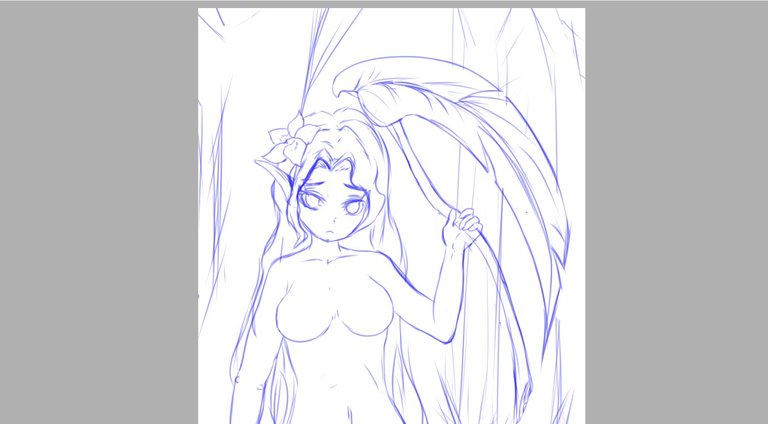 I don't usually add much detail at this stage, but I wanted to get a better look at how certain things were going to look.
No suelo agregar muchos detalles en esta etapa, pero quería ver mejor como iban a quedar ciertas cosas.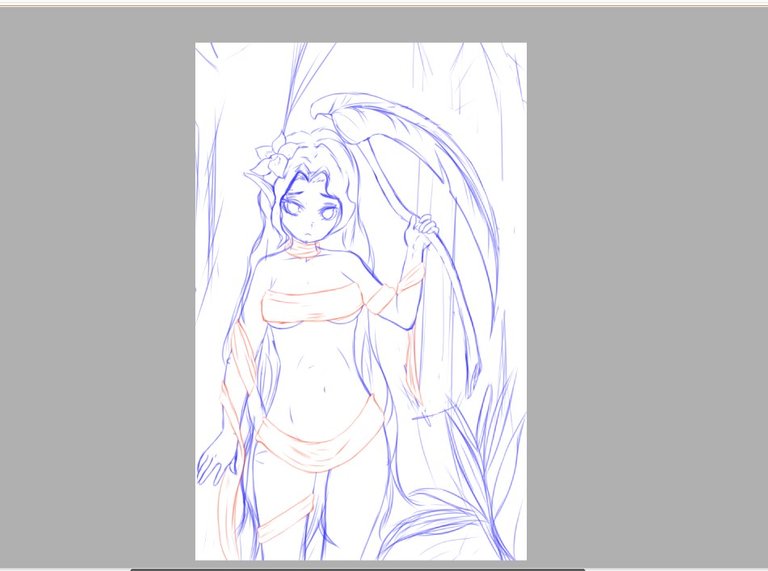 This would be the sketch I was happy with at the time.
Este sería el boceto con el cual estuve conforme en ese momento.
Time later // Tiempo despues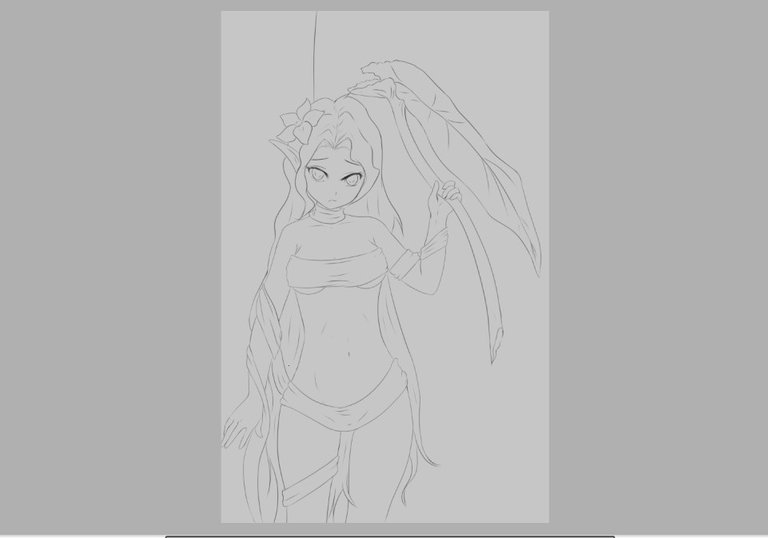 Well, the lineart does not have much mystery, I took the opportunity to correct, remove and modify certain things that I did not like, I had also considered whether to use lineart or not to use it for this drawing, but remembering that it is a drawing somewhat linked to the other one I decided to make it similar in that aspect.
Bien, el lineart no tiene mucho misterio, aproveche la oportunidad para corregir, quitar y modificar ciertas cosas que no me gustaban, también me había planteado si usar lineart o no usarlo para este dibujo, pero al recordar que es un dibujo algo vinculado con el otro decidí hacerlo parecido en ese aspecto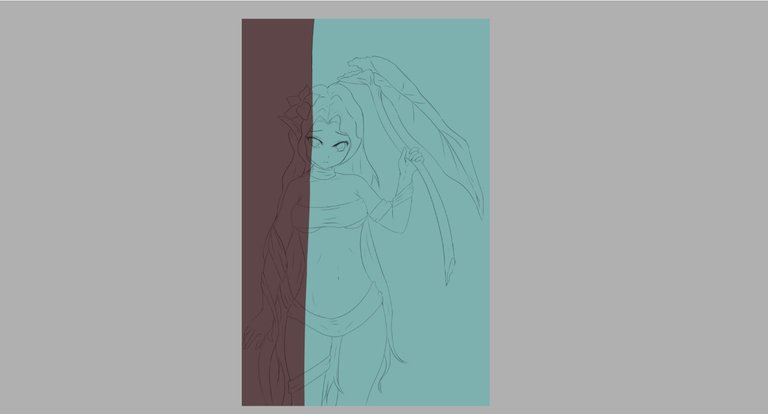 I tried several shades of colors, some palettes until I found the right ones to express what I wanted.
Fui probando con varios tonos de colores, algunas paletas hasta encontrar los indicados para expresar lo que quiero.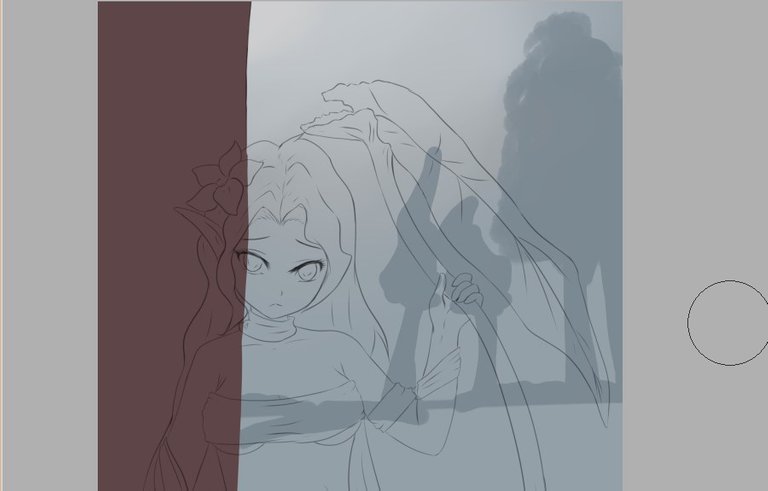 Like the river nymph, I started from the bottom, drawing from the farthest to the closest.
Al igual que el de river nymph, empece desde el fondo, dibujando desde lo más lejano hasta lo más cercano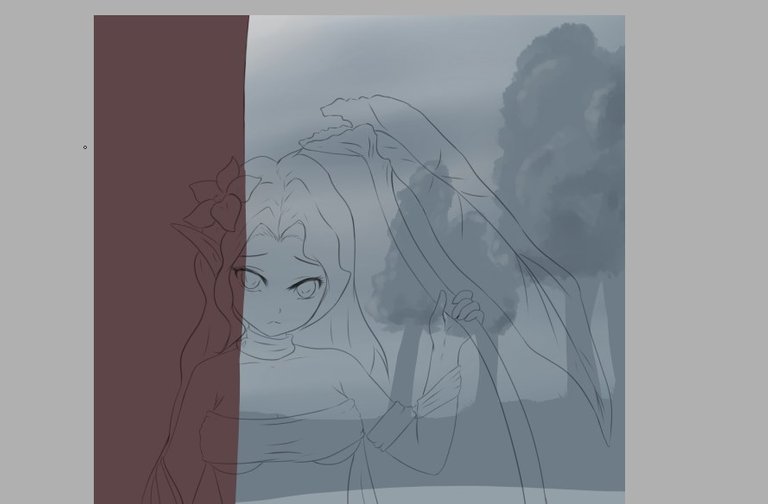 a little bit of shade to give volume to the trees
Un poquito de sombra para darle volumen a los árboles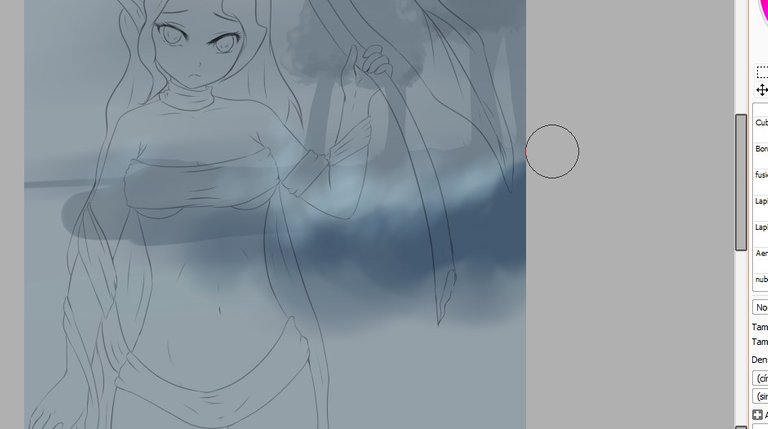 In the next layer I start with the blue tones to simulate the grass and rain.
En la siguiente capa empiezo ya con los tonos azules para simular el pasto y la lluvia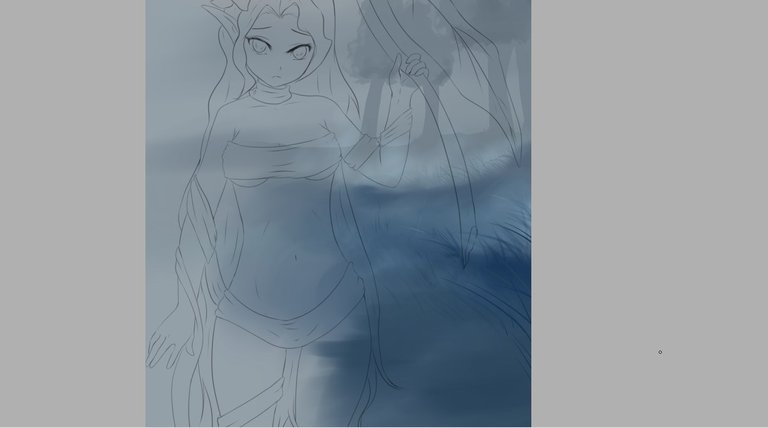 The steps would be to apply some base colors and then details, here there are details that are not noticeable in the final version, but it is always good to add them.
Los pasos serian aplicar unos colores base y luego detalles, aquí hay detalles que no se notan en la versión final, pero siempre es bueno agregarlos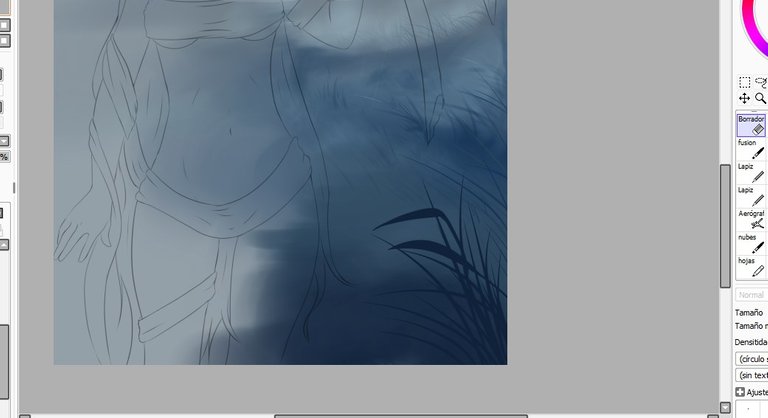 This is a magical type of grass, you'll see why I say so.
Este es un tipo de pasto mágico, ya verán porque lo digo.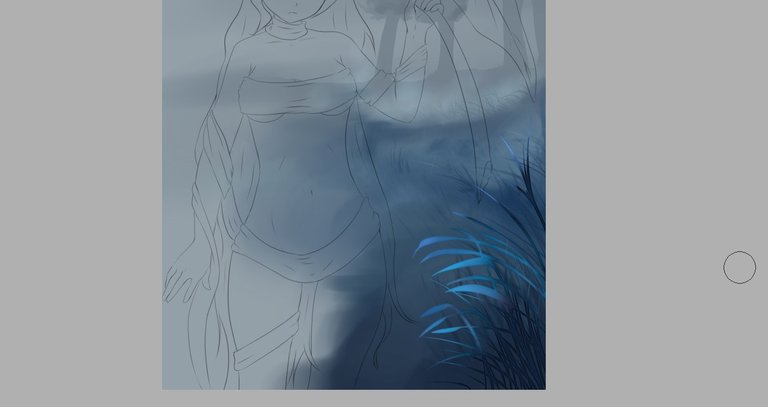 I know it's not canonical, but that's how I imagine the forests in splinterlands full of magic. That's where the idea for this kind of glowing grass came from, plus it looks pretty cool you say?
Sé que no es canónico, pero asi imagino los bosques en splinterlands llenos de magia. De allí salió la idea para este tipo de pasto que brilla, además ¿se ve muy bien que dicen?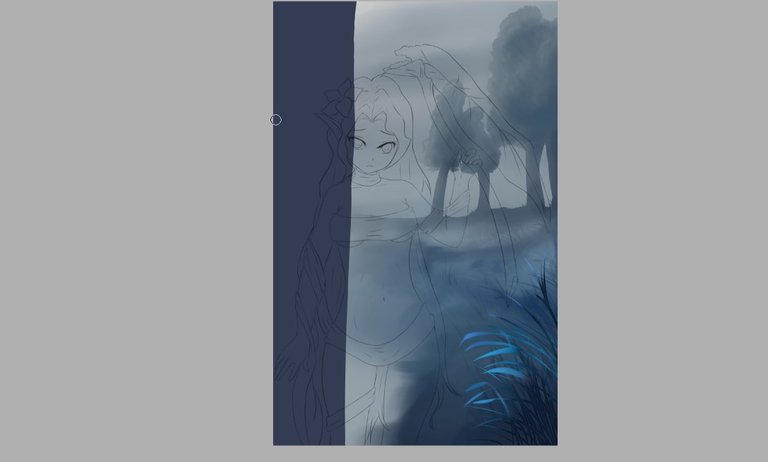 And here is the preliminary result of the background
Y aquí está el resultado preliminar del fondo
Well, I hope you liked it, that's all for this week, see you next week!.... OK it's a little joke, let's continue... :"3
Bien, espero les allá gustado, esto es todo por esta semana nos vemos la próxima!... OK es una pequeña broma, continuamos... :"3

Many hours later // Muchas horas después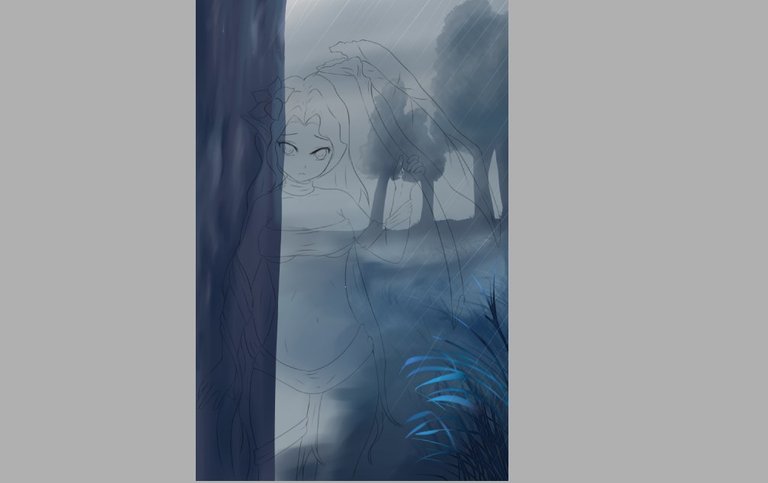 I added more details, including a previous rain to have a clear idea of the original idea.
Fui agregando más detalles, entre ellos una lluvia previa para tener clara la idea original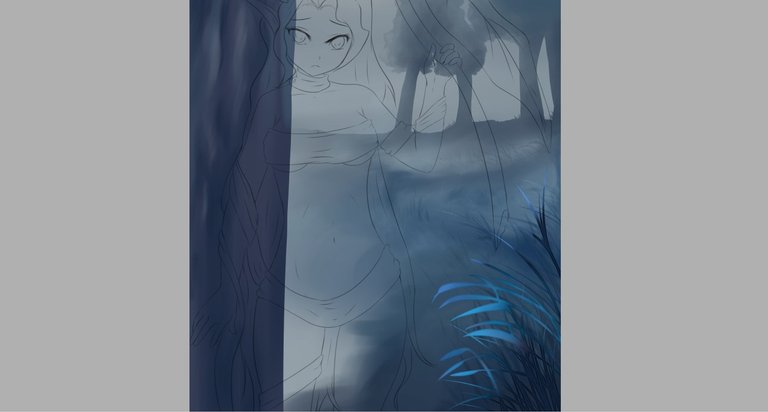 I thought about adding some insects, but it's something that doesn't make sense because... it's raining!
pensé en agregar algunos insectos, pero es algo que no tiene lógica pues... está lloviendo!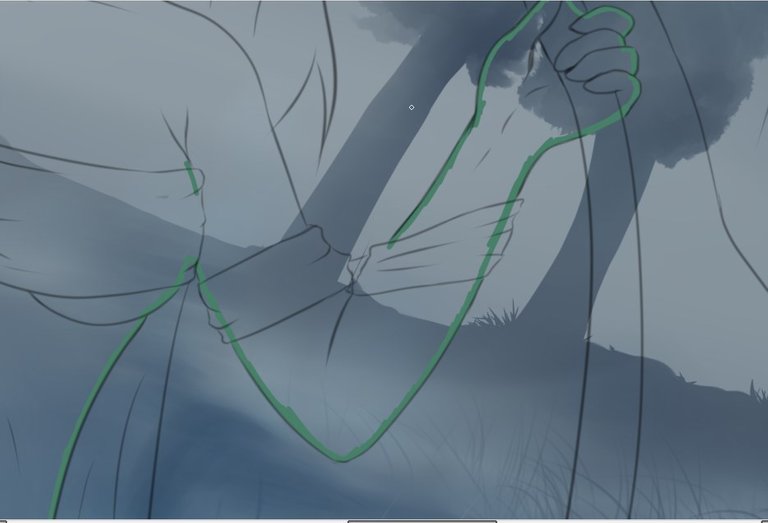 This is how I apply the color. I know there are many methods and maybe mine is not one of the fastest, but it is the one I know, draw the outline and then with the bucket tool I apply the rest.
Esta es la forma como aplico el color. Sé que existen muchos métodos y tal vez el mío no es uno de los más rápidos, pero es el que conozco, dibujar el contorno y luego con la herramienta cubeta aplico el resto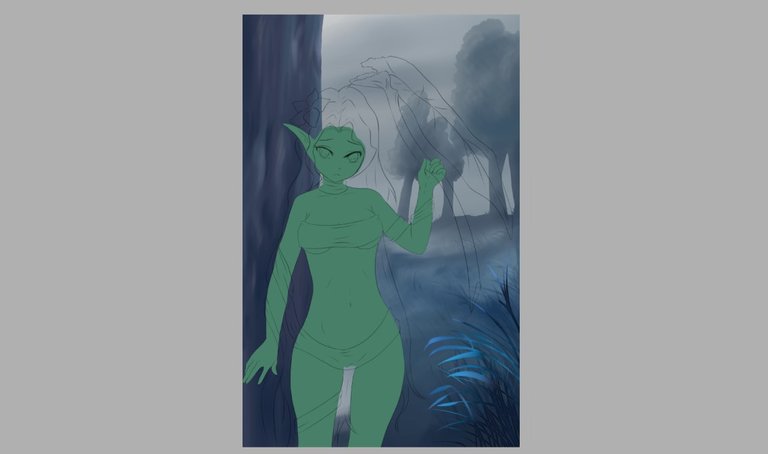 Leaving something like this. As you can see, I tried to follow the whole contour of the body, including the areas where the fabric covers. I had planned to give it a touch of transparency
Dejando algo así. Como pueden notar, trate de seguir todo el contorno del cuerpo, incluyendo las zonas donde la tela cubre. Pues tenía pensado darle un toque de transparencia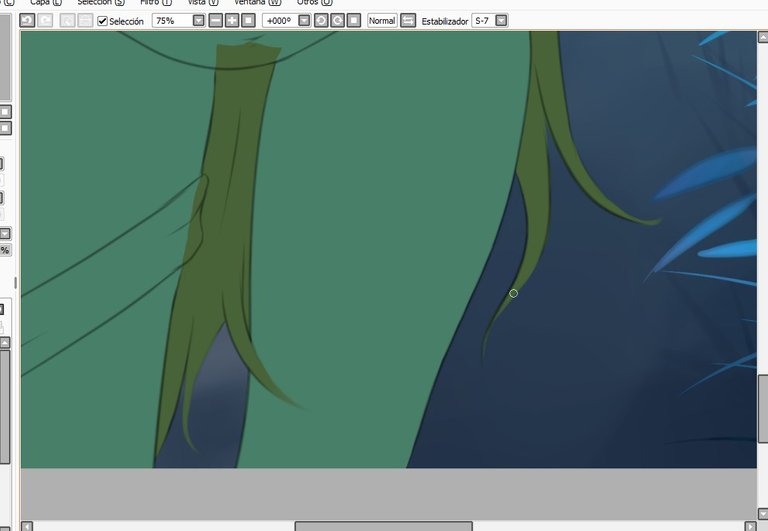 For other parts such as hair, clothing, etc., the process is the same.
Para las demás partes como cabello, ropa, etc, el proceso es igual.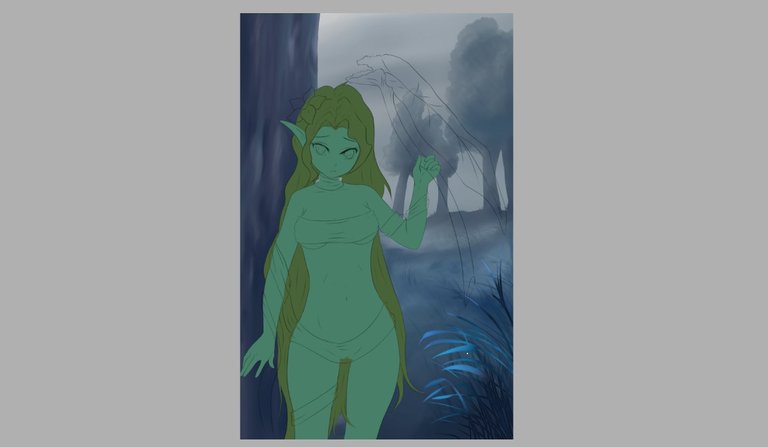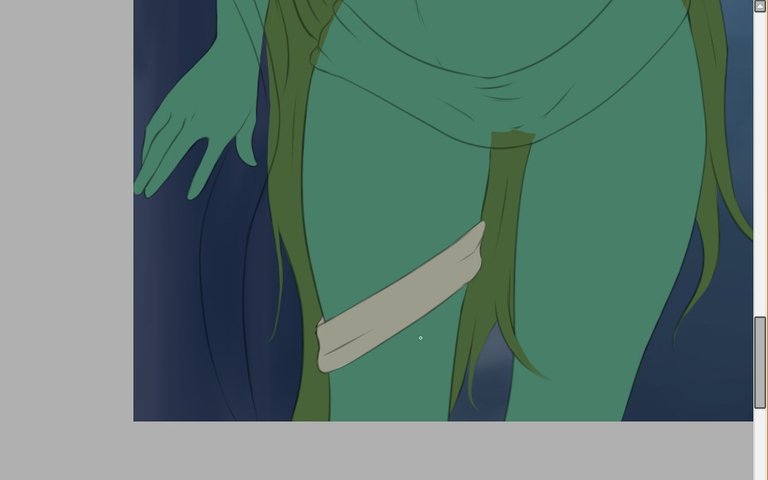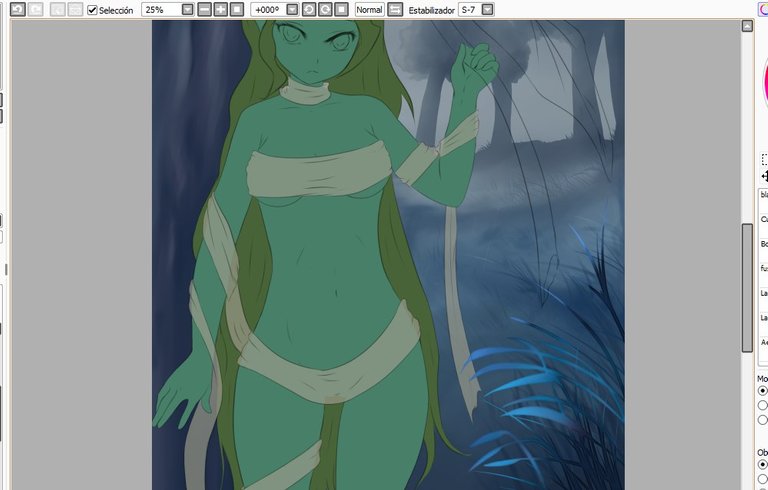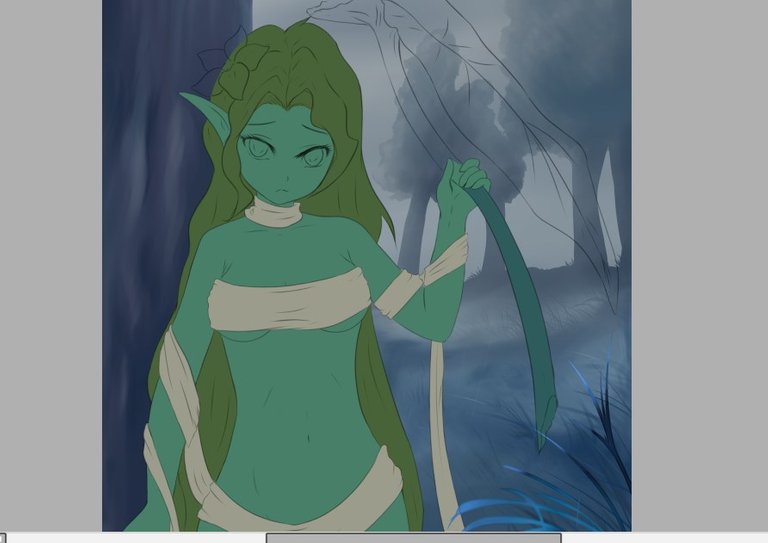 Even at this stage I was still making general corrections, my intention was to make the drawing as good as possible.
Incluso en esta etapa seguía haciendo correcciones generales, mi intención era hacer el dibujo lo mejor que pueda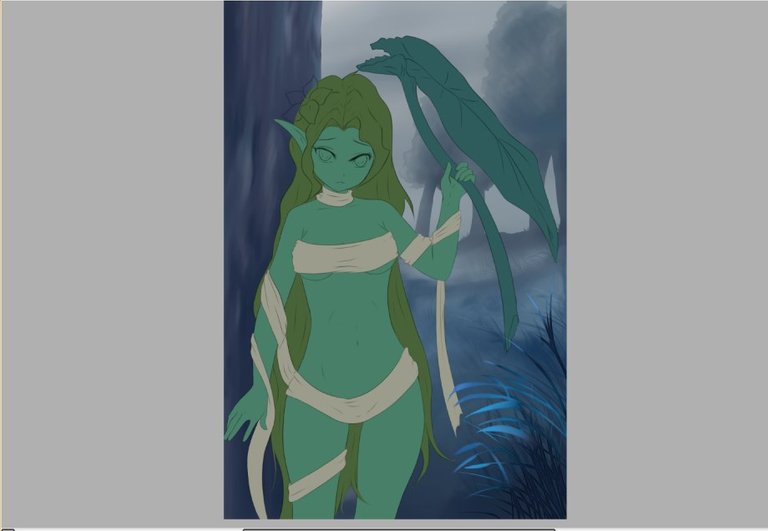 Here you can see the entire color base
Aquí se puede apreciar toda la base del color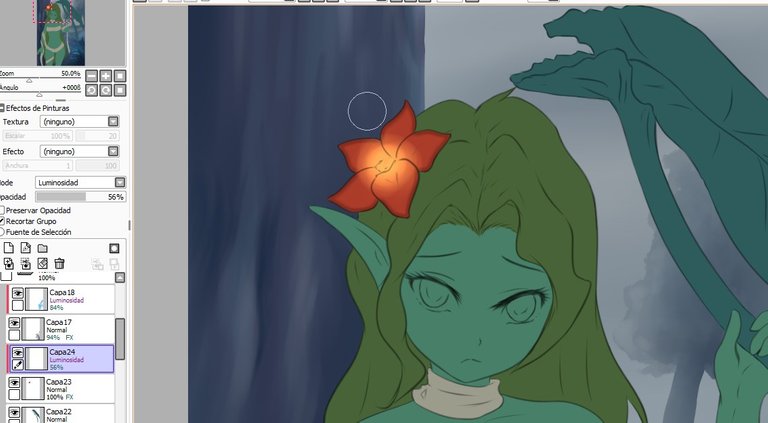 At this point I start to play with creativity and give it a more original touch. I thought of a magic flower, but nothing exaggerated, I think it looks good.
Para este punto ya empiezo a jugar con la creatividad y darle un toque más original. Pensé en una flor mágica, pero nada exagerado, creo que se ve bien.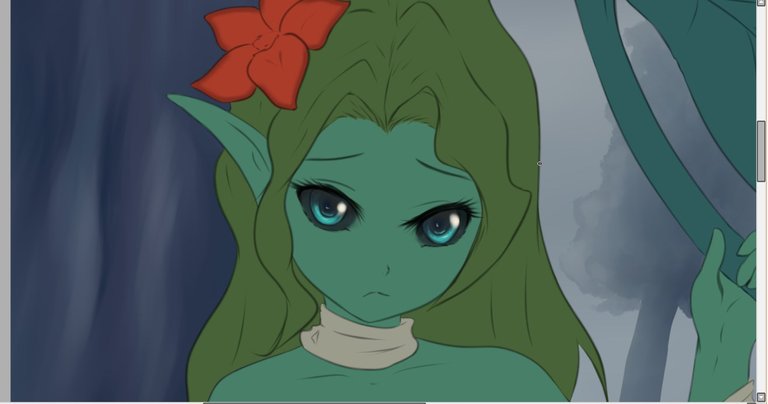 This is my favorite part of the drawing, so I paid special attention to it, first I removed the brightness of the flower so it wouldn't distract me. I wanted to make sad eyes that expressed many things, while remaining faithful to the original design of the character.
Esta es mi parte favorita del dibujo, así que le preste especial atención, primero quite el brillo de la flor para que no me distrajera. Quise hacer unos ojitos tristes que expresaran muchas cosas, sin dejar de ser fiel al diseño original del personaje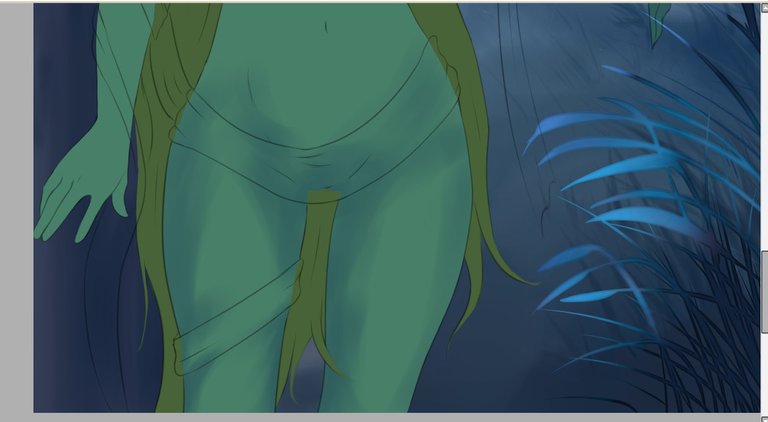 The shadows, this is where I apply another tip, they always tell me that my drawings lack of strong shadows, I wanted to change that, but still with my essence.
Las sombras, es aquí donde aplico otro consejo, siempre me dicen que mis dibujos carecen de sombras fuertes, quería cambiar eso, pero que siguiera con mi esencia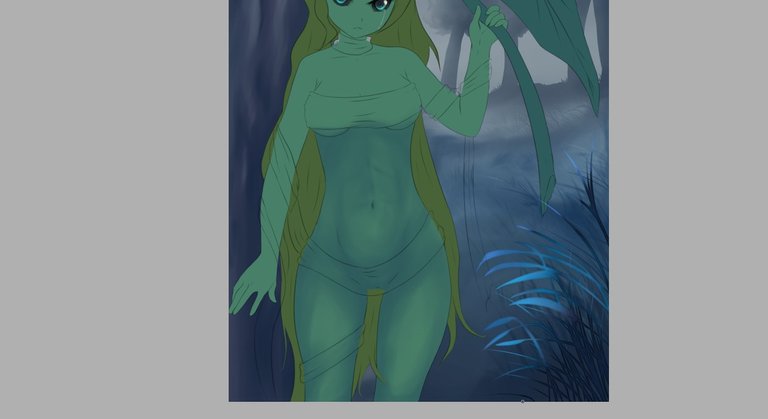 Little by little it is taking shape, it is also the first shade, I plan to use a stronger tone to highlight certain parts of the skin.
Poco a poco va tomando forma, de igual forma es la primera sombra, tengo pensado usar un tono más fuerte para resaltar ciertas partes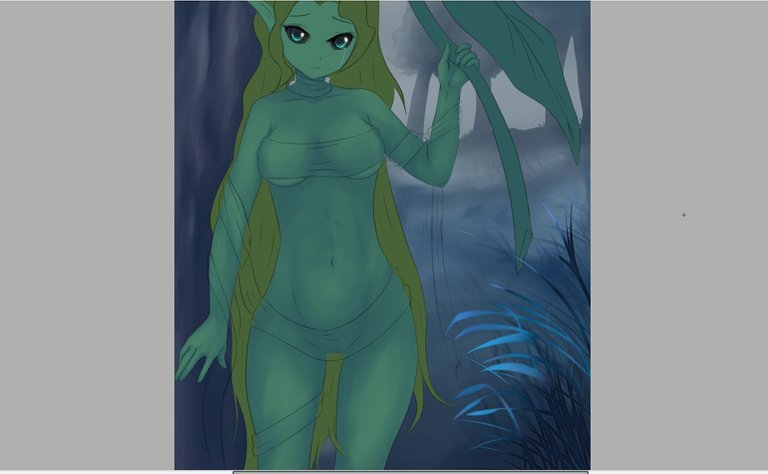 To achieve maximum detail I went part by part
Para lograr el máximo detalle fui parte por parte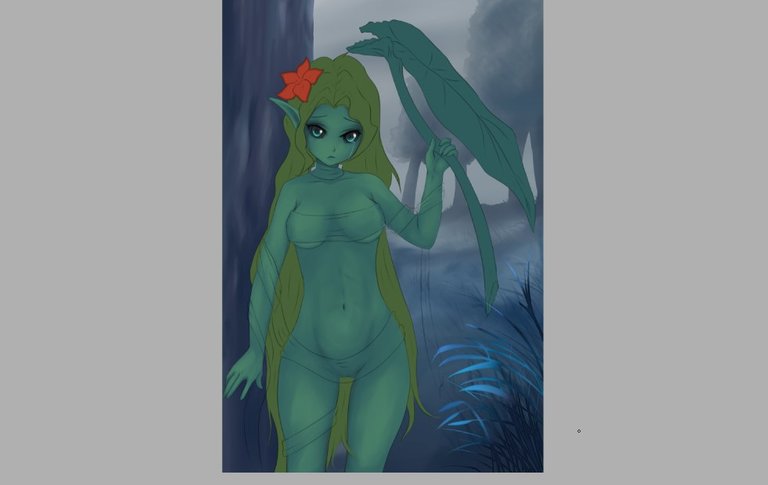 This is what it looks like after applying the second darker shade
Así quedo después de aplicar el segundo tono más oscuro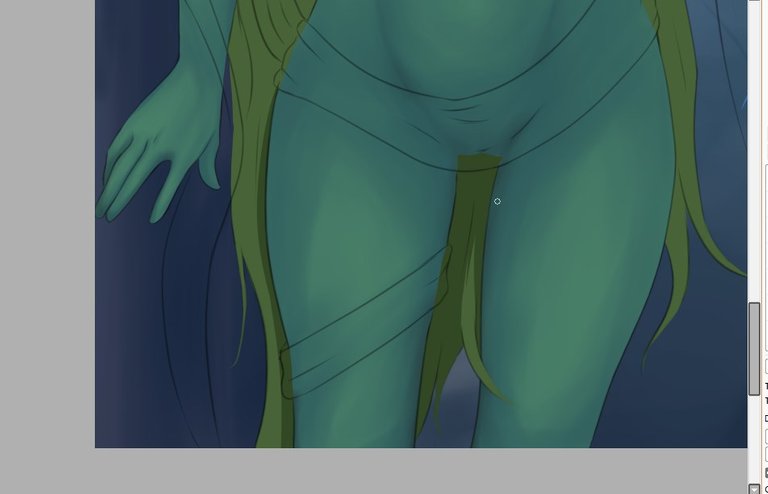 The hair! Here we find another change that I want to apply to the following drawings, the strong shadows were very good in my opinion.
El cabello! Aqui encontramos otro cambio que quiero aplicar a los siguientes dibujos, las sombras fuertes quedaron muy bien a mi parecer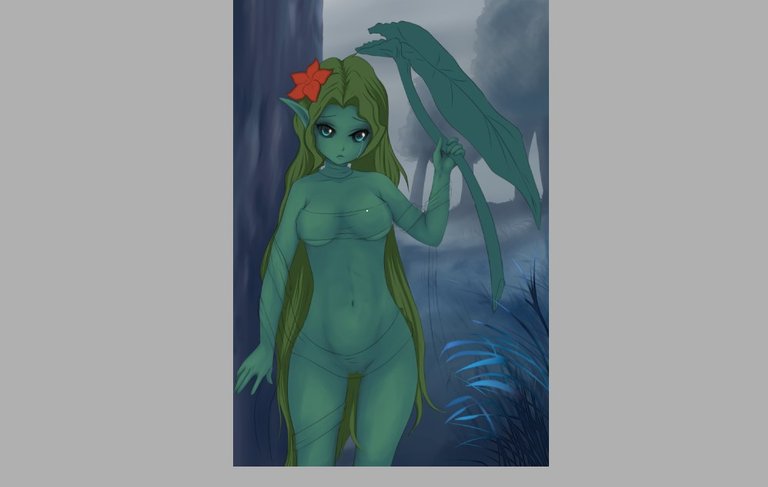 This was the result
Este fue el resultado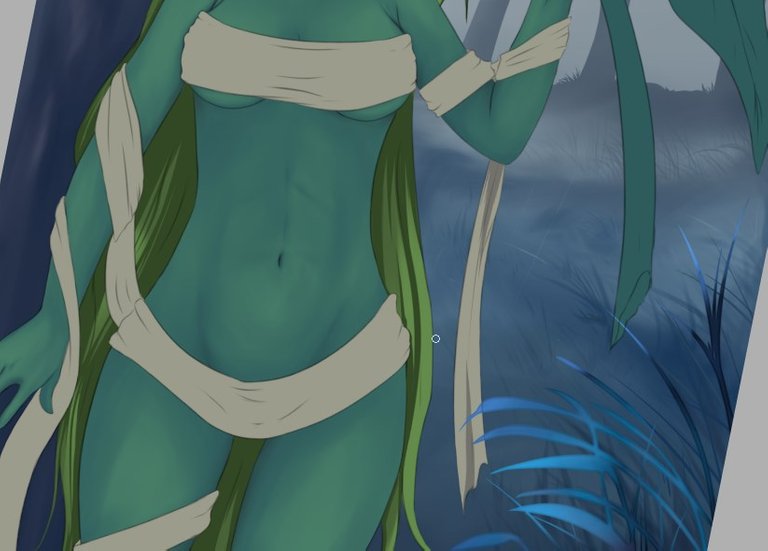 As with the hair, I apply the shadows on the fabric little by little.
De igual forma que con el cabello, aplico las sombras en la tela poco a poco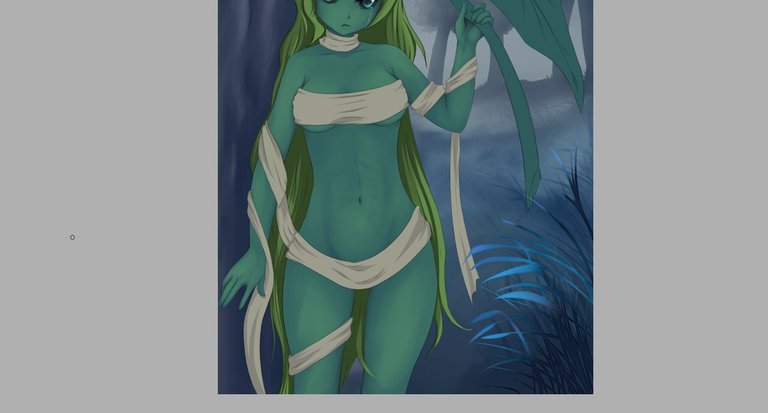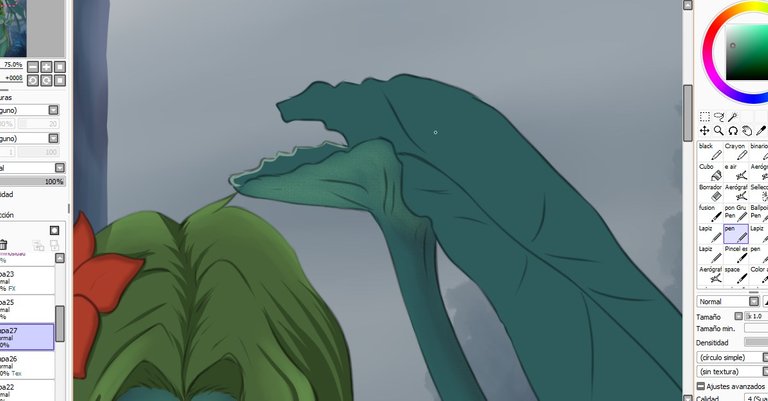 In order not to make this post so long... I will try to summarize certain details, for this part I tried to be creative, but using as reference some plants that I have in my garden.
Para no alargar tanto el post... trataré de resumir ciertos detalles, para esta parte traté de ser creativo, pero usando como referencia algunas plantas que tengo en mi jardín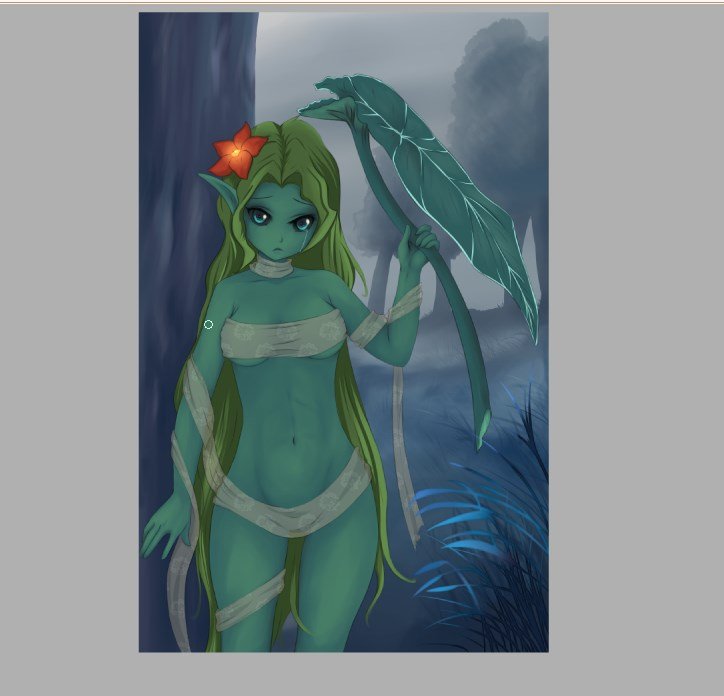 This is another detail I want to comment, I applied this effect on the fabric using paint tool sai textures, I know that the original character does not have it, but I think it looks good and gives a luxurious silk style, also adjust the transparency of the fabric.
Este es otro detalle que quiero comentar, este efecto en la tela lo aplique usando las texturas de paint tool sai, se que el personaje original no lo tiene, pero creo que se ve bien y le da un estilo de seda lujosa, también ajuste la transparencia de la tela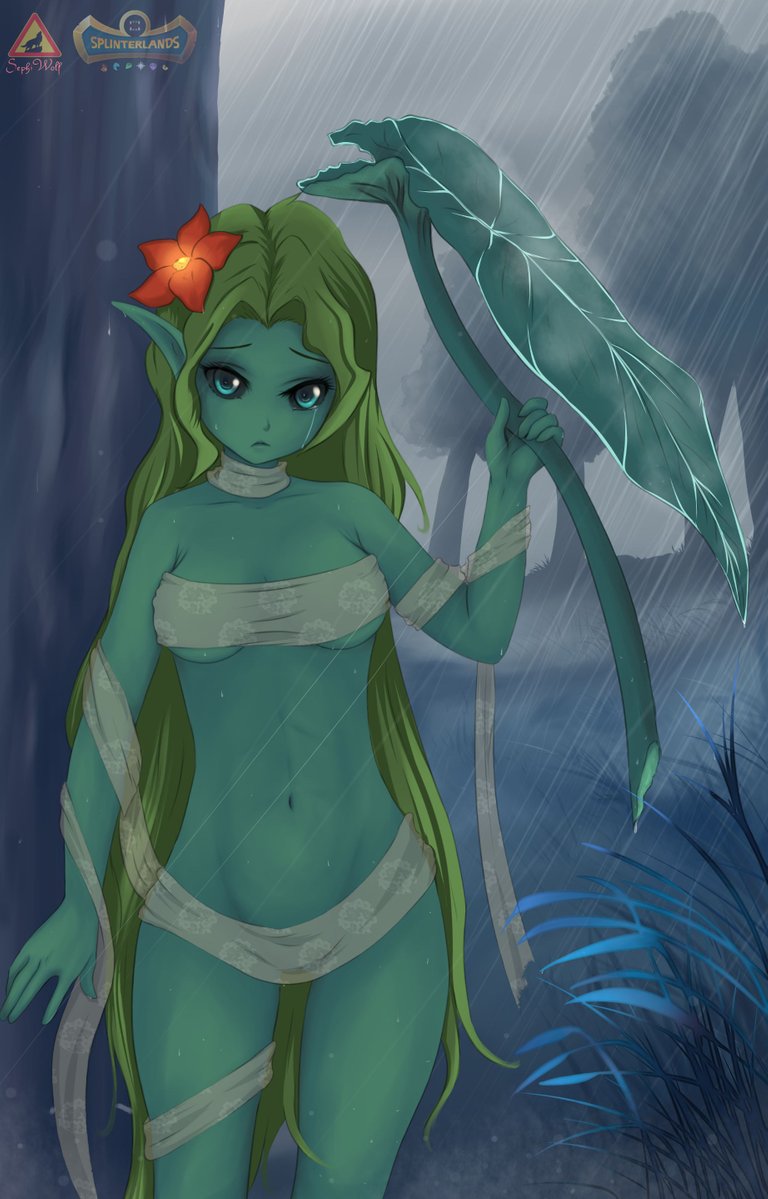 I did a lot more details, but that would be too much of a post. For the rain I used 3 different layers with different opacity.
Realice muchos más detalles, pero sería alagar mucho el post. Para la lluvia usé unas 3 layers diferentes con opacidad diferente.

There the final result, I really fell in love with this drawing, I feel happy with the result and I hope you like it too, it took me a long time, but it was worth it, and well my friend, that's all for now!
Allí el resultado final, Realmente quede enamorado de este dibujo, me siento feliz con el resultado y espero también sea de su agrado, me llevo mucho tiempo, pero valió la pena, y bueno amigo, es todo por ahora!

If you don't play splinterlands yet you can join here!
Si aún no juegas splinterlands puedes unirte aquí!

---
---