Splinterlands Art Contest Week 213 / Xenith Monk / Eng- Esp
Splinterlands Art Contest Week 213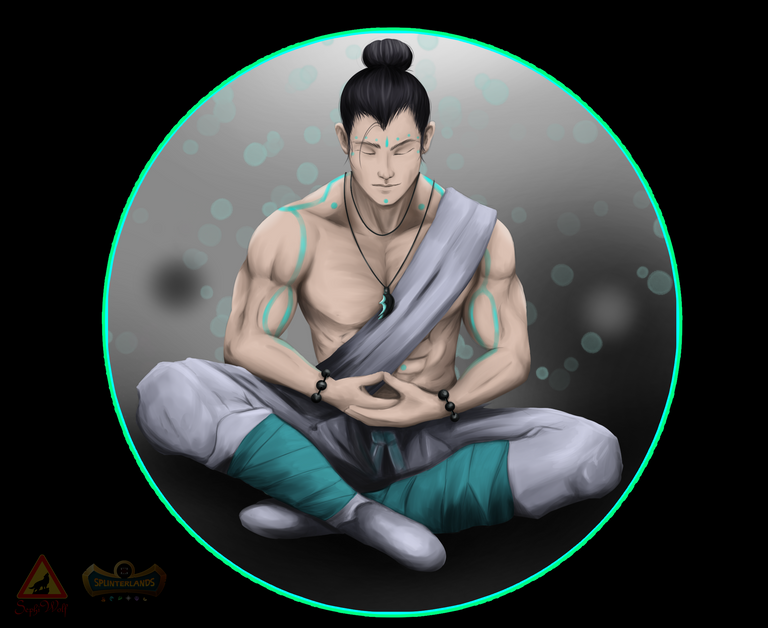 Learning is always a gift, even when the pain is the teacher - Buddha -
Aprender es siempre un regalo, incluso cuando el dolor sea el maestro - Buda -

English
Hey what's up,I hope you are very well my dear readers,For this week I bring you an illustration inspired by the Xenith Monk card, I wanted to give it a peaceful touch, because it's about a monk hehe.
I used the lotus position very common in meditation, inside a circle, which represents protection and also alludes to the yin-yang symbol.
The whole illustration occurs inside the circle, this is intentional to represent the emptiness outside the whole.
It has many ways to be interpreted, this is mine.
Español
Saludos amigos, Espero estén muy bien mis apreciados lectores,Para esta semana les traigo una ilustración inspirada en la carta de Xenith Monk, quise darle un toque pacífico, pues se trata de un monje jeje.
Use la posición de loto muy común en la meditación, dentro de un círculo, el cual representa protección y también hace alusión al símbolo del yin-yang.
Toda la ilustración ocurre dentro del círculo, esto es intencional para representar el vacío fuera del todo.
Tiene muchísimas formas de interpretarse, esta es la mía.

Reference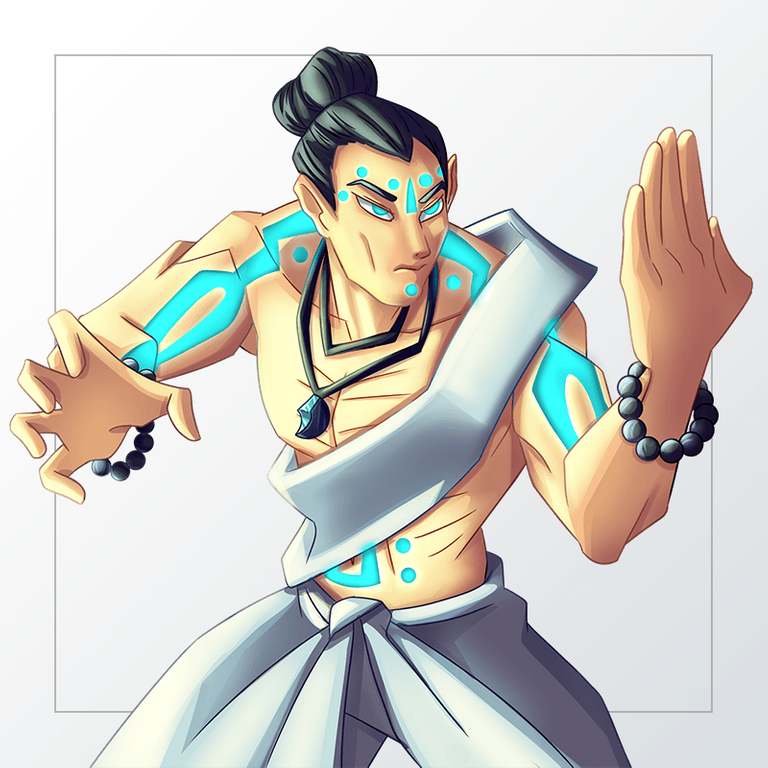 First steps
The sketch in lotus position is not that difficult to achieve, I helped myself by looking at many photos of this pose.
El boceto en posición de loto no es tan difícil de lograr, me ayude mirando muchas fotos de esta pose.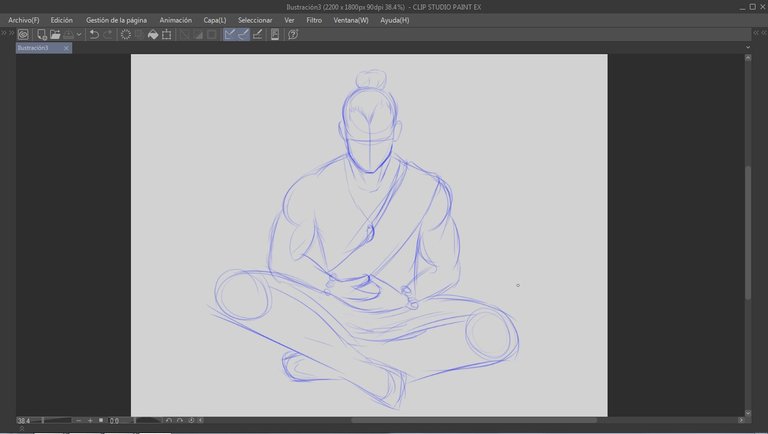 It's time to give details to the sketch, this step took me a couple of hours, I was erasing and modifying the sketch until I got something I was happy with.
Es momento de darle detalles al boceto, este paso me llevo un par de horas, iba borrando y modificando el boceto hasta conseguir algo con lo que me sintiera conforme.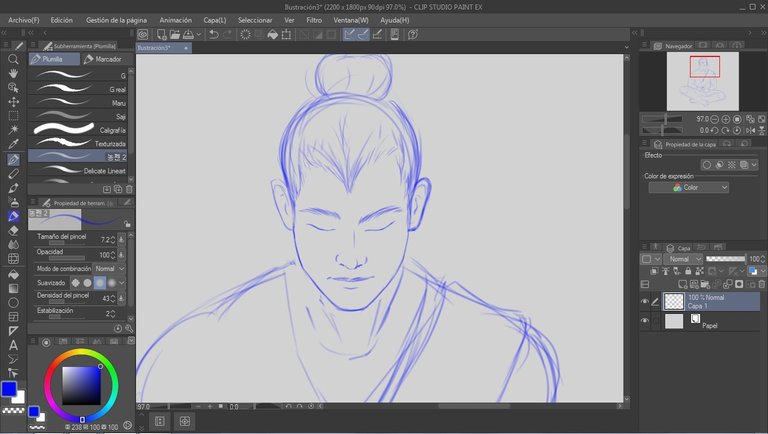 After finishing all the details and several corrections we are left with this sketch.
Una ver terminado todos los detalles y varias correcciones nos queda este boceto.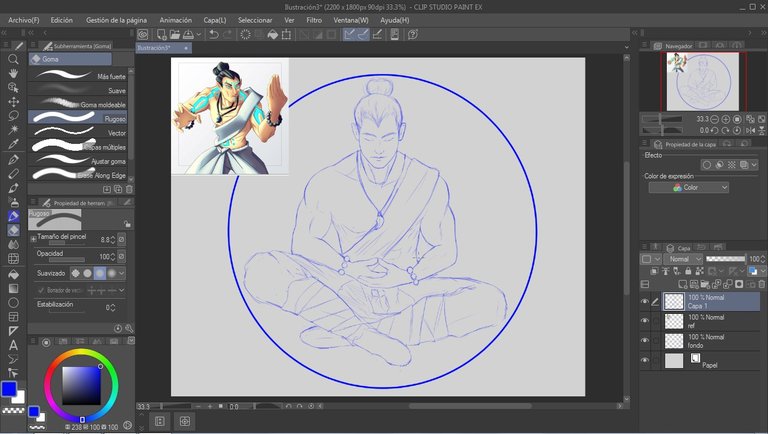 Before applying the base colors, I changed the blue sketch to a darker, less saturated shade.
Antes de aplicar la base de colores, cambié el boceto de color azul a un tono más oscuro y poco saturado.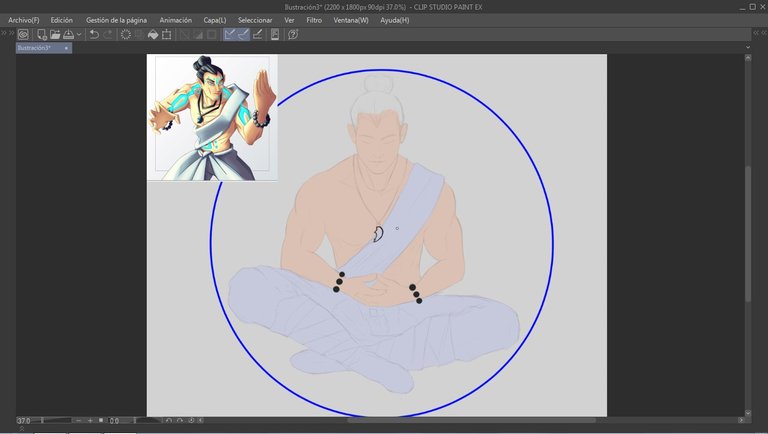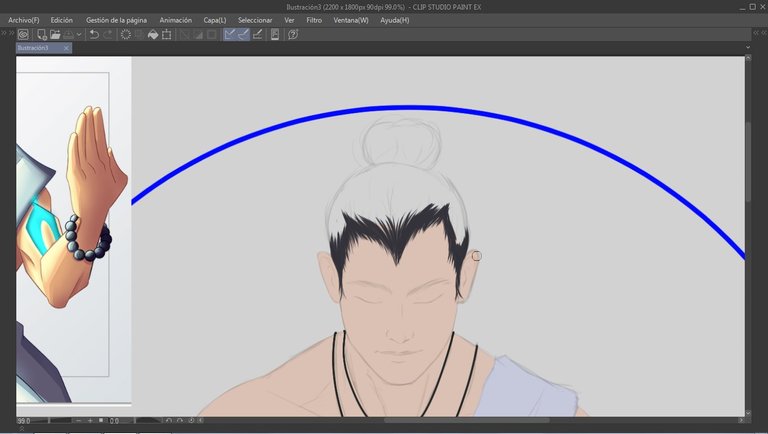 For the shadows I apply the color strongly in the areas where I want more darkness.
Para las sombras aplico el color de forma fuerte en las zonas donde quiero mayor oscuridad.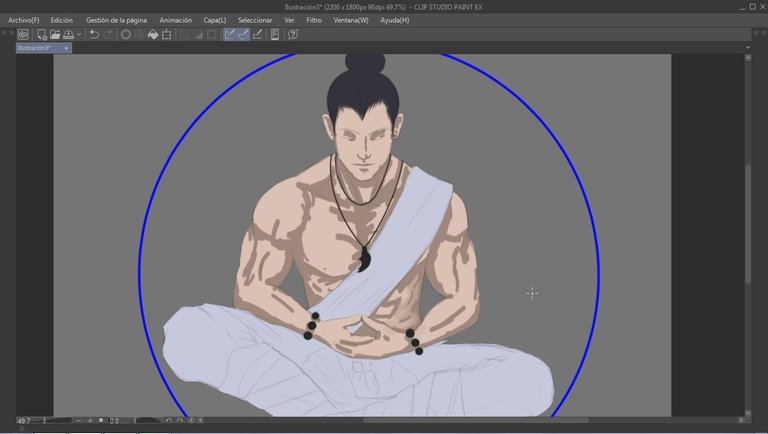 The next step is to blend until this result is achieved, I will do this several times leaving stronger shades each time...
El siguiente paso es difuminar hasta conseguir este resultado, esto lo haré varias veces dejando cada vez sombras más fuertes...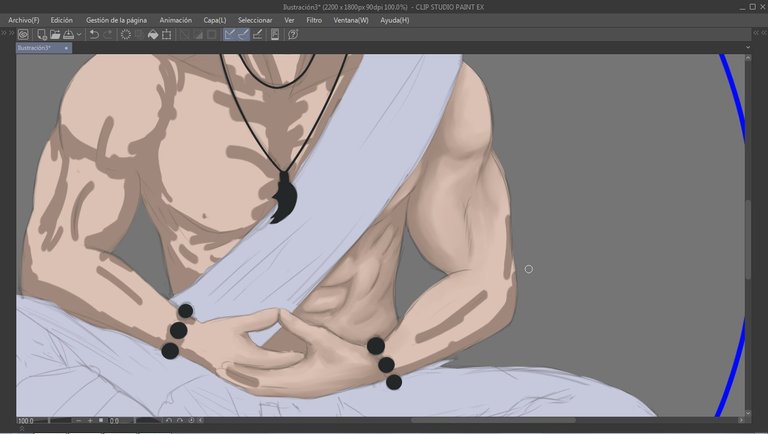 the light source would be from above, I take this into account when applying all the shadows.
la fuente de luz seria desde arriba, tengo esto en cuenta al momento de aplicar todas las sombras.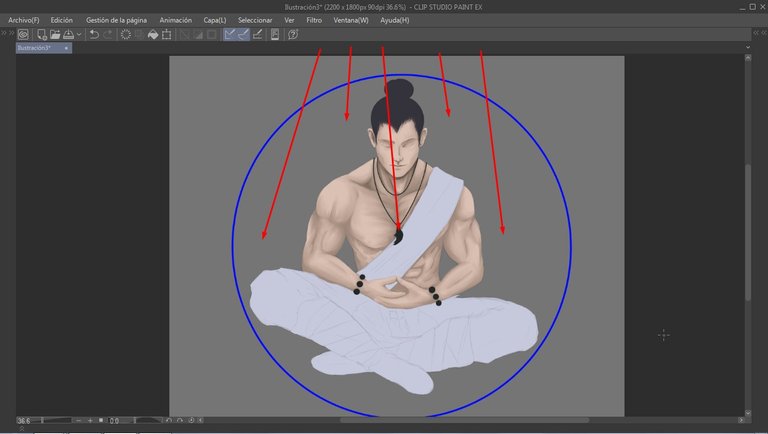 Once the skin is ready, I add these details, I'm not sure if they are tattoos or just paint, I wanted to give it a brushstroke effect as if it was some kind of ritual makeup, to improve the integration this layer has the multiply effect.
Una vez lista la piel, agrego estos detalles, no estoy seguro si son tatuajes o solo pintura, quise darle un efecto de pinceladas como si fuera alguna especie de maquillaje ritual, para mejorar la integración esta capa tiene el efecto multiplicar.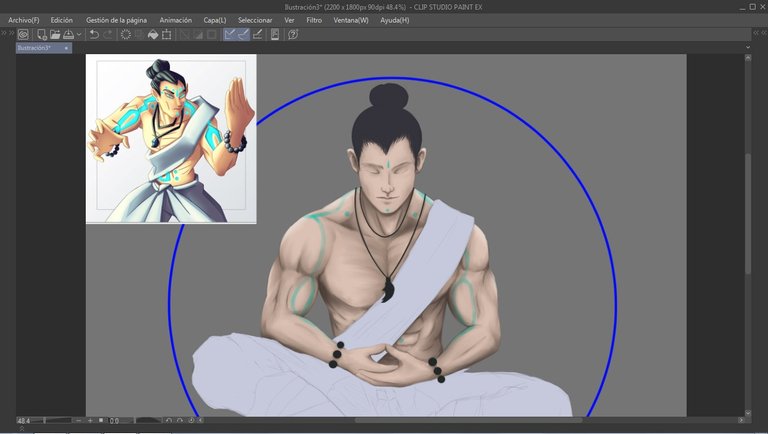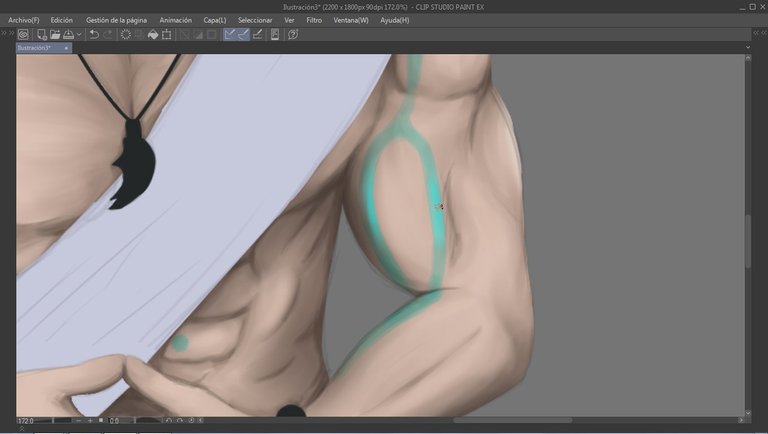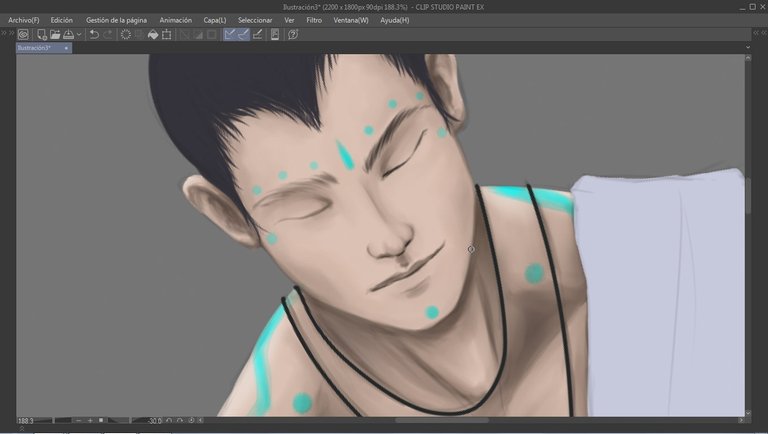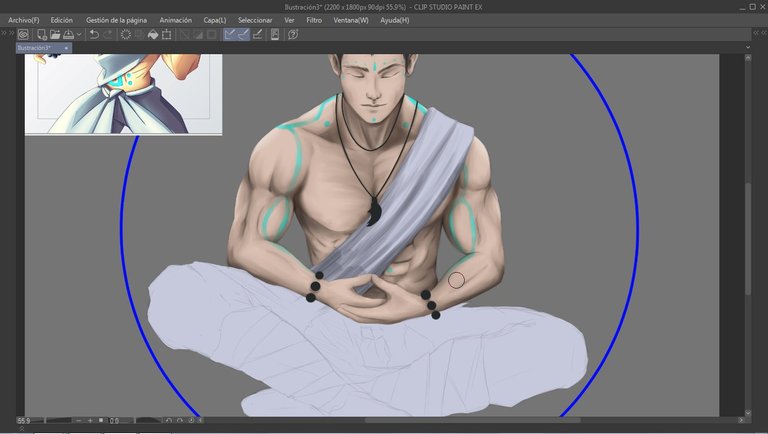 We continue with the clothes, this time I will do something different, I will apply soft shadows and then add strong shadows, let's see how it works.
Seguimos con la ropa, esta vez haré algo diferente, aplicaré sombras suaves y luego agregaré sombras fuertes, veamos que tal funciona.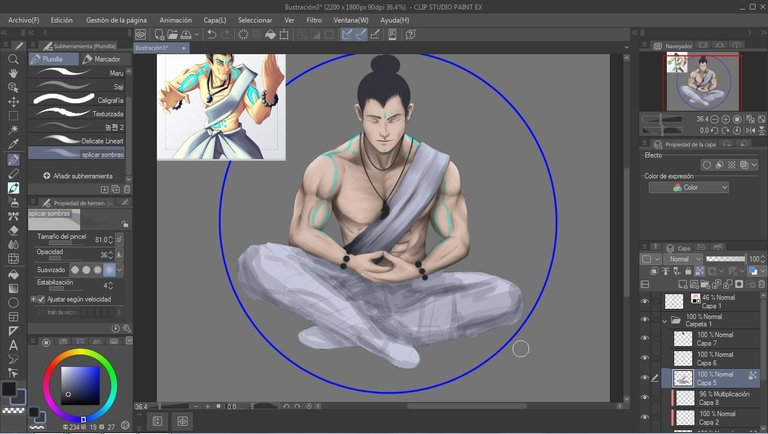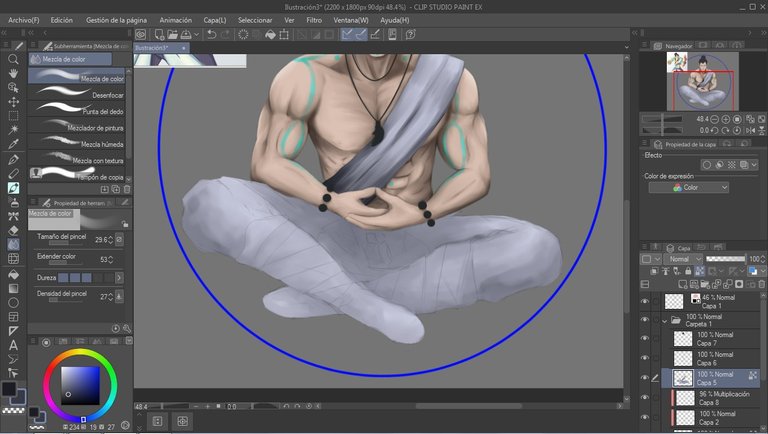 I don't know if the character has these details, but I think they go well with the makeup lines and give the character a little bit more color.
No sé si el personaje tiene estos detalles, pero creo que combinan bien con las líneas de maquillaje y le dan un poquito más de color al mismo.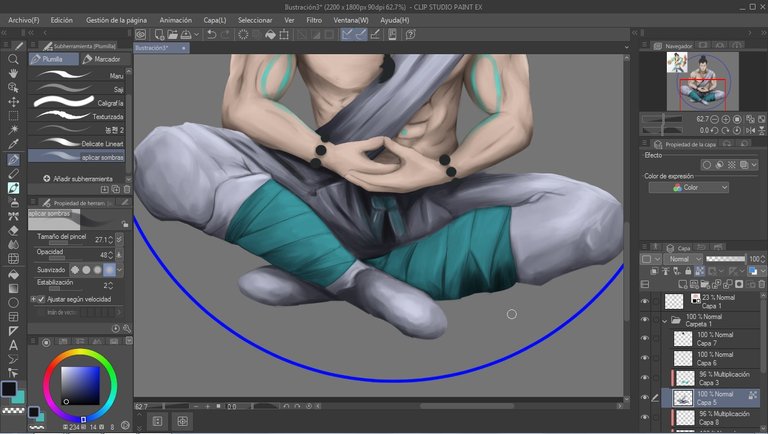 From time to time I try to look at all the work and correct where necessary.
De vez en cuando trato de ver toda la obra y corregir donde haga falta.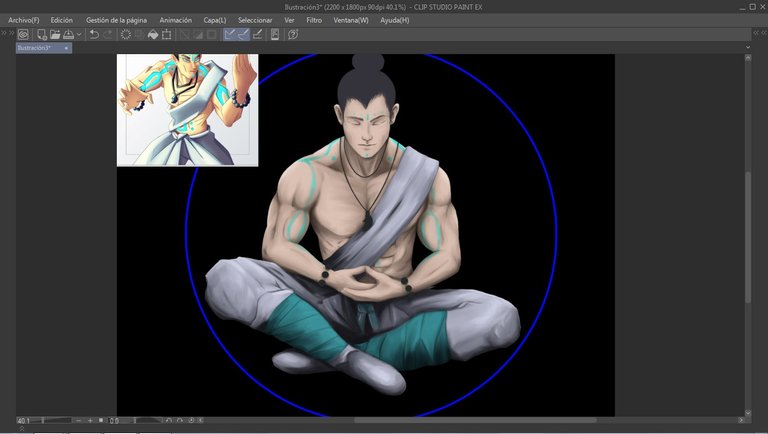 The beauty is in the details; I always try to add small details, I know they can't be appreciated at first sight but I think they all add to the work.
Lo bonito está en los detalles; siempre trato de agregar pequeños detalles, sé que no se pueden apreciar a primera vista, pero creo que todos van sumando a la obra.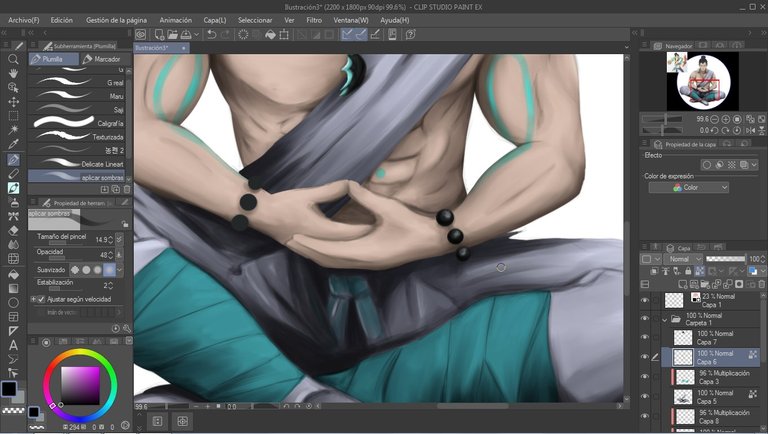 At this point I give details to the hair and some touch-ups on the face.
En este punto le doy detalles al cabello y algunos retoques en el rostro.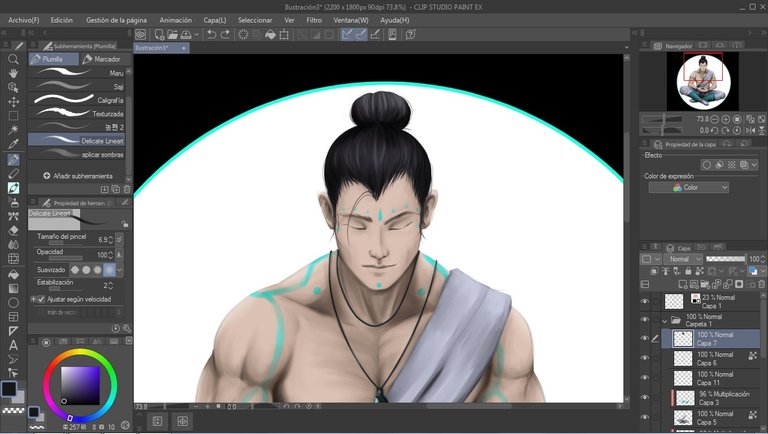 Now all that remains is to add the background, it subtly has the yin-yang symbol, outside the circle I left it in a neutral black color to represent the emptiness of the space outside the mind.
Ya solo queda agregar el fondo, tiene sutilmente el símbolo de yin-yang, fuera del círculo lo dejé de un color negro neutro para representar el vacío del espacio fuera de la mente.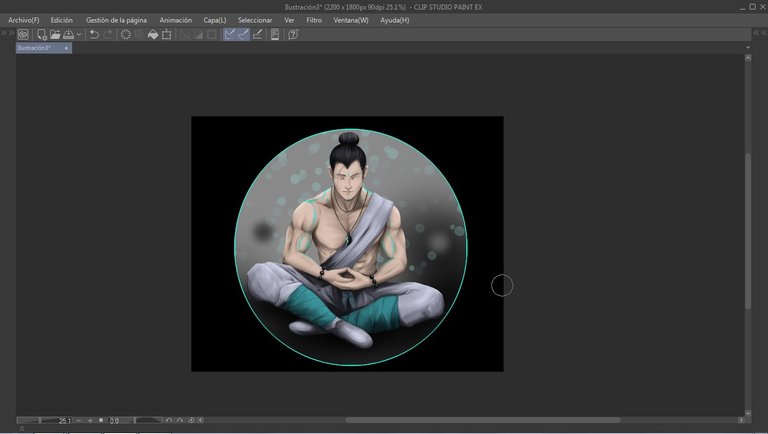 Finally...
Finalmente...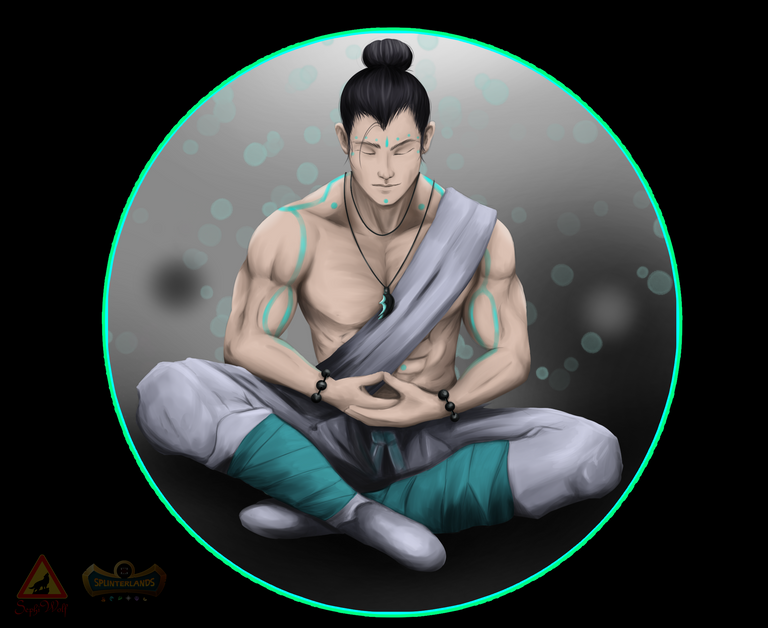 If you don't play splinterlands yet you can join here!
Si aún no juegas splinterlands puedes unirte aquí!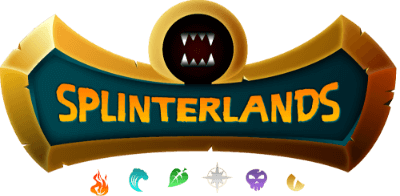 ---
---