Splinterlands Art Contest Week 243: Grim Reaper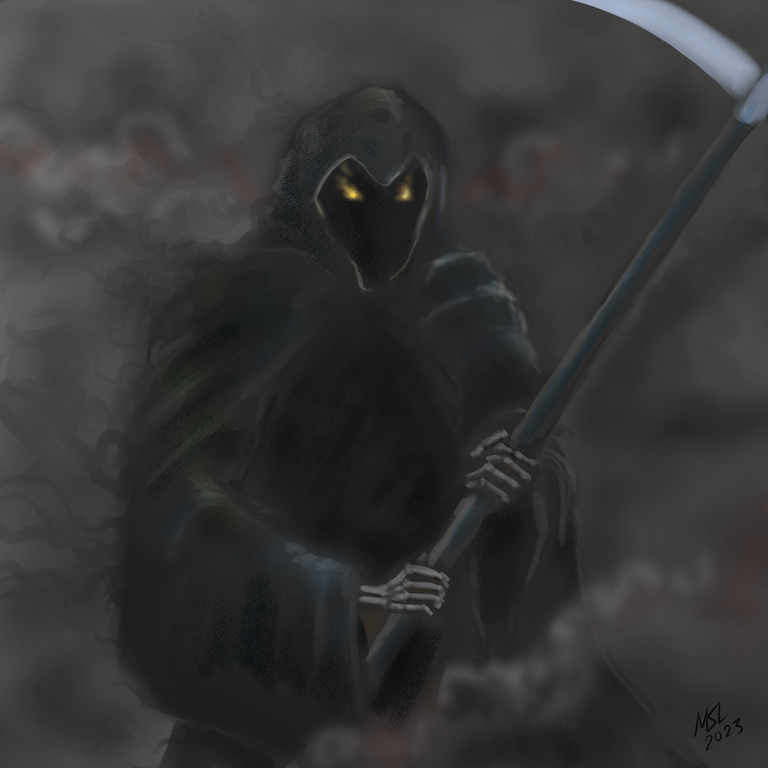 Here is my entry for this week's Splinterlands Art Contest found HERE
From the Splinterlands Wiki: (https://splinterlands.fandom.com/wiki/Grim_Reaper)
Grim Reapers are often spotted by the dying, or reported by those who return from near-death experiences. Their faces are not shown. The Reapers' black cloaks are so heavy that they scrape on the ground as they approach. Each Reaper's long bony fingers clutch the handle of a great scythe. It is said that the Reaper's scythe is used to literally cleave a soul asunder from its body at the time of death. In battle, the scythes are generally used as an unblockable projectile.
Tried something different for the Grim Reaper. Started off with a dark gray, almost black canvas (and by canvas I mean a digital canvas). Started off blocking the figure with light gray and black pastels (virtual pastels). Used a combination of a flat oil paint brush to sculpt the bulk of the cloak and a wet water color brush to make the cloak a bit less corporeal.
Was going to make it a completely black and white painting at first but decided on just a few splashes of color. A bit of red in the mist, some slight blue reflecting off his cloak and scythe, then of course the flaming dots for eyes.
All in all, I like how he came out. So much so that I added a musical score to his timelapse video below (which unfortunately contains copyrighted music, so this video cannot be viewed in some countries according to the YouTube police).
---
---