Splinterlands Strategies: A Daily Return for just $27?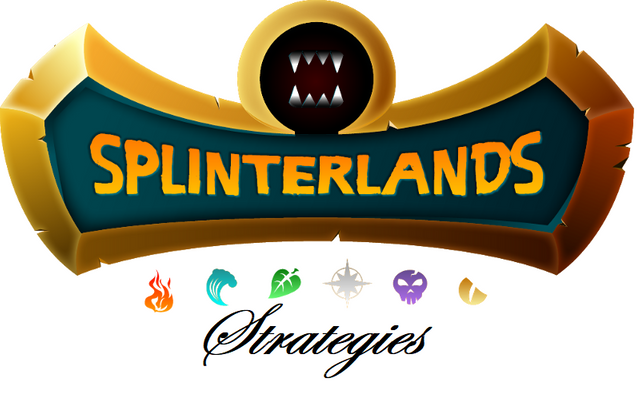 "How about you give me £20 and I'll invest it into something that will give you a daily return?"
@bingbabe was buying those stupid lottery cards again, the ones where you are guaranteed to lose, but somehow they make you feel otherwise.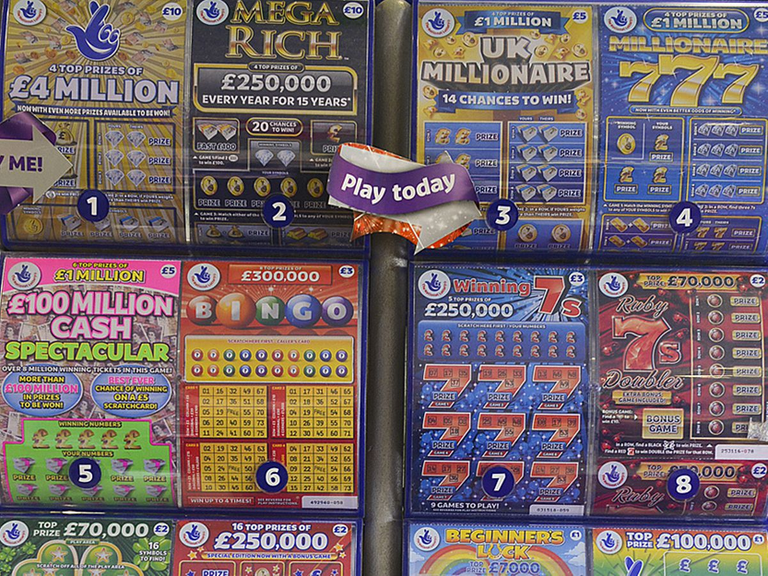 Source
She doesn't have many vices but this one grates on me, especially when I see £20 or £30 wasted on them.
Investing is something I have been trying to push on her for some time. Unless you can guess a complete strangers' phone number in the street then you are not going to win the big one.
That's about the odds of winning the lottery or getting anything other than a few quid from these gambling cards.
As well as that she expects ME to occasionally collect her pitiful winnings, that is go to the store and sheepishly hand over the 'winning' card retrieving £3 in cash for the £5 price of it.
It's fucking embarrassing, I tell you. I feel like a sad loser gambler, wear a big long cowl and mumbling, 'I think this is a winner' to the assistant.
Today I created a @bings-cards account, spent £20 (approx. $27), and will place all the cards I buy for rent.
There is no requirement to buy a Spell Book to just rent, although this may come later if she buys into the idea.
What I will show you now is what to buy, from a renters perspective in order to get a trickle of DEC coming back into your account daily.
Older cards (OOP), forget it. They are too expensive. This leaves current in-print cards as feasible purchases.


...'technically an amazing 428% ROA, but most of the time L1 cards don't rent. Too much competition and easy to buy'...

Common and Rare cards at Level 1(L1) will yield you a measly 0.1 DEC a day. Forget those.
I figured I would start at Epics as they are not in any Spell Book, have some kind of demand, and can be bought in multiples with my budget.
I won't discount Rewards cards even though they are as plentiful as Magic the Gathering's ill-fated expansion, Fallen Empires which was released in 1994.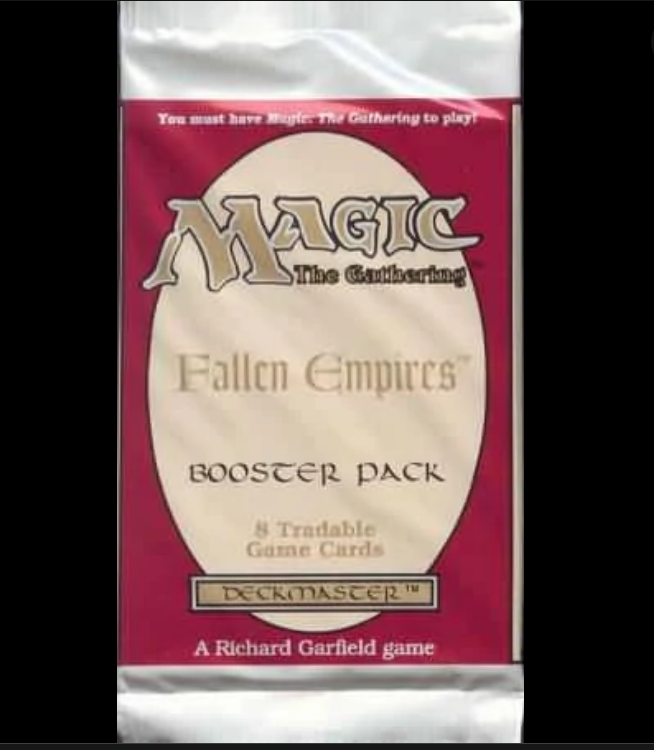 Source
...'Like many, I bought Fallen Empires, I wish I had not bothered'...

The word was, Wizards of the Coast dug holes and buried thousands of them. It could all be bullshit as the internet had barely taken off in that year. It was hearsay.
Unlike the quality of 'that' expansion, the current swathe of reward cards is quite decent and does have demand.

I was amazed by the ROA of Reward Epics given their lack of rarity. Up to 100% return, well I'm having some of those!


...'125% ROA for a L3 Djinn Renova, try asking your Bank Manager for that kind of return and see what he says'...

Order placed for 4 x Lava Launcher, Djinn Renova, Uraeus, and Djinn Chwala.
For all these, I will combine them to L2, as they can be used in the Bronze league with a L2 summoner.

They are all a little above 50c in today's valuation. Not long ago, they were all above $4, some topping $5.

It's almost a 90% off sale. They could go lower, but I am not buying to re-sell. It doesn't matter.

I then looked at the Chaos Legion valuations. These are a lot pricier considering my budget of $27.
As I have multiple rented out on my @chops.support account, I could easily compare the return.

Two of the cheapest cards, namely Gem Meteor and Hunter Jarx were looking good.
Order placed for 4 x Gem Meteor and Hunter Jarx. I will keep these at L1 for renting.
I was at $16 and had another $11 burning a hole in my pocket, so it was on to the Legendary cards.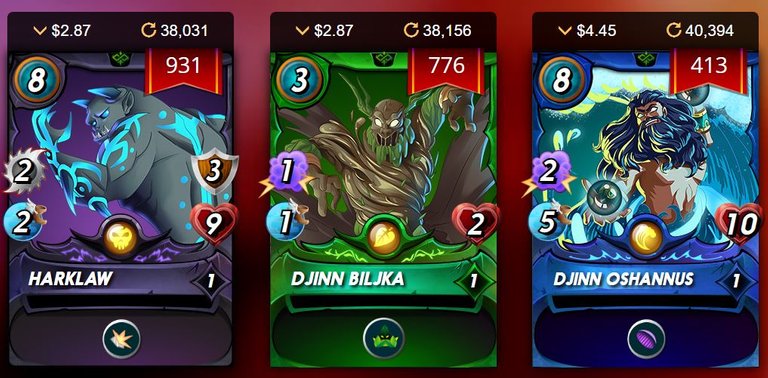 Harklaw, Djinn Biljka, and Djinn OShannus were looking good. Can you believe the latter topped $50 a few months ago?
Because it is cheap, does it mean it's less effective?

One of each added to the order thanks!
With a few dollars left it was a matter of getting something worthwhile. I added a couple of extra dollars and grabbed a Torrent Fiend with a bid of under $6.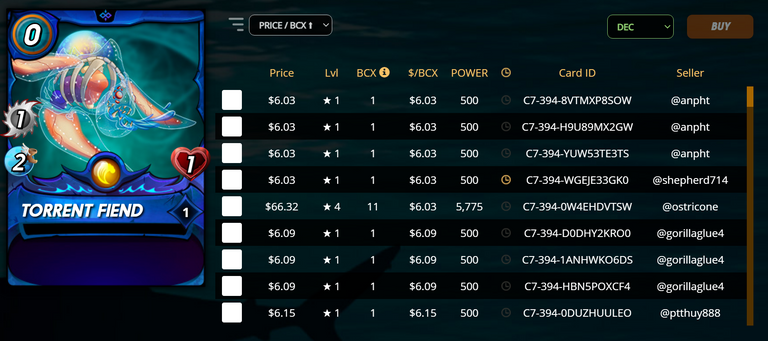 0 Mana monsters are always going to be in demand, and with Water being so popular now, it's a case of diversifying a little and making sure the investment is constantly rented.

More than 50% ROA looks decent, and so that makes up the £20 buy. It was around $29.
It may take a little while to fill them all, but some have already landed in my inventory.

I will move them over to the @bings-cards account as soon as the orders fill, level them up (if required), and immediately place them for rent.
@bingbabe handed over the crisp £20 when I mentioned this just an hour ago. Getting her interest in this ever-so-small investment is another matter.


...'this L2 Djinn Chwala rented within minutes at a cool 99% ROA. The DEC is already coming in'...

The eyes glaze over within seconds once I started talking about it. I feel you need to get to a point in life where you have to think about what you are purchasing and whether it's going to pay dividends.
She has not yet reached that point and getting her to it may be a challenge.

Earn currency while you play brewing virtual beer with CryptoBrewMaster
Earn currency while you play and become a global Rock Star with Rising Star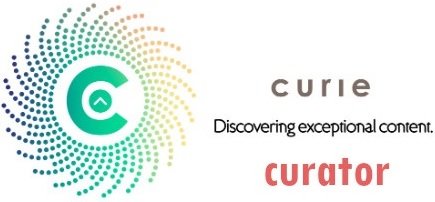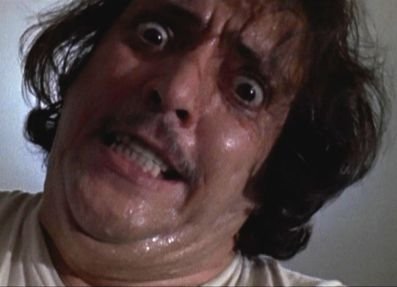 If you found this article so invigorating that you are now a positively googly-eyed, drooling lunatic with dripping saliva or even if you liked it just a bit, then please upvote, comment, rehive, engage me or all of these things.
---
---