A Beginners Guide to Splinterlands + 2nd Giveaway/Delegation of a 1BCX Gold Foil Djinn Chwala(100$)
Hello everyone,
Today marks my first month of splinterlands, and I wanted to share some tips that I have learned over this timeframe. Currently, I have a deck worth 1600$, an almost 40% increase from the prices I purchased my cards at.
As a brief side note, I want to mention that this post's intended audience consists of beginners to the game looking to start.
I suggest not purchasing any cards during your first week of registering. During this time interval, one should research the available options, and perhaps, even rent a few cards. When I first started the game, I made the mistake of spending over 50-100$ on, for the most part, cards I couldn't even use with little value in matches as I was uninformed as to the abilities, and uses of the cards in battles.
Beware of FOMO, especially with the chaos legion packs on presale. Right now, quite a few people are purchasing chaos legion packs on Hive Market Place. Packs, if bought from third-party markets, do not provide MOST, if not ANY presale benefits. An individual only unlocks the possibility of receiving the airdrops, the promo cards, or the maverick status from packs bought through Splinterland's store. On a related note, I would not suggest purchasing packs from the previous releases, but, rather, a new player should wait for the chaos packs to become available without a voucher if they don't want to pay for the voucher. The reason an individual shouldn't purchase packs from previous releases is that most of the rare gold foil cards from those packs have already been obtained(there are max. circulation limits), so it is unlikely you will recoup the cost of the pack, rather, buy the desired cards individually on the marketplace.
If you do decide to open a pack, make sure to have 5 alchemy and 5 legendary potions per pack to maximize your rewards.
Be careful regarding the use of liquidity pools to maximize airdrop points. Liquidity pools expose the user to impermanent loss, and they are especially risky when one of the coins is very volatile. For example, I would recommend against providing liquidity to Tribaldex's SPS:DEC liquidity pool. This is because, currently, both of these tokens are incredibly volatile, which can leave you open to impermanent loss. For an explanation of impermanent loss, I suggest this article: https://academy.binance.com/en/articles/impermanent-loss-explained
Don't use the marketplace in splinterlands to purchase cards, use either monster market or card auctions. This is because these two sites provide a small(>=3%) cashback on purchases, while the splinterlands in-game market does not.
This one is fairly obvious: Do not invest into the game what you cannot afford to lose.
Giveaway Time!
Congratulations for making it this far, and today there is another giveaway. As a side note, almost all of my posts will contain a giveaway at the end if they are not entirely giveaway-oriented.
Before I announce this giveaway, I want to remind you, I have another giveaway active, my first ever giveaway
Check it out here: https://peakd.com/hive-13323/@sneaky-neutrino/splinterlands-card-giveaway-1
In that giveaway, the prize is a card of the winner's choice worth 5% of the post total upvotes in USD. The post is currently at 22 upvotes, so the value of the card is currently at 1.1$, but that will likely increase before the end of the said giveaway(October 23)
Now, let's get on with today's giveaway
For today, the winner will be delegated one Gold Foil Djinn Chwala, a 100$ card, until the end of this splinterlands season.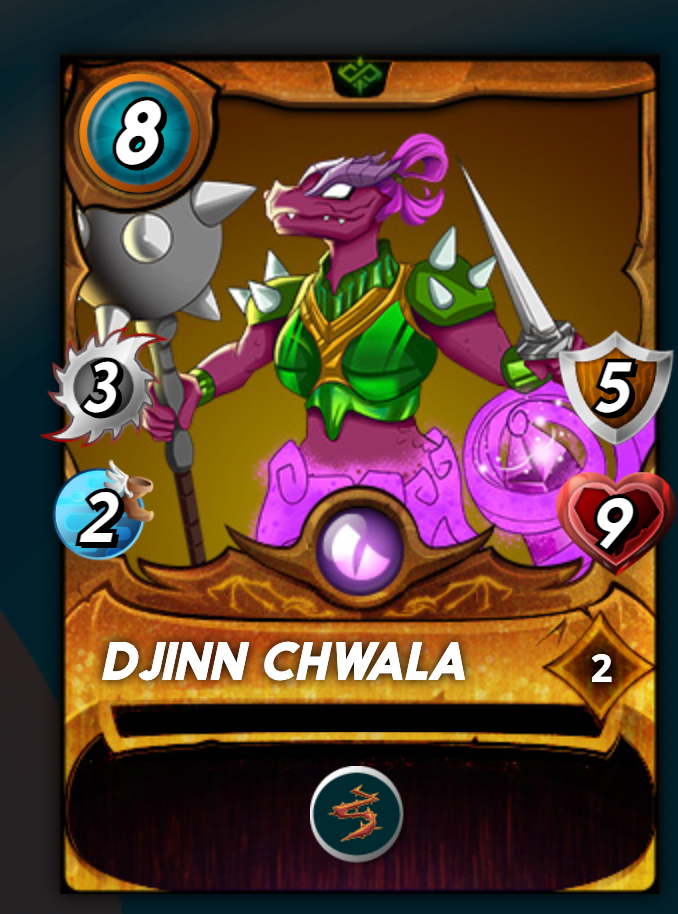 This card is a super useful card in lower leagues and provides you with 2500 collection power, which is quite useful to have for this season.
Rules to Enter this Giveaway
To enter, an individual just needs to comment a reply to the question below and their in-game name to receive the delegation
To conduct the raffle, I will enter all of the names of the commenter into a random generator, and the name that it picks out will win the giveaway.
This giveaway will end on October
Question
What is the best card you have received from a rewards chest in splinterlands?
Additional Information
Why you should follow me:
I will be holding giveaways, hopefully, at least once a week, with quite substantial rewards. While anyone can win these giveaways regardless of whether they are a follower, followers will be able to easily notice when I have posted about a giveaway, and are less likely to miss it
If you are a new player and have not yet purchased the spellbook, use my referral link, https://splinterlands.com?ref=sneaky-neutrino
to join the game. If you use my link to purchase the spellbook, just comment on my post with your IGN telling me you used my referral link to purchase the spellbook, and I will delegate you some cards for your first couple of weeks to make it easier for you to advance in the game.
---
---