Win a Land Plot on Splinternews 1k follower party stream! – Land Plot giveaway - win a subscription to my channel!
Land plot giveaway
Hello Splinterlands players,
In celebration of hitting 1k followers on twitch I am giving away 1 PLOT for in unclaimed form. You will be able to claim your deed as soon as I transferred the NFT to you.
Sound exciting right? Well I am excited that we got this far. About a year ago I started streaming on my TWITCH channel on a regular basis. Mostly I stream Splinterlands and other HIVE based games. As I wrote on my gaming account @splinternews about a year ago I am giving away a land PLOT as soon as we hit 1k followers and 50 subscribers. (We did not hit the 50 sub mark but I will do the Giveaway anyways)
The party stream is scheduled for SATURDAY 7th of January 18:00 GMT+1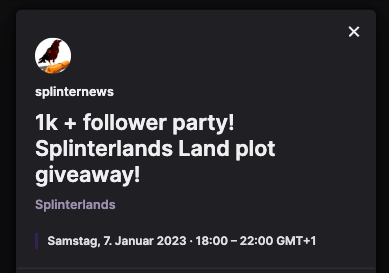 To check when that is for your local time you can follow this LINK
Rules for the land plot giveaway
To maintain my integrity and to be as fair as possible I will stick to the rules that have been published by @splinternews
I am modifying a few things so the competition stays fair and without further ado here are the RULES:
Rules
To win the plot of land you have to:
follow me on TWITCH (mandatory)
subscribe to my channel (optional) but you will get an extra chance by having 2 tickets for the Land plot raffle!
(Sub luck is on for the first 15 if they choose to resubscribe ;) )
The first 15 getting 3 tickets:
Username Subscribe Date
skynotik 2021-10-12T18:47:12 @skyn
hardcrashxyz 2021-10-13T20:59:21 @hardcrash
clayboyn 2021-10-14T07:38:56 @clayboyn
berencrypto 2021-10-13T20:56:15 @nadam12
spiritverve 2021-10-14T10:21:53 I do not have a splinterlands username oceanbeee 2021-10-13T23:19:57 @oceanbee
zasktrader 2021-10-14T04:26:46 @zasktrader
r_stader 2021-10-14T04:05:19 @stader
winty161 2021-10-13T21:10:41 @winty161
cmmndrgarlic 2021-10-14T08:42:32 @cmmndrbawang
untamedsarge 2021-10-12T18:47:55 @sgt-dan
failingforward101 2021-10-14T08:38:29 @failingforwards
Winty161 will get 2 extra tickets (5 in total) since he was subscribed over the whole period of time!! Big ONEUP!
follow @splinternews and @solymi on hive (mandatory)
if you are subscribed to my twitch and I pick you as winner but you are not following @splinternews and @solymi I will pick a new winner!

sign up to the raffle list (mandatory)
The rules can be modified by me as I see fit since this is my land and my giveaway! If I made any mistakes making these rules please do not use them against me but help me to make this a fair game!
If you are not a sub you can still win the Land Plot but you will have to get very lucky.
Since I made these rules a lot has changed. A a plot is not worth 400$ anymore, I only have 1 subscriber: thanks @winty161 for being such an amazing person!
Basically I will add something like subscriber luck. And also will add luck to those who have been loyal viewers of my streams. I will be publishing a full list of those who can get extra chances of winning by 6th of January.
Everyone who signs up to this list providing a twitch username and a hive username connected to it will have a chance to win.
Disclaimer! I will cross check with the splinterlands.tv blacklist and with other streamers who know who the cheetahs (cheaters) are! If you fill the list and I find that you are on one of the many blacklists in circulation you will not be able to win the land plot. Sorry, but not sorry. You have been caught cheating, now face some consequences.
THIS IS A PARTY SO WE WILL PARTY!!!
Many more prizes will be given away during the show including a bunch of NFTs for other HIVE games and in game tokens of all kinds! We will play games and listen to awesome music from HIVE musicians!
If you want to add your token or NFT to the list of prizes you can do so by commenting that you want to contribute and we will sort out the rest!
How to subscribe if you don't have FIAT but have HIVE or HBD?
Easy! You can buy twitch gift cards with you HIVE or HBD using the v4v.app by @brianoflondon
Go to bitrefill.com search for twitch and have a look if you can buy a twitch gift card. I don't know if your country is elligible but you can check for yourself.
Choose the gift card and proceed to checkout.
Choose the BTC lightning option and scan the qrcode with the v4v.app
Bling you just bought a twitch giftcard for HIVE or HBD!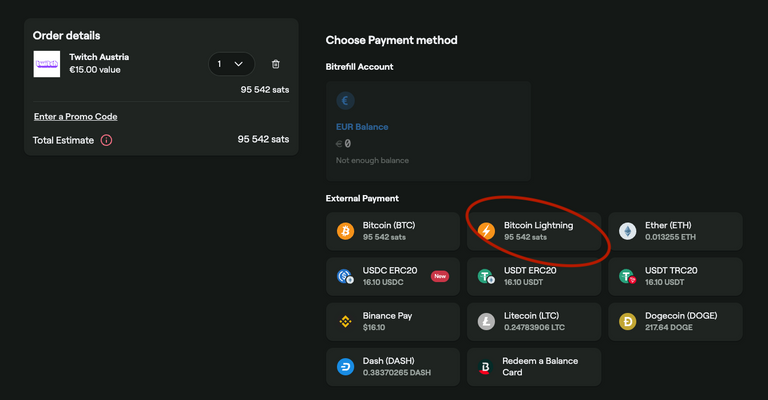 Proceed to my twitch channel and get the subscription! You will not have to spend the full amount on me you will have some credit left to spend it on other streamers from HIVE!
Thank you to a lot of peeps:
I want to say thank you to all streamers of the #nosleepgang
you can check them out on https://nosleepgang.netlify.app/
and @gank and @clove71 and many others! Full list of big thanks will be read on stream!
WIN A SUB!
Yes you can win a subscription to my twitch channel and get 2 tickets for the Land Plot Raffle!
All you have to do is share this post on twitter or on Leo finance Threads (the twitter on HIVE) using the tag #watchtoearn! Copy your link to the the tweet or thread in the comments and tag 2 friends!
Good luck and let the countdown begin!
---
---