REMOVED FOR RISK TO PRECEDENT - SPS DAO Proposal: Claim 2,000 Vruz cards from the recent Splinterlands Promo

EDIT: THE FOLLOWING PROPOSAL IS BEING WITHDRAWN BY THE COUNCIL FOR POTENTIALLY SETTING A BAD PRECENDENT OF TAKING ACTION BEFORE A FULL VOTE HAS OCCURRED
626e2f94abe413d20c151140f0a1007a694dc290
Payment transaction and link to transaction:
https://hiveblocks.com/tx/626e2f94abe413d20c151140f0a1007a694dc290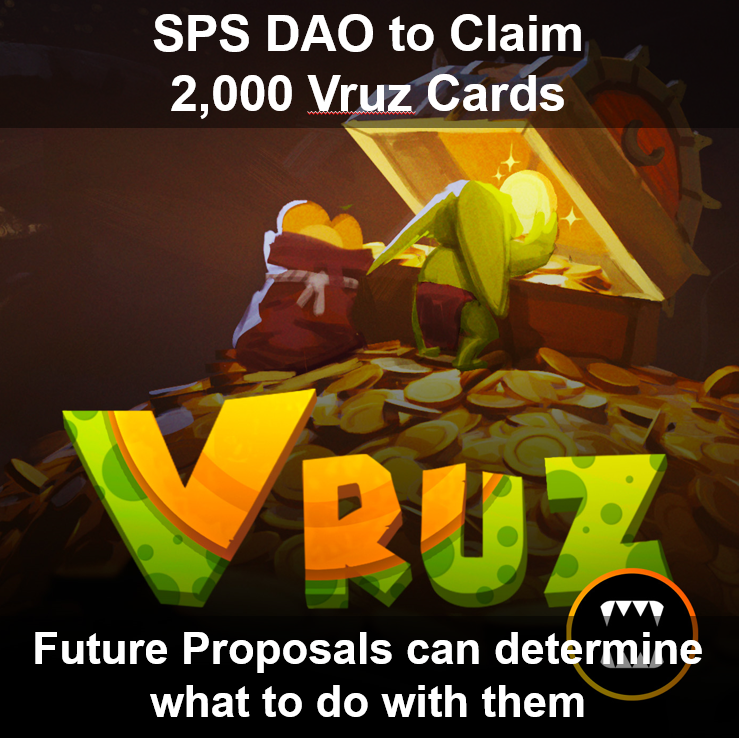 ---
Proposal
The SPS DAO will use 2,000 vouchers to purchase the 2,000 copies of the Vruz promo card that it is eligible for based on the 2,000,000 SPS it has staked.
---
Purpose
The Vruz promo card was meant to reward SPS Stakers and the SPS DAO has 2,000,000 SPS staked. Future proposals can be done for what to do with the Vruz promo card once they have been acquired.
---
Execution
There is not enough time for both the SPS pre-proposal and full DAO Proposal for SPS stakers to be completed before the Vruz promo sale ends.
If this proposal appears to be passing the pre-proposal phase with 24 to 48 hours remaining in the Vruz sale, then the DAO will execute the buy of 2,000 Vruz cards with the same number of vouchers.
If the full DAO proposal passes, the SPS DAO will keep the Vruz cards it has purchased.
If the cards have already been purchased but the proposal ultimately does not pass then Splinterlands will reimburse the 2,000 vouchers to the SPS DAO and take the 2,000 Vruz cards to use for giveaways (such as on SplinterlandsTV).
---
Background and Conclusion
The SPS DAO is representative of and owned by all the SPS Stakers. The Council believes that the SPS DAO should take advantage of opportunities like Vruz when they are available in order to accumulate assets that can be used to provide future rewards to SPS Stakers.
---
---