Fourth Chaos Legion Legendary Summoner Airdrop Revealed!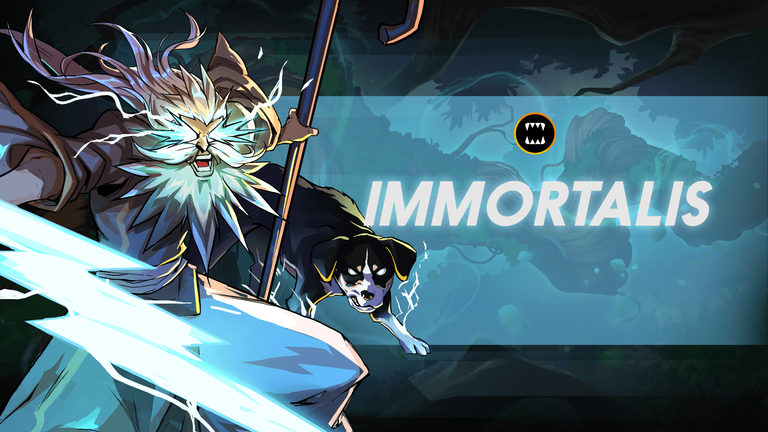 There are now about 30k packs left until the next 1M Chaos Legion booster packs are sold so it's time to reveal the next airdrop! This next airdrop will be the fourth Legendary Summoner card designed by players who purchased the most Chaos Legion booster packs in the pre-sale last year.
The fourth Chaos Legion Legendary Summoner airdrop card will be the Earth element Summoner - Immortalis! The character was designed by @cyguy and the Immortal Gods group and will be the 12th Chaos Legion card to be airdropped to early pack purchasers!
Please keep in mind that 25k Chaos Legion packs are burned every day as a result of the recent SPS governance proposal, so packs eligible for this airdrop are guaranteed to sell out within the next couple of days!
Please note that due to the timing of the packs selling out and limited staff availability during the holidays, the Immortalis airdrop and card being available in the game will likely be delayed until early January.
Immortalis will be the 27th Legendary card to be available in Chaos Legion edition booster packs, and each pack purchased up until the 12M mark will have a 0.16% chance of receiving the card, which means that 1 in every 625 packs will receive the card on average.
Additionally, players will be GUARANTEED to receive one Immortalis card for every 625 Chaos Legion packs purchased. Finally, each airdropped card received will have a 4% (or 1 out of 25) chance of being a Gold Foil version of the card.
Show Me the Stats!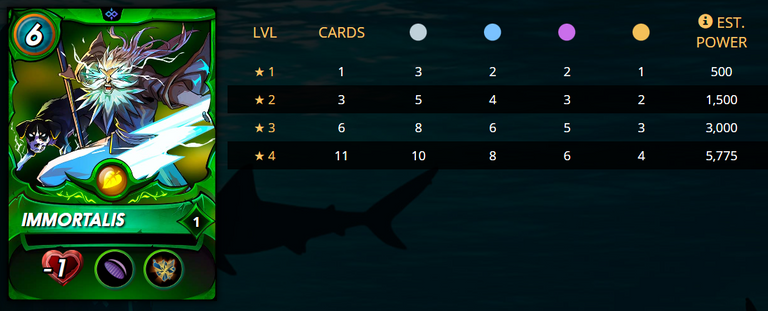 Immortalis reduces all Magic attack damage taken by friendly characters by granting them the Void ability - making him a great potential counter for Obsidian. Then he goes on the offensive by reducing all enemy characters' Health and giving his team the ability to Shatter enemy armor, rendering them vulnerable and helping to counter abilities like Void Armor.
We look forward to seeing him shake up the meta and provide some interesting new versatility to the Earth element in the near future!
Get In On the Airdrop!
At the time of writing there are around 30k Chaos Legion booster packs available for purchase that will be eligible for the Immortalis airdrop. Of course, all Chaos Legion booster packs purchased to date are also eligible, and after the airdrop the card will be available to be found in all packs opened going forward.
These packs will also be eligible for the final 2 remaining new Chaos Legion Legendary Summoner card airdrops that will happen every time another set of 1M packs are sold.
We should also mention that since Chaos Legion packs can be purchased for a fixed amount of 4,000 DEC tokens, players have an opportunity to pick up these packs and grab some extra Immortalis cards at a significant discount to the listed $4 USD price point by purchasing DEC from various third-party markets! Some popular markets on which DEC tokens are available are listed below:
Immortalis Lore
In the early years of the Arena Games, many battle mages began working together and formed guilds. All across the Splinterlands, they combined their resources to construct halls, lodges, barracks, stores, and even arenas where they hosted brawls—tournaments that pitted guilds against one another in a series of battles to prove which was the best.
Immortalis, one of the most powerful battle mages of the era, was the leader of one such guild. His training regimen was brutal and demanding, and he required nothing less than absolute perfection from those he accepted into his ranks. The weak were soon weeded out, while the strong flourished and grew even stronger. Immortalis and his guild proved all but unbeatable, and spectators from across the Splinterlands packed the stands to watch him swagger into the arena and direct his guild members as they mercilessly crushed their opponents.
Guild brawls continued to grow in popularity and, recognizing an opportunity to expand its influence and profit, the Order of the Scale formally subsumed guilds into the combat arena industry, requiring them to purchase a charter to become officially sanctioned organizations.
But Immortalis detested bureaucracy and the restrictions and regulations placed upon the guilds. Also, although he could still best nearly all who stood opposite him in the arena, he was growing older and wearied of teaching the latest generation of battle mages the tactics and strategies that, to him, were instinctive and seemed rudimentary.
Thus, Immortalis passed the baton to his most trusted and combat-hardened disciple: the battle mage Clove Sevintian.
She promised to make him proud. He told her that he knew she would… and to not be surprised if she should chance to look into the stands and catch sight of a white-bearded man with a shepherd's crook in his hand and a mountain dog by his side.
"You can take the man out of the Games," he said, "but you can't take the Games out of the man."
Then he slung his pack over his shoulder and, with his loyal canine, Siwel, at his side, he left the keep of the guild known as Immortal Gods and disappeared into the horizon.

Stay tuned for more updates from the Splinterlands!
Website | Blog | Discord | Telegram | Shop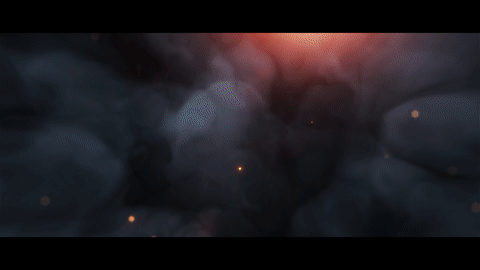 NOTE: All rewards from this post will be burned.
---
---