Splinterlands has changed
I have been playing Splinterlands for a few years now. Doing a few battles each day is part of my routine, but I do not claim to be particularly good at it. I still get beaten by people with lower ranked cards, but I do okay.
Recently the daily quest system was re-vamped into a 'daily focus' where you can do as many battles as you want and keep winning chests. I do not fully understand all the details, but for me it is working fairly well.
Before the change I was renting out a lot of cards and getting a steady, but not huge income from that. After attempting the new focus for a while, and losing a lot, I took all my cards of rental and now I do much better. I am earning more DEC from chests now that I did from rental, but then I was not optimising my prices very often. Will all my cards in play I can get higher up the leagues, but then the battles get tougher as I meet opponents with more powerful summoners. I just cannot afford to upgrade mine.
After climbing the leagues to Diamond I can now gain about one chest per win. How many I end up with depends on how long I want to play for. I will have a fair number at the end of the season tomorrow.
Meanwhile I am earning something from the SPS airdrop. I am sure I could make even more with some strategic moves, but it is not too bad anyway.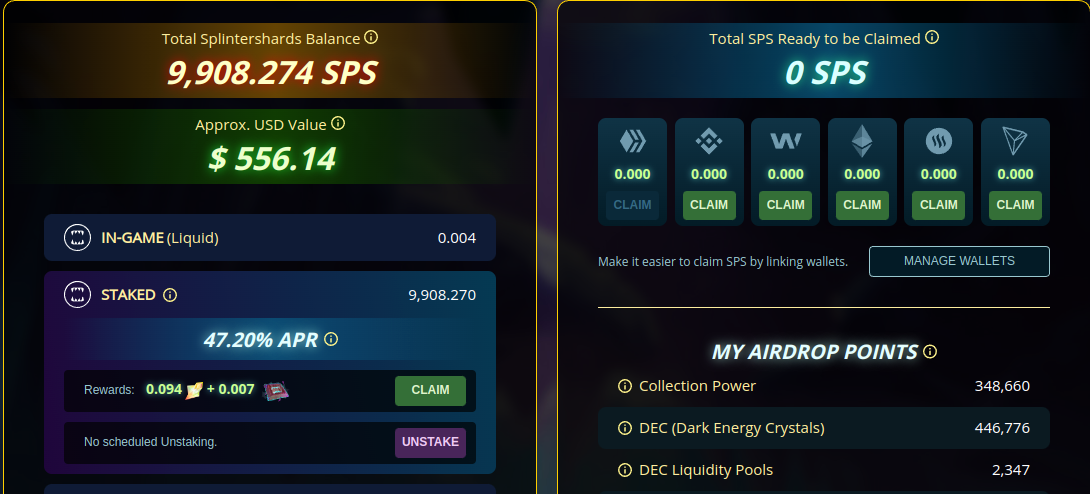 With Hivefest coming up I may use some of my SPS and DEC to help pay for the trip. It is time for all this effort to give me something fun. Just sitting on money is not that interesting to me. Life is made of experiences and Hivefest should be a great one. I hope to see some of you there.
Hive five!
Posted using Splintertalk
---
---