HOW TO: Bronze League Beast Mode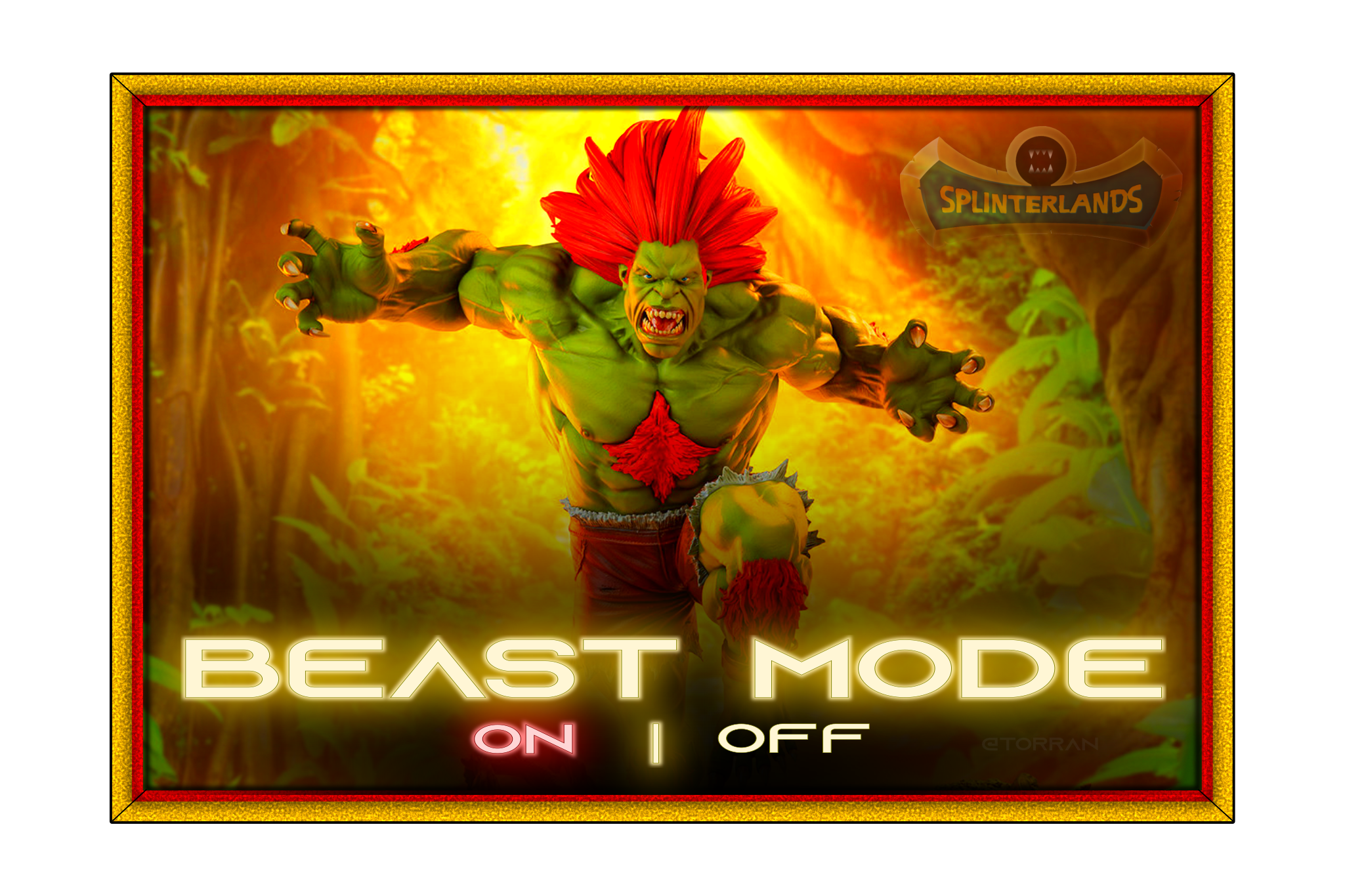 ---
If you're reading this, I'm sure we can agree that the Bronze League in Splinterlands is actually pretty tough. Legendary summoners make their first appearance and for as rare as they are, you'd think they're just handing those things out like candy. That's why it's important to come up with a plan as early in the game as possible. A good strategy will not only help make your cards be more effective in battle, it'll help save you some cash too.
---
What if I told you there was a way to get out of the Bronze League fast AND make Silver easier at the same time?

---
The Bronze League is FULL of new players fresh out of Novice and still trying to figure out the game. That means most of the cards you're going to come across in battle are going to be level 1 cards from the starter deck. "So why is the Bronze League so hard?" Great question! When you're playing the same set of cards against the same set of cards, there's a lot more luck involved. A lot of those battles are often decided more on who plays first, or who misses less, than they are on anything else, but we're going to fix that right now.
---
STRATEGY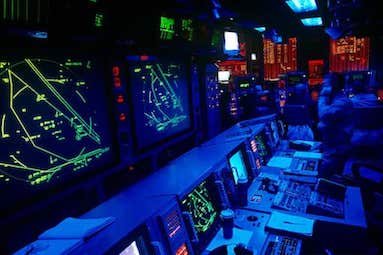 Our strategy is simple:
Take advantage of every opportunity available and leave as little to chance as possible.
We can do this without spending any money, but that wouldn't be very Beast Mode, so I'll tell you right now that this is going to cost you. How much depends on you and your goals. To be competitive in the Champion League for example, you're looking at roughly $500-1000 for a "cheap" summoner (ie. most likely NOT the one you really want) and when it comes to the monster cards, they're a little cheaper but you need a lot more of them. Have realistic goals and don't spend more than you can afford. Food for thought.
Now, before we run out and start buying (or renting) anything, there's a couple key pieces of information we need to find out.
---
TLDR
1. Figure out the summoner level limits.
2. Figure out your monster level limits.
3. Buy/Rent/Upgrade cards to max limits for that league.

---
SUMMONER LEVEL LIMITS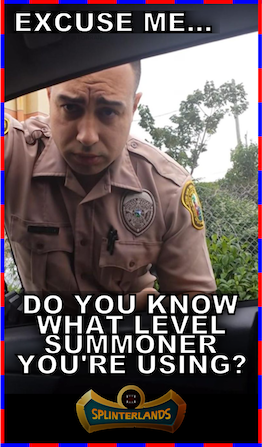 In each league, there is a limit to the level summoner you're allowed to use. You can check each league's summoner level limits by going to the battle screen, clicking on the "LEAGUES" button by your league status at the top, and clicking on the league you're interested in. The summoner level limits will be displayed at the bottom.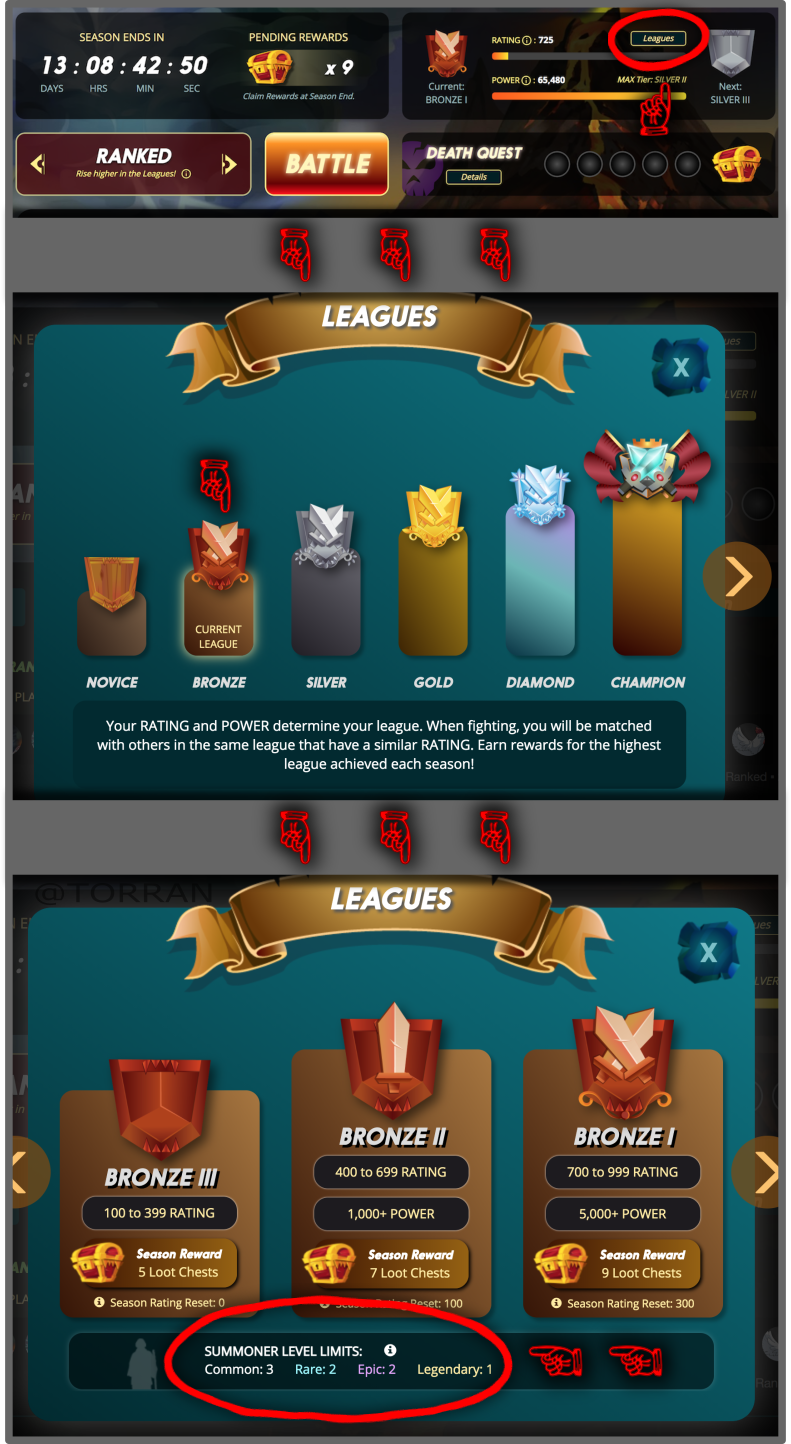 In the Bronze League, you're allowed to use common SUMMONERS
up to level 3, rare and epic up to level 2, and legendary up 
to level 1.

---
MONSTER LEVEL LIMITS
Just like your league has limits on which level summoners you're allowed to use, your summoners all have limits for the level monster they can use. You can find this information by looking at the stats page for any summoner. You'll also find the number of cards required to upgrade your summoner.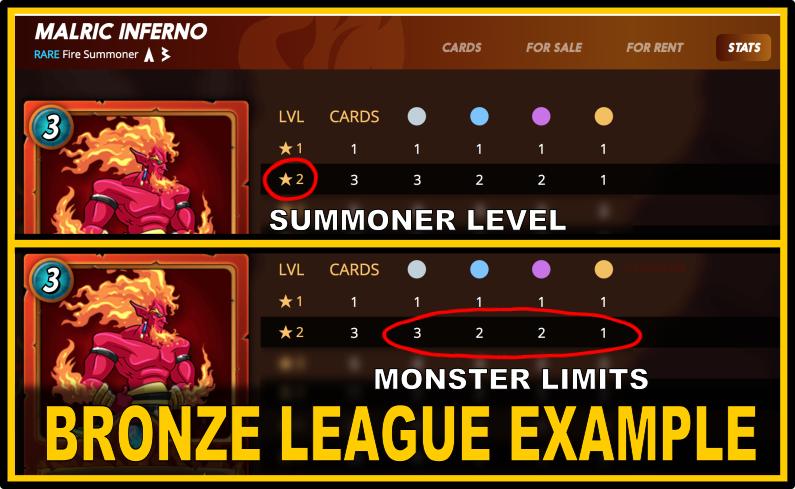 In the Bronze League, you're allowed to use common MONSTERS
up to level 3, rare and epic up to level 2, and legendary up 
to level 1.

---
LEAGUE LIMIT SHEET
Throw this bad boy on your desktop for quick reference!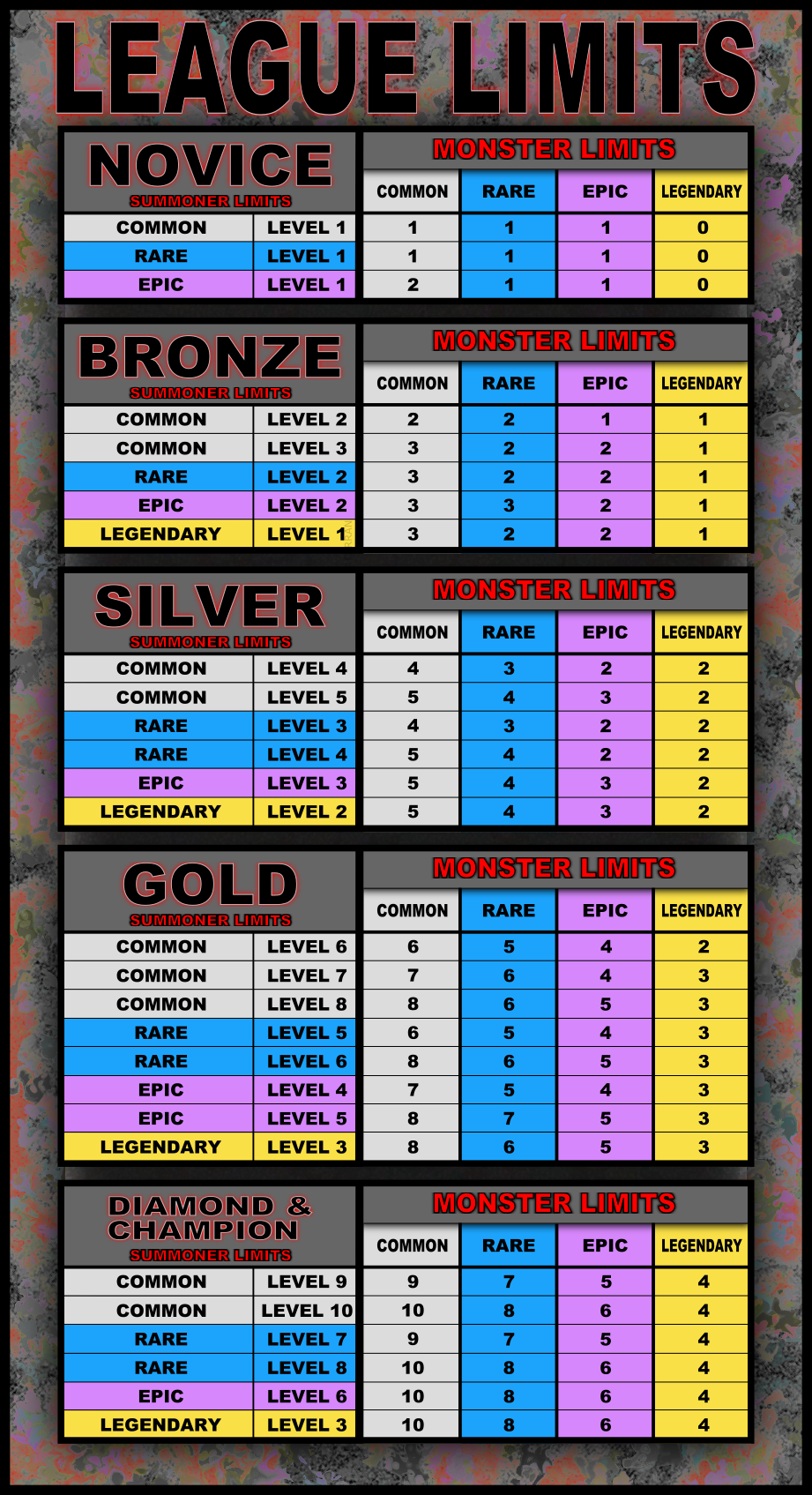 ---
THE DECK - SUMMONERS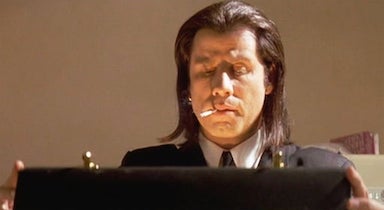 Summoners limit what level monsters you're allowed to play so they'll be your first priority. Playing upgraded monsters without the proper level summoner that's allowed to play them will cause them to revert back to level 1 and that's just not very Beast Mode. With 1000's of new players that also need summoners joining every day, and their deflationary nature in general, prices tend to steadily increase. For these reasons, they're typically the most expensive cards you'll have to buy (legendary and gold foil cards excluded). I also recommend always buying enough cards to completely upgrade to the next level. It really stings when you're 1 card short of the next level and the market price jumped from $8 to $60 per card since you last bought anything.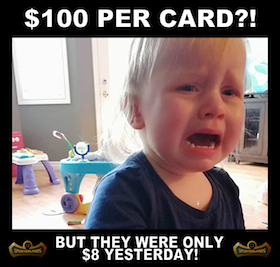 The only level 1 summoners we're playing in Bronze from here on out are legendary ones, so start thinking of 3 or 4 you'd like to upgrade. I highly recommend Owster Rotwell (Death) for his magic reflect ability and Mylor Crowling (Earth) for his thorns ability. Once you've chosen your summoners and upgraded them to at least the max level allowed in the Bronze League, it's time to start shopping monsters.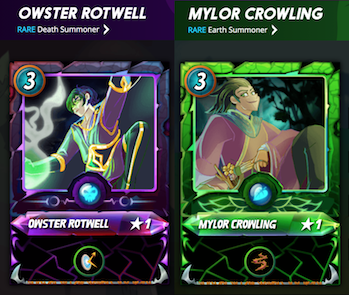 ---
THE DECK - MONSTERS
The cards in the starter deck aren't bad, but there are so many more cards available out there. Keep in mind that while legendary cards are powerful, they're also more expensive and usually have higher mana costs. I recommend looking for monsters with the following abilities:
Splintercards has a great reference for all the abilities, which cards have them, and what level they're achieved. You can check them all out HERE.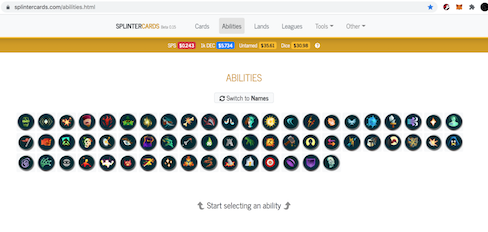 ---
MINIMIZING EXPENSES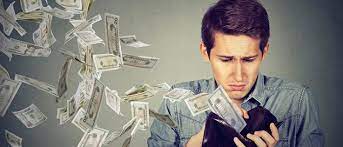 Remember what I was saying earlier about the deflationary nature of the cards and their steadily increasing prices? If your goal is to dominate the Silver League (or Gold or whatever), then you could potentially save some money by upgrading to those levels from the start. A lot of cards tend to have a lower price/BCX when you're buying higher level cards, but this is, of course, highly card AND market dependent however, so please do your own research. Splintercards has a really nice List Price Analysis tool for tracking card prices. You can check it out HERE.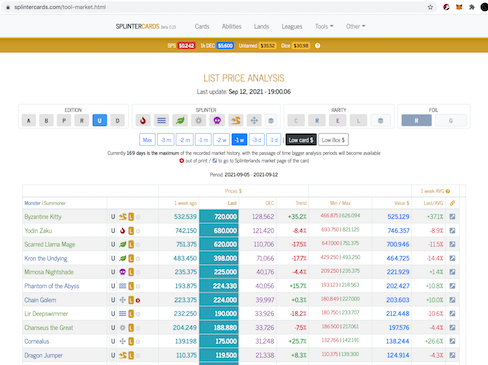 ---
NEXT STEPS
Go unleash the fury of your new deck on anyone who stands in your way! You're new deck will be a BEAST in the Bronze League and still be fairly competitive in Silver. I'll warn you though, the Gold League is exponentially tougher than Silver, so you might want to hold off on advancing until the end of the season so you're not stuck for too long at a level you may regret.
---
Thanks for reading! I know it was a lot, but you made it!
For more articles like this one, check out my blog HERE.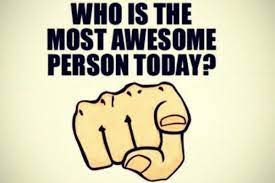 ---
Still not signed up to play and EARN? Sign up HERE
(It's free to play but to earn you need to Purchase The Summoner's Spellbook for $10)
---
Plus get a FREE Booster Deck when you sign up! Details HERE
---
You can find out how to purchase The Summoner's Spellbook HERE
---
The Splinterlands Discord Server is a great community full of information. This is also where you'll find tech support. Check it out HERE
NOTE: Be nice to tech support. They're all volunteers so they're helping you because they genuinely want to help. They don't have all the answers and they're limited as to what they can do, but they're a HUGE wealth of information and can usually take care of a lot of things without needing a support ticket.
---
---