No More Witch-Hunt - For the Pursuit of Better Community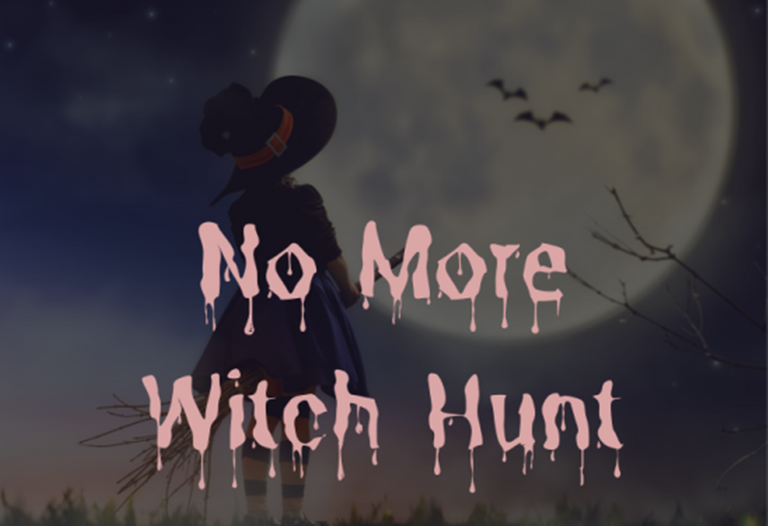 Previously I wrote an article about the three of us, ueyuey, schnapoon, and haflblue that were blocked from the Zensports tourney.
https://peakd.com/hive-110144/@ueyuey/we-are-not-bots-we-are-a-group-of-esports-enthusiasts
Thanks to many of you who brought attention to the topic, a significant progress has been made since the first article.
Today I would like to cover it in this article, that we understand we are finally cleared of the accusation.
ueyuey:https://twitter.com/uey_uesama
schnapoon: https://twitter.com/schnapoon
haflblue: https://twitter.com/Halfblue13
Here's a summary of events in chronological order
Ueyuey and schnapoon have been at the top of Silver LB since last year.
Some people in the community started to spread rumors about us being bots and win-traders, based on cherry-picked screenshots as "evidence".
We didn't make a big fuss about it, as we took it lightly thinking "No one is going to believe that anyway".
We participated in a Zensports tourney, and made it through to the main round, but suddenly banned from the tourney and all their future events.
I wrote an article about this incident (https://peakd.com/hive-110144/@ueyuey/we-are-not-bots-we-are-a-group-of-esports-enthusiasts), and thankfully received many positive comments that they would support us.
davemccoy, a long-term SPL community member, was one of them, who said he can help investigate; he then created a group chat with mattclarke and kira1995 included.
The investigation basically went on like this: kira1995 asked questions, and I answered the questions.
The investigation ended with kira1995 willing to stop the process
A group chat was created for the investigation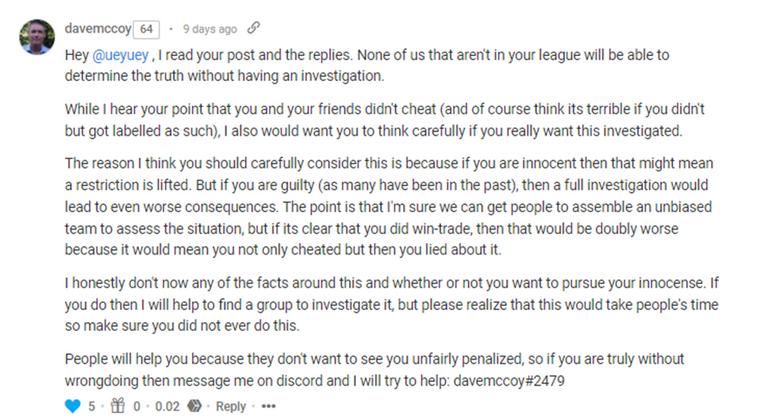 Soon after the first article was out, davemaccoy gave the article a comment, asking if I wanted a full investigation.
I immediately DM'd him and asked him to help investigate the issue, because I knew I never cheated and I was 100% innocent, and I had no problem with any kind of investigation.
As a result, he created a group chat with 5 members in it: davemaccoy, mattclarke, kira1995, ueyuey, and init.
It was like a trial case with each member in their roles of:
davemaccoy and mattclarke: organising communications as third parties
kira1995: presenting his claims with backup information that ueyuey is cheating
ueyuey: arguing against what is presented by kira1995
init: translating and facilitating communications for ueyuey

What we discussed in the chat
Phase 1: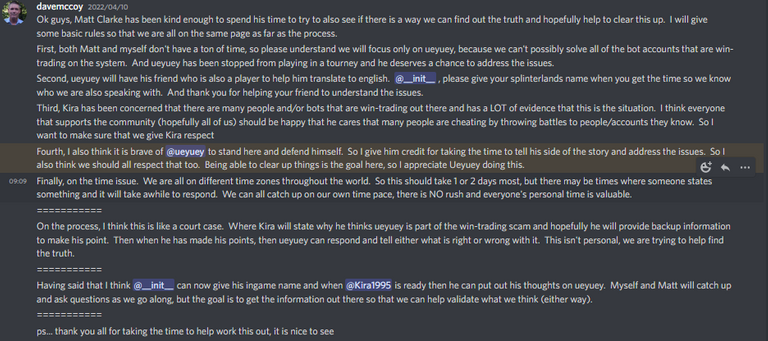 davemccoy started off with basic rules for our interactions in the chat.
I appreciate and respect him for putting up the guidelines so that the process can proceed smoothly.
Summary of the said rules:
Since everyone is on different time zones throughout the world, we can all catch up on our own time pace, there is NO rush to respond
This is like a court case. Where Kira will state why he thinks ueyuey is part of the win-trading scam with backup information to make his point.
Then when he has made his points, ueyuey can respond and tell either what is right or wrong with it.
This isn't personal, we are trying to help find the truth.
Phase 2:
As initially instructed by davemccoy in Phase 1, I was ready for kira1995 to state the claim with backup information, but instead he requested to ask some questions before he gets started with presenting information, which ended up 9 questions in total.
Phase 3:
Most were pretty simple yes or no questions - I answered to all of them sincerely and honestly, with the help from init translating for me.
A video of our interview by AshleyNFTGaming was presented as well, as an supplementary information.
I won't disclose all the questions as it includes information about other win-trading issues he's digging into, but here are a few of them:
Has Ueyuey and Schnapoon ever traded wins in the past with repeated match searches and pushing rating to the higher player for boosts at end of season?
When practicing for special tournaments, how often and how long do you typically run challenge matches vs the same few accounts?
Are there any accounts that any of your accounts delegate to or that you are delegated from, including during tournament training as well as throughout ranked season games?
Do any of you own alternate accounts, and what accounts are those? Etc.
Phase 4:
As a result of the above communication, I received a comment not directly from kira1995 but from davemccoy, that kira1995 has come to a conclusion that he felt it was best to end the process.
So I understood that finally, I am cleared of the accusation.
Phase 5:
I requested davemccoy to share the conclusion with Zensports, as he was kind enough to do so.
I also made a request to kira1995 as a SPL support staff, for future improvements. (See the next section for the original message to him)
The problem is not Zensports banning us per se
I would like to emphasize that the issue to be spotlighted on this case is NOT the fact that Zensports blocked us, but rather HOW this whole situation was brought about.
And so, I gave him the following comment ... but have yet to receive a reply. Sure, he has a right to remain silent as well.
■ueyuey→kira1995
One thing I would like to highlight here is that,
the crux of the problem is not Zensports banning us per se, but essentially its the "how" this whole thing happened and ended up Zensports banning us.
If just a few back and forth questions and answers like this and some yt videos can clear up the suspicion, why was this issue not handled like this earlier?
Instead of directly confirming with us first, Splinterlands Support Staffs blatantly just went on with the allegation that we were botting and win-trading, in a discord that we are hardly ever active in, and ended up speaking to the third-party organisation.
This ... is the biggest problem on this case imo.
I can imagine that, if I were the person in charge of Zensports, I would believe what Splinterlands Support Staffs claim. If I were just another player, I would also believe what Splinterlands Support Staffs say in a community discord.
I want to emphasize that Support Staffs or Moderators should be more responsible for what they say and how they act, and not use their authority power for their own interests. Rather, needless to say, Support Staffs should be the ones who 'moderate' them, should they ever encounter such activities in a community.
I believe this is fairly important to note and share within a community management team (and please do so), because without it, there will definitely be similar false accusations and allegations not just related to win-trading and botting but other issues, directed towards any players in the future. I know most players are really nice and polite, but on rare occasions some can be really toxic.
With that being said, of course I know you have supported a great deal of players in a good way, and I think that is great. I hope you keep up with that.
Are you not a part of the witch-hunting?
I am very happy that it looks like the accusation against me have been cleared this time.
However, I want you all to know that a witch-hunt HAS, in fact, happened.
Please ask yourselves:
Are you not slandering/insulting certain players without any solid proof?
Are you not a part of the echo chamber that further reinforce and further spread the belief ?
Please try looking up "ueyuey" in discord - You will see how many slanders I have been subjected to.
(God knows if their comments are still there after the article is relased but here are "screenshots" anyway XD)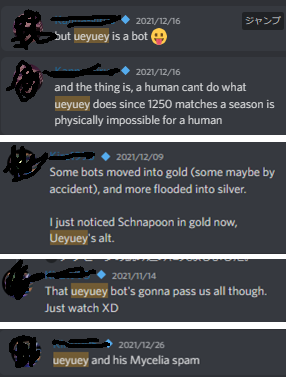 No more witch-hunts
The purpose of this article is to bring this issue to light so that other players won't feel the same way as I did.
NEVER attack a player/players or make any false accusations without solid evidence, let alone without talking and confirming with the individuals first.
If people find out that someone is doing that, it should be the community Support Staffs that are supposed to lead the community the way it's supposed to be.
Having said that, of course I understand that it is also important to investigate certain issues prevalent in this game, but I just want you to remember that it can be escalated and echo chambered to the kind of witch-hunt I'd been exposed to.
Splinterlands is a great game. As I am sure that I am not the only one that want to see this game grow further, why don't we take a step back and think for a moment - what is the ideal form of community we should all pursue?
Ps.
Thank you, from the bottom of my heart, to everyone including davemccoy and others who reached out to help me on this issue. I can't thank you enough.
Also check out Ashley's videos, if you haven't already -

Our ban has been revoked. (2022/5/1 Postscript)
We received an apology from zensports for the three of us. And we will be able to participate in the tournament from now on.
Thanks to the cooperation of many people. We are very grateful.
---
---