Splinterlands is on Fire! Closing up NFT Minting & New Game Release to Raise Earnings for Players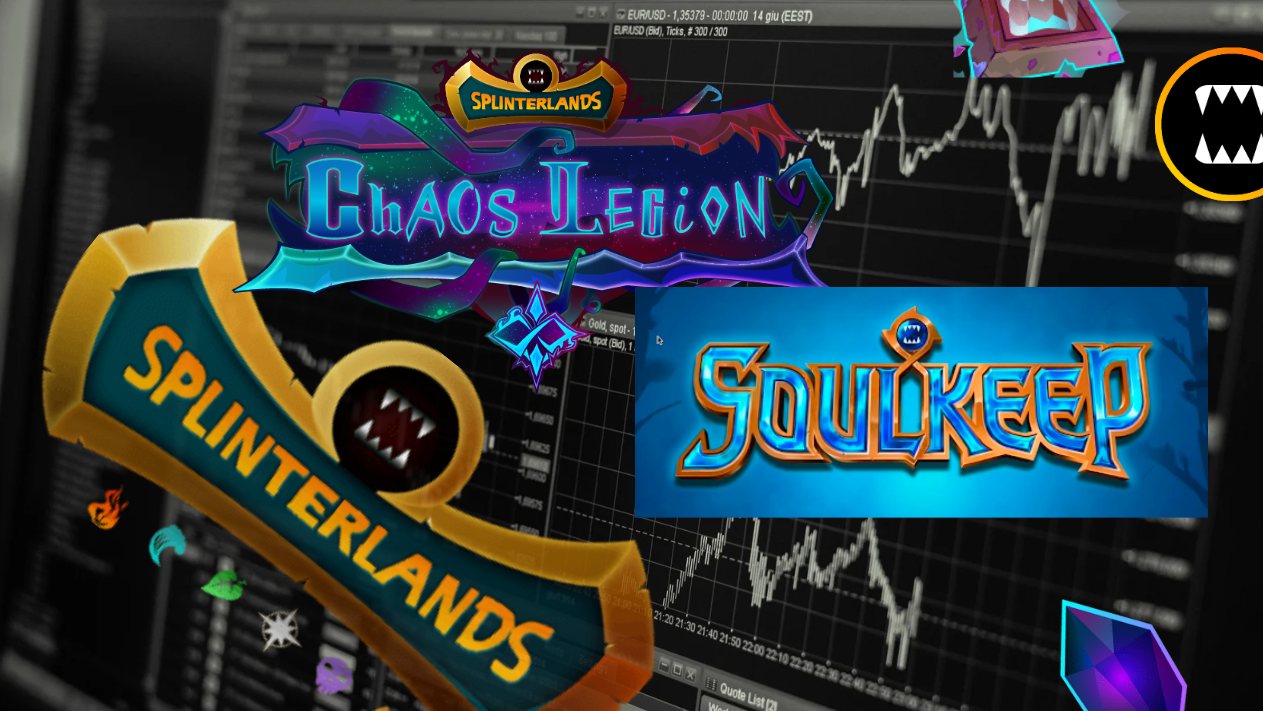 The Hive blockchain is gradually gaining momentum in the league of blockchains courtesy of active and growing communities. One of such communities is Splinterlands. Splinterlands has not only made a name in the play to earn and GameFi industry, but also in the DeFi and sports world. On a regular basis, there is an intentional fine-tuning of the products from the Splinterlands lab to boost participation, web3 adoption as well as provide a sustainable source of income for fun and game loving persons.
Splinterlands is on Fire!
Through out the last three quarters of 2022 and 2023 Q1, there has not been any single month past without a significant development update from Splinterlands. The players and investors had barely recognized that 2022 was a serious bearish year in the crypto industry because Splinterlands was busy creating and recreating value-adding modules to its gaming and DeFi systems to provide additional income to its patrons.
Splinterlands is on Fire! Splinterlands is not burning, its refining. Over the last few days, there has been series of updates in the Splinterlands Discord channel covering both arms of its gaming (Splinterlands game and Genesis League Sports). All of this news are putting players and investors on their heels to stack because there's visibly a cloud that the rain is coming!
Closing up Chaos Legion NFT Sales
Chaos Legion is one of the recent NFT packed card edition from Splinterlands that has been greatly welcomed. Fourteen (14) million copies of the card packs were designed and a great percentage has been bought off from the Splinterlands in-game market. After burning millions of the card packs, and airdropping several cards to the card pack buyers, data shows that Splinterlands would be closing up with the Chaos Legion card pack sales.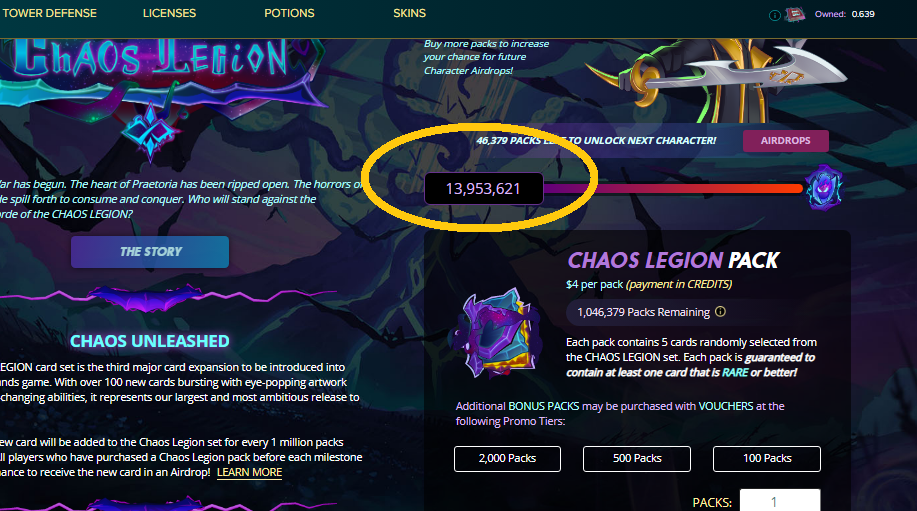 There's less than 50k card packs which would be off the market in a matter of days with the daily burn in place. It's been an exciting time for the Splinterlands team and players/investors as the Chaos Legion cards would become an old card no more in print with an imminent rise in value. Read this post for more information.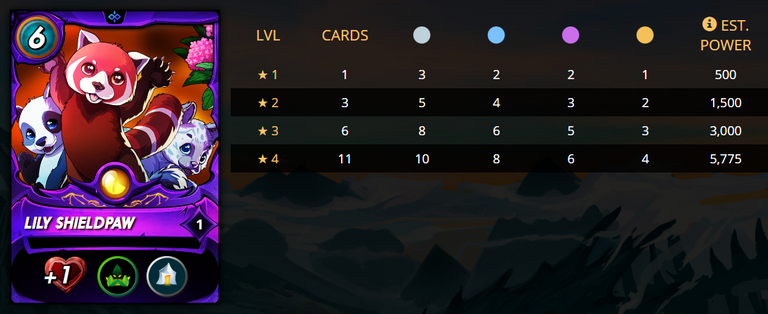 The above sweet looking card would be the last legendary summoner to be airdropped for holders of Splinterlands CL card packs once the 14 millionth card pack is sold out. Lily Shieldpaw looks so innocent but would be a powerful battle gift as CL card pack minting closes-up.
SoulKeep: New Game Release
I call it a new Episode of "Earnable" Fun. The latest update shows that SOULKEEP - The Splinterlands Tower Defense game is READY!
We're squashing some of the uglier bugs and polishing what seems like an endless collection of rough-spots and then we plan to invite the community to our closed beta. More info about the official release date of the closed beta will be announced soon.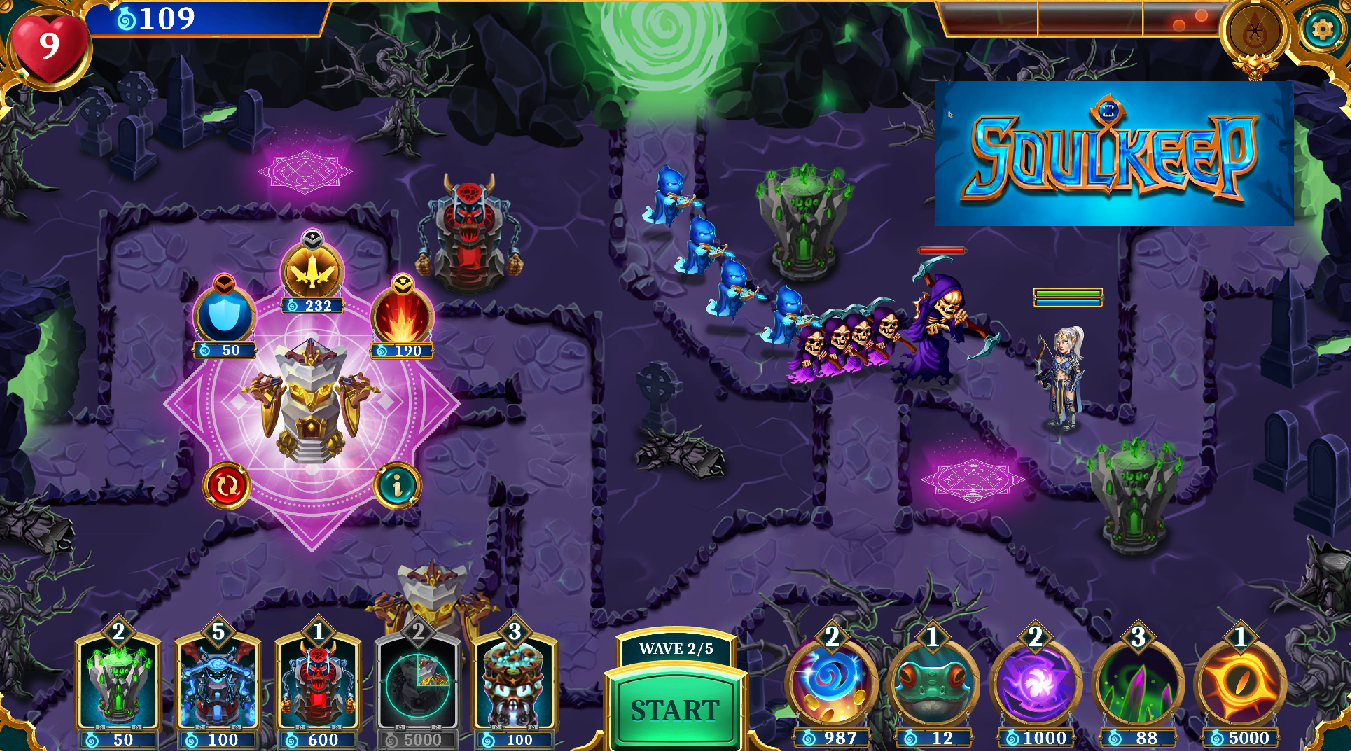 Really good news as the open beta coming soon would mean that a new income generating option would be added to the Splinterlands ecosystem. The game is designed to be an incredibly deep and challenging game. Players would be able to make strategic choices, such as the placement, upgrading, and arrangement of towers, spells, and heroes during the preparation phase. Commit defensive strategies to the battle. Watch the battle play out at various speeds or skip to the results.
This makes the tower defense packs a good buy at this moment as the presale comes to an end soon. Another season of wealth accumulation is opening up for Splinterlands players and investors. How well are you positioned to share?
---
You want to learn more about Splinterlands, SplinterGlossary is a hot reference center for you.
---

Splinterlands game is termed the "next generation of collectible card games" in which allows players to collect, trade, and battle with provably scarce digital collectibles with real-world value. Battles on Splinterlands Unlike most trading card games, are fast and furious, and are usually completed within few minutes. The Splinterlands gameplay is simple and easy to learn viz: reviewing combat rules, making and submitting of the team and watching the battle unfold.

If you found the article interesting or helpful, please hit the upvote button, share for visibility to other hive friends to see. More importantly, drop a comment beneath. Thank you!
Let's Connect
Hive: https://leofinance.io/@uyobong
Twitter: https://twitter.com/Uyobong3
Discord: uyobong#5966
---
Posted Using LeoFinance Alpha
---
---