What to do when you miss a Chaos Legion Legendary Summoner Airdrop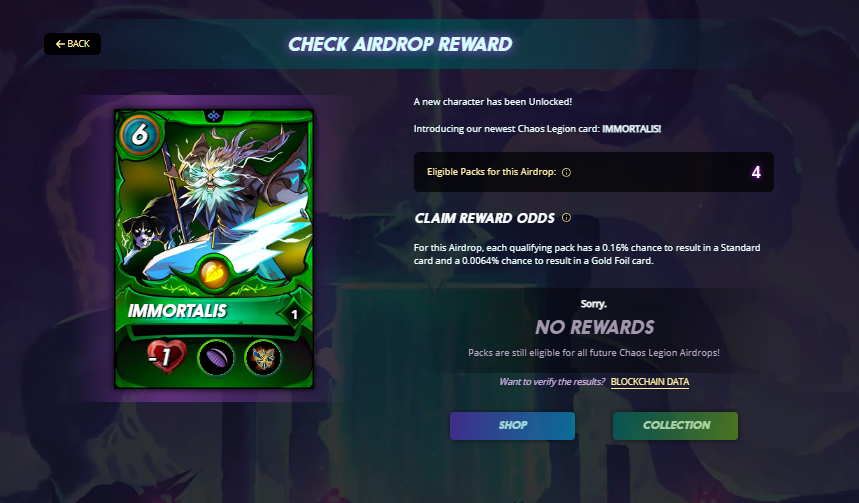 Last week, Splinterlands revealed the Fourth Chaos Legion legendary summoner airdrop identified as Immortalis. The legendary Summoner was distributed randomly to splinterlands game players who purchased Chaos Legion (CL) card pack edition directly from Splinterlands. The probability of receiving the airdrop card was 0.16% per CL pack. That means that a player need to have purchased at least 7 packs to qualify for the airdrop.
The periodic Chaos Legion Legendary Summoner Airdrop which is the fourth so far is an awesome way of rewarding players to buy more CL packs and that early enough before the next millionth pack sale. I had purchased only 4 CL packs directly from splinterlands before the 12th million pack sale, wasn't lucky enough to receive a airdrop this time, but they still count for future airdrops.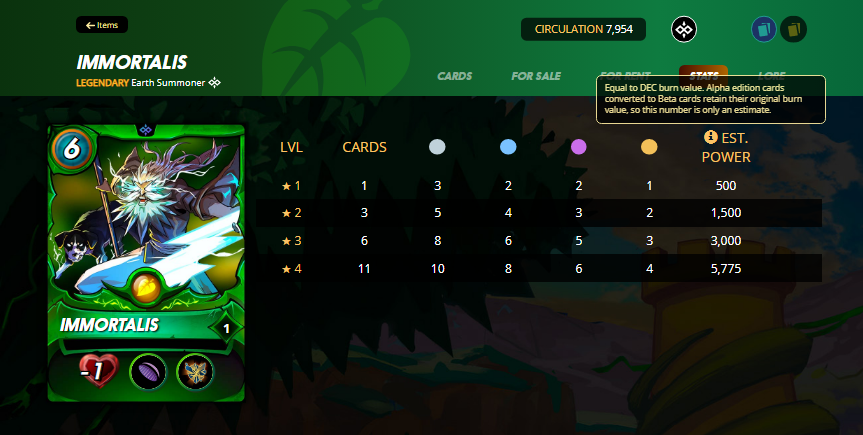 How Powerful is Immortalis?
The airdrop summoner, Immortalis is a legendary Earth summoner with manna rating of 6. The summoner has 2 special friendly monster enhancing abilities and 1 enemy monster depreciating ability as outliend as follows:
All friendly monsters receive the shatter ability at the start of the battle - Enemy target's armor is destroyed when hit by an attack from Monsters with Shatter.
All friendly monsters receive the void ability at the start of the battle - This leads to reduced damage on friendly monsters from Magic attacks.
All enemy monsters have -1 Health
Indeed, this fourth summoner airdrop from Splinterlands is powerful in that is enhances the performances of friendly monsters (attacking and defensive) as well as depreciates the health of enemy monsters. The card can only be upgraded to level 4 with an estimated power of 5,775 DEC.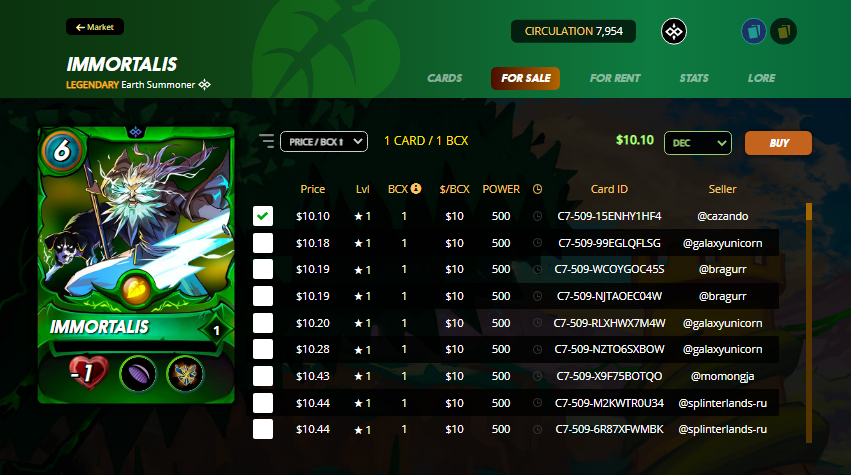 A Good time to buy Immortalis
We are still in the deep bear and this affects splinterlands card values. Really a good time to by cards and assets in the splinterlands market. At the time of this post, level 1 cards were trading for over $10. Hopefully the rates would go higher in the bull run. Looks like a good time to buy the summoner card if you missed receiving as an airdrop.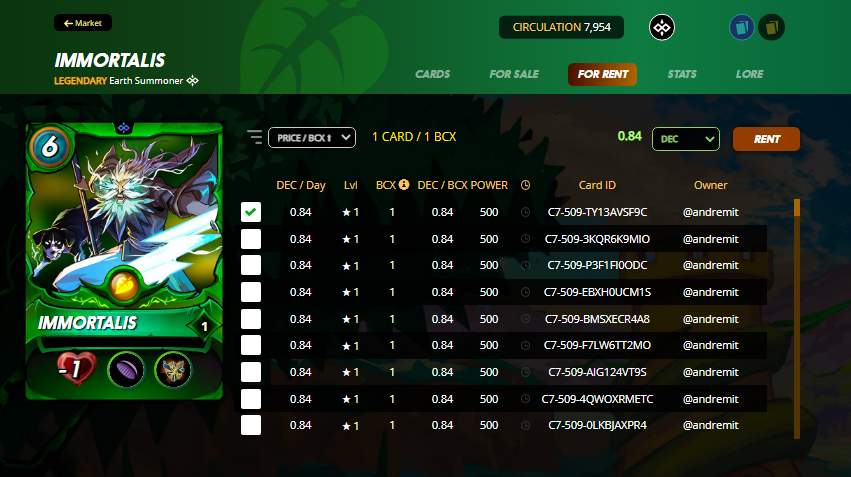 Is Renting Better?
I didn't have as much $DEC to buy, I decided to try renting the cards and it was surprising to see how cheap they are at the moment. Daily rental rate for the summoner card is 0.84 DEC. Incredibly low for a summoner which such awesome abilities. Few days ago, I rented basic monsters - TARSA and FRENDUL at a more higher rate.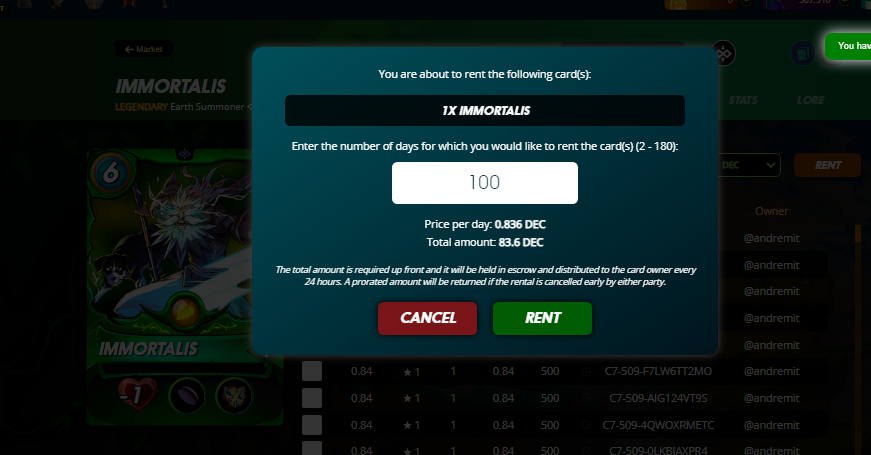 I took a rental shot for 100 days. I hope the 100 days get completed. I would be using Immortalis for my battles for the next 100 days. That means I would do more of the earth fights in single battles, brawls and tournaments (I hope the rules get favourable) and hopefully recover the daily rental rates as tournament rewards.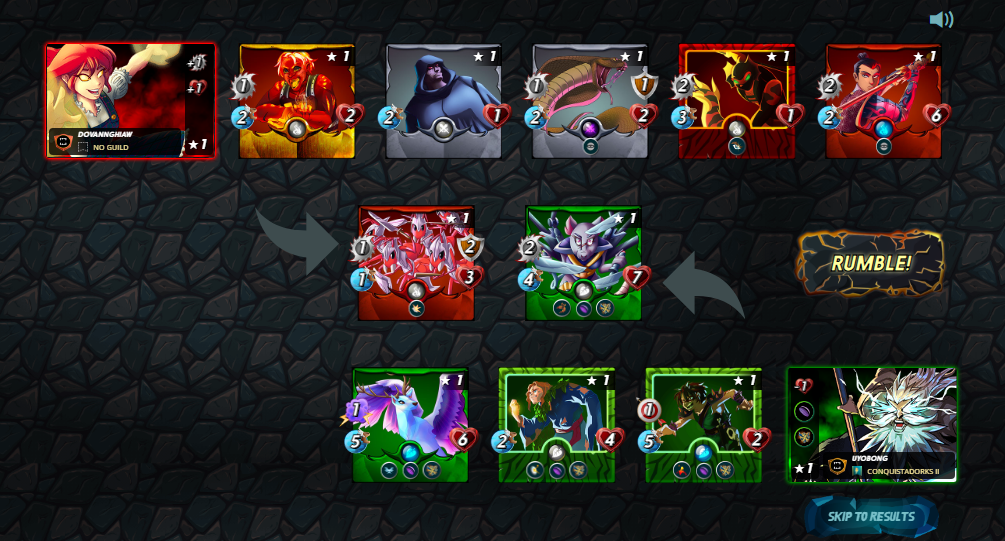 Immortalis in Battle
For a start, I used the summoner card for a few battles. One of the best won battles is here. it was interesting to see my monster units get so strengthened for the fight and won flawlessly without any of them being destroyed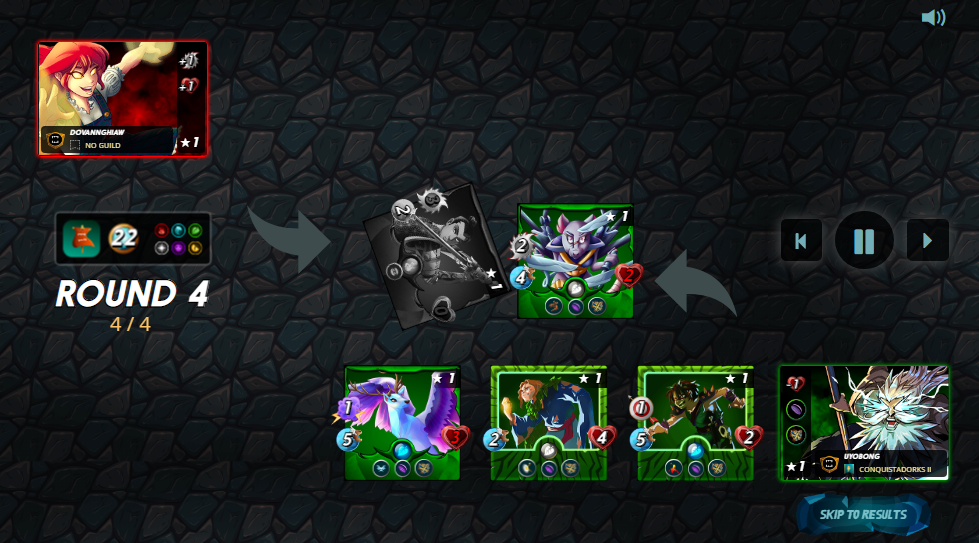 Interesting times are ahead in the splinterlands game. Hopefully, the characters that would be revealed in the future would be more powerful. I would be buying more CL packs, at least one weekly and hope to be qualified for future airdrops.
There are no worries if you didn't receive the recent Chaos Legion Legendary Summoner Airdrop, you can still share in the lots by renting in the cards market for some awesome fights.
---

Splinterlands game is termed the "next generation of collectible card games" in which allows players to collect, trade, and battle with provably scarce digital collectibles with real-world value. Battles on Splinterlands Unlike most trading card games, are fast and furious, and are usually completed within few minutes. The Splinterlands gameplay is simple and easy to learn viz: reviewing combat rules, making and submitting of the team and watching the battle unfold.

If you found the article interesting or helpful, please hit the upvote button, share for visibility to other hive friends to see. More importantly, drop a comment beneath. Thank you!
Let's Connect
Hive: https://leofinance.io/@uyobong
Twitter: https://twitter.com/Uyobong3
Discord: uyobong#5966
---
Posted Using LeoFinance Beta
---
---