splinterlands brought the best reward earning policy || i bought 1000 SPS coin for staking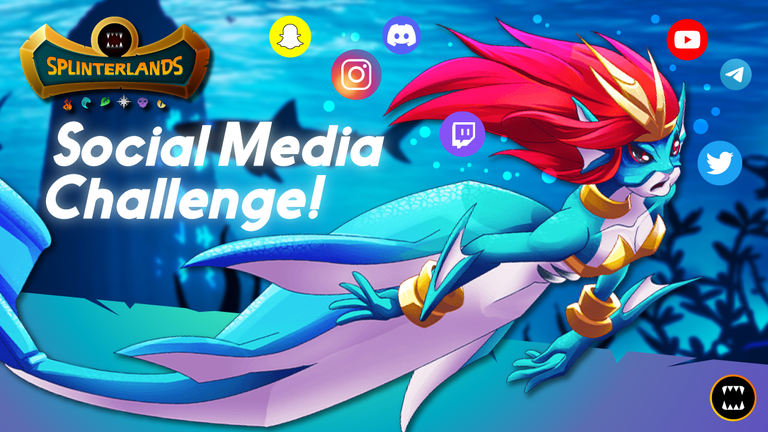 Assalam-o-Alaikum !السلام عليكم
New updates have been seen in splinterlands for a few days and this morning when I logged into the account of splinterlands, I saw the feature of Boost Modifiers instead of splinterlands power and when I studied it in depth, I found this reward formula very good .
It felt better reward formula for splitnerlands players because under this formula, the importance of the assets of splinterlands will be highlighted and in every way those who stake sps and those who have the best cards collection will also get benefit.
When I saw this reward formula, I decided to buy more sps today because the more sps I have at stake, I can use them to add to my rewards points. A very great feature in the new launch is this. That we can rent out our sps stake and add more to our earnings. Earlier we could only give our nft cards on rent and now we can give sps stake also on rent.
As earlier splinterlands users used to rent cards and add to their splinterlands power so that they can unlock more high league before the end of the season , so now under the new reward formula through sps stake we can boost our season points and also daily focus chests points.
we can win more rewards through boost modifier and we can also increase our reward by taking sps stake rent. If you don't have sps stake then you can take sps stake on rent like we used to take on cards rent. When I saw this feature today, I bought 1000 sps today and added to my sps stake.
Because currently I have around 10500 sps stake but I want to have atleast 30k sps stake so that I can unlock atleast Gold one league reward with this 30k. Will have to invest a lot but currently that's the amount I have to buy sps. I know that now under this new formula there will be a 100% increase in the price of sps coin because at this time the price of sps coin is very down.
I will definitely buy sps to increase and stake them to unlock more high leagues and get more reward points.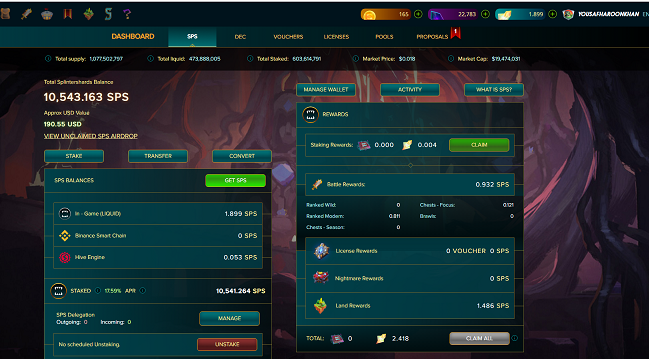 In the above screenshot you can see that the button is GET SPS, first click on this button then you will get another window.
i placed order for 1000 sps coin and i paid total 55.964 hive coin. now i will add them to my sps staking. i want to show you all process of buying sps from splitnerlands market. it is very much easy process. there are many option to pay for sps coin so you can select on your own choice but i selected hive payment method to buy sps coin but you can choose any one that you find easy to pay for sps coin.
---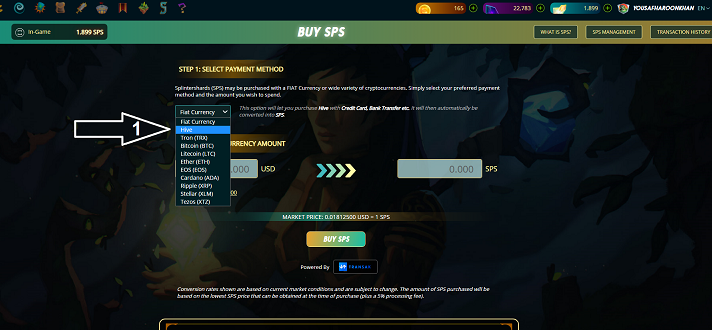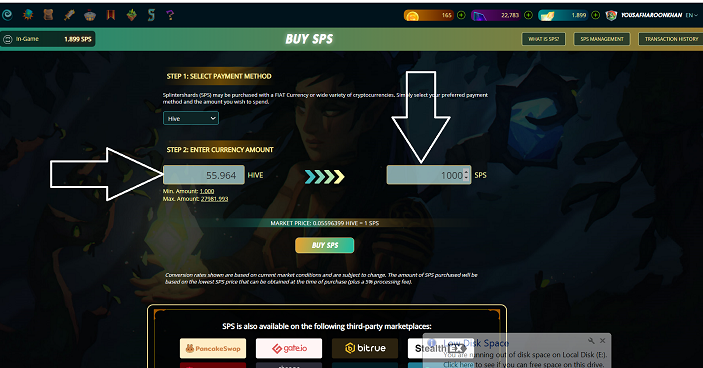 ---
you can see arrow digit , i wrote number one . here are different option to pay for buying sps coin. you can pay any cryptocurrency to buy sps coin, there are several options , when you will click on your favorite payment method , then you will get deposit address , you ahve to depsot the same amount to given address and then your order will be full filled after depositing the required amount. i selected hive payment method. so you can see in screenshot that i paid for sps coin through my hive payment method.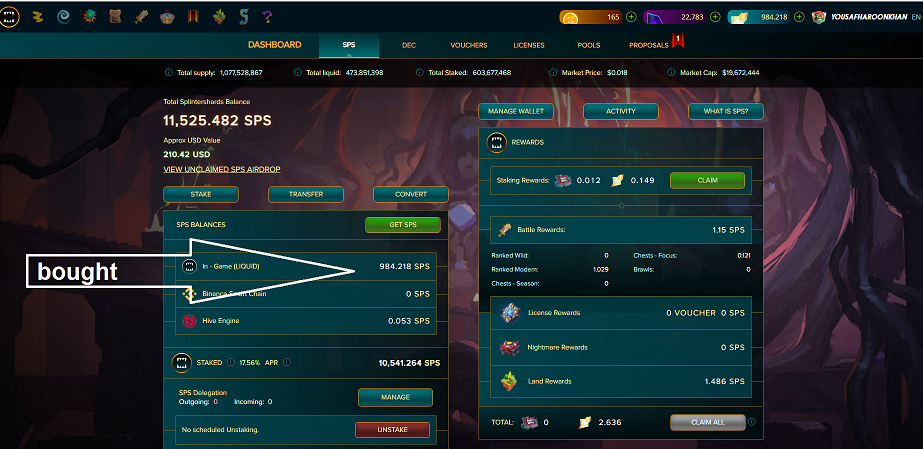 after completion the order i got 984.218 sps coin and now i will add them to my stake . after staking this sps , i will be able to get sliver one reward after the end of the every season and in daily chest focus points. i think it is not very much good staking amount , if i want to unlock Gold one league on every season then i need to stake more more 50k sps coin. but this time i am have this money to buy sps and soon i will buy more sps to increase my sps stake. i know it is very much useful for the future. sps stake is going to be one of the highest best asset in the future. so i want to stake more more sps before increasing its price in the market.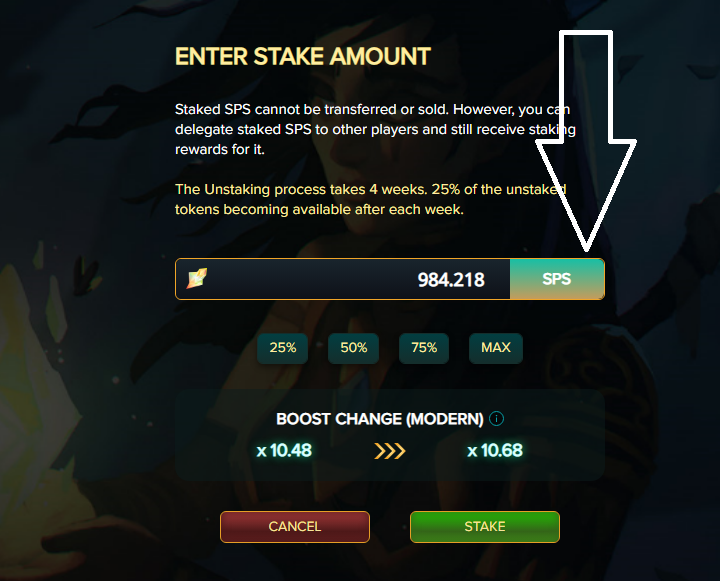 now i added 984.218 sps coin to my sps stake and my sps coin staking increased , now i will get many benefits from this sps stake, i will avail benefits from boost modifier formula . i will get sps staking reward that is today 17% APR , so i will recomend to every new splinterlands players that if you want to get more benefits from splinterlands, then try to increase your sps stake , and make your future more bright.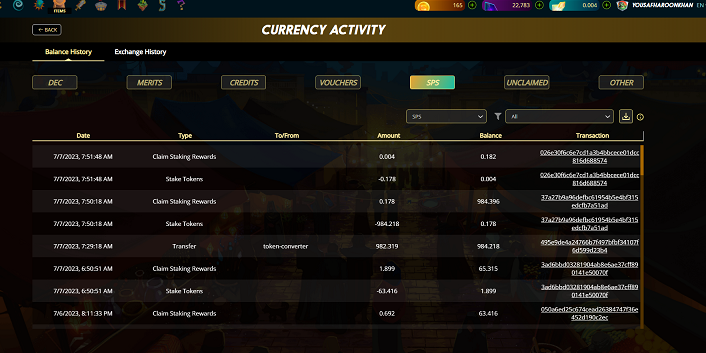 in splinterlands ACTIVITY corner , we can see our every ACTIVITY currency, . how much we are getting earning from splitnerlands like DEC ,MERITS,CREDITS,VOUCHERS,SPS,UNCLAIMED and OTHER reward . merits we can get from end of season and also we can win from guild battle , we can get vouchers from sps stake .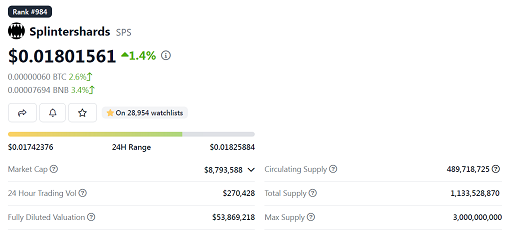 coingecko
if we visit the cryptomakret to see the price boost of the sps coin after lauching this reward formula , we can see that there is 1.4% increase in the sps coin and these price are increasing so we can see the good impact of the sps coin price also in the market. according to my experience i would like to say that in next few days sps coin price will cross the $0.05 very easily and it is the best time to invest in the sps coin, and stake them for bright future. thank you so much for visiting my this splitnerlands article , and hope you all will find it informative.

---
@yousafharoonkhan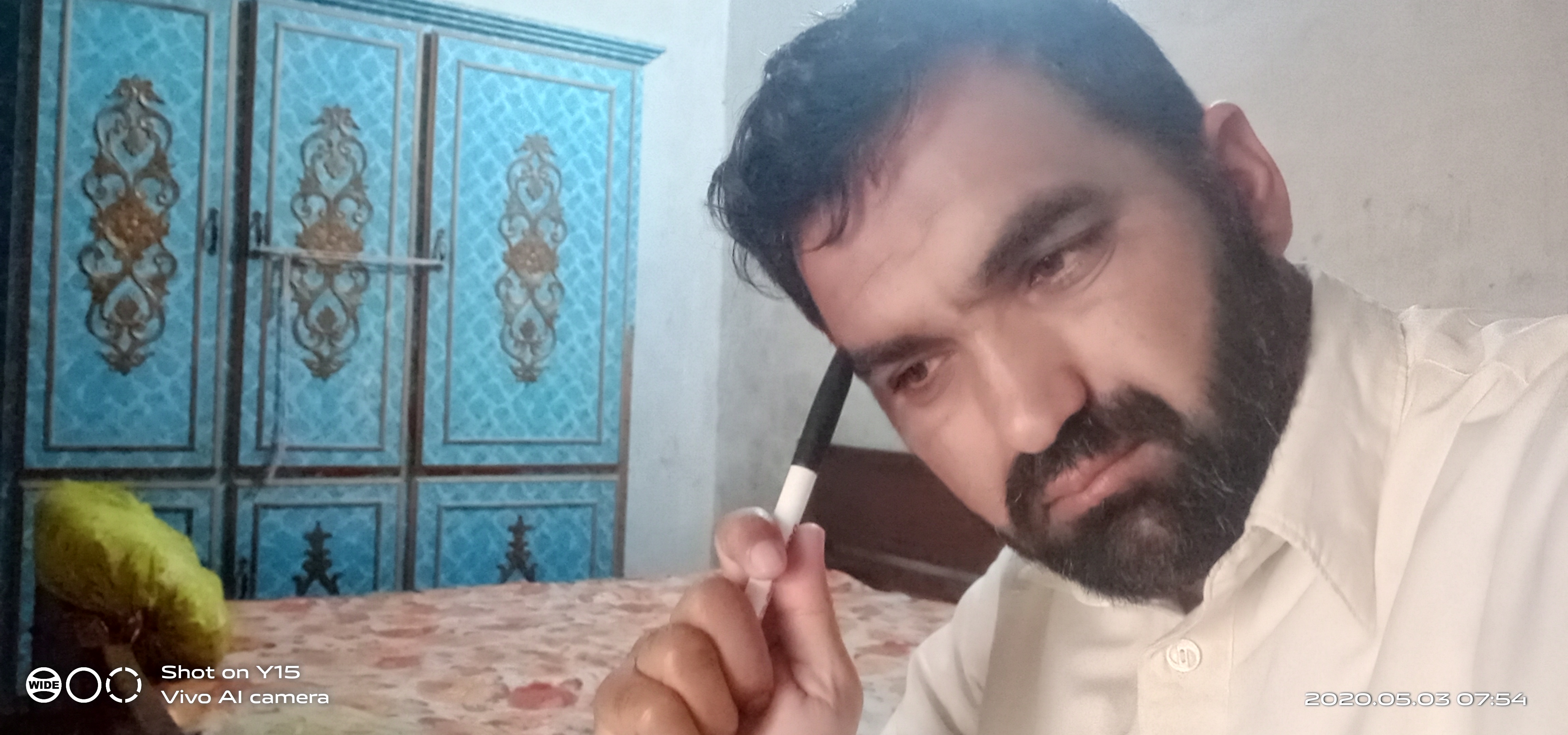 I'm Yousaf ,my profession is teaching, writing, i love food, travelling,photography and splinterlands gaming, and sportstalks and 3speak very much. i am using hive since 2017.

if you love to read about love, you want to get motivation , if you like #nature #thoughts #yousafthoughts #photography #food #love if you want to learn about #splinterlands gaming then follow my blog. you will find every text that will give you satisfaction to your soul, my purpose of every talk and text is to give you satisfaction, if you will read i will get satisfaction.

yousaf mean beautiful and thoughts mean thinking, feeling, so its mean beautiful thoughts, positive feeling, if you want to read positive thoughts or you want to write beautiful thoughts then use #yousafthoughts thank you very much for reading my post.
Subcribe my other social profile
Sign up Hive
Join Splinterlands
My 3Speak Channel
My Hive profile
My Dtube channel
My Twitter profile
---


Posted Using LeoFinance Alpha
---
---