HiveFest⁵ feedback and contest results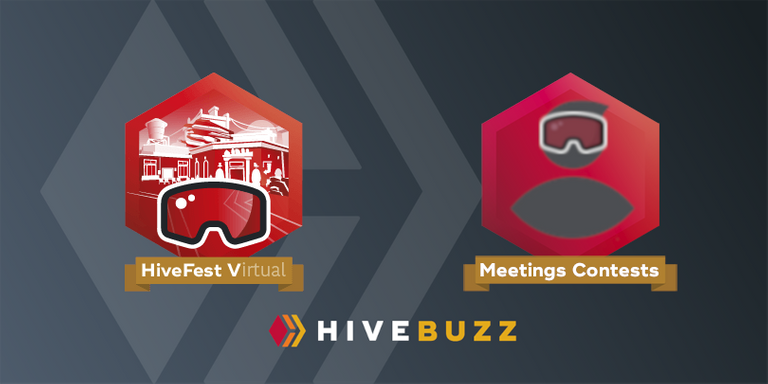 HiveFest⁵ was a blast and now that the party is over and we have rested to recover a bit, it's time to share our thoughts on this epic event with you.
Meeting and talking with HiveBuzz
What is certain is that we surprised more than one with the presence of Hivebuzz in "person" during the event. Many of you have had the pleasure of being able to share a moment with the avatar that we have specially created for the occasion. We would like to warmly thank you for the warm welcome you have given him.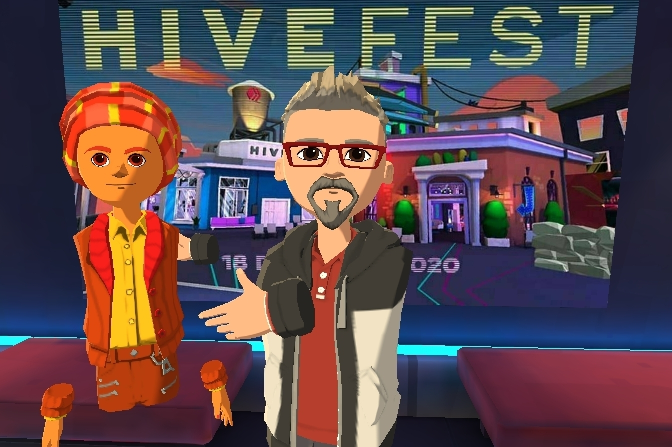 @hivebuzz with its creator @arcange
Meetings Contest Result
Announced by @arcange during @roelandp's introductory speech on Day 1, we organized a small contest for all Hivefest participants, the goal being to promote meetings between users through a funny challenge.
The icing on the cake, we had an attractive 2020 HIVE prize pool to be shared among all participants, according to their position in the ranking.
Congratulations to @abztraxxx, @akumagai, @arcange, @asgarth, @bambukah, @blocktrades, @cleanplanet, @crimsonclad, @cryptoknight12, @cryptospa, @deathwing, @definethedollar, @detlev, @eddiespino, @emiliomorles, @encrypt3dbr0k3r, @enginewitty, @forykw, @foxon, @gandalf, @good-karma, @hivebuzz, @jarvie, @lemony-cricket, @logic, @louis88, @m31, @martibis, @nateaguila, @nolyoi, @qwoyn, @r00sj3, @rmach, @roelandp, @rollie1212, @satren, @seckorama, @sgt-dan, @shaka, @sjarvie5, @solarwarrior, @st8z, @thekittygirl, @waybeyondpadthai and @wehmoen for their participations to the contest.
A contest, a prize pool, participants, a ranking...
To say that there are no winners is not entirely correct. Indeed, at the top of the ranking, there is @louis88 who met no less than 24 other users during the two days of HiveFest.
You can view the final ranking on this page.
Congratulations @louis88 for your excellent score!
... but no winners
However, after much thought, and even a discussion with several high ranked users, including the main interested @louis88 himself, we have decided together not to distribute the prizes.
I hear the crowd scolding: Scandal! Treason! Hang them high and short!
Why? Because we found the competition to be unfair!
Indeed, as many of you have noticed, this first edition of HiveFest in VR suffered from a lot of bug of the AltspaceVR software which resulted in:
users not being to attend the event at all (did they throw their computer out of the window after several unsuccessful reinstallations?)
users not being able to register and get their HiveFest badge
users who registered but did not have their HiveFest badge visible
users who signed up and had their HiveFest badge visible, but were kicked out of the event and found their badge missing after re-entering.
users who were not able to click on other user's badge
...
With such a long inexhaustive list of software issues, hard for the winners to savor their victory and pocket their winnings without remorse.
Let's do a reboot!
Well, this is not about redoing HiveFest. We believe @roeland (and his family) wouldn't survive it.
No, what we are proposing to you is to reorganize a new contest with all those who have received their "HiveFest V Attendee" badge from HiveBuzz and to put the 2020 HIVE prize back into play.
At the moment, we don't know exactly what competition exactly, or what the modalities will be, but we'll make sure it's fun and hassle-free.
We hope you will understand and approve our decision, although we do understand that disappointment can be great for some.
On this subject, we respectfully thank @louis88 who did not hesitate for a second to put his title of champion (and the prize that goes with it) up for grabs. But watch out, he will be merciless in the next competition. This guy knows how to play.
The 2020 HIVE prize has been secured into the @hivebuzz.pool account's wallet and won't be used for anything else.
Thank you
We warmly thank @detlev who, not only also agreed to put his winnings back into play but also offered to add some BEER tokens from the budget planned for Hivefest which were not distributed. Man, you rock!
We also would like to thank @roelandp one more time for his incredible support while setting up our contest for HiveFest, during HiveFest, and even after it. Our gratitude to you is limitless.
Support our funding proposal for the year 2021
Finally, we would like to ask you, if you have not already done so, to vote for our proposal!
The current funding expires at the end of this month, and without it, it will be hard for us to maintain the same level of service to keep you entertained and motivated.
Thank you all and see you at HiveFest 2021
The HiveBuzz Team
---
---