🌪 Daily Pack Opening & Giveaway, Ep. 30 🌪 Opening 2x UNTAMED! 🌪 Giving away 50 SPS/day until pre-sale! 🌪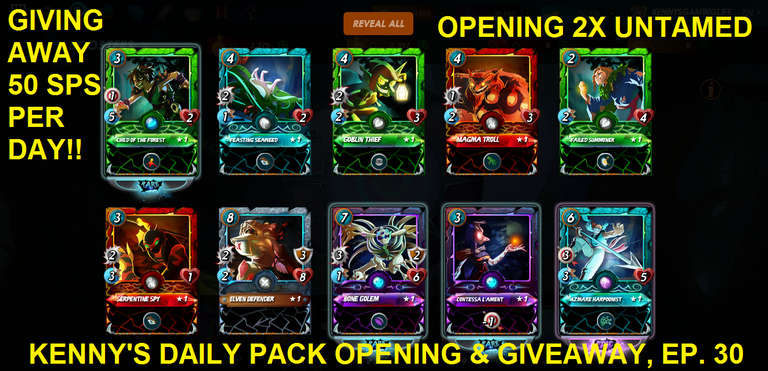 Welcome to Kenny's
Daily Pack Opening & Giveaway
Episode 30
Another brawl round is just about to begin... and somehow we're less than halfway through the ranked season, but I'm already sitting at the Advance option to move up to Diamond 3...
I think I'm probably going to continue kicking it in Gold for now, but who knows... Maybe I'll suddenly get the urge to lose more :-P
Just 10 more days until the Chaos Legion pre-sale voucher airdrop begins!!!
Be sure to follow me on Hive, 3speak, and/or Odysee (the blockchain video platform with that pays you) so you don't miss anything!
Without further ado, let's crack packs!

This first embed is @3speak, and there's an Odysee embed at the bottom of the post.

Last Episode's Winner
Yesterday (and for the next few weeks), we had a giveaway of 50 SPS, across 5 winners. The prompt for episode 29 was to about what everyone's favorite abilities in the game are.
This time there were 35 entries, and the RNG picked these folks:

Thanks for entering everyone!

Today's Giveaway Prompt
So, from now until October 18th, when the air-drop for Chaos Legion vouchers starts, I'll be giving away 50 SPS on every episode!
Every episode will be the same format, 5 winners chosen by RNG, from the valid entries. All that is required is to leave a comment responding to that episode's prompt/question.
Today's prompt is:
What is the Splinter that you have the most trouble with?
Good luck!

(Unsupported https://odysee.com/$/embed/daily-pack-opening-and-giveaway-30/2649957a76f291fa2c0dc41fa59a9c1042277a30?r=sn79TSBmmYMgodK1aN1k1EyrYXu4k24Z)

---
---

---
---