GIMMI VS EVERYONE - WIN COMMON - RARE - EPIC NFT (ENG/ITA) #20 - Splinterlands - Risingstar - Ecency GIVEAWAY -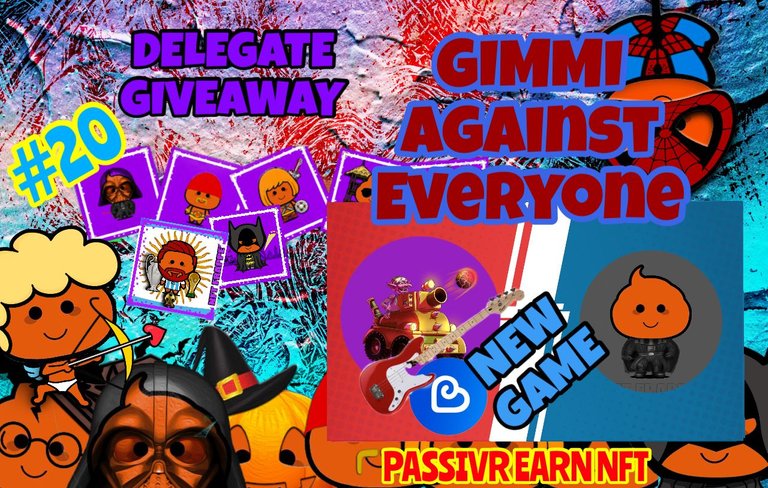 ---
ENG VERSION


(Segue versione ITALIANA)
---
Good morning guys and happy Friday
Here we are at games day, Friday!!, the day in which we give away NFTs of all kinds, from the monster friend Gimmi The Poo in one of his transformations to NFTs of @splinterlands legendary game of the Hive blockchain but not only @risingstargame and @ecency points with which you can BOOST your posts or, if you prefer, sponsor them and get more visibility.
We invite @zonadigital21, the winner of our NFT EPIC, to write in the comments which one he prefers among the various transformations of our Gimmi and to this [LINK](https://peakd.com/hive-146620/@nftfrappe/n-the-previous -episode-earn-hive-and-super-news-engita-in-previous-episodes) can find all copies still available.
Before starting with all this, here is some useful info for those who connect to this project only now:
NFTFRAPPE is a program of EARN PASSIVE NFT or by holding our NFTs you have an automatic passive weekly income. Still, for more information, I invite you to click on the link below where you will be catapulted into the complete NFTFRAPPE guide.
DELEGATIONN GIVEAWAY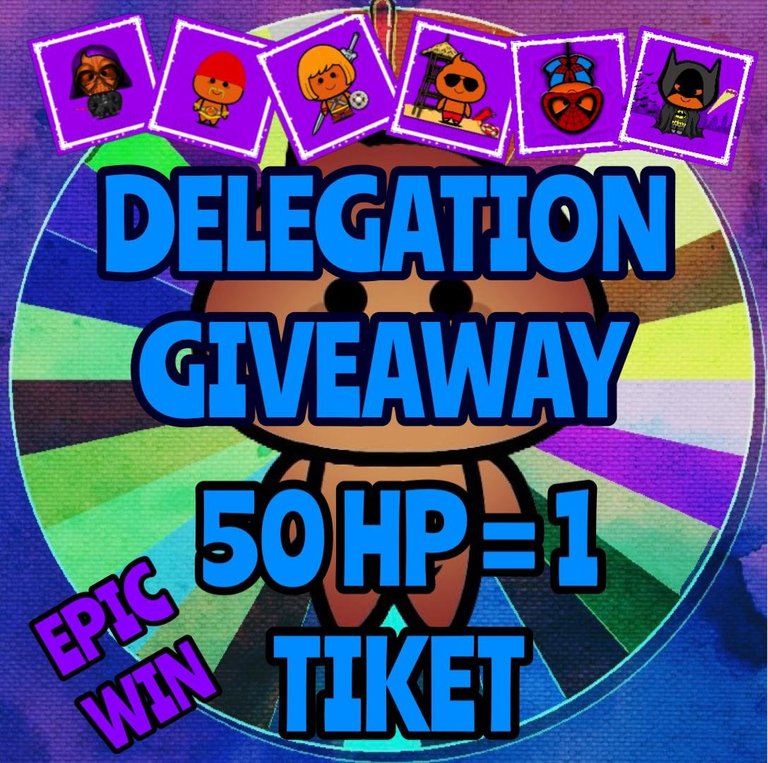 DELEGATION GIVEAWAY registrations reopen to win one of our NFT EPIC of GIMMI THE POO, participating is very simple and above all fast in fact a minimum delegation of 50 hp is enough to have the possibility of being among the lucky winners but here are the rules to participate:
Every 50 HP delegate allows you to receive a ticket for the extraction, for example 50 HP are one ticket, 150 HP are 3 tickets, 500 HP are 10 tickets, there is no limit.
you only need to delegate once and keep the delegation to have access to the draw every month.

The extraction is monthly and the extraction will take place every first Friday of the month.
👉 NEXT DRAW APRIL 7th.👈 (DELEGATION OPEN)
Delegating only the week of the draw will not allow you to participate in the competition, at least two weeks of the delegation are appreciated.

The prize is an EPIC NFT of your favourite edition, if available.

Both holders of our NFTs and users who are not yet part of this world of ours can participate.

This competition DOES NOT exclude the percentage increase already in effect.
HOW TO DELEGATE:
Here is a mini guide on how to delegate.
Doing it is very simple. Just go to your wallet from Peakd and in the Staked Hive Tokens HP section" click on the DELEGATE button on the right

Finally, in the window that will open, just type nftfrappe for the recipient of the delegation and the amount of HP to be delegated under "Hive Power Amount"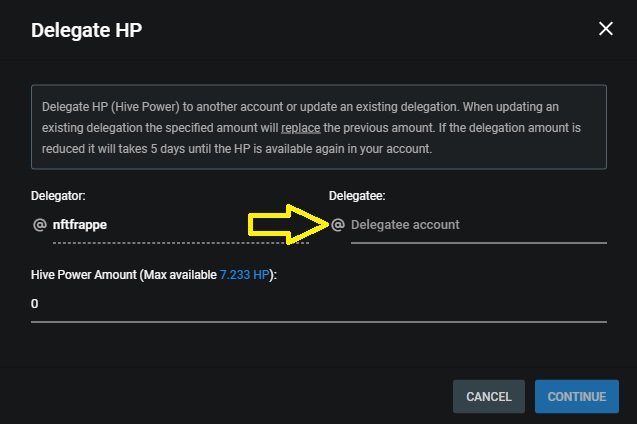 In this way, you will have done your delegation.
---
SUBSCRIBE REGULARLY TO TODAY
Here are the official subscribers for the April 7 draw!!

GIMME AGAINST EVERYONE!!!
GIMMI AGAINST ALL, this week's challenge was between VENARI BONESMITH character of the game @splinterlands belonging to the RED team together with I4 CHEAP BASS of the game @risingstar and 150 points @ecency all belonging to the READ team against GIMMI of the BLUE team in its DARTH version POO but in case of winning you can choose the COMMON you prefer most among those available in our GALLERI.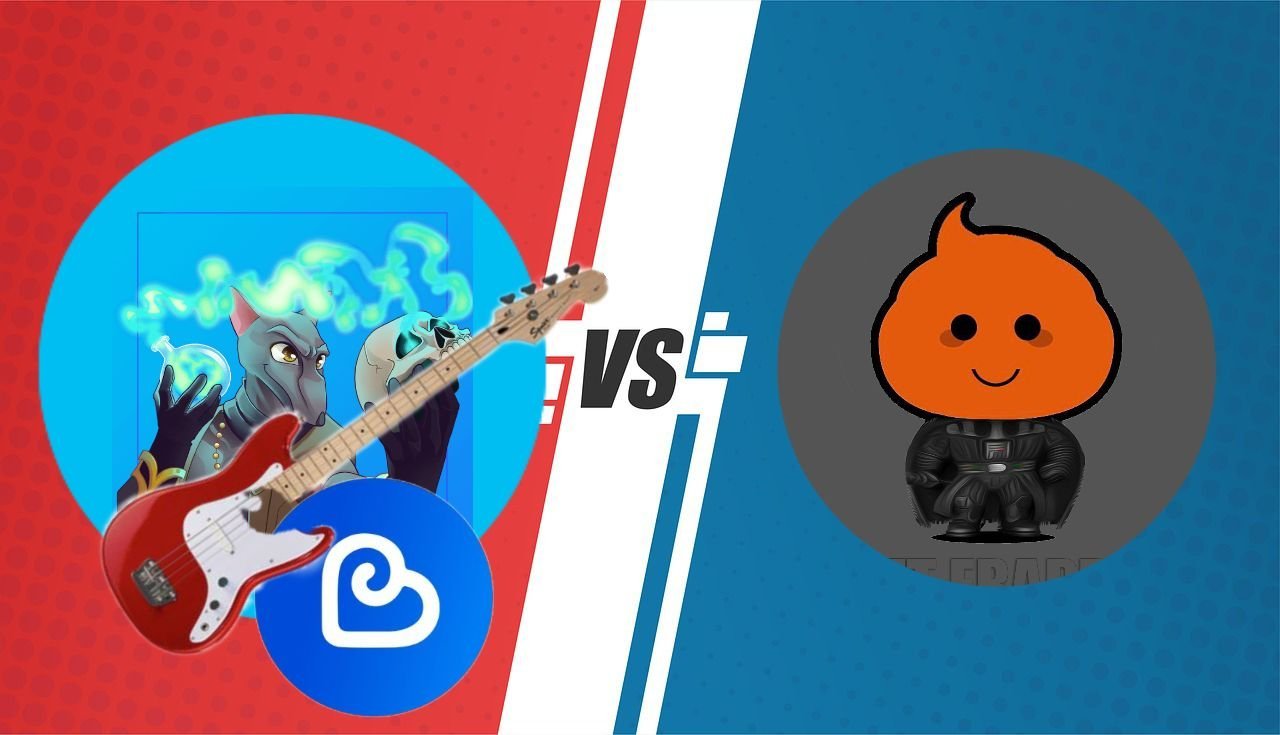 There were nine participants in the competition, the winner is the BLUE team with seven votes taken against the two of the RED team who are eliminated from the final draw, a real beating for the read team.
Due to time problems, I could not record the gif and I apologize.
@speedtuning is the winner of Team BLUE.
He takes home a copy of our GIMMI in his COMMON transformation that he likes best, just indicate in the comments which one he prefers by Monday at the end we will choose for him :).
I remind you that all our NFTs bought and given participate in the POOL for real passive rewards in HIVE on Mondays.
---
NEW GAME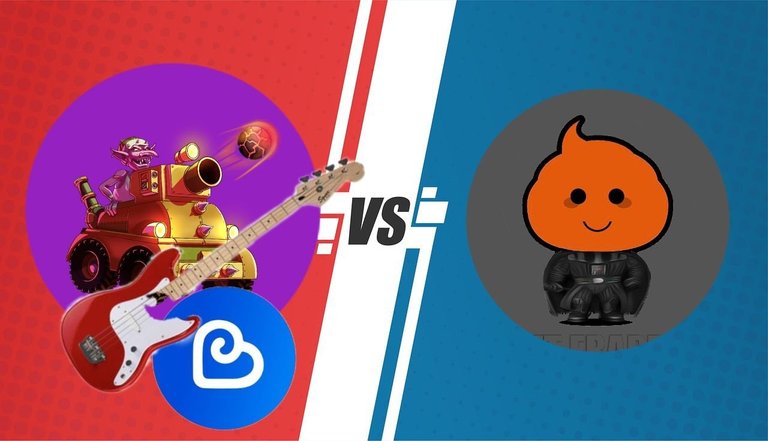 This week it's again TEAM RED against TEAM BLUE, RED made up of @splinterlands, @risingstargame against team BLUE made up of @nftfrappe, but how does it work? and how do you participate? and above all what do you win?
RED challenges BLUE, in this case, the red team is made up of:
TEAM RED
👉WASH LAUNCHER 🔴 (@splinterlands)
EPIC NFT of REWARD Edition FIRE item.
RANGED ATTACK 3
SPEED 3
LIFE 5
SHIELD 6
MANA COST 9
CLOSE RANGE ABILITY, with this power LAVA LAUNCHER can also attack from the front row despite its RANGED attack.
👉I4 CHEAP BASS🔴 (@risingstargame )
👉ECENCY POINTS 🔴 (@ecency)
150 POINTS.
---
TEAM BLUE
👉GIMMI THE POO🔵 (nftfrappe)
COMMON
TRANSFORM DARTH POO (indicative)
POOL POINTS 1
---
HOW TO PARTICIPATE
Give your preference for Team RED or BLUE.
Whoever receives the most votes excludes the losing team for the final draw.
The winning team passes to the final extraction of a single user who will take home the NFTs of the winning team.
EXAMPLE: should the BLUE team get the most votes, a user will be drawn from among those who voted BLUE and will take home the NFTs of the winning colour, in this case, one of our GIMMIs.
The game is new and if you have any doubts please help us improve it, as always we also count on your help to make things better.
---
If you don't play SPLINTERLANDS this is our referral link to get you started:
https://splinterlands.com?ref=nftfrappe
If you don't play RISINGSTAR yet this is our referral link to get you started:
https://www.risingstargame.com?referrer=nftfrappe

GENERAL INFORMATIONS
You can find all our NFTs at this LINK.

I nostri NFT si trovano su @nftshowroom.
Se non siete ancora iscritti a NFTShowroom potete farlo attraverso questo Link.
https://nftshowroom.com/?ref=nftfrappe
Sempre che vogliate utilizzare il nostro reflink.


(Logo nftshowroom)
GENERAL INFORMATIONS
So to recap in short points:
Until the end of June all HIVE earned from the sales of our NFTs, HIVE earned from the REWARDS of our posts and curations will be 100% entered into the POOL to increase your earnings faster. (They will always be retained about 30 SWAP.HIVE allows the development of various games.

Starting January 23 we will distribute Hive

To increase your earnings we have decided to give all holders of our NFTs the opportunity to slightly increase their earnings from the pool.
Thanks to a delegation from HP, it will be possible to increase one's earnings up to 10% more than normal in this way:
| DELEGATIONS | EARNINGS |
| --- | --- |
| 50 HP | +2% |
| 100 HP | +4% |
| 150 HP | +6% |
| 200 HP | +8% |
| 250 HP | +10% |
SPECIAL REFERRAL invite a friend and let us know in the comments you will both receive an NFT worth one POOL point completely FREE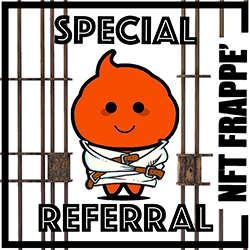 For today that's all, the invitation is always to comment on your doubts or our mistakes to improve the format.
Closing with LOTS OF GIMMI TO EVERYONE as always :).


NFTFRAPPE IS ALSO ON:
You can also find us on INSTAGRAM at thislink.


---
ITA VERSION

---
Buongiorno ragazzi e buon Venerdì
Eccoci alla giornata dei giochi, il Venerdì!!, giorno in cui mettiamo in palio NFT di ogni genere, dal mostro amico Gimmi The Poo in una delle sue trasformazioni a NFT di @splinterlands mitico gioco della blockchain di Hive ma non solo anche @risingstargame e punti @ecency con i quali potrete fare un BOOST ai vostri post oppure, se preferite, sponsorizzarli e avere più visibilità.
Invitiamo @zonadigital21, il vincitore del nostro NFT EPIC, di scrivere nei commenti quale preferisce tra le varie trasformazioni del nostro Gimmi e a questo LINK può trovare tutte le copie ancora disponibili.
Prima di partire con tutto questo ecco alcune info utili per chi si collegasse a questo progetto solo ora:
NFTFRAPPE è un programma di EARN PASSIVE NFT ovvero detenendo i nostri NFT si ha un guadagno automatico passivo settimanale ma per più informazioni vi invito a cliccare sul link qui sotto dove sarete catapultati nella guida completa di NFTFRAPPE.
DELEGATIONN GIVEAWAY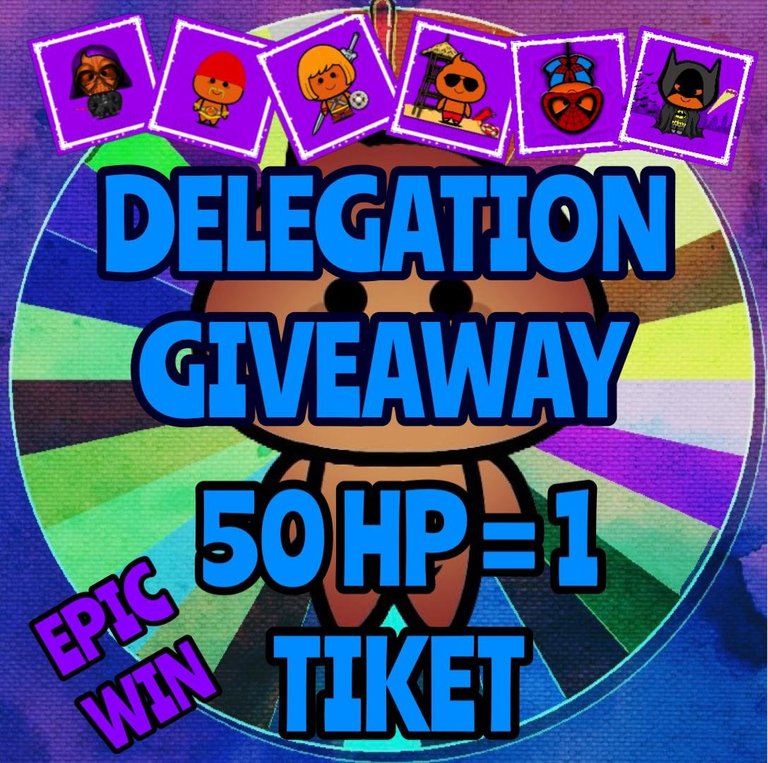 DELEGATION GIVEAWAY si riaprono le iscrizioni per vincere un nostro NFT EPIC di GIMMI THE POO, partecipare è molto semplice e soprattutto veloce infatti basta una delega minima di 50 hp per aver la possibilità di essere tra i fortunati vincitori ma ecco le regole per partecipare:
Ogni 50 HP delegati vi permette di ricevere un biglietto per l'estrazione, esempio 50 HP sono un biglietto, 150 HP sono 3 biglietti, 500 HP sono 10 biglietti, non c'è limite..
è sufficiente delegare una volta e mantenere la delega per avere accesso all'estrazione ogni mese.

L'estrazione è mensile e l'estrazione avverrà ogni primo Venerdì del mese.
👉 PROSSIMA ESTRAZIONE 7 APRILE.👈 (DELEGA APERTA)
Delegare solo la settimana dell'estrazione non vi consentirà di partecipare al concorso, sono apprezzate almeno due settimane di delega.

Il premio è un NFT EPICO della edizione che più preferite, se disponibile.

Tutti possono partecipare sia i detentori dei nostri NFT, sia gli utenti che ancora non fanno parte di questo nostro mondo.

Questo concorso NON esclude l'incremento percentuale già in vigore.
COME DELEGARE:
Ecco qui una mini guida su come delegare.
Farlo è semplicissimo. Vi basterà andare sul vostro wallet da Peakd e nella sezione Staked Hive Tokens HP" cliccare sul tasto DELEGATE sulla destra

Nella finestra che vi si aprirà, vi basterà infine digitare nftfrappe per il destinatario della delega e l'importo di HP da delegare sotto "Hive Power Amount"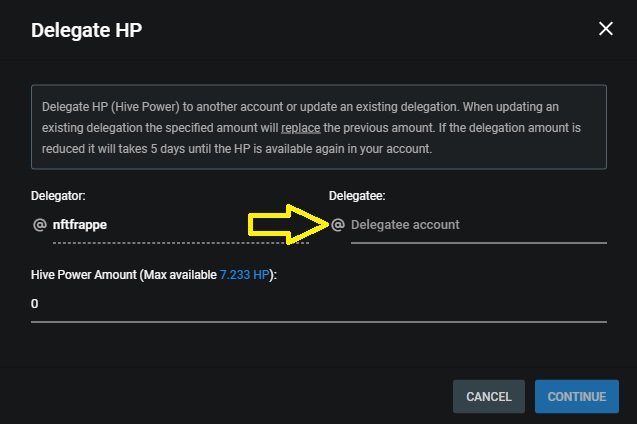 In questo modo avrete fatto la vostra delega.
---
ISCRITTI REGOLARMENTE A OGGI
Ecco qui sotto gli iscritti ufficiali per l'estrazione del 7 APRILE!!

GIMMI CONTRO TUTTI!!!
GIMMI CONTRO TUTTI, la sfida di questa settimana era tra VENARI BONESMITH personaggio del gioco @splinterlands appartenente al team RED insieme a I4 CHEAP BASS del gioco @risingstar e 150 punti @ecency tutti appartenenti al team READ contro GIMMI del team BLUE nella sua versione DARTH POO ma in caso di vincita potrete scegliere la COMMON che più preferite tra le disponibili nella nostra GALLERI.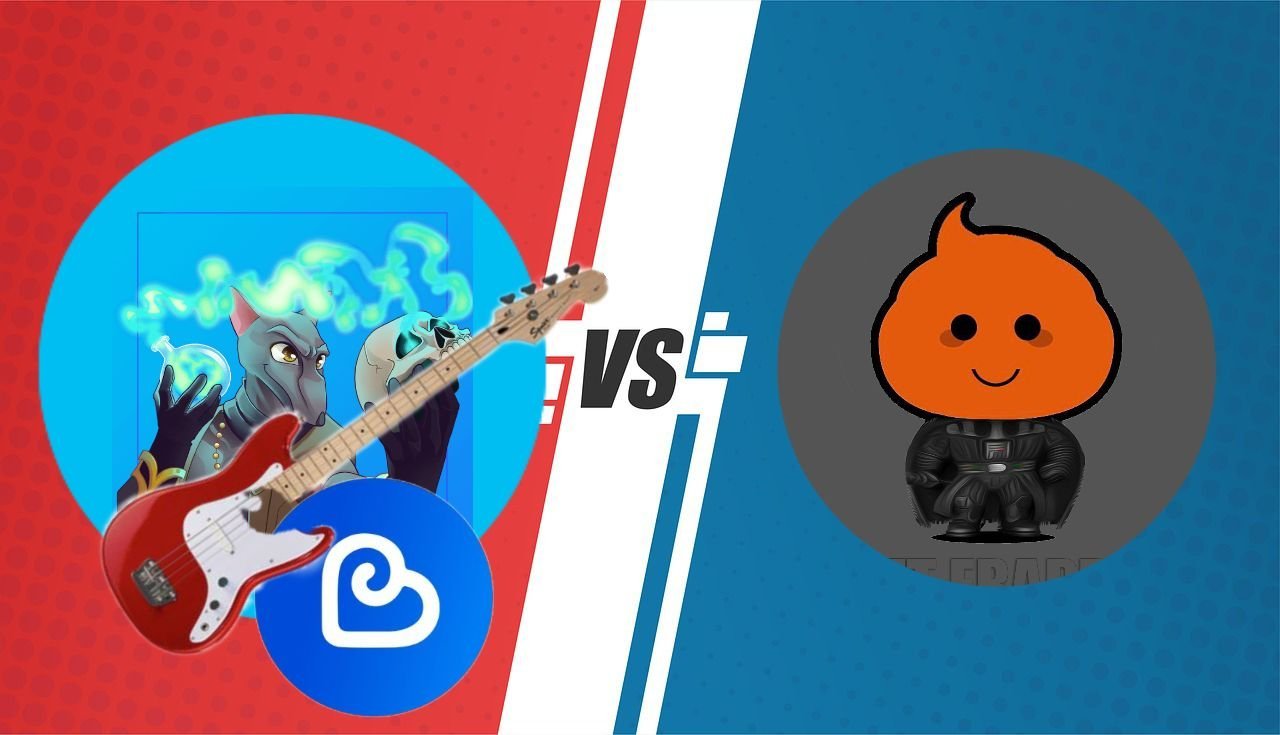 I partecipanti al concorso sono stati nove, il vincitore è il team BLUE con sette voti presi contro i due del team RED che vengono eliminati dall'estrazione finale, una vera batosta per il team read.
Per problemi di tempo non ho potuto registrare la gif e mi scuso.
@speedtuning è il vincitore del Team BLUE.
Si porta a casa una copia del nostro GIMMI nella sua trasformazione COMMON che più gli piace basta che indichi nei commenti quale preferisce entro Lunedi al termine sceglieremo noi per lui :).
Ricordo che tutti i nostri NFT comprati e regalati partecipano alla POOL per rivere ricompense passive in HIVE al Lunedì.
---
NEW GAME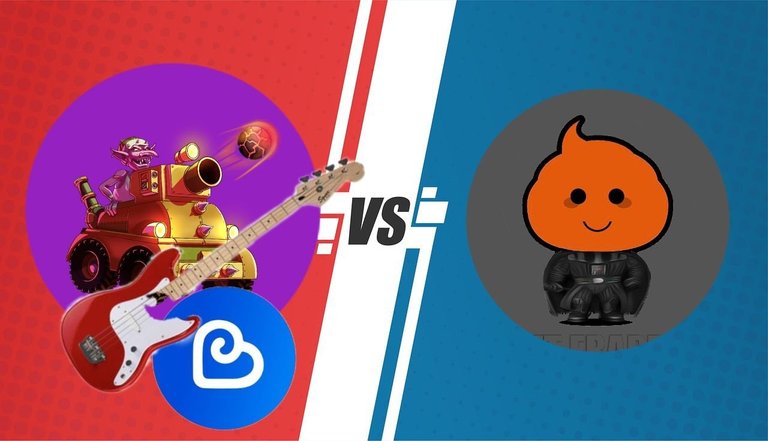 Questa settimana si sfidano ancora il TEAM RED contro il TEAM BLUE, il RED composto da @splinterlands, @risingstargame contro il team BLUE composto da @nftfrappe, ma come funziona? e come si partecipa? e soprattutto cosa si vince?
Il ROSSO sfida il BLU, in questo caso il team rosso è composto da:
TEAM ROSSO
👉LAVA LAUNCHER 🔴 (@splinterlands)
EPIC NFT dell'elemento FIRE dell'edizione REWARD.
ATTACCO RANGED 3
VELOCITA' 3
VITA 5
SCUDO 6
COSTO MANA 9
ABILITA' CLOSE RANGE, con questo potere LAVA LAUNCHER può attaccare anche dalla prima fila nonostante il suo attacco RANGED.
👉I4 CHEAP BASS🔴 (@risingstargame )
👉ECENCY POINTS 🔴 (@ecency)
150 PUNTI.
---
TEAM BLU
👉GIMMI THE POO🔵 (nftfrappè)
COMMON
TRASFORMAZIONE DARTH POO (indicativo)
PUNTI POOL 1
---
COME PARTECIPARE
Date la vostra preferenza per il Team RED o BLUE.
Chi riceve più voti esclude il team perdente per l'estrazione finale.
Il team che vince passa alla estrazione finale di un solo utente che si porterà a casa gli NFT del team vincente.
ESEMPIO: dovesse prenedere più voti il team BLUE, verrà estratto un utente tra quelli che hanno votato BLUE e si porterà a casa gli NFT del colore vincente, in questo caso uno dei nostri GIMMI.
Il gioco è nuovo e in caso di dubbi vi preghiamo di aiutarci a migliorarlo, come sempre contiamo anche sul vostro aiuto per fare le cose al meglio.
---
Se non giocate a SPLINTERLANDS questo è il nostro referral link per iniziare:
https://splinterlands.com?ref=nftfrappe
Se ancora non giochi a RISINGSTAR questo è il nostro referral link per iniziare:
https://www.risingstargame.com?referrer=nftfrappe

INFORMAZIONI GENERALI
Tutti i nostri NFT li trovate a questo LINK.

I nostri NFT si trovano su @nftshowroom.
Se non siete ancora iscritti a NFTShowroom potete farlo attraverso questo Link.
https://nftshowroom.com/?ref=nftfrappe
Sempre che vogliate utilizzare il nostro reflink.


(Logo nftshowroom)
INFORMAZIONI GENERALI
Quindi ricapitolando in brevi punti:
Fino a fine Giugno tutti gli HIVE guadagnati dalle vendite dei nostri NFT, gli HIVE guadagnati dalle REWARDS dei nostri post e dalla curations verranno inseriti al 100% dentro alla POOL per aumentare i vostri guadagni più velocemente. (Verranno trattenuti sempre circa 30 SWAP.HIVE per permettere lo svolgimento dei vari giochi.

A partire dal 23 Gennaio distribuiremo Hive

Per aumentare i vostri guadagni abbiamo deciso di dare la possibilità a tutti i possessori dei nostri NFT di aumentare un pochino i guadagni dalla pool.
Grazie ad una delega di HP infatti, sarà possibile aumentare i propri guadagni fino a un 10% in più rispetto al normale in questo modo:
| DELEGATIONS | EARNINGS |
| --- | --- |
| 50 HP | +2% |
| 100 HP | +4% |
| 150 HP | +6% |
| 200 HP | +8% |
| 250 HP | +10% |
SPECIAL REFERRAL invita un amico e segnalacelo nei comment entrambi riceverete un NFT dal valore di un punto POOL completamente GRATIS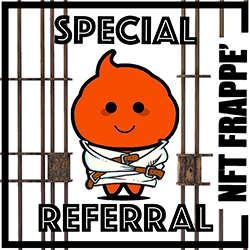 Per oggi è tutto l'invito è sempre quello di commentare i vostri dubbi o i nostri errori in modo da migliorare il format.
Chiudiamo con TANTA GIMMI A TUTTI come sempre :).


NFTFRAPPE È ANCHE SU:
Ci trovate anche su INSTAGRAM a questo link.


---
---