FIRE ELEMENTAL🔥 Splinterlands Art Contest SPT W-223
Hola! 😁 Mis saludos a todos ustedes, deseando que se encuentren muy bien. Aquí en este nuevo post que les traigo, les cuento que quise enfocarme un poco más con la técnica surrealista ya que tengo un poco más de soltura y confianza en el manejo del programa y las herramientas del mismo. Y para esta técnica quise hacer algo bastante expresivo con mucha ferocidad, y me pareció perfecta escoger la carta FIRE ELEMENTAL de Splinterlands. Quise hacer una representación de este personaje enfocándome en la expresión de su rostro por su procedente naturaleza, de manera que su rostro mismo describiera su elemento de fuego, tan explosivo, feroz y de carácter temeroso. Me llevo más tiempo del que pensé pero estoy muy contenta por el resultado logrado, disfruten las etapas de esta representación, espero les guste!😉
Hello! 😁 My greetings to all of you, wishing you are very well. Here in this new post that I bring you, I tell you that I wanted to focus a little more on the surreal technique since I have a little more ease and confidence in handling the program and its tools. And for this technique I wanted to do something quite expressive with a lot of ferocity, and I thought it was perfect to choose the card FIRE ELEMENTAL from Splinterlands. I wanted to make a representation of this character focusing on the expression on his face due to its natural nature, so that his face itself would describe his element of fire, so explosive, fierce and fearful. It took me longer than I thought but I am very happy with the result achieved, enjoy the stages of this representation, I hope you like it!😉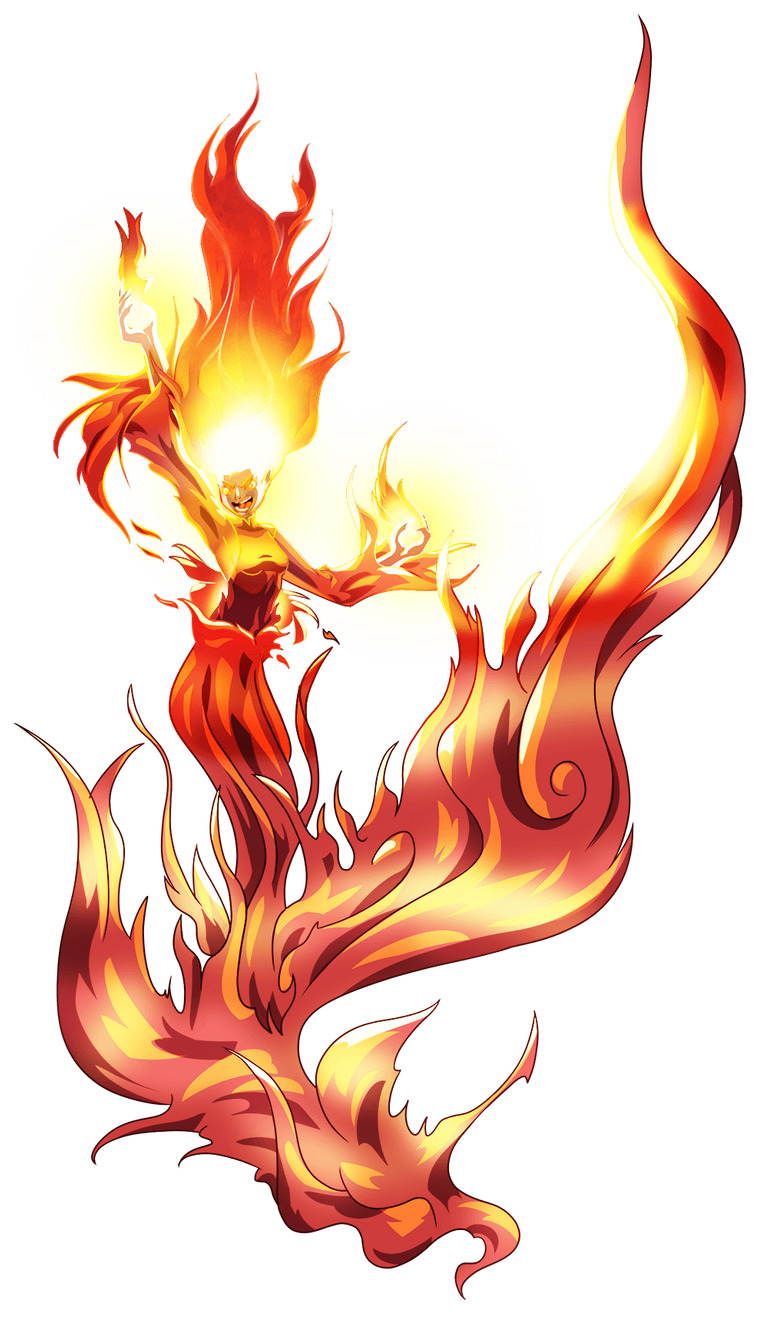 Etapas del dibujo/Drawing stages
Inicie con una capa para realizar el boceto base, donde luego realice en una nueva capa un boceto de delineado para definir, para después pasar a aplicar en una nueva capa la aplicación de colores base, utilizando una brocha Aerógrafo, tanto para el boceto como para la aplicación de los colores, de manera que me diera un resultado difuminado. Fui agregando en conjunto sombras y enmarcando las expresiones con tonalidades de rojo y un mora oscuro. En otra capa trabaje en el cabello usando varias capas para hacer los cabellos frontales y los que crean la profundidad, usando varios matices de naranja y rojo para ir dándole volumen al mismo.
I started with a layer to make the base sketch, where I then made in a new layer an outline sketch to define, and then applied in a new layer the base color application, using an airbrush, both for the sketch and for the application of the colors, so that it would give me a blurred result. I added shadows and framed the expressions with shades of red and dark purple. In another layer I worked on the hair using several layers to make the front hair and those that create the depth, using various shades of orange and red to give volume to the hair.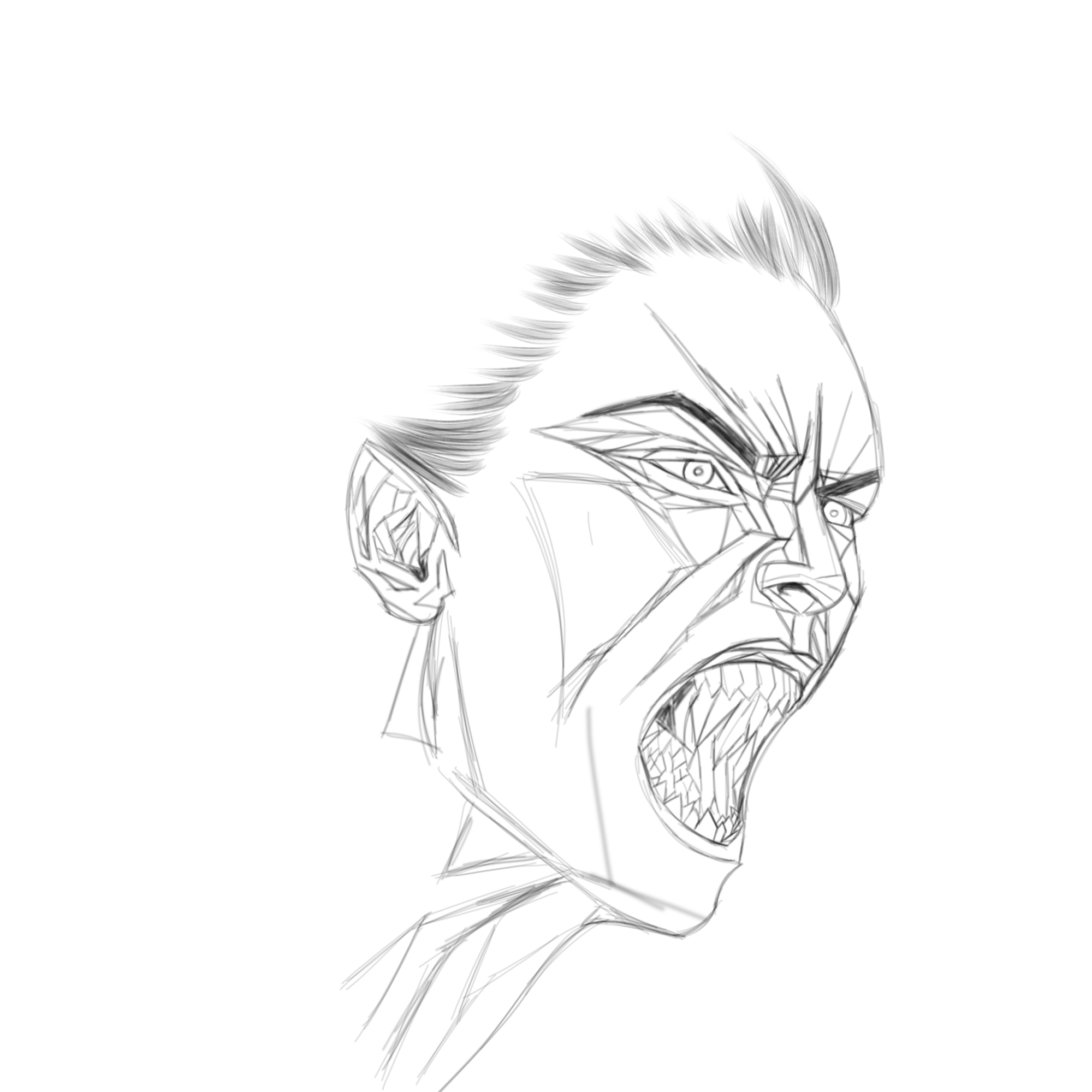 Para esta etapa quise seguir trabajando en otras capas con varias tonalidades de color naranja y rojo para el cabello cambiando el grosor del pincel para los mechones, para así darle más expresión y mayor volumen al cabello y cambiando el método de mezcla entre normal y Multiplicar, agregando naranja y rojo, sombreado con rojo oscuro y luego con más tonalidades de naranja y rojo vibrante.
For this stage I wanted to continue working on other layers with various shades of orange and red for the hair by changing the thickness of the brush for the strands to give more expression and volume to the hair and changing the blend method between normal and Multiply, adding orange and red, shading with dark red and then more shades of orange and vibrant red.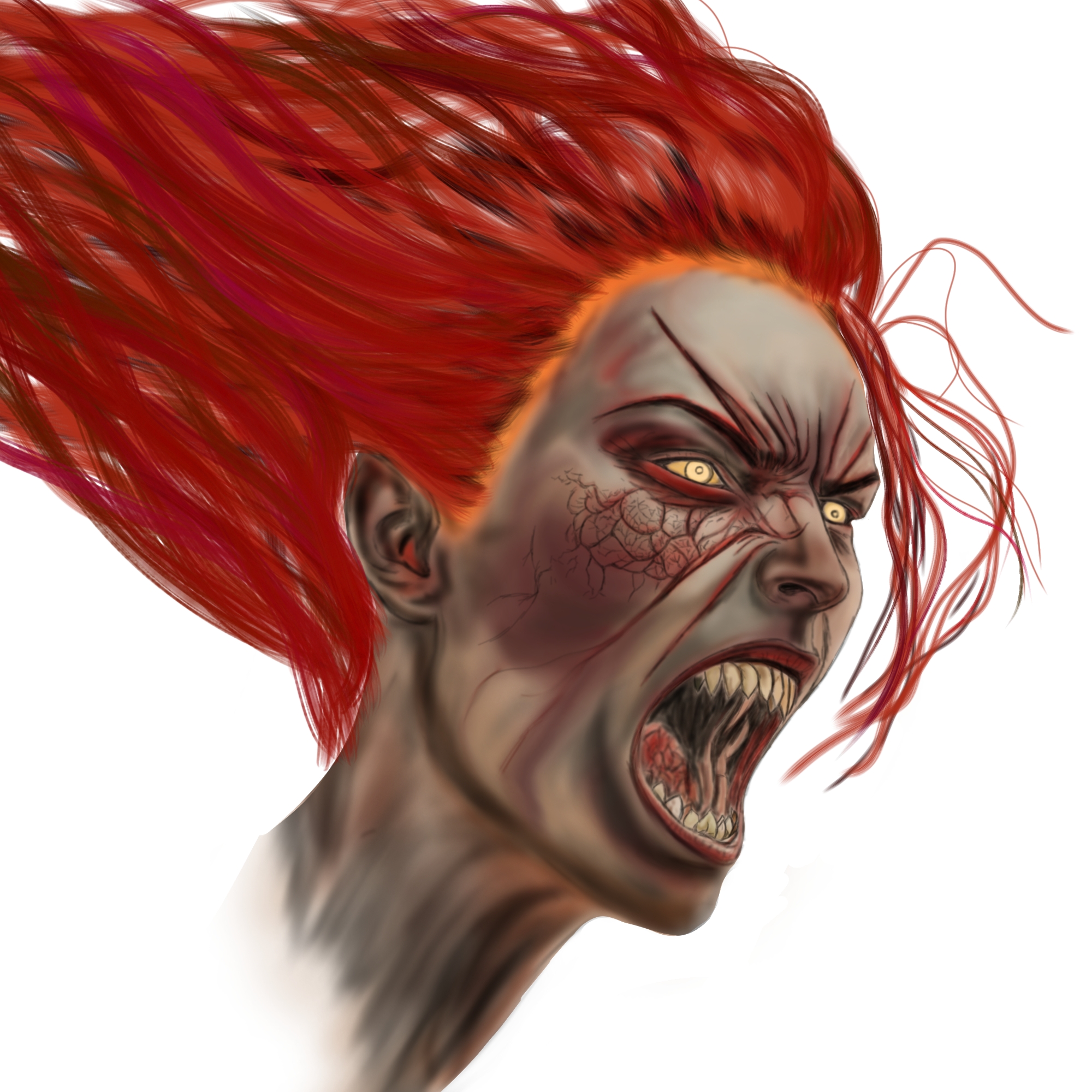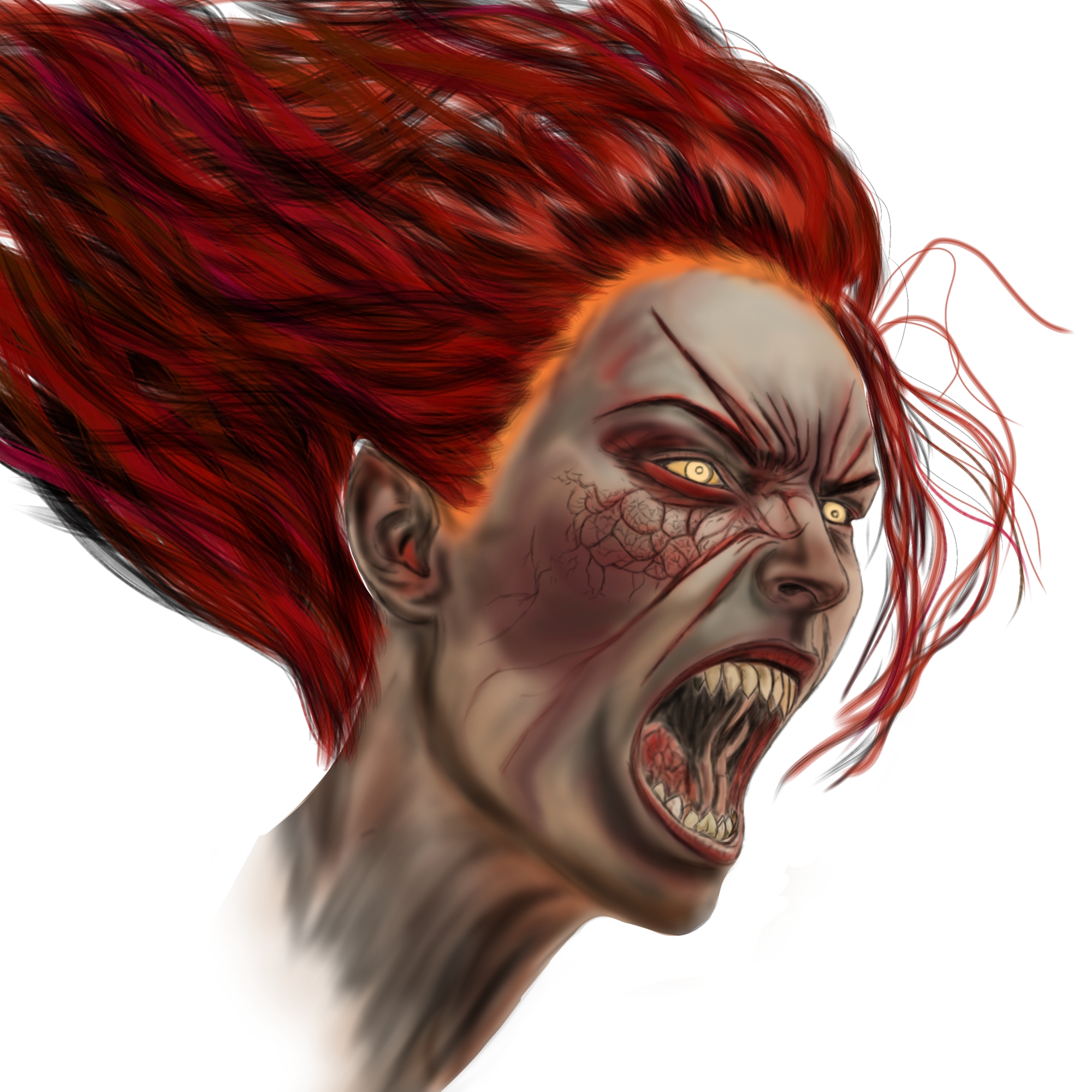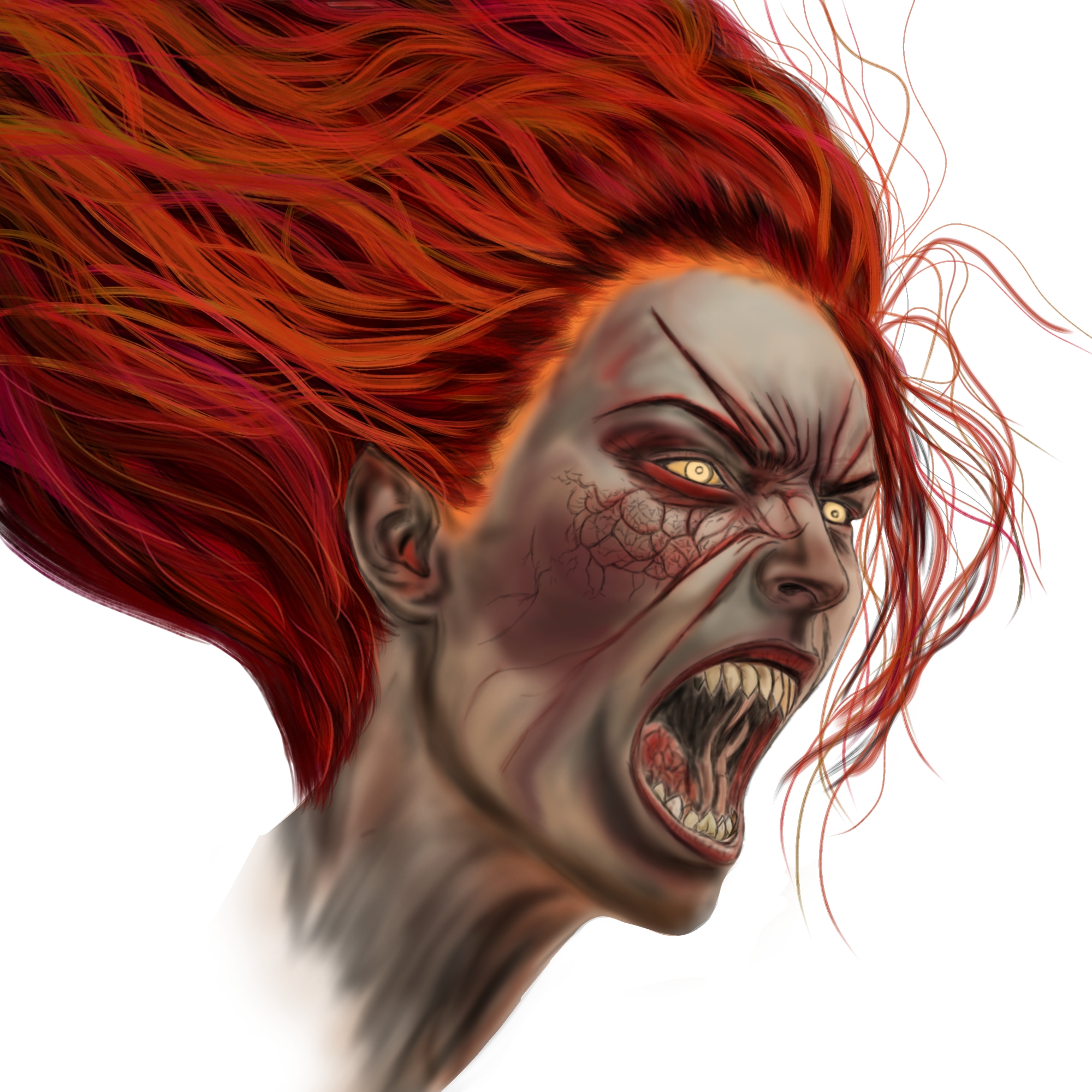 En esta etapa final fui creando el entorno del personaje agregando fuego a su alrededor que es el mismo que emana de ella misma, luego aplique un fondo negro para hacer un contraste con los brillos ya del fuego y los que requería el cabello y su cara, agregando en el mismo un fuego secundario de fondo con destellos y brillos para luego hacer los brillos del cabello y los brillos de los ojos, como también los rastros de vapor que emana de sus ojos. Seguidamente agregue detalles de pequeñas y grandes grietas en su mejilla y otras partes del rostro como en el seño fruncido, y la boca la defini con brillos para dar esa expresión salvaje y feroz propios del carácter de este personaje. Espero les haya gustado la elaboración y representación de esta carta para este nuevo concurso!😊👋
In this final stage I was creating the environment of the character adding fire around her, which is the same that emanates from herself, then I applied a black background to make a contrast with the brightness of the fire and those required by the hair and her face, adding a secondary background fire with sparkles and glitter to then make the glitter of the hair and the glitter of the eyes, as well as the traces of steam emanating from her eyes. Then I added details of small and large cracks on his cheek and other parts of the face as in the frown, and the mouth was defined with glitter to give that wild and fierce expression typical of the character of this character. I hope you liked the elaboration and representation of this card for this new contest !😊👋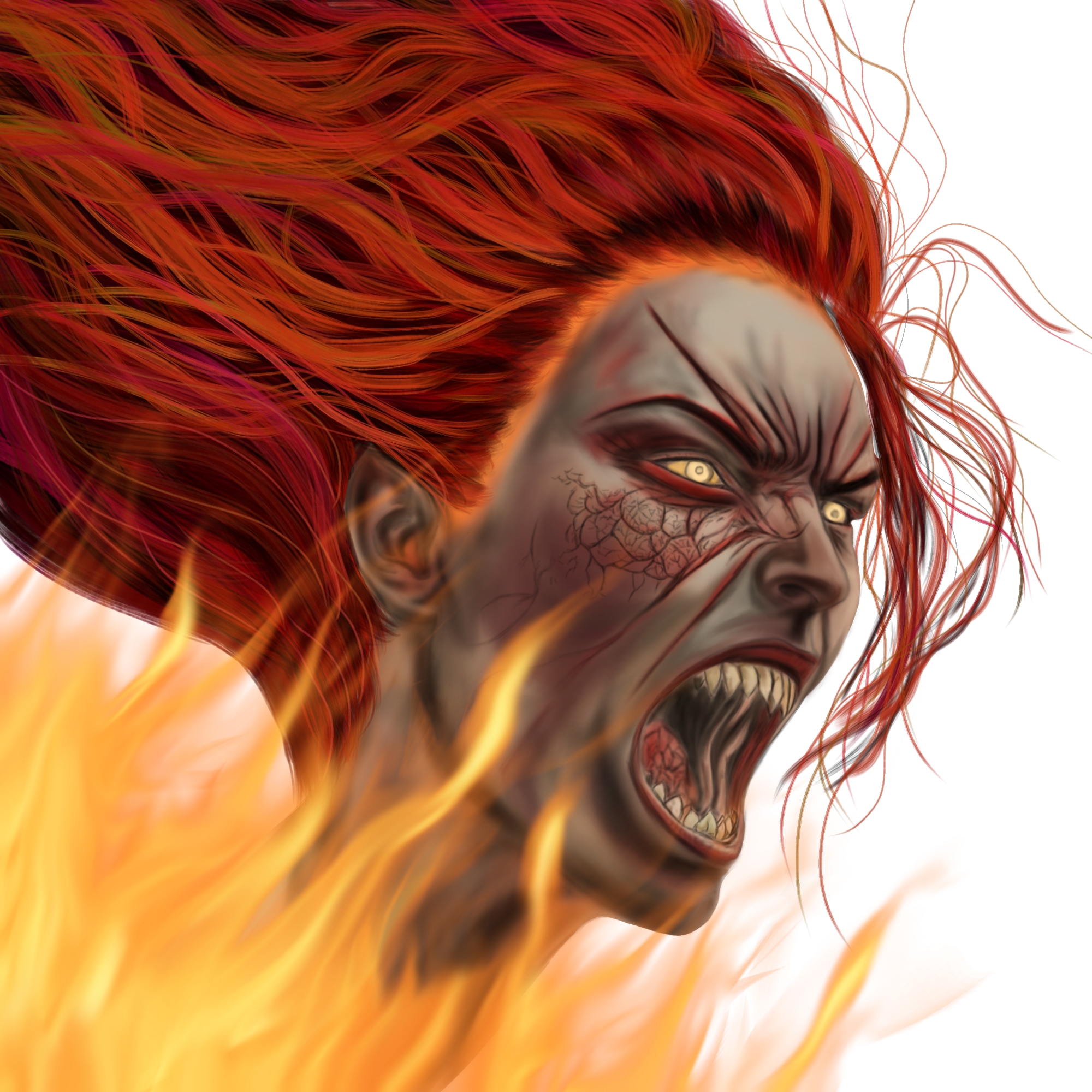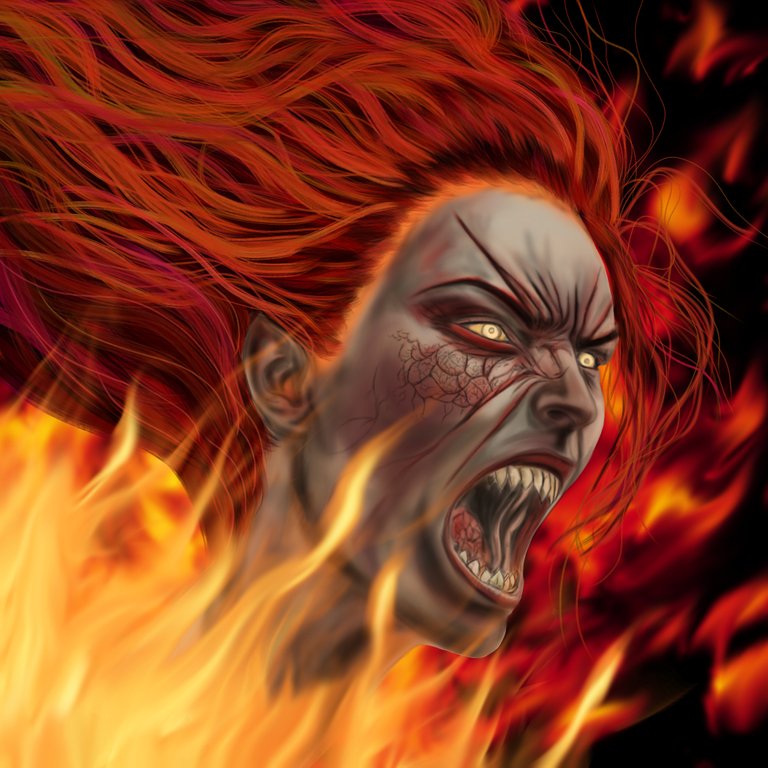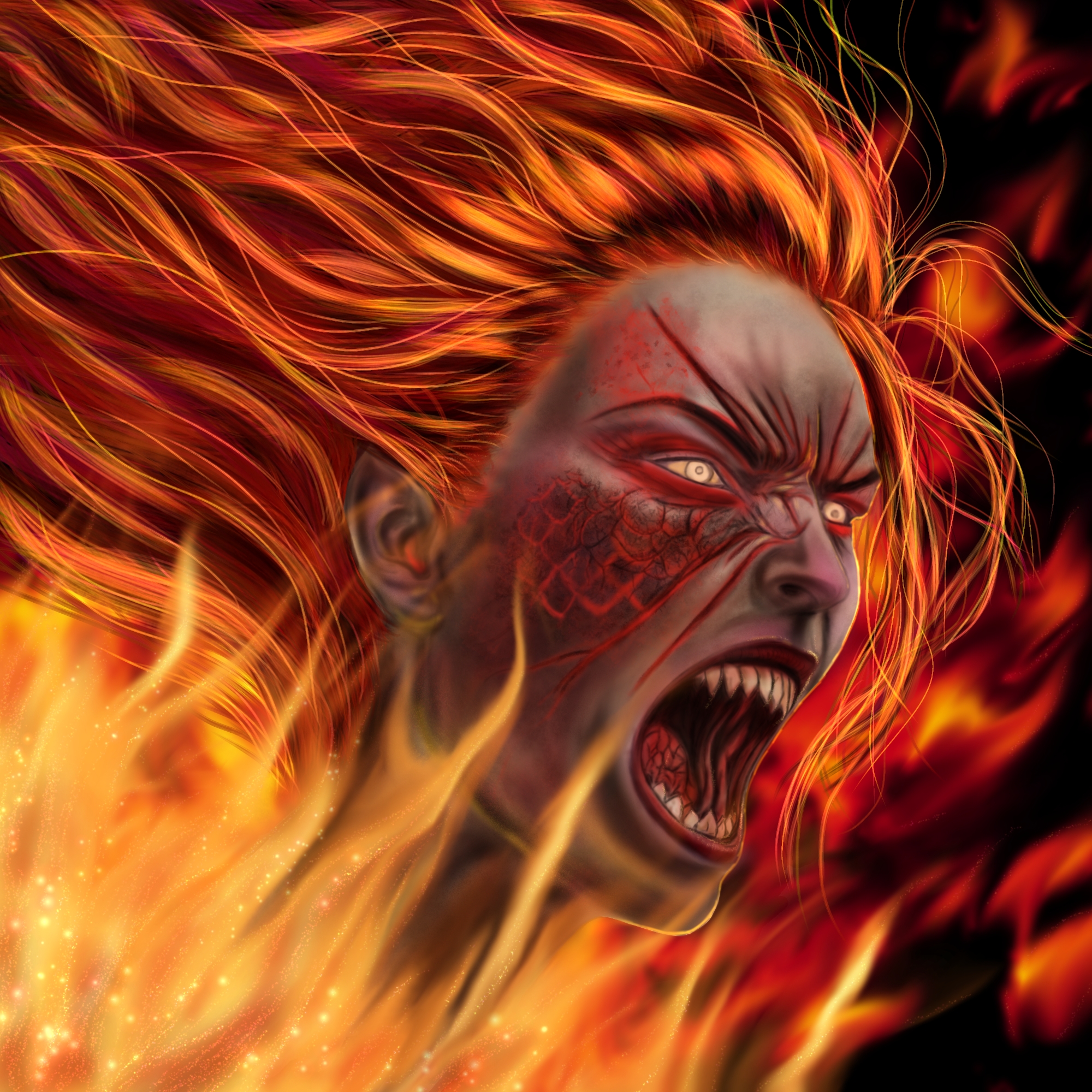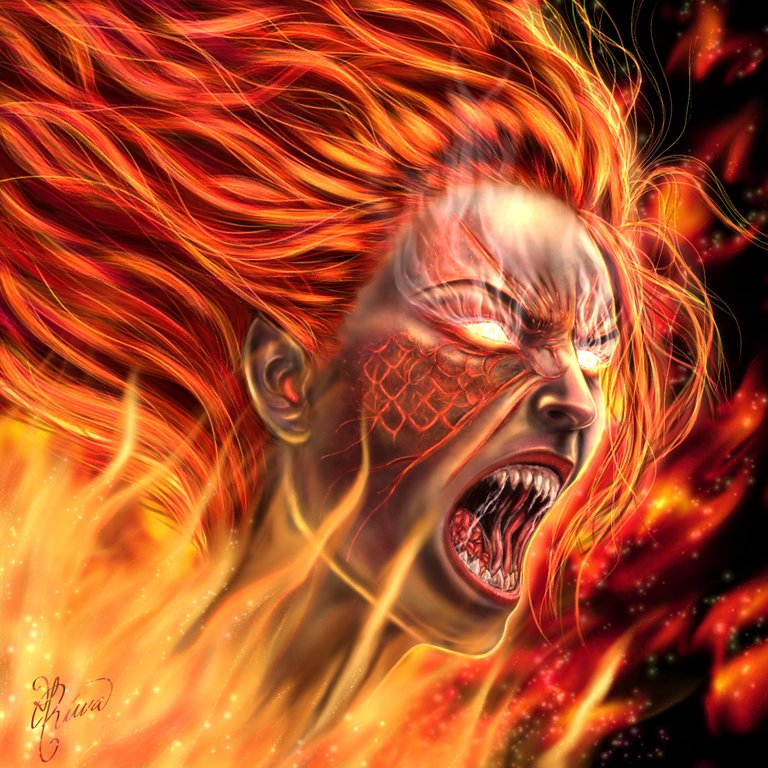 Herramientas usadas/Used tools
Tablet Android
Ibis Paint X
Traductor Deepl
Servidor de imagenes Imgbb
Dactilopintura digital

HASTA EL PRÓXIMO POST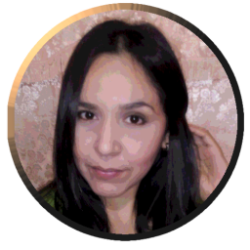 Detenerse es retroceder
To stop is to go backwards
---
---