Santa Is Coming To Splinterlands!
With all that is going on within the Splinterland universe and because its the holidays (A busy time of year) you may have not noticed all that is on offer within the Splinterlands tournament lobby. Not to worry, your ol'buddy @rentmoney has you covered.
While searching the Splinterland tournament lobby I came upon the two community sponsored tournaments below. The first being played on Dec.25th (Christmas Day) and up for grabs is some Dark Energy Crystals (DEC) and the Battle Games native token BATTLE. There's also a raffle taken place for participants in this tournament that will have all sorts of goodies in it (Check the tournament lobby for details). So after you are done opening all your presents from Santa don't forget to give yourself a present via kicking some butt in this tournament.
12/25/2019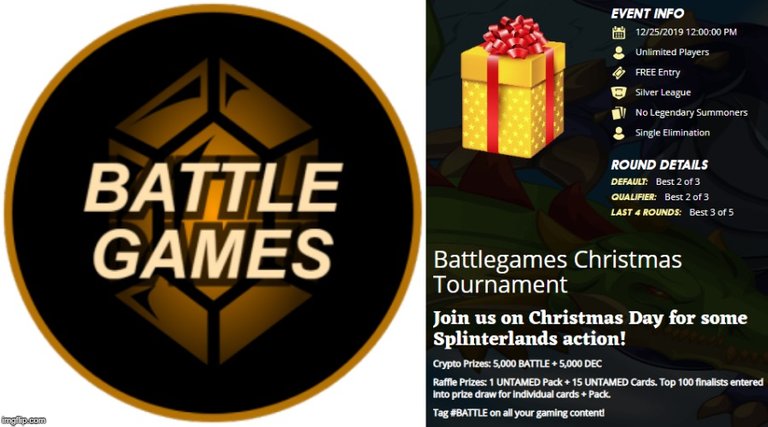 What Is Battle Games?
https://www.battlegames.io/ : is for all things gamer related and is the first Gamer focused Tribe built on the Steem blockchain. You earn BATTLE tokens for content creating and curating on the BATTLE site. You can purchase BATTLE privately from anyone who owns some or via the Steem-Engine market.
Battle Tokens can be used to enter Splinterland tournaments that are created by the @battlegames account. Battle tokens can also be used to purchase games on https://dgamemarket.intinte.org/index.php. Battlegames.io isn't the only site you can earn the BATTLE token on. It can also be earned on the video blog site https://www.battletube.io/.
Contest Kings
The second community sponsored game I came upon was non other than the Contest King sponsored game pictured below. Contest Kings routinely host games for all to play that always have sweet prizes in them. If you aren't playing these games you are missing out.
A whooping 128 places are paid in the Contest Kings Dec.26th tournament so reaching the payout should be no problem at all. Up for grabs is the official Tribe token of Splinterlands called SPT and some of the Contest Kings native token CK.
Holding the CK token comes with the benefit of being included in a massive monthly raffle that awards 200 Prizes to those holding the CK token. The next CK monthly raffle is to take place on January 2nd 2020 so there's plenty of time to win/purchase some CK tokens in order to participate.
12/26/2019


| RNG Position | Prize Awarded |
| --- | --- |
| 1 to 3 | 3 Week Delegation: Archmage Arius |
| 4 to 6 | 5 Week Delegation: 1,000 SP |
| 7 to 54 | Untamed Booster Pack x 1 |
| 55 | 3 Week Delegation: Level 1 Legendary Shin-Lo Monster |
| 56 | 3 Week Delegation: Level 2 Gold Legendary Valnamor |
| 57 | 3 Week Delegation: Level 2 Gold Legendary Peakrider |
| 58 | 3 Week Delegation: Level 2 Gold Legendary Dark Ha'on |
| 59 | 3 Week Delegation: Level 2 Gold Legendary The Vigilator |
| 60 | 3 Week Delegation: Level 2 Gold Legendary Chain Golem |
| 61 to 81 | 3 Contest Kings (CK) Tokens |
| 82 to 142 | 500 Splintertalk (SPT) Tokens |
| 143 to 200 | 100 DEC Tokens |

The More Staked CK Tokens You Own
The More Raffle Tickets You Earn!

| Tier Level | Tokens Staked | Tickets Into Draws |
| --- | --- | --- |
| 1 | 500 | 120 |
| 2 | 300 | 120 |
| 3 | 200 | 120 |
| 4 | 100 | 50 |
| 5 | 50 | 20 |
| 6 | 25 | 8 |
| 7 | 5 | 1 |

Splinterlands Total Market Cap Report:

$4,838,191

Just 24* short hours ago Splinterlands Total Market Cap number was at $4,692,479. Today we see a decent size increase to $4,838,191. Only one week to go before the end of 2019 can the Splinterlands market cap displayed in the graph above reach $5 million by then? Peakmonsters already displays $5 Million + when viewing the List Price cap numbers.

PeakMonsters Market Cap Numbers

---

Splinterlands (also known as Steemmonsters) is a digital card game created by @aggroed and @yabapmatt. Early game release has launched and prizes are up for grabs. You can play or invest in Splinterlands by clicking here.

---

---

Posted via Steemleo | A Decentralized Community for Investors