Announcing the winner of my 500 DEC giveaway while struggling to get mt DQ done, facing one TH12-account after another.... lol!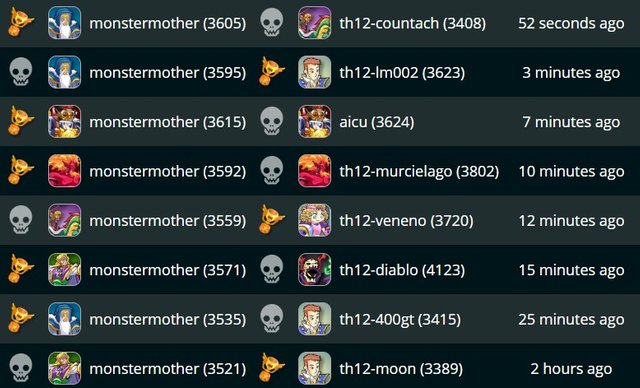 Source
I'm glad Splinterlands is back up. The downtime made me realize how addicted I am to the game. According to the conversations in the Discord server, I was not the only one experiencing withdrawal symptoms. :0)
After winning the last 2 battles of my outstanding Water DQ earlier, I got a Death quest. Last season, skipping a Death quest meant you got Life instead. Still, I took my chances. Apparently, Death is replaced by Water this season. Lucky me.
However... lucky???
I guess I chose a wrong time to play, since the Lambo team seems to be around. One Th12-account after another. Fortunately, it seems I'm having a fairly good day. Completing my DQ will only be a matter of time.

Giveaway Winner
About a week ago, I published a post about the fact that the reward cards were running out. Ever since I learned about this, I've been hoarding reward cards. What once seemed to be a set of cards that was a lousy replacement for the booster packs we got, suddenly turned into something completely different. The upcoming scarcity makes those reward cards a lot more interesting...
In my post, I promised to give away 500 DEC to someone who would leave a valid comment telling me what his or her favorite reward card is.
Valid entries were posted by @cicisaja, @lebastion, @travoved, @lordwinty, @tsnaks, @gillianpearce, anouk.nox.spt, @handtalk5, @dogcatcowpig, @guurry123, @mango-juice, @bengy, @byzantinist, @akomoajong and @sparkesy43.
Thanks you all for joining!!
No consensus on the best reward card.. Wood Nymph seems to be pretty popular, and of course Lord Anus and Ruler Of the Seas... No one picked that poor Rusty Android, though... :0/
Anyway...
I used @reazuliqbal's Steem Random Winner Picker to select the participant that would receive the 500 DEC prize.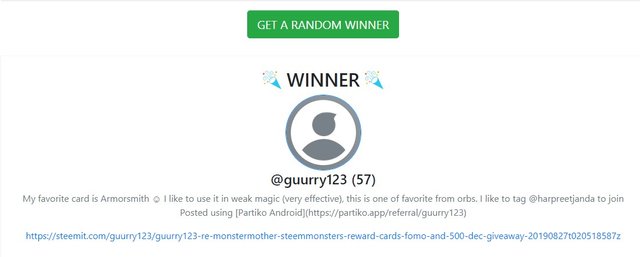 Source


Note: @guurry123 edited his initial reply afterwards and included an actual reward card - which made him eligible to win this giveaway


The DEC has been sent to your Steem-Engine wallet

Click to enlarge
See You In My Next Post!!
Don't have a Steemmonsters account yet?
Create one by clicking the banner below:

Source


DISCLAIMER: This post contains affiliate links.