Splinterlands art contest | LEMELL REFUGEE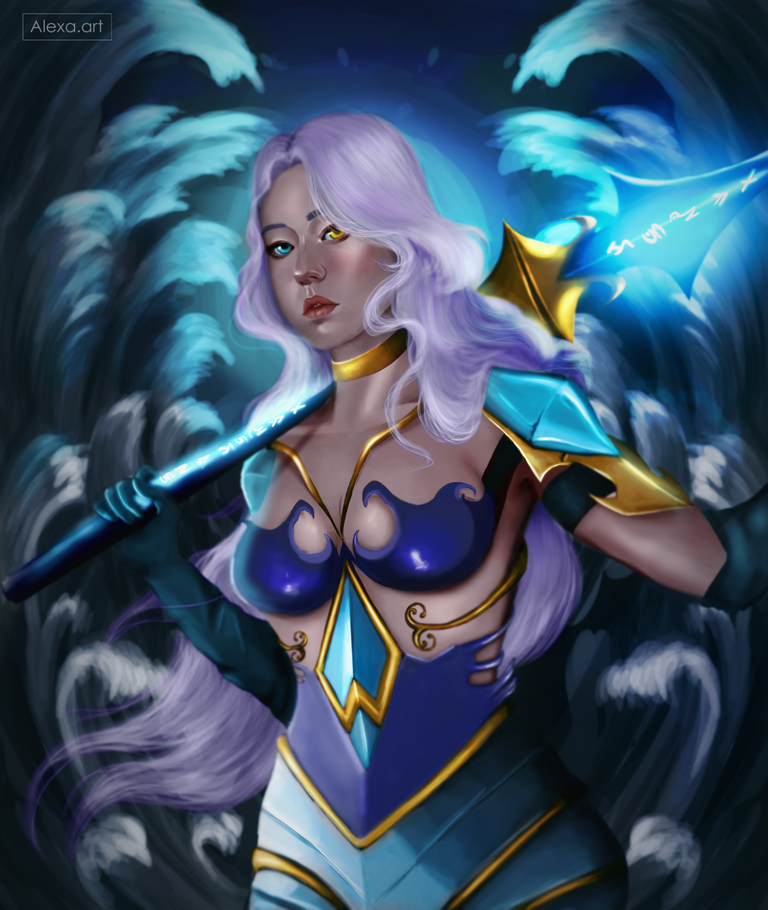 Bienvenidos nuevamente a mi blog, en esta oportunidad quiero compartir mi entrada al concurso de
@Splinterlands
en el cual elegí la carta de "LEMELL REFUGEE" una carta que me ha gustado pero que se volvió un reto bastante difícil, el elemento de agua era algo que me atraía muchísimo para hacer esta carta, esta vez quise intentar una técnica que he visto en diferentes artistas y quería ver si resultaba para mi, en este caso quise probar la técnica de dibujar en escala de grises y luego pasarlo a color, sinceramente me arrepiento muchísimo tuve muchos problemas para aplicar el color y siento que el trabajo fue aún más difícil de lo que seria pintar directamente con los colores, como suelo hacer normalmente. No obtuve el resultado que estaba buscando o que esperaba para este dibujo, tenia mucha fé en que quedaría distinto pero no vi nada diferente, solo el doble de esfuerzo, a pesar de todo eso me ha gustado como quedo, quise representar esta carta con algunos elementos que tiene en la imagen original pero también quise cambiar algunas cosas, como el vestuario, haciendo un traje que simula ser de armadura con un tono azulado, cambie la parte de arriba del trajo porque me gustaba como se veía de esa forma, para el fondo me inspire en el elemento que representa a esta carta, el agua, asi que dibuje una especies de olas pero sin mucho detalle, sin más que comentar, espero que les guste.
Welcome back to my blog, this time I want to share my entry to the @Splinterlands ART contest in which I chose the "LEMELL REFUGEE" card, a card that I liked but it became quite a difficult challenge, the element of water was something that attracted me a lot to make this letter, this time I wanted to try a technique that I have seen in different artists and I wanted to see if it worked for me, in this case I wanted to try the technique of drawing in grayscale and then transfer it to color, I honestly I regret ofi t, i had a lot of troubles applying the color and I feel that the job was even more difficult than it would be to paint directly with the colors, as I usually do.
I did not get the result that I was looking for or that I expected for this drawing, I had great faith that it would be different but I did not see anything different, just double the effort, despite all that I liked how it turned out, I wanted to represent this card with some elements that it has in the original image but I also wanted to change some things, like the wardrobe, making a suit that simulates armor with a bluish tone, I changed the upper part of the suit because I liked how it looked that way, for the background I was inspired by the element that represents this card, water, so I drew a kind of waves but without much detail, just comment, I hope you like it.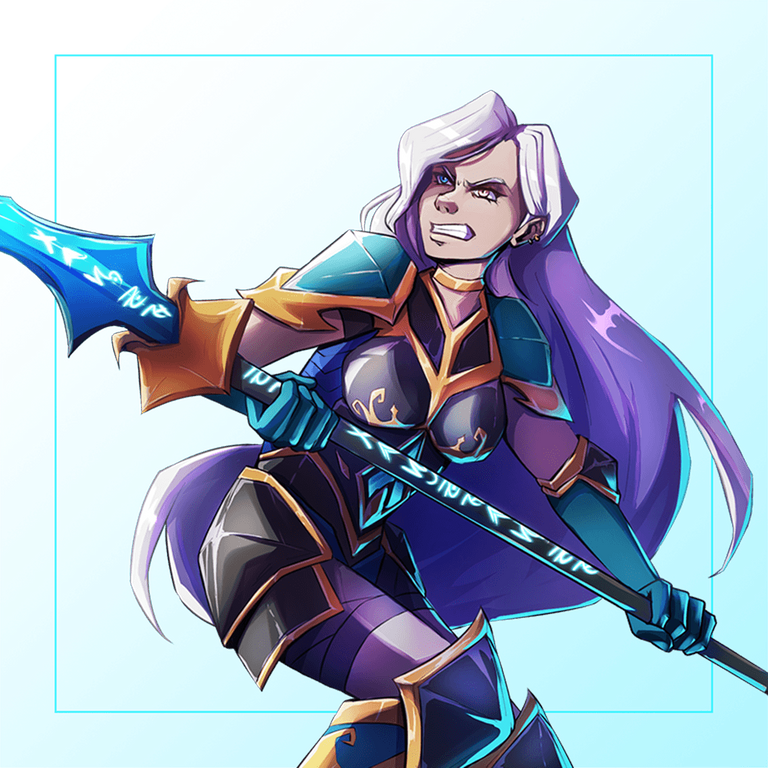 REFERENCE

Proceso / Process
Realice mi boceto comenzando con un tono azul, sabia que este dibujo sería difícil así que hice el boceto en azul un poco descuidado para luego en una nueva capa usar un color negro y repasar las líneas de una manera mas limpia, coloque un gris claro de base y comencé a darle forma al rostro, usando diferentes tonalidades de gris, negro y blanco, pinte la ropa con gris oscuro y también aplique color a los brazos y la piel que se asoma entre la ropa, difumine estos colores para crear una piel suave usando un pincel difuso.
I made my sketch starting with a blue tone, I knew that this drawing would be difficult so I made the sketch in blue a bit careless and then in a new layer use a black color and go over the lines in a cleaner way, I put a light gray of base and started to shape the face, using different shades of grey, black and white, paint the clothes with dark gray and also apply color to the arms and the skin that peeks through the clothes, blend these colors to create a smooth skin using a soft brush.

Poco a poco le fui agregando luces y sombras a cada parte de la ropa, intentando crear diferentes brillos que simularan una textura de armadura, para el cabello utilice gris claro y un pincel con textura de cabello, luego agregue algunos reflejos oscuros y claros, comencé a pintar su arma, en este caso utilice un blanco de base para ver bien el objeto, luego en otra capa comencé a agregarle oscuridad a su arma, agregando luces y sombras para darle la forma parecida a la carta original. Trabaje en el fondo que en este caso decidí pintar unas olas, quería una textura rustica en ellas así que utilice un pincel que simula textura de tiza para pintarlas.
Little by little I was adding lights and shadows to each part of the clothes, trying to create different highlights that simulated a texture of armor, for the hair I used light gray and a brush with a hair texture, then I added some dark and light reflections, I started to paint her weapon, in this case I used a base white to see the object well, then in another layer I began to add darkness to her weapon, adding lights and shadows to give it the shape similar to the original card.
I worked in the background, in this case I decided to paint some waves, I wanted a rustic texture in it so I used a brush that simulates a chalk texture to paint.

Duplique las olas y las coloque del otro lado para hacerlas lucir igual y aquí viene la parte triste, pues ya tenia que agregar el color, resulta que no me gustaba como se estaba viendo el color que agregaba en Photoshop, así que decidí desempolvar medibang Paint que tenia casi dos años sin utilizar para probar que tal se veía allí, para mi sorpresa se veía mucho mejor cuando agregaba el color a comparación de Photoshop, entonces comencé a agregar los tonos de la piel, labios, ojos, cabello, ropa, etc, cada parte me llevo muchísimo tiempo pero al menos se veía mejor, todo esto lo hice sin guardar ni una sola vez el archivo, realmente estaba muy concentrada, asi que al terminar el dibujo simplemente exporte la imagen a PNG y olvide guardar el proceso de pintado 😭 Me senti bastante frustrada cuando cerre Medibang sin guardar, estaba distraída y un poco loca por todo el trabajo que tuve que hacer, pero bueno, finalmente quedo así, agregue tonos de una manera suave para no exagerar y hacerlo demasiado saturado, aunque siento que me hubiese quedado mas bonito usando directamente los colores sin escala de grises, pero lo bueno de todo esto es que queda experiencia y nuevos aprendizajes, probablemente pueda hacerlo con mas facilidad en un futuro o simplemente esa técnica no sea lo mio.
Duplicate the waves and place it on the other side to make it look the same and here comes the sad part, because I already had to add the color, it turns out that I did not like how the color that I added in Photoshop was looking, so I decided to dust off medibang Paint that I hadn't used for almost two years to test how it looked there, to my surprise it looked much better when I added the color compared to Photoshop, so I started adding the tones of the skin, lips, eyes, hair, clothes, etc. , each part took me a lot of time but at least it looked better, I did all this without saving the file even once, I was really concentrated, so when I finished the drawing I just exported the image to PNG and forgot to save the painting process 😭
I got quite frustrated when I closed Medibang without saving, I was distracted and a bit crazy from all the work I had to do, but hey, finally it's looks like this, I added tones in a soft way so as not to overdo it and make it too saturated, although I feel like I It would have been more beautiful using the colors directly without grayscale, but the good thing about all this is that there is experience and new learning, probably I can do it more easily in the future or simply that technique is not my thing.


Tools:
Photoshop CC 2019
XP-PEN deco 01 v2
Herramientas:
Photoshop CC 2019
XP- PEN DECO 01 V2
Foundation: alexa-artx
Rarible : alexaart
KnownOrigin: alexaart
Terra Virtua: AlexaArt
Opensea: alexa-art
Makersplace: alexaartx
Ghostmarket : alexa
NFT Showroom: alexa.art
Twitter: Alexa_Ys

---
---