Dinero Juegos Weekly Giveaway (ENG/ESP) #39: Stunning Death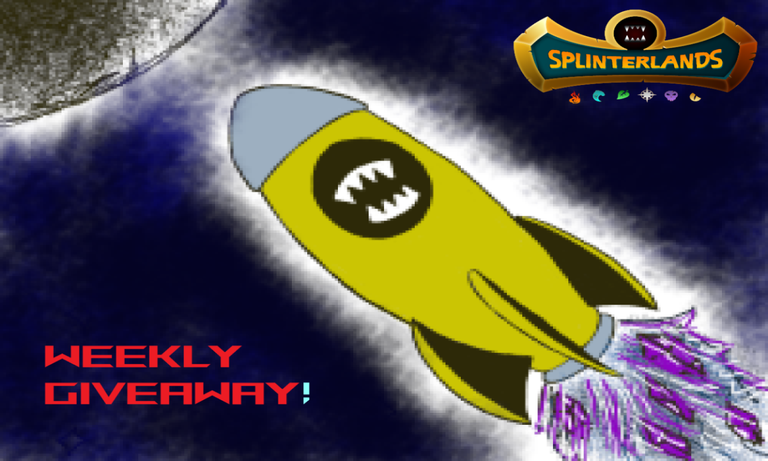 🚀 Welcome to the Dinero Juegos Weekly Giveaway! 🚀
Each week, 3 users will be chosen to receive the current prize! 🔥
To encourage people to engage and help them on their Hive journey, I'll also upvote every participant's comment! 🎉
🚀 ¡Bienvenido al sorteo semanal de Dinero Juegos!🚀

¡Cada semana, se elegirán 3 jugadores para recibir el premio actual! 🔥

Para alentar a las personas a participar y ayudarlas en su viaje de Hive, ¡también votaré a favor del comentario de cada participante! 🎉

What is Dinero Juegos?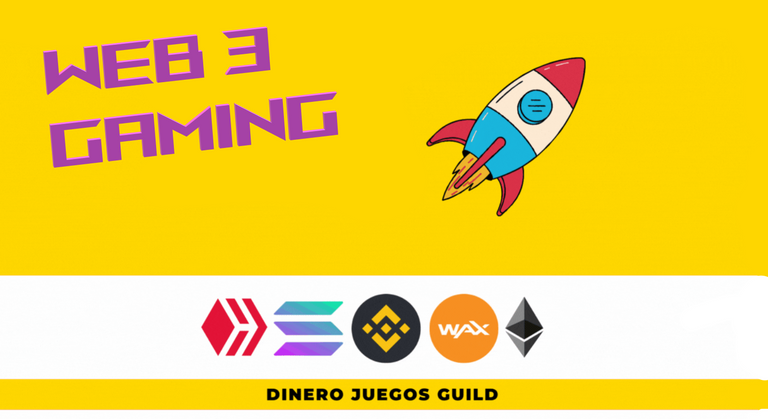 In short; A Web3 Gaming Community & MetaGuild.
We love P2E games, and maximizing our earnings & fun along the way! Free to Join, Free to Stay. We win together. Most of all, we're a handful of active, web3 gamers, here to climb the ranks, make friends and make a name for ourselves!
We support games from HIVE, SOL, ETH, BSC, and WAX.
Our main focus is Splinterlands (HIVE) and CatchKing (SOL).
Take a look at our Discord, PeakD Community, Twitter and more!
Going beyond simply playing the game is a constant goal for the Guild. Engaging on Hiveblog, fighting in Brawls/Arenas, participating in weekly events, running giveaways, playing daily, tipping friends and having fun on Blockchain games; That's what we're about.
Whether you want to play 1 blockchain game a couple times a week, or multiple games play daily & competitively, there is a place for you.
¿Qué es Dinero Juegos?

Simplemente; Una comunidad de juegos Web3 y MetaGuild.
¡Nos encantan los juegos P2E y maximizar nuestras ganancias y diversión en el camino! Libre para unirse, libre para quedarse. Ganamos juntos. Sobre todo, somos un puñado de jugadores web3 activos, aquí para escalar posiciones, hacer amigos y hacernos un nombre.
Admitimos juegos de HIVE, SOL, ETH, BSC y WAX.
Nuestro enfoque principal es Splinterlands (HIVE) y CatchKing (SOL).
¡Echa un vistazo a nuestra comunidad de Discord, PeakD, Twitter y más!
Ir más allá de simplemente jugar el juego es un objetivo constante para el gremio. Participar en Hiveblog, pelear en Brawls/Arenas, participar en eventos semanales, realizar sorteos, jugar a diario, dar propinas a amigos y divertirse en los juegos Blockchain; De eso se trata.
Ya sea que quieras jugar 1 juego de blockchain un par de veces a la semana, o jugar varios juegos diariamente y de manera competitiva, hay un lugar para ti.

This week / Esta semana - REVEALER (X3)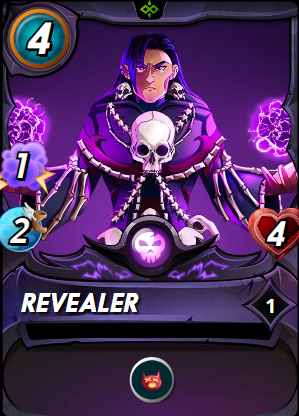 STUNNING victory!
This week I'm going to be giving away 3 cards!
I've posted about this card before, and I'll do it again. Revealer is a potent, powerful card for only 4 mana. Not only does it have decent base stats even at 1BCX, with 1 Magic and 4HP, but it also has the ever-powerful stun ability. Which grants it a 50/50 chance to apply stun on a target, causing them to lose a turn! This can turn the tides, especially when paired with the knock out ability, which does additional damage to stunned targets.
Click here to see REVEALER in action!
I'm using this in a Bronze Modern match. I played it a bit risky, assuming the enemy would have mostly units which target the front. Fortunately, I was correct. While revealer didn't exactly turn the tides on its own, it was a reliable backliner and still managed to land the stun ability. Ultimately, this match scored me a win! Feel free to click the link above and watch the full battle.
As usual, 3 people will win this week. Best of luck!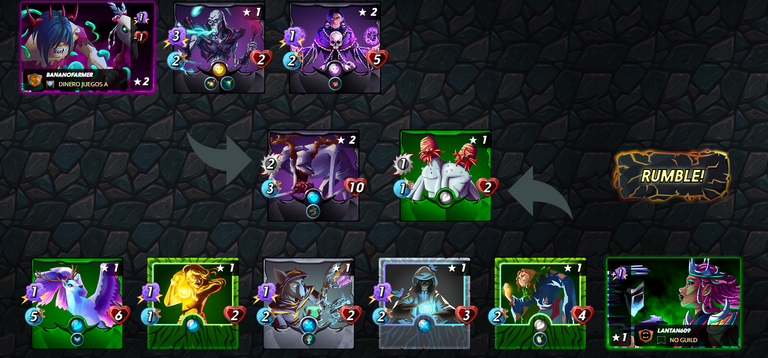 IMPRESIONANTE victoria

¡Esta semana voy a regalar 3 tarjetas!
He publicado sobre esta tarjeta antes, y lo haré de nuevo. Revelador es una carta potente y poderosa por solo 4 maná. No solo tiene estadísticas base decentes incluso en 1BCX, con 1 Magic y 4HP, sino que también tiene la habilidad de aturdir siempre poderosa. ¡Lo que le otorga una probabilidad del 50/50 de aplicar aturdimiento en un objetivo, lo que hace que pierda un turno! Esto puede cambiar el rumbo, especialmente cuando se combina con la habilidad de noquear, que causa daño adicional a los objetivos aturdidos.
Estoy usando esto en un partido moderno de bronce. Jugué un poco arriesgado, asumiendo que el enemigo tendría principalmente unidades que apuntan al frente. Afortunadamente, cierto. Si bien el revelador no cambió exactamente el rumbo por sí solo, fue un backliner confiable y aún así logró aterrizar la habilidad de aturdimiento. ¡En última instancia, este partido me anotó una victoria! Siéntase libre de hacer clic en el enlace de arriba y ver la batalla completa.
Como de costumbre, 3 personas ganarán esta semana. ¡Buena suerte!

📑 Rules:
3 Prizes per week, 3 Winners per week.
3 types of Winners will be chosen among the comments:
1 Player will be randomly chosen among the comments
1 Player among those who left a comment and reblog will be randomly chosen.
1 Member of Dinero Juegos who also left a comment will be chosen at random.
Leave a comment on this post, include your IGN if different from your Hive name.
Reblog for an additional chance to win.
Winners will be announced in the comments every Sunday, roughly 07:00 PST.
Upvotes are not required, but very appreciated!
Haven't played Splinterlands yet? Get started here.
📑 Reglas:

3 premios por semana, 3 ganadores por semana.

Se elegirán 3 tipos de Ganadores entre los comentarios:

1 jugador será elegido al azar entre los comentarios
Se elegirá aleatoriamente 1 jugador entre los que dejaron un comentario y un reblogueo.
1 miembro de Dinero Juegos que también dejó un comentario será elegido al azar.

Deje un comentario en esta publicación, incluya su IGN si es diferente de su nombre de Hive.

Rebloguea para tener una oportunidad adicional de ganar.

Los ganadores se anunciarán en los comentarios todos los domingo, aproximadamente a las 07:00 PST.

No se requieren votos a favor, ¡pero se agradecen mucho!

¿Aún no has jugado a Splinterlands? Comience aquí.

✅ Have a great week! 🚀
Click Here for more links/info on Dinero Juegos.
✅ ¡Que tengas una buena semana! 🚀
Haga clic aquí para obtener más enlaces/información sobre Dinero Juegos.
(Thanks to @rimurutempest for the Web3 Gaming image, and @doobeedoodle for the guild logo)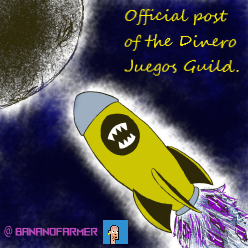 ---
---