My favourite youtubers: Luke plays to earn
Hello friends! 👻
Just want to share some little treasures that I have found on Youtube.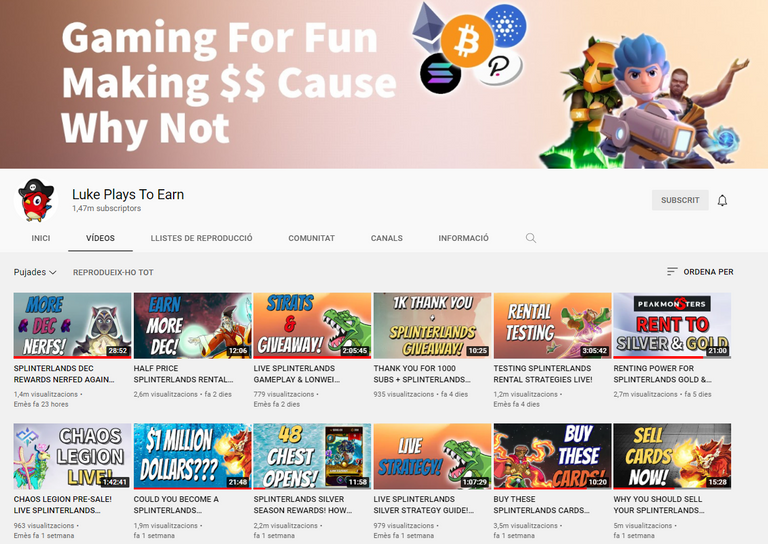 His name is Luke and you can visit his channel here
I love him. I love how pedagogic his arguments are. He creates high-quality content focused on low-budget accounts (exactly like me except the quality 🤓). Some of his hot points are:
He has 4 low-level accounts with 10$ spellbook budget a little more who is playing day by day to optimize rewards. He regularly updates his evolution in his channel.
He gives smart pieces of advice about how to manage your budget. The advice may vary if you are focusing in short term or long term like him.
Also in-game battles followed by his decision progress in the deckbuilding process.
Finally, he has a public google drive sheet where he shares his calculus with everyone.
In my opinion, he is a clear example of how good is the #Splinterlands community. He is focused on new players and his advice is brilliant. And what I like more about him. He is humble. Maybe because I feel close to him I will give him Optimus Prime emoji, as he is acting like Optimus to everyone! 🤖
We see each other in Arena Autobots! 🤖

If you are reading my posts for the first time I leave some others that might you interest, I am writing my experience as a new player of Splinterlands (1 Sept 2021) trying to manage my budget wisely:
Venari MVP
Budget optimization via Peakmonsters
Fundings optimization Chapter one
Guía Splinterlands Spanish
Rental breaking fee
---
---