Brawl Report : "Just Won Second"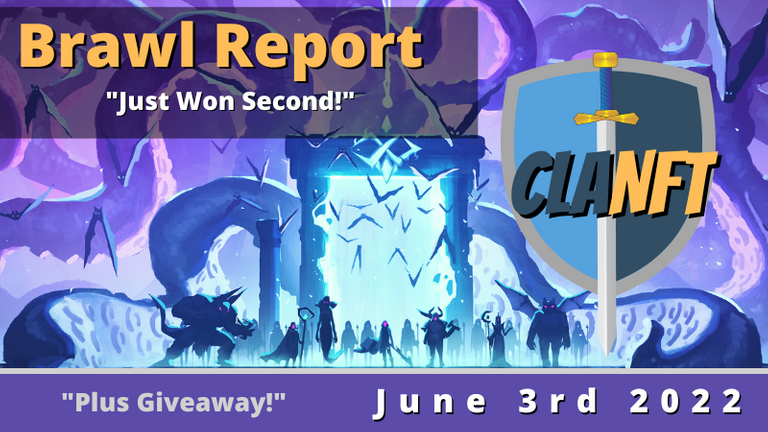 Splinterlands Guild Link | Discord Link | Referral Link |
Brawl Report: Clanft-Bank is Live!
Our Guild has recently taken the initiative to really start growing and evolving as of late. We've started a guild bank, and began to post for the Guild. We will be outlining some monthly goals in an article coming soon, for now, we'll start with this, our first Brawl Report!
These will probably evolve as time goes on, expect new logos, dividers, etc. as we grow. We are currently working on an official logo for our Clan, for now, the one you see will be a placeholder.

The Brawl: Just Won Second

Right after our first place run, we managed to take 2nd Place this time
Everybody entered brawls, and we had multiple top performers and multiple best win % Winners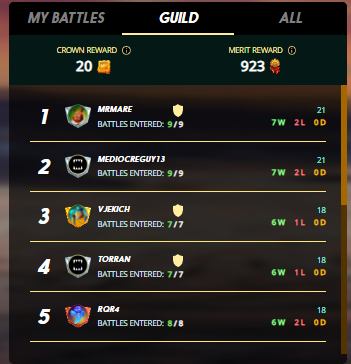 Brawl MVP
@mrmare and @mediocreguy13 took the Top Score Brawl MVP with 21 Points and @vjekich and @torran won the Win % MVP with 6:1 for their battles, each player will be receiving a card as a result!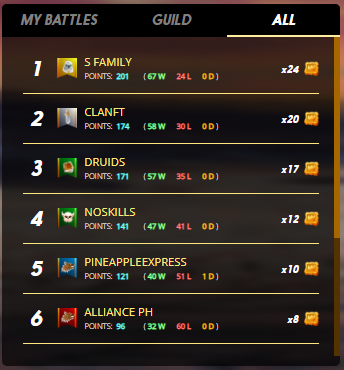 Our Performance
We completed with a final record of 58W-30L-0D, securing us 2nd Place and 20 Crowns and 923 Merits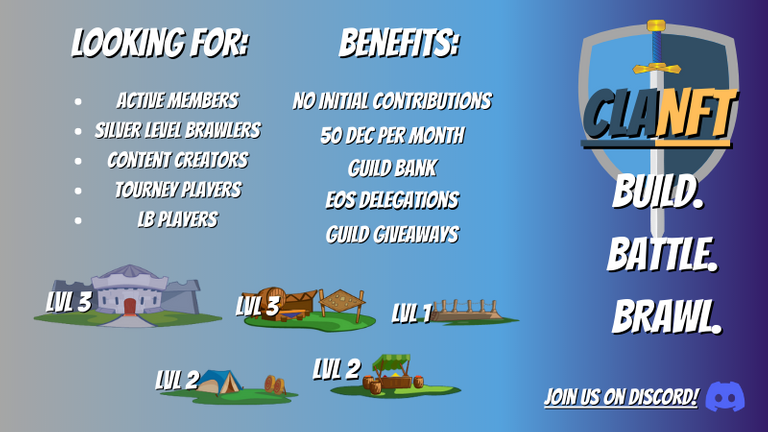 Recruiting: Calling All Active Brawlers!
How could we improve? Well that's easy, we need YOU. We are a chill, social guild looking for a few more active members! If you think you might be a fit, join us in our Discord.
We are currently looking for Brawl oriented players who has Silver Level Decks, A/B Novice or Bronze Decks, and Gold-Foil Decks to improve our Brawl Fill Rate and find like-minded, social and competitive players.
We DO NOT currently require Initial contributions, and our contribution system includes Brawl Participation, meaning we are very lax on contributions as long as you contribute in other ways
Our Guild Levels:
Level 3 Guild Hall | Level 3 Quest Lodge | Level 1 Arena | Level 2 Item Store | Level 2 Barracks
Bonuses
We have a Guild Bank, which stores Cards for EoS Delegations, Brawl Delegations, and Newbie Delegations. This allows us to empower our newcomers and protect them during EoS! This is currently just started, so we do not have a lot of EoS CP currently, but we will be building every day.

Giveaway
2nd Place calls for 2 Cards right? 2 Winners will be chosen to receive a mystery card each! Who knows what you'll get, could be a new reward card even!
Winner will be chosen when this post pays out!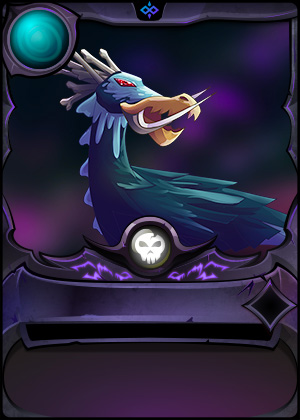 ---
Guild Notification List
@torran @movebitch @vjekich @allani545 @jakkal @oliviander @cyouonthemoon @mrmare @kyuki @hentaimama @perrodelmal @lucamafort @mediocreguy13 @rqr4 @litrydow
Guild Giveaway Notification List
@vaynard86 @xheadhunterz @henruc @relf87 @sudenginsiu @teooo @irisworld @candnpg @edskymiguel @luizeba @ninosplinter @jdike @ecto1337 @amaillo @gluthor @marleyroots @postapocgamer @indignantgerald @jonimarqu @luckbound @diochen @litrydow @amaillo-m @henruc @waynechuasy @jonimarqu @sygxwin @cogie88 @blitzzzz @teooo @sudeginsiu @wlffreitas

Splinterlands Guild Link | Discord Link | Referral Link |
Thanks for checking out our Guild Brawl Report, we hope you enjoyed it! and Good Luck in the Giveaway! Check back next week for our 2nd Brawl Report and a new Giveaway!
---
---