ClaNFT Brawl Report: "SPS Brawls are Live!!" November 19th, 2022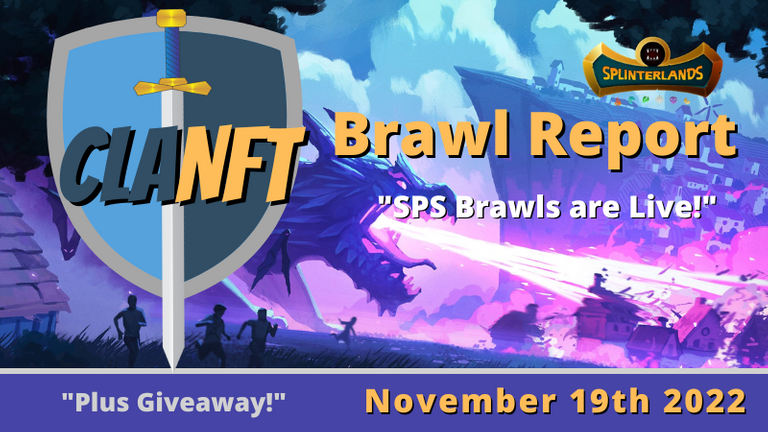 Splinterlands Guild Link | Discord Link | Referral Link |
Brawl Report: ClaNFT returning post
Technically our guild never left! We haven't been writing lately, but we've been growing and a lot has changed since our last post: We're now in Tier 2, and we've grown considerably in both our bank and our members!

The Brawl: SPS Brawls are live!


We're in a new league: With not enough men to fill our brawls, and in a brand new Tier, we're still managing to snag 5th and 6th place, holding the middle ground without a full team!
As you can see, now that SPS Brawls have gone live, each participating member received 15 SPS for this placement! Wanna get in on it? Check out our recruitment info below!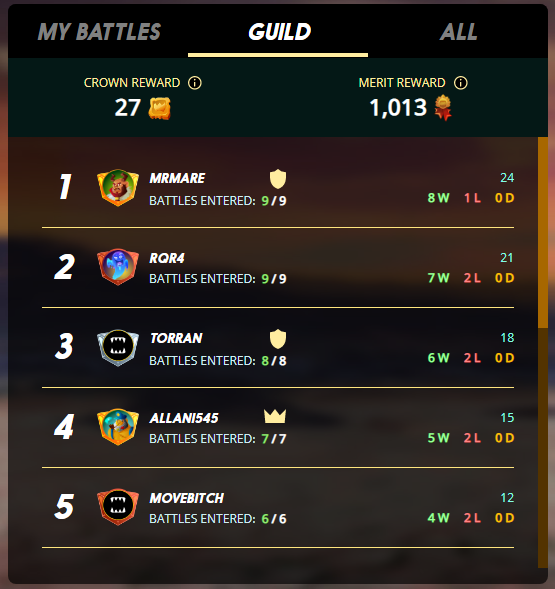 Brawl MVP
@mrmare and @rqr4 took the Top Score Brawl MVP with 24 and 21 Points and also won the Win % MVP with 6:1 for their battles.
Mare is a pretty regular heavyweight player in his Fray, and has adapted quite well to the new brawls
RQR4 initially struggled with the new tier, and had to adapt, but is immediately showing his performance now that he's adjusted!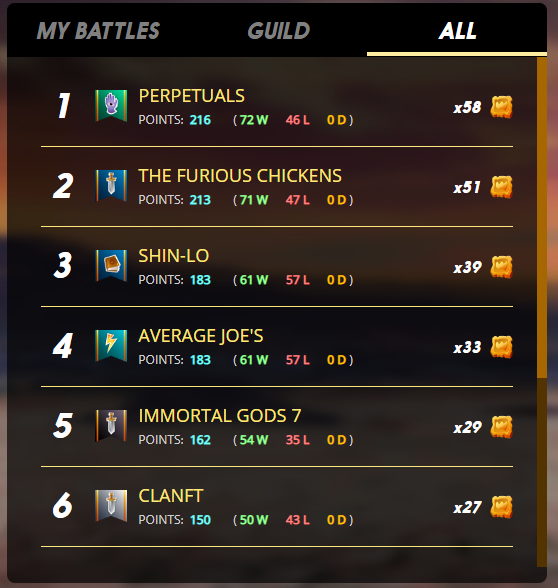 Our Performance
We completed with a final record of 50W-43L-0D, securing us 6th Place* and 27 Crowns and 1013 Merits. This is decent, as we are nearly 20-30 battles below the Top 5. As soon as we gain more players, we should be securely nested in the Top 4 or even Top 3 slot.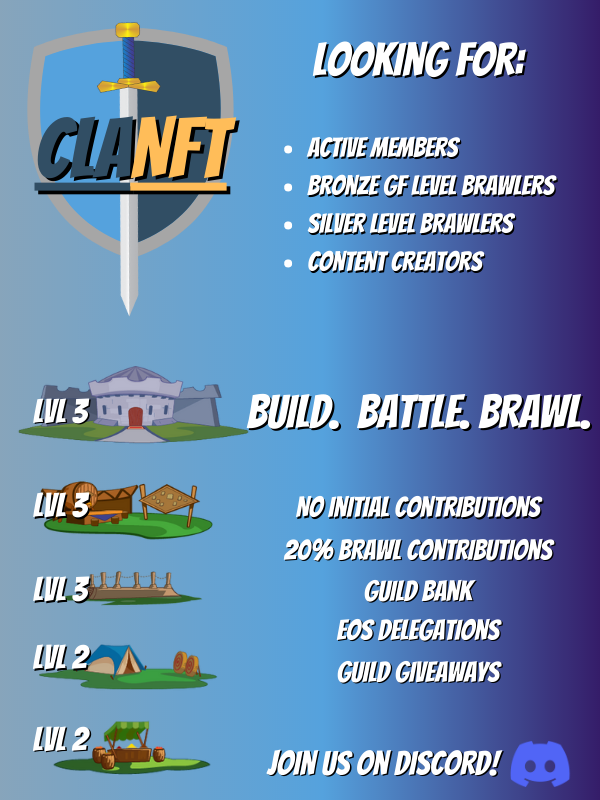 Recruiting: Calling All Active Brawlers!
How could we improve? Well that's easy, we need YOU. We are a chill, social guild looking for a few more active members! If you think you might be a fit, join us in our Discord.
We are currently looking for Brawl oriented players who has Bronze and Silver level Decks minimum, and Gold-Foil Bronze Decks to improve our Brawl Fill Rate and find like-minded, social and competitive players.
We DO NOT currently require Initial contributions, and our contribution system includes Brawl Participation, currently, we ask for 20% of the SPS you make in Brawls as a contribution: We do NOT ask you to contribute anything from your earnings unless the Guild directly contributes to it. (Of course, many of us contribute more than this and you are obviously welcome to!)
Our Guild Levels:
Level 3 Guild Hall | Level 3 Quest Lodge | Level 3 Arena | Level 2 Item Store | Level 2 Barracks
Bonuses
We have a Guild Bank, which stores Cards for EoS Delegations, Brawl Delegations, and Newbie Delegations. This allows us to empower our newcomers and protect them during EoS! This is currently just started, so we do not have a lot of EoS CP currently, but we will be building every day.

Giveaway
We didn't do too well this time, but in celebration of the SPS Brawls, I will be giving away 1 SPS to a Guild Member, and 1 SPS to a giveaway entrant who comments below!
Winner will be chosen when this post pays out!
---
Guild Notification List
@torran @movebitch @vjekich @allani545 @jakkal @oliviander @cyouonthemoon @mrmare @kyuki @hentaimama @perrodelmal @lucamafort @mediocreguy13 @rqr4 @litrydow
Guild Giveaway Notification List
@vaynard86 @xheadhunterz @henruc @relf87 @sudenginsiu @teooo @irisworld @candnpg @edskymiguel @luizeba @ninosplinter @jdike @ecto1337 @amaillo @gluthor @marleyroots @postapocgamer @indignantgerald @jonimarqu @luckbound @diochen @litrydow @amaillo-m @henruc @waynechuasy @jonimarqu @sygxwin @cogie88 @blitzzzz @teooo @sudeginsiu @wlffreitas

Splinterlands Guild Link | Discord Link | Referral Link |
Thanks for checking out our Guild Brawl Report, we hope you enjoyed it! and Good Luck in the Giveaway! Check back next week for our 2nd Brawl Report and a new Giveaway!
---
---