Chaos Legion pack opening & card presentation #5 - Angelic Mandarin

Today, January 5th, I am opening my fifth Chaos Booster Pack this year. I will continue this tradition and deliberately delay the opening of my packs. I believe that in the future, once the new AirDrop characters are released, even better content can be expected. As always, I choose one card, usually the most valuable in the pack, to introduce in more detail. And when possible, like today, I'll demo the card live in-game.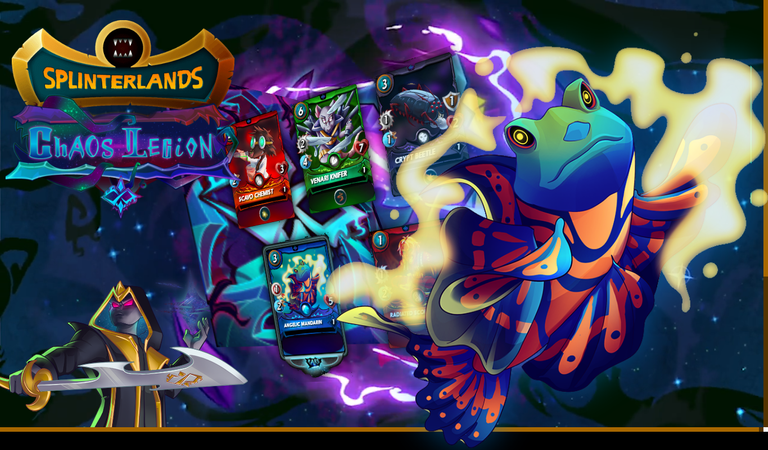 Chaos Legion Booster Pack #5
The total value of all cards in the pack opened today is currently $0.54. The most valuable in it, Angelic Mandarin an Rare Unit from the Water Splinter has as of today, a BCX price starting at $0.28.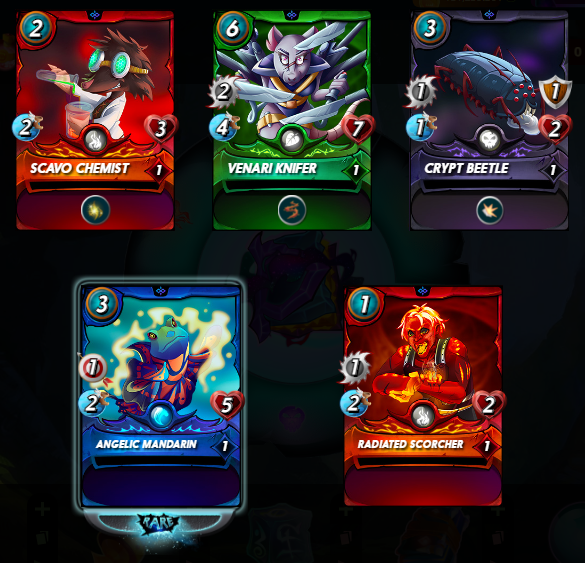 Angelic Mandarin
When I first saw the card, I thought I recognized a frog. In reality, Angelic Mandarin is a fish. How fitting for the water splinter. Angelic Mandarin only needs three mana. He will prove to be very useful, especially in low mana games. Not a strong fighter at first glance, but he has an angelic power to help those who are friendly to him.
Stats and Abilities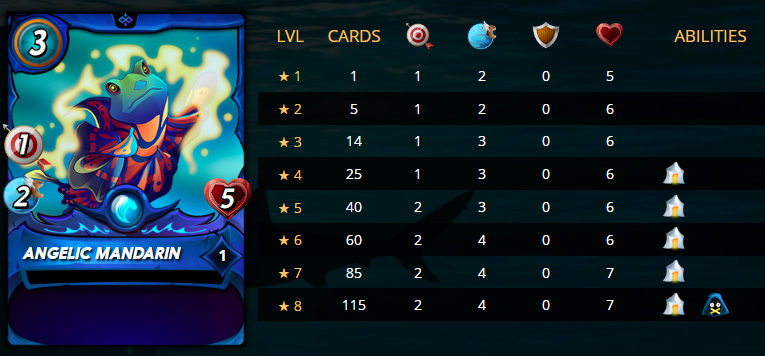 At level 1, Angelic Mandarin is only weakly armed, but he already has five health points. At level 4, Angelic Mandarin has the wonderful ability to heal his friends. Triage here means to help the most seriously injured. The same ability is possessed by the highly sought-after epic unit Mermaid Healer. Fully leveled up, Angelic Mandarin reaches his peak form and uses his spell to weaken the magic weapons of his opponents. I mean, Angelic Mandarin is so useful that he should not be missing in any deck.
Price trend
The BCX price of Angelic Mandarin is about $0.30 today on 05/01/2022.
The price of a booster pack at $5.37 on third party markets (Hive Engine).
In the regular store one pack costs you $4.00. Adding voucher price ($2.57) makes $6.57. The price has slightly increased compared to yesterday.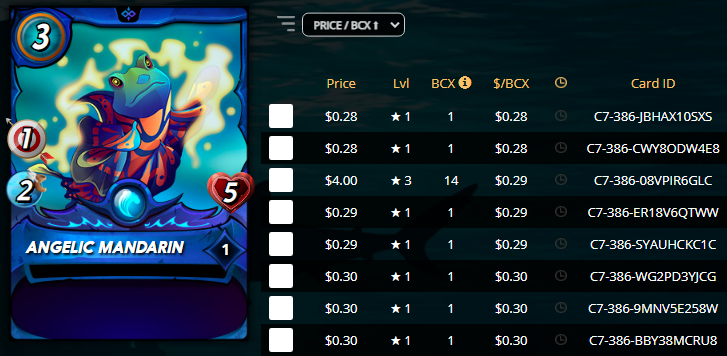 Angelic Mandarin in combat use
This battle took place today, a few hours ago. The given rules were: Earthquake, 34 mana. Splinters allowed: Water and Death.
My lineup:
Summoner: Valnamor, which increases speed, magic and lifeforce
First Line (Tank): Kelp Initiate, is fast, tough and proficient in triage.
Second line: Pelacor Bandit. Not a tank, but he can fly and is fast.
Third position: Venari Wavesmith, her ability to create shields was important to me. Because shields also protect a little bit from the consequences of the earthquake.
Fourth position: Ruler of the Seas one of the strongest cards. Can blast, increases speed. On top of that, it weakens the opponent's magic abilities. At this position it acts very protected.
Position five: my hero of the day: Angelic Mandarin fully leveled up, it masters triage and continues to weaken the opponent's magic. As a ranged fighter I use him mainly in the back, but not too far back.
Position six, rear tank: Phantom of the Abyss. It is fast, can fly, demorelizes the enemy Meelee monsters and generates headwind, thus weakening the enemy ranged fighters.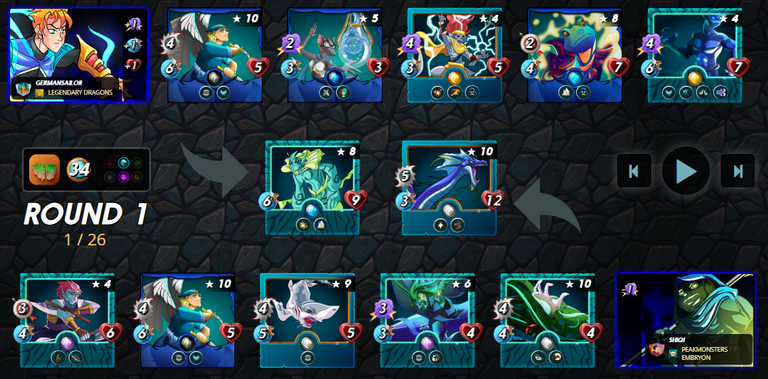 My opponent chose Bortus, probably to weaken the feared magic of his opponent. His attack was mainly based on sneak, the attack from behind.
Check out the battle, it only takes two turns.
Thanks for reading and have fun and success in the game wishes you your @germansailor.
---
Acknowledgements
All Screenshots: https://splinterlands.com
Photomontage: own work based on screenshots from https://splinterlands.com
Translated with www.DeepL.com/Translator (free version)
---
Already published in this series
Part #1 Mycelic Slipspawn
Part #2 Molten Ash Golem
Part #3 Soul Strangler
Part #4 Scavo Hireling
---
---