Pizza Updates and Giveaway #4
👋Hello Everybody,
I am still a newbie on this hive blockchain (just started 3 months ago) and am still learning a lot about #hive and various project and tokens on this blockchain. One community which has help me most in the process is PIZZA community and these giveaways are my little contribution in getting the information out about this amazing community.
---
Pizza Updates
I like the fact that communication is very clear and frequently communicated on Discord and most of the people are gamers 🎮 so they have dedicated channels for many games on the hive (and some non-hive) which gives me chance to learn about new games too
---
🎮Game Channels 🕹️
Splinterlands has 4 dedicated channels for discussions of various aspects of the game including some dedicated for guild members.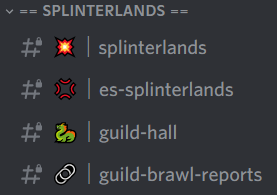 There are 3 Pizza guilds and I am member of the P3 guild and it perfectly suits to my casual game play. Guild members across all 3 guilds are very supportive and have seen supporting players by delegating cards for brawls. Not only that there are occasional tips and airdrops for the guild members too 🤔 sshhhhh.... 🙂




The PIZZA team is also sponsoring a large upcoming tournament with over $300 in prizes including
#PIZZA
#ONEUP
#OPG
and
#PGM
tokens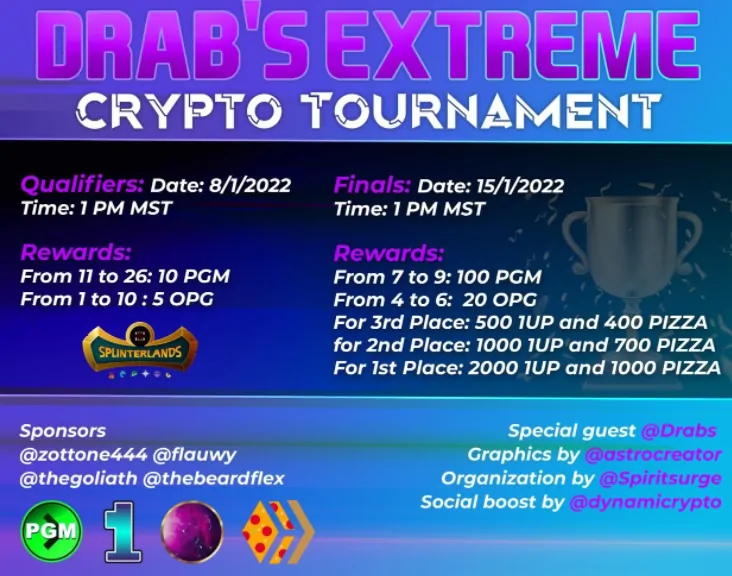 ---
Another game which I started playing after being introduced by Pizza team is Exode, although the game is still in development it looks very promising and I am playing it almost everyday. Pizza team has alliance in this game also but unfortunately it is full and I am waiting for our second alliance to be created to be part of the alliance too.
---
Other games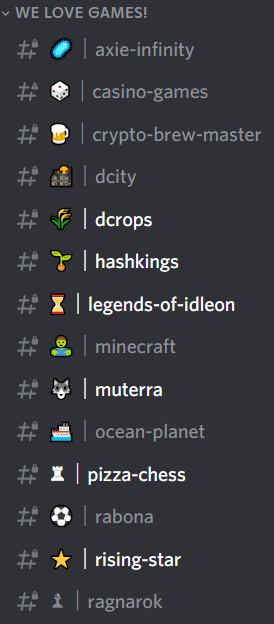 🏙️ #dcity is the next one which I just started with.
🎸#RisingStar is another one which many team members are playing actively although I have not got used to it that much yet but one day will get there
There are some non-hive games also in the list but as I said many community members are gamer so we have all kind of gaming discussions on the Discord including in the gamer-lounge channel
---
🎉🍕Airdrops and Giveaways 🎉🍕
Airdrops 🍕
There is at least one airdrop (of 🍕 tokens) in awesome-airdrop channel every 12 hours and is accessible to all the members who vote for the Pizza discord server (that simple)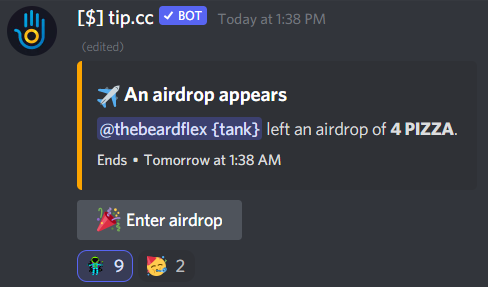 and for sure some of our other generous member do occasional airdrops too



There are other occasional airdrops in general chat channel also for active users too.
---
Official Giveaways 🎊
Currently there are 5 giveaways ongoing for
3 [x1] Exode Weapon NFTs
2 [x1] PIZZA Bike Rising Star NFT
3 [25] SPS Tokens
1x Discord Nitro [$10 value]
4x 50 HP Delegation on the Hive Blockchain for 7 days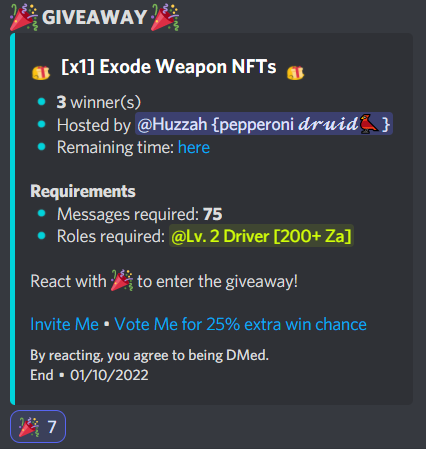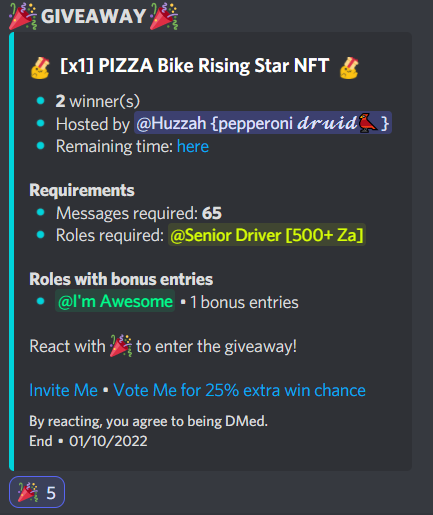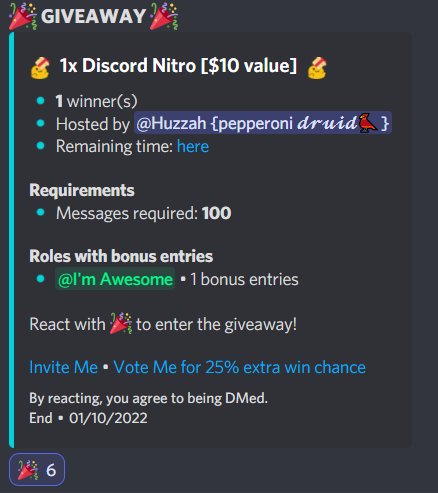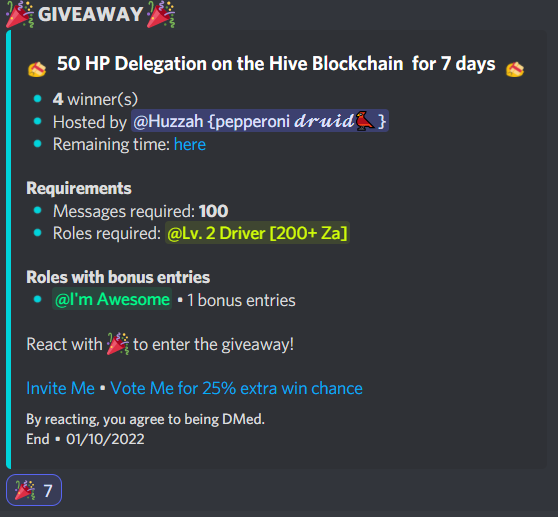 To make it fair for new members also, all message counts are reset at start of each giveaway / contest so all the members need to be active to participate. You might think it is quite a high requirement for messages but once you start chatting those messages are reached within no time or there is other fun stuff on the PIZZA Discord - lot of Discord games to play too and all messages count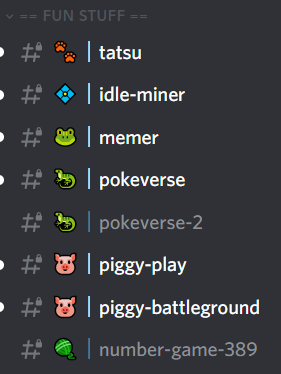 The discord nitro does not have any staking requirements so is open to all members of discord, other needs you to have related roles which are given based on amount of PIZZA token you have staked, but once you have PIZZA believe me you will want to stake it for all the current and upcoming staking rewards
So head our to PIZZA Discord
Wow its already 600 words before I even started about giveaway, hopefully you guys read some of it :) Do let me know in comments what kind of updates you will like with the giveaway
---
🎉🎉Giveaway 4 🎉🎉
For this giveaway will be only tokens
🏅2 random winners will get 20 PIZZA 🍕 tokens
🏅1 random winner will get 10 ONEUP tokens
All the tokens will be staked to your hive account
and with 20 PIZZA Tokens staked you can tip 5 people a slice of Pizza everyday
I got into OneUp tokens with PIZZA:ONEUP liquidity pools and also recently started delegating to @oneup-curator for daily curation rewards too, the winner of ONEUP tokens above will also be able to delegate the staked prize tokens.
---
Giveaway Participation
💬Comment: 💬Comment is must for participation and prizes will be sent to same username only

📢Reblogs and 💙Upvotes, tips like !PIZZA🍕, !LUV❤️, !LOLz😆, !Beer🍻 and other , Sharing the post on social networks are appreciated but not must for participation

Participants will be automatically added to the ping list for next giveaway comment (see first comment below) if you do not want to be pinged please specify the same in your comment
Winner for giveaways will be picked up over the weekend and all entries before I close the giveaway will be valid.
---
🚷Rules to claim prize🚷
To avoid sending the prizes to Non-Human (bots), Winners will need to acknowledge the winning within 48 hours of results by either commenting on winner announcement post or messaging me on Discord or twitter.
In case of non response from your side, it will be assumed you are not interested in receiving the prize
---
🏆Winners of Giveaway #3🏆
🏅Steam Game key for game Shiness: The Lightning Kingdom goes to @wanderingmoon , Congrats!!!

🏅20 PIZZA tokens goes to @zincheck , Congrats!!!

As mentioned in rules winners please acknowledge your winnings by posting a comment below or by contacting me on Discord or Twitter within next 48 hours.
---
Self Promotion
Follow me on Twitter or here to keep up to date on my giveaway posts
---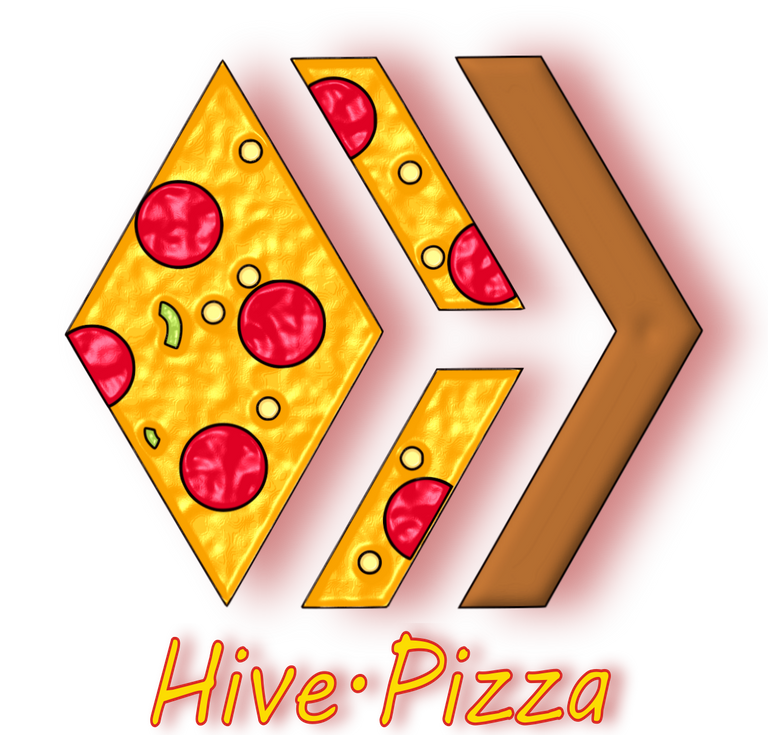 ---
---