Splinterlands Game progress, investment tracking and Giveaway #34
Annyeong Haseyo (안녕하세요) 👋 fellow Splinterlands Player,
This week's "Hello" is in Korean Language.

Financials

Recently have been quite busy with life so did not had much time to post about my activities on hive. My last post on splinterlands was on 22nd May almost a month ago, so today summary will be for all the transactions that had happened since.
Expenses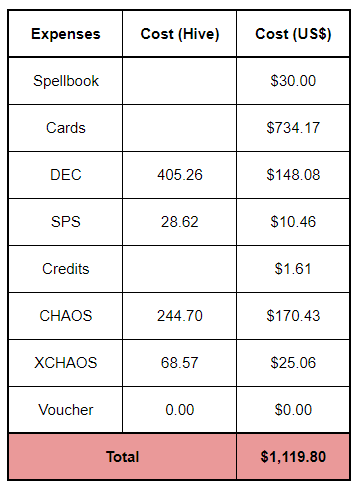 Updates since last post
Cards : Spent around $47 on cards, after the current reward system change which has also affected overall value of the cards, need to reconsider about which cards to trade so have not been spending much on buying those cards
DEC : Added 277.83 hive worth of DEC mostly generated by card sales (revenue sections) and have added that DEC to liquidity pools rather than selling for now
No or minimal Changes in Spellbook, Credits, Chaos, Voucher, SPS and XCHAOS
Above transactions increasing my total expense by $99.94 (the value in dollar is quite low due to current drop in hive prices which is now trading at *0.364) to $1119.8
---
Revenues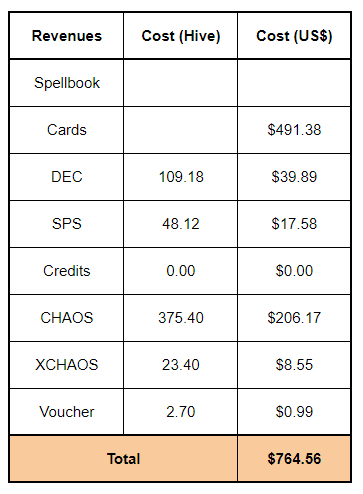 Updates since last month
Cards : Card sales worth $211.46 🙂 (few high value cards which were listed on market for quite long time also got sold)
DEC : Sold part of the DEC worth around 15 hive generated by card sales
No or minimal Changes in Spellbook, Credits, Chaos, Voucher, SPS and XCHAOS
Current Revenue stands at $764.56 an increase of $160.69 (the increase is less than actual revenue because some of the old revenue which is calculated in hive and converted to USD has decreased in value due to drop in Hive price but will hopefully will pick up in future
---
Assets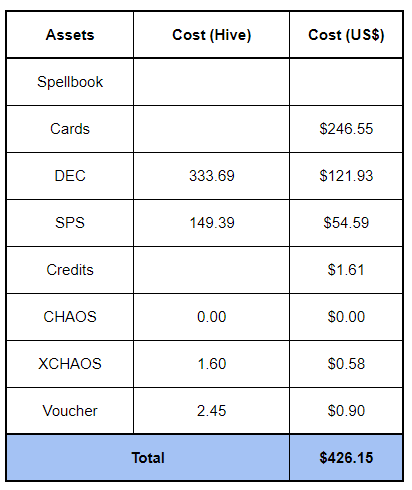 Assets held in game or in wallet as of 6/17
Cards : -$155.41 major drop due to current drop in values of some of the cards which happened due to new reward system and related rules
DEC : +216.38 hive worth increased as DEC most of the DEC generated by card sales was moved to Liquidity pools
SPS : Mostly Staked in game (staked) and held in Liquidity pools
Credits : Held in game
Chaos : have opened all the packs won in reward chest
XChaos : Still have couple in wallets
Voucher : Held in game (airdropped) or wallet
Total Current Assets value is $426.15 (-$92.58) including the fluctuation in all the prices and drop in card prices
---
Gains

Well simple calculation for Gains = (Revenues + Asset value) - Expenses
and currently it stands at $70.91 or 6.33% of my expense of around $1120 related to the game. A decrease of $31.83 majority of which is due to card value decrease and drop in Hive price.

Liquidity Pools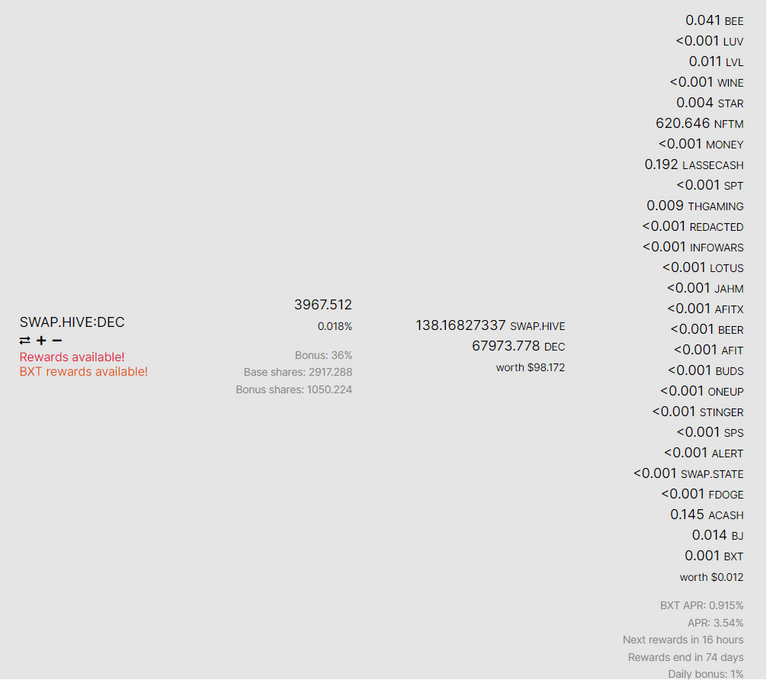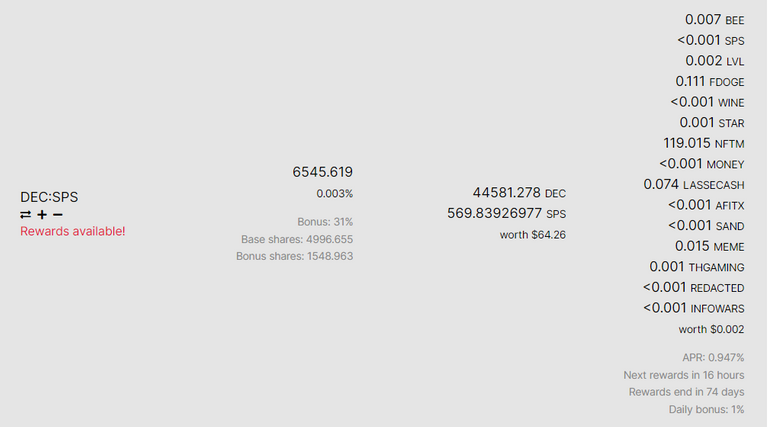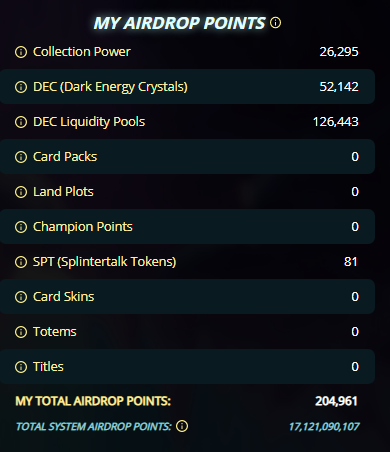 SWAP.HIVE:DEC : Just added more than 40K DEC to this pool which are still not reflected in Airdrop point calculation below should come up after today's snapshot
DEC:SPS : Have been steadily adding to this pool and shares have increased by +3419 since last time
PKM:SPS : Occasionally adding PKM drop to this pool change since last update is +12.7 shares
VOUCHER:SPS : well have kept vouchers in this pool rather than those being idle in wallet
SPS Airdrop points - the points shown here are based on yesterday's snapshot and these were getting me around 12.5 SPS
Not a Financial Advice please do your own diligence before investing

Game Progress

With the new reward system in place and drop in rental prices this time was able to push all my accounts to 🥈Silver I League level below is the summary of all the reward chests received during the season
| Rewards | Daily | EOS |
| --- | --- | --- |
| Total chests | 57 | 52 |
| Chaos Legion Packs | 2 | - |
| DECs | 1882 | 164 |
| Epic Cards | 3 | - |
| Rare Cards | 6 | 4 |
| Common Cards | 14 | 21 |
| Legendary Potions | 12 | 10 |
| Gold Potions | 8 | 8 |
Got lucky to pull 2 Chaos legion packs in the Daily rewards chest along with some decent DECs to cover all the rental costs but End of Season rewards even with 52 chests were meh 🙃
---
Chaos Legion Pack
Got lucky with one of the pack and pulled 2 Legendaroes Irfit Rising and Fungus Fiend (a 0 mana Card) along with a rare and couple of common cards.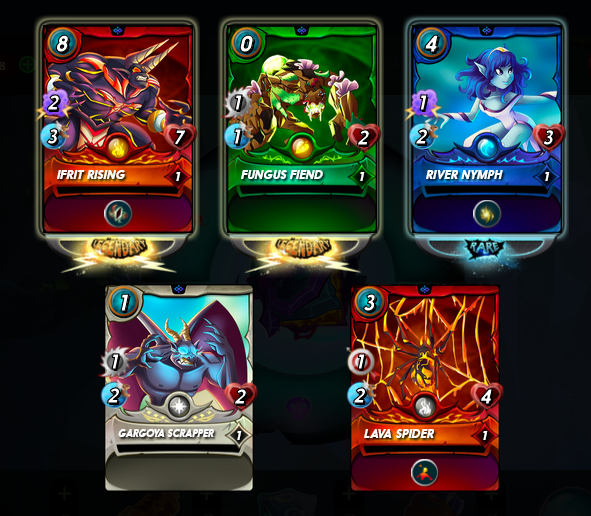 Other pack was not even worth taking the screenshot 😁
---
Gladius Pack Opening
Not much luck opening a Gladius pack though, open 2 packs and 4 of the cards in 2 packs were exactly same 😲 (imagine the probability of that) A Rare Cutter Briexe and 3 Commons Helmet Kharafax, Katrelba Gobson and Krash Wanderford were in both packs and only different being Witch of Warnick in one and Alva the Crusher in another.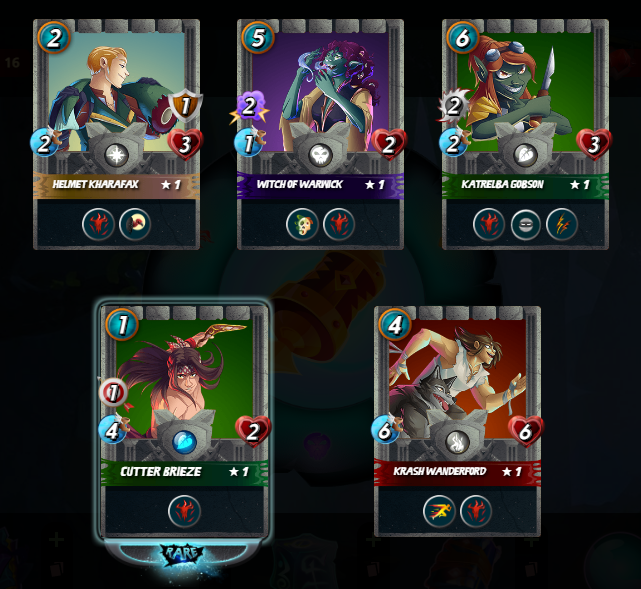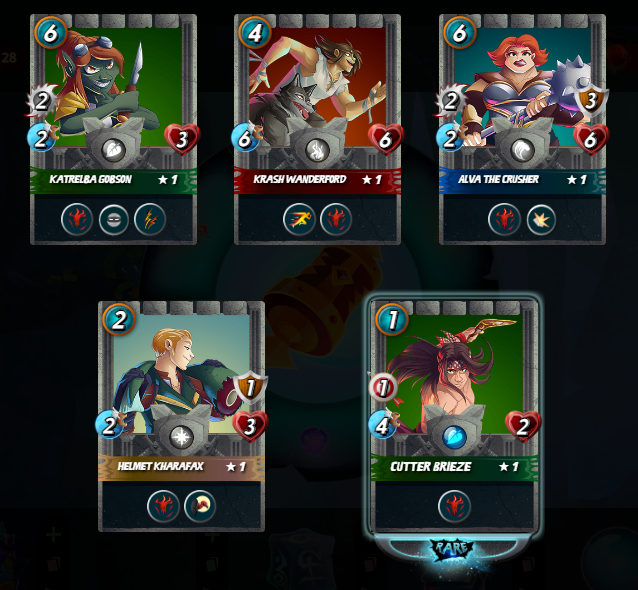 🍕PIZZA 3 Hand-Tossed Guild
Our #HivePizza 3 Guild took 🥇1st Place in just concluded brawl and won 18 crowns. I participated in my usual Novice Chaos legion only Fray and out of my 7 battles won 5👍 (out of which 3 opponents fled 🤣) and lost 2👎 and got 831 merits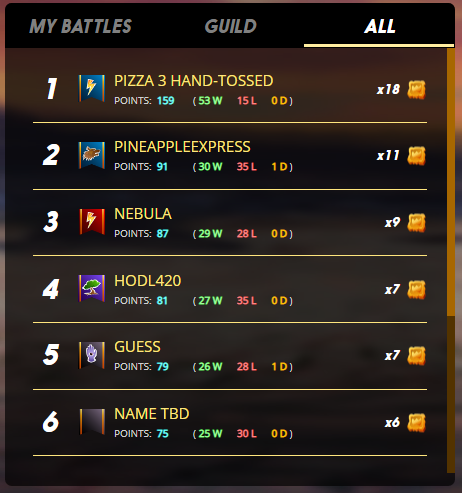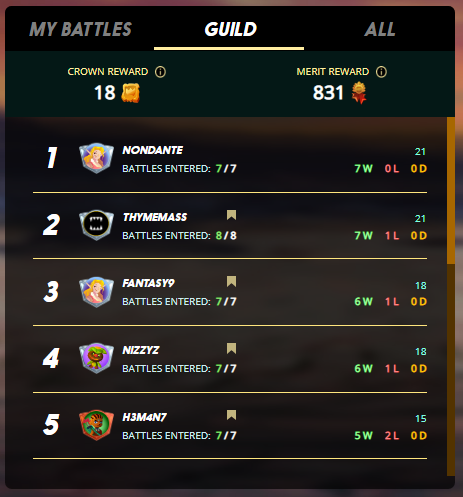 ---
Brawls Report
Battle #1
Opponent Fled - Free Win👍
---
Battle #2
Opponent Fled - Free Win👍
---
Battle #3
| Link | vs | Ruleset | Results |
| --- | --- | --- | --- |
| Link | Zaeyn (Splinter land gods) | | Won👍 |
Since it was with Healed out rule set rather than my go to

Earth splinter, chose to go with

Tarsa with concentrated Melee attack with both Grum Fireblade and Chimney Walstop as both have decent armor and Good health and Melee attack and once Bloodlust kicks in for any one of those, they just are unstoppable.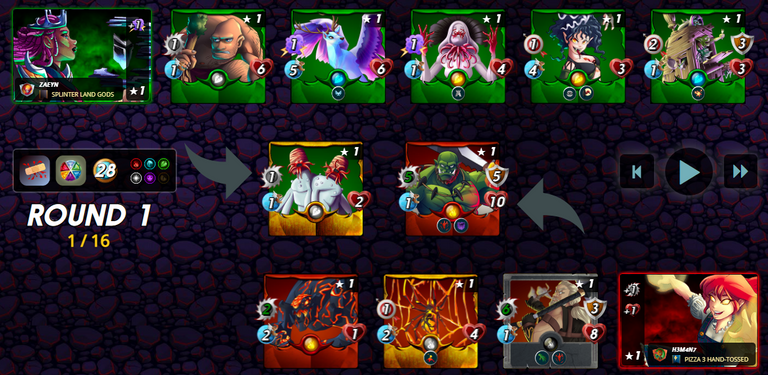 As expected once, Chimney Walstop tasted some blood, he was unstoppable 😁
---
Battle #4
| Link | vs | Ruleset | Results |
| --- | --- | --- | --- |
| Link | Your-mom (Name TBD) | | Lost👎 |
I was surprised to loose this one as it is very rare I have lost battle with Quora Towershead but rechecking the battle I realized that it had Healed out ruleset which basically removed self heal ability of her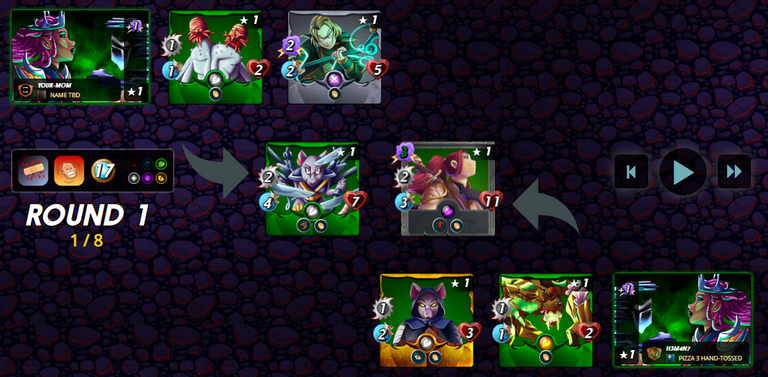 ---
Battle #5
| Link | vs | Ruleset | Results |
| --- | --- | --- | --- |
| Link | Pocox3pro (Hodl420) | | Lost👎 |
Reverse speed and Rise of the commons ruleset and both me and my opponent had same idea of going with

Fire Summoner Tarsa and using Chimney Wallstop as main tank and attacker, my opponent made better choice of using Tenyii Stryker at the back of line while I chose Molten Ash golem😒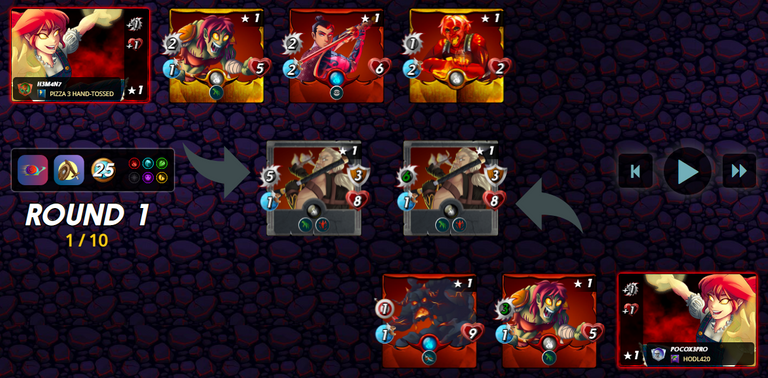 ---
Battle #6
| Link | vs | Ruleset | Results |
| --- | --- | --- | --- |
| Link | Snepil (Pineappleexpress) | | Won👍 |
A decent mana cap of 34, so went with my go to

Earth splinter team with Obsidian with Mycelic Slipspawn as first tank and Quora Towershead as main attacker in second position and Goblin Psychic in middle to heal the tank in front.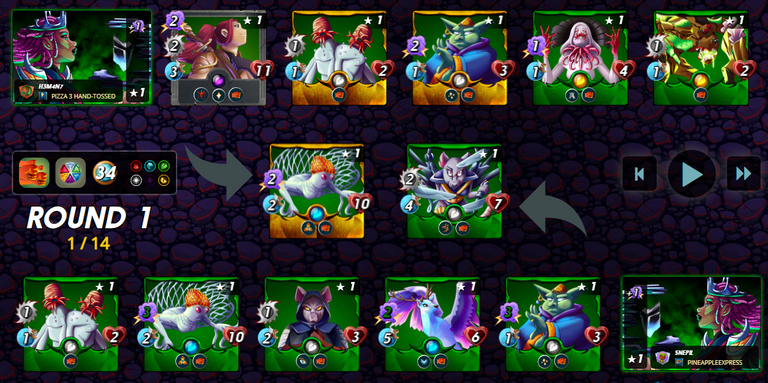 Lost Mycelic Slipspawn sooner than I expected but Quora Towershead played her part and ripped through the opponents line up
---
Battle #7
Opponent Fled - Free Win👍

🎉🎉Giveaway #34🎉🎉

This week's I will be giving out 2 Gold Cards, yeah that's right chance to win from 2 Gold Cards 😁
Venari Heatsmith
Pelacor Deceiver

Giveaway Participation
📢Reblogs and 💙Upvotes, tips like !PIZZA🍕, !LUV❤️, !LOLz😆, !Beer🍻 and other , Sharing the post on social networks are appreciated but not must for participation
Multiple comments/accounts - Multiple comments from same account (or for same game account or for alt accounts of same person) will be not considered in the draw
Ping list may or may not be announced in comments later on (best way to not miss in the giveaway is to follow me)
Winner for giveaways will be picked up normally after 7 to 21 days (have been busy lately so don't know when will have time to do next post) and all entries before I close the giveaway will be valid.
---
🚷Rules to claim prize🚷
To avoid sending the prizes to Non-Human (bots), Winners will need to acknowledge the winning within 48 hours of results by either commenting on winner announcement post or messaging me on Discord or twitter.
In case of non response from your side, it will be assumed you are not interested in receiving the prize

🏆Winners of Giveaway #33🏆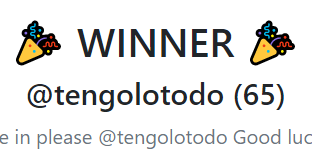 Gargoya Devil goes to
@tengolotodo
Congrats!!! 🎉🎉
---
---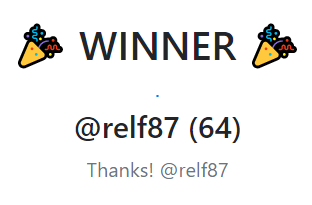 Naga Assassin goes to
@relf87
Congrats!!! 🎉🎉
---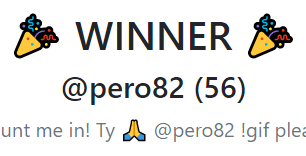 Venari Bonesmith goes to
@pero82
Congrats!!! 🎉🎉
---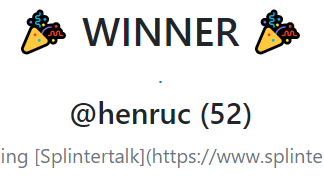 Venari Crystalsmith goes to
@henruc
Congrats!!! 🎉🎉
---
As mentioned in rules winner please acknowledge your winnings by posting a comment below or by contacting me on Discord or Twitter within next 48 hours.
Also will appreciate if you can share about your winnings on your social networks, blogs or discord, thanks!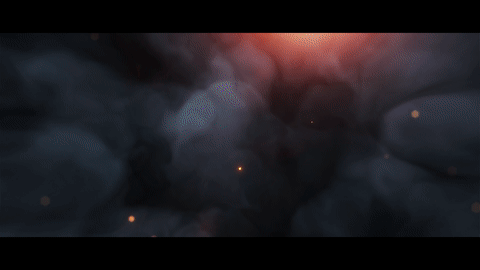 Promotion
In addition for the new players to Splinterlands if you sign up with my referral link and complete the spellbook purchase, I will send you 75 DEC in game which should help you get started by renting some cards and building up your teams
Follow me on Twitter or here to keep up to date on my giveaway posts

#HivePizza Guild
If you play Splinterlands and are looking for a Guild stop by at PIZZA Discord and check with the team there we have 3 guilds for hardcore to casual players
For a chance to win from 200 Pizza🍕 Tokens check out my Pizza Giveaway #12

Notices:

Images/logos used in this post used are from splinterlands, hivepizza or screenshots or images created by me based on assets from splinterlands and hivepizza
The content in here should not be taken as financial advice, please do your own diligence before investing
---
---